FaceFlow is an online free video chat site that connects with users from all corners of the world. Stay with us as we unravel the hidden truths about this webcam chat site along with features, prices in our detailed Faceflow Review.
Looking to make new friends online? Or wanted to have an online video chat with random strangers? The internet got you covered. There exist many things on the internet. Some of them facilitate users to have video chats with strangers.
Such sites are often referred to as random chat sites. These sites are developed with an aim to connect people across boundaries to have fun virtually. While some of these video chat sites work for free whereas some require fixed or recurring costs to get the most out of it.
Well, Faceflow is one such video chat site that is created to refresh people by making interacting with strangers online. It can be a girl or guy, Faceflow will help you in finding them for free video chats. Is this webcam chat site totally free and safe? Check out as we explain everything in detail in this Faceflow review.
FaceFlow Introduction and Overview
Faceflow isn't truly a random chat site from the beginning. It was first launched in the year 2010 by Dany Pelletier as a free messenger app that friends can use to have unlimited conversations remotely. In brief, it was launched as a counterpart to the giant, Facebook.
Eventually, Face flow was greatly unheeded with the extensive evolution of random chat sites and sex chat sites. These sites were being launched every month with more marketing budgets and diverse features. The rise of these sites caused the downfall of Faceflow users.
Since it is a totally free video chat site, you can expect millions to join the site from different parts of the world. However, that hasn't been the case with Face flow. The user database is pretty small compared to any other chat site like Chatous (review at the link).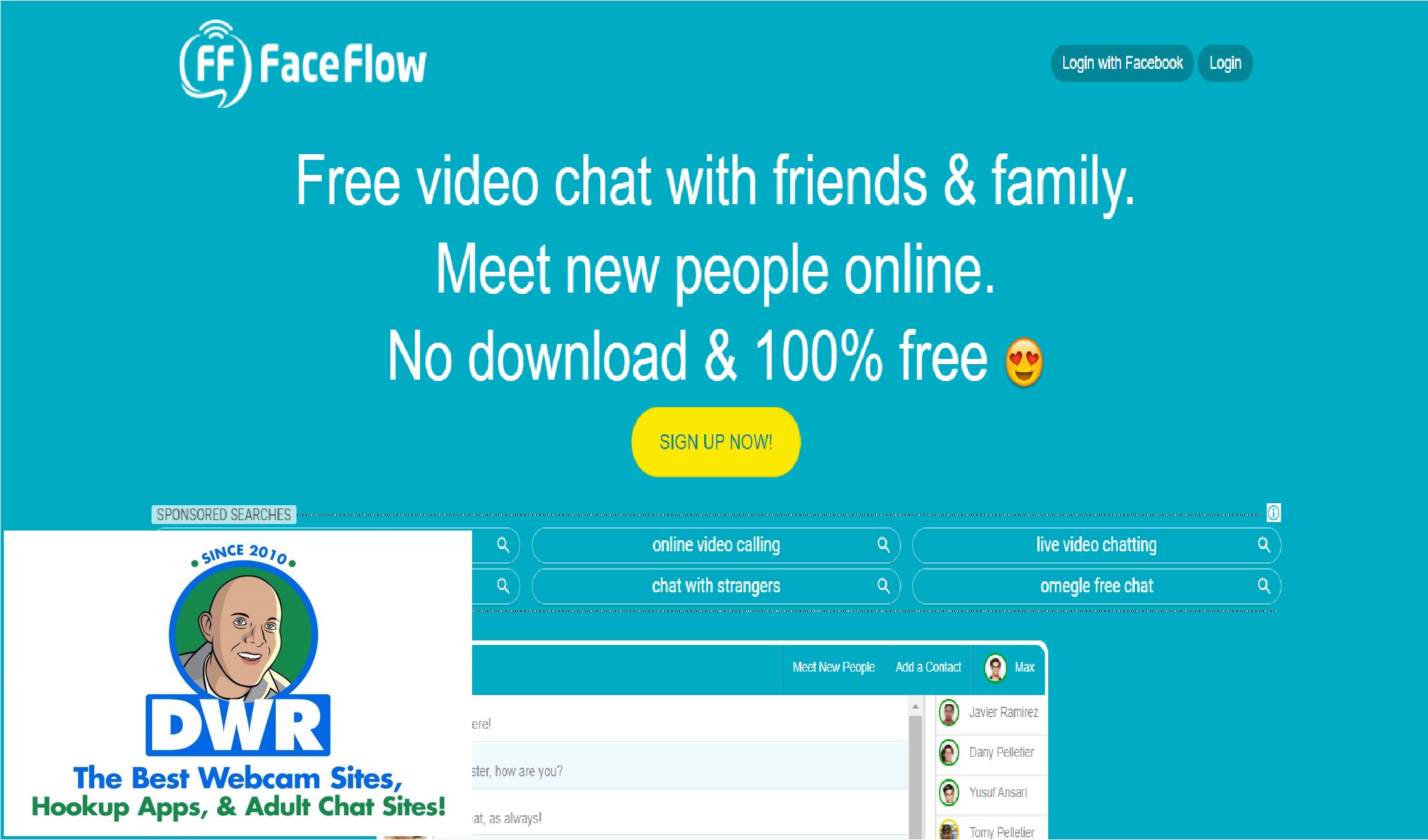 The site claims that there will be as many as 150 thousand visitors on the free chat rooms every month. Most of them were either fake profiles or spammers. Yeah, what else you expect from video chat sites that work totally free.
The majority of the users are from the United States followed by Italy, India, Brazil, Germany, Russia, Australia, Spain, and Canada. Beware of the catfishers as most of the members on this webcam chat site encourage you to sign-up on a site with adult content and may even lure you out.
Another infuriating thing about this online video chat site is its unwanted ads. It will not let us talk to people online without throwing redundant ads. Adding to the misery, Face Flow doesn't have any mobile applications. Also, it isn't a mobile-friendly chat site like Omegle (review at the link).
Face Flow Overall Features
This video chat site seems a bit confusing and cluttered at first as you will directly get connected to a public chat room. However, faceflow.com doesn't really have any unique features to notice.
The design and layout look pretty outdated and fail to draw your undivided attention. The lack of profile validation is another prime reason for scammers lurking around the site. Let's begin with the registration process followed by overall site features.
FaceFlow.com Registration
The signup process at this webcam chat site is pretty quick and simple. By clicking upon the flashy yellow tab 'Signup Now' on the homepage, the actual registration process will begin.
You can signup either through Facebook or by using an email address. I would recommend you try the email method instead of risking your personal Facebook for this shady video chat site.
This simple registration process requires basic details like username, email address, password, gender, and date of birth. After successful registration, you will redirect to a public chat room. There isn't necessary to validate your email address at Faceflow.com as you do at hookup sites.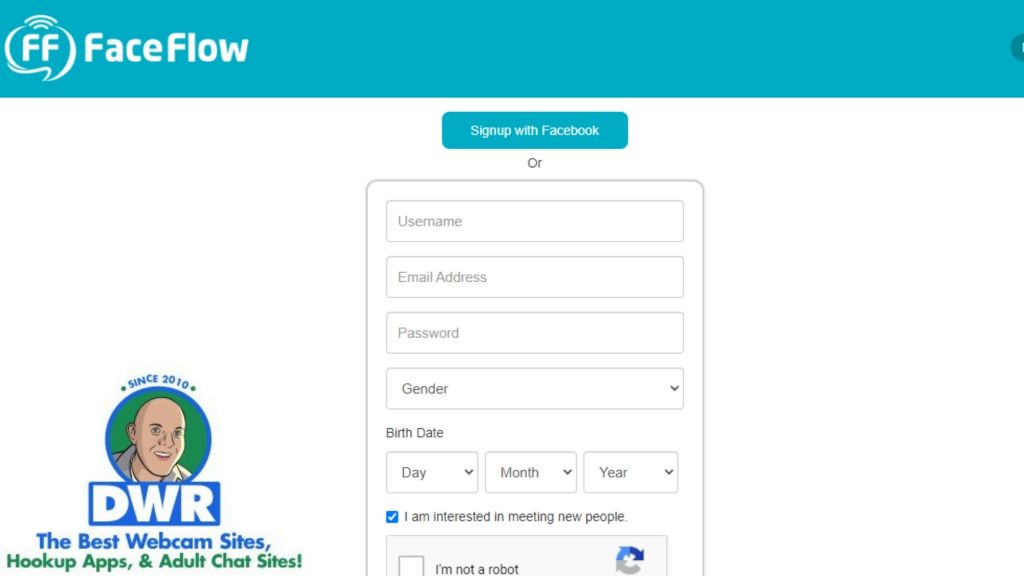 Free Video Chat Rooms
Free video chat rooms at Face Flow are a total myth! There isn't any free video chat room available to talk to people online via webcam. It works on a simple procedure, where users can send messages in a public chat room.
Also, the site doesn't have any search filters to filter out the users based on location. Since the site connects you with random people online, you don't get to set what you wanna see. Totally bizarre! However, you can browse members to only see them inactive.
Public Chat Room
As said earlier, the only chat room available at Faceflow is this public chat room. On the left of this room, you can see the members active at the given time. This is just lame as it won't keep you entertained with gripping conversations.
You can pick any members from here and can add them as your friend. Once they add you back, it will be counted as a successful match or contact.
Find Random Partner
This will get you connected with a random stranger on the site with whom you can have a text chat or a webcam chat based on your interest. However, you don't get to see any girl getting connected even after hundred attempts.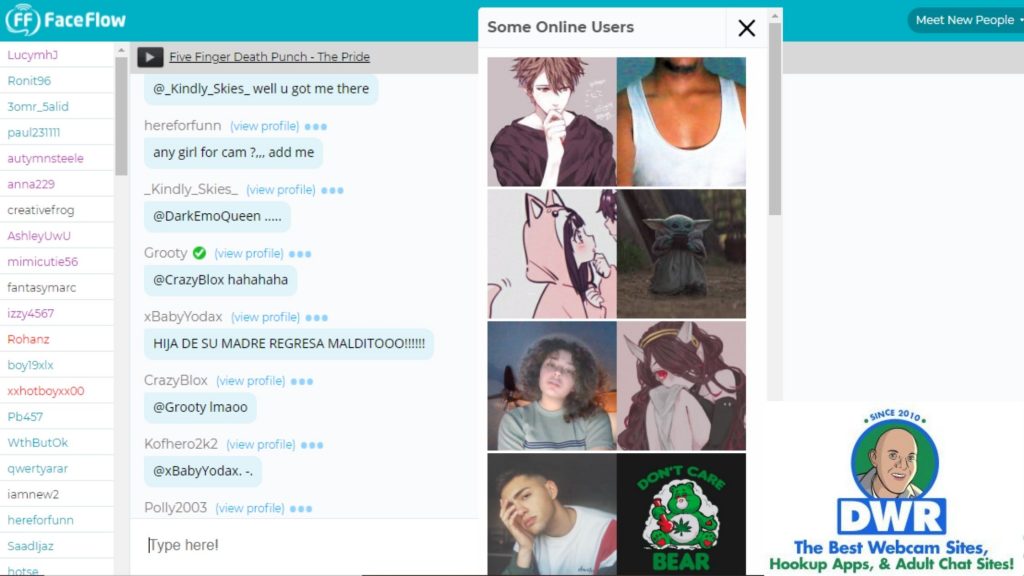 Browse Members
You can find the registered members on the Face Flow here. The filter on top will let you sort results based on the age range and gender. However, the majority of them were either fake or inactive. You can choose one to get started by adding them as your friend.
Add a Contact
You can manually find someone you have known by entering their username or email address or name.
FaceFlow Costs for Membership
All the features on Faceflow can be accessed for free by any registered user. There are no hidden fees and no requirement of adding any cards here. However, the biggest concern of using this free video chat site is safety and security.
You just can't simply rely on this site for protection from scammers. Unlike it says, you cannot have free video chat in public rooms like you do on webcam sites. You got to wait for almost 10 minutes to get matched with a random user.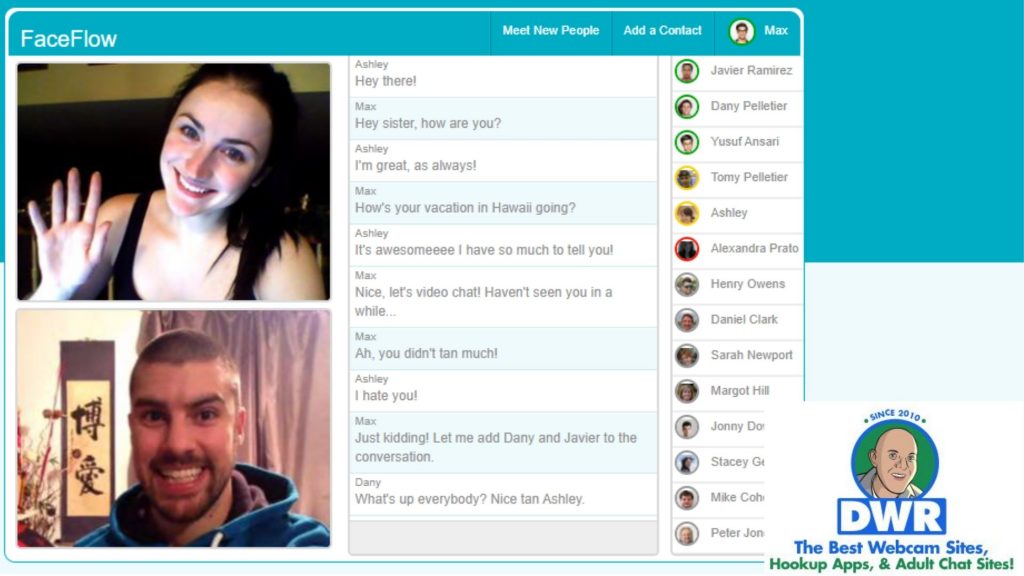 Sites Like Faceflow
There are a handful of websites that serves best as Faceflow alternatives. Sites like Fapchat and Chatspin are having an edge over face flow as they made it look easy to have a random video chat with strangers.
When it comes to having an exotic video chat, nothing beats Stripchat.com. Here, you can choose your favorite model from thousands and enter their cam room for free. Also, you can take them on a private cam to make them perform as you wish.

Overall, webcam sites come in handy for better online video chat. If you are looking to lose yourself in some random conversations with gloomy users, FaceFlow worth your time!
Comments
comments