Lollichat is a free adult video chat community for singles on the internet that is claimed to be Camzap, Chatroulette, and Omegle alternatives. Learn more about the site features, prices, members, and hidden truths about this camchat site in our Lollichat review.
We live in a world of new technologies where traditional communication and dating are considered a bit awkward. People started appreciating the importance of social connections with the extensive evolution of online dating sites and random chat sites.
The random video chat sites that have been specially created for casual communication, are now popular and in high demand. This cam chat can really turn into something truly fascinating, interesting, and made us all comfortable exposing ourselves in front of a webcam.
Well, Lollichat is one such camchat site where you can chat through webcams with strangers for free. As far as I know, Lollichat.com used to be quite popular back in those days. Check out how this Omegle alternative has gone out of the way of being the best in our Lollichat review.
Lollichat Introduction and Overview
Lollichat isn't a legitimate random camchat site but an exact clone of ChatRoulette (review at the link). The only difference it got from the latter is a new intriguing name and custom featured images on the site. Rest all same!
It's quite obvious that Lollichat.com is quite famous back in the day. However, it went from popular to nothing within few years of its arrival to the random cam chat industry. Amidst well-established sites like Camzap, Omegle (review at the link), and ChatRoulette, Lollichat failed to keep users entertained.
Just like ChatRoulette, Lolli chat works on a simple concept of combining webcam feed and text chat on the same page. However, the idea of webcams with strangers seems impossible as the members featured on this camchat are trained cam models but not strangers.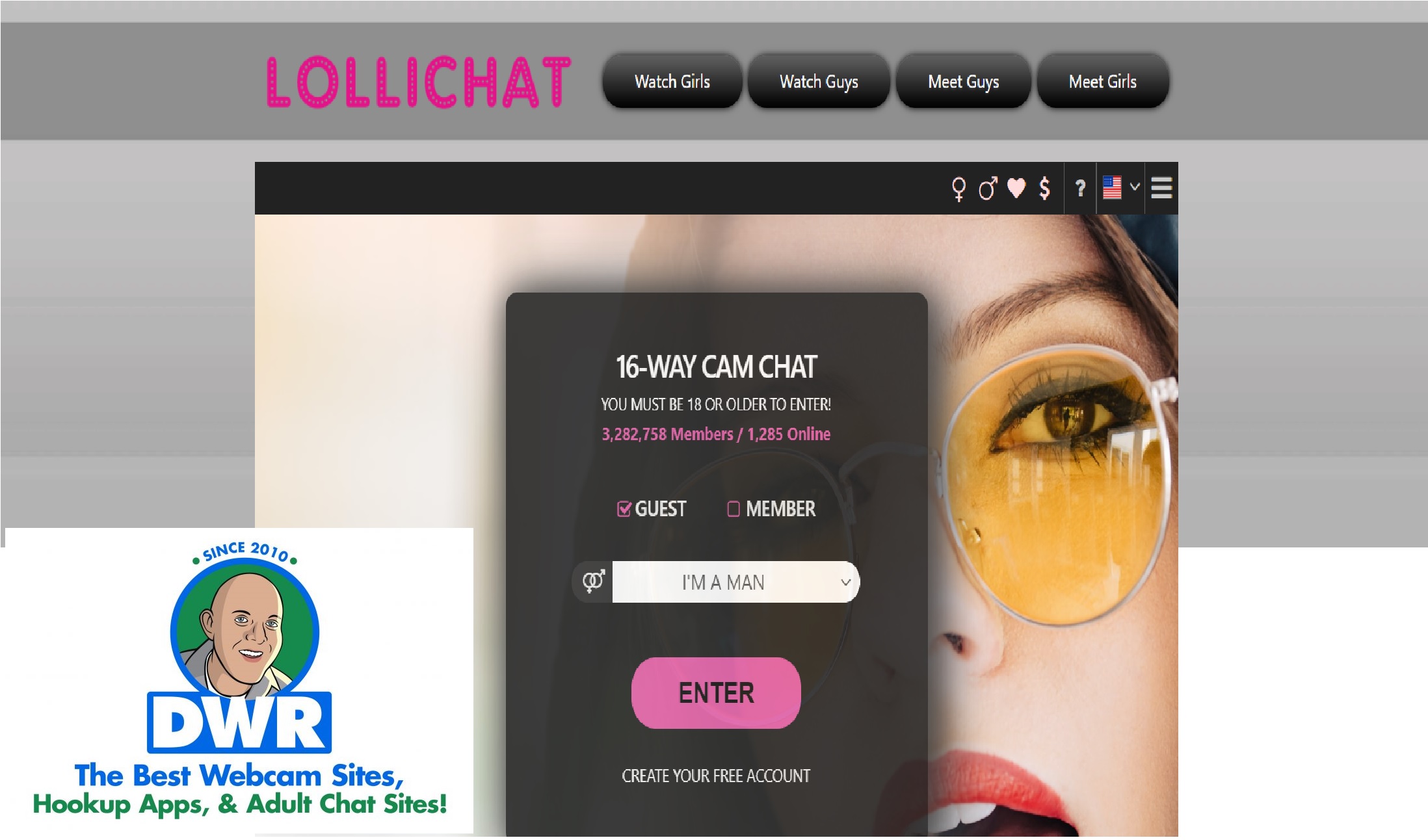 Well, Lolli chat isn't the only hoax of Chatroulette that ever existed on the internet. Sites like Fapchat (review at the link) are also clones of this and being claimed as Chatroulette alternatives. Pathetic!
Like in some shady sex chat sites, you can start browsing webcams with strangers for free and without registration at Lollichat. Nevertheless, you don't find any real people to have conversations with.
Talking about the members on the site, Lollichat.com claims that there are as many as 350k users registered on the site. That's one trick in their hat to deceive new users. In reality, you don't find more than 50 live broadcasters on the site.
When it comes to safety, anonymous random chat sites like Lollichat can never be ensured of your safety. Beware of catfishers and models who insist on you for money. Also, the site plays various marketing gimmicks to make users fall into the trap of substandard adult sites.
Lollichat.com Overall Features
Few minutes into the site, and you will quickly realize that it has a similar interface to other Chatroulette sites. There is nothing special about it. You can use most of this site features being a guest user. However, registration is mandatory to send messages or to have a private cam 2 cam.
Lolli Chat Registration Process
It says you must be 18 years or older to join Lollichat. In reality, anyone with a valid email address can join irrespective of age as there's no specific algorithm to keep underage users off the site.
However, the signup process is pretty quick and spot on. You are required to add a nickname, password, email address, birthday, and gender. After successfully submitting these details, you will be redirected to the tab where you got to choose between a free and VIP membership.
That said, Lollichat isn't totally free at all like Joingy (review at the link). Remember, email validation isn't necessary to make use of this Omegle alternative services.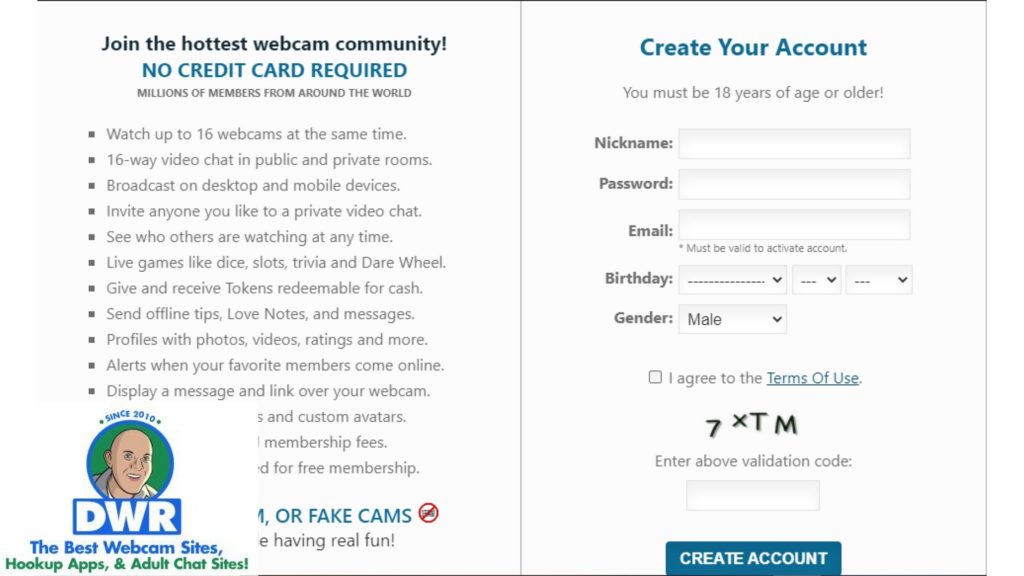 Webcams With Strangers
As said earlier, the camchat with strangers is truly a hard nut at Lollichat.com. Once you choose your gender, you will be taken to a random webcam with strangers. Well, they truly aren't strangers but models from some mediocre webcam sites.
The low-quality cam feed will appear on the left of your screen. Whereas, the other free and paid cam rooms will feature on the right side of the cam window. I know, it looks way clumsy as you can't differentiate between cam rooms and users for camchat.
The live cam rooms are broadly classified into two types at Lollichat: Member cams and Public cams.
Member Cams:
These are hosted by members that are believed to be strangers. Deep inside we know that they're trained models but aren't regular members to have camchat. They stream their live cams to make some money in the form of tokens.
Remember, not every member cam works free. Some of them require as many as 300 tokens to get started. That's too much for a substandard cam quality.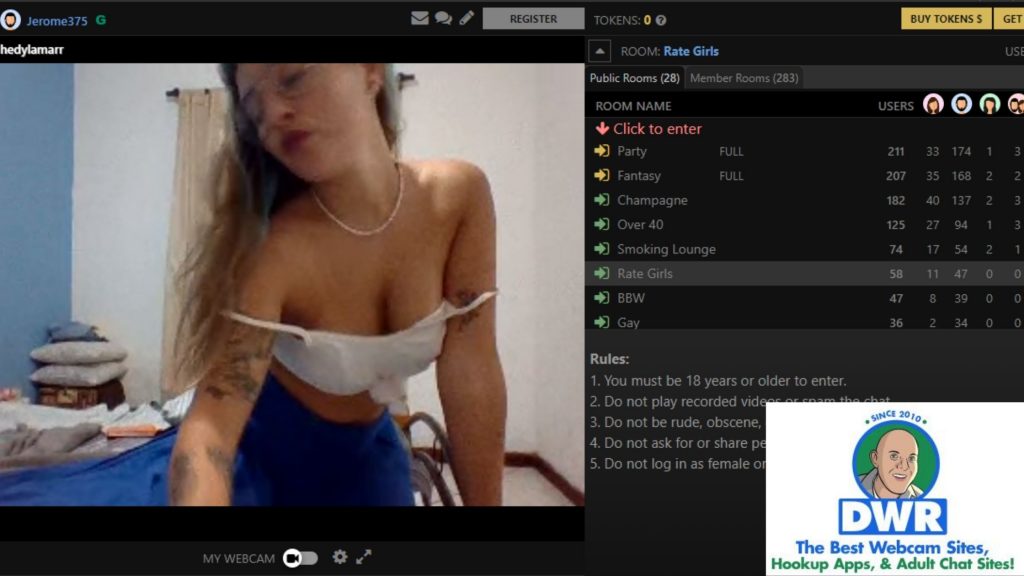 Public Cams:
The big takeaway from these public cams is that they are 100% free to access. There are 28 free public cam rooms available currently at Lollichat. The most popular public rooms are Fantasy, Champagne, Rate Girls, Party, Smoking Longue, Foot Fetish etc.
Well, you can see the number of people active in each of the cam rooms on the table next to the name of the cam room.
Costs For VIP Membership at LolliChat
The premium membership or VIP membership at Lollichat comes at a single price of $27 per month. However, the price for tokens is different and should purchase at an additional cost of $0.1 per token. Well, here are some of the benefits you get with VIP membership at Lolli Chat:
Custom username
300 free tokens
Unlimited cam feed
Unlimited texts
16 cam feeds at a time
Private chat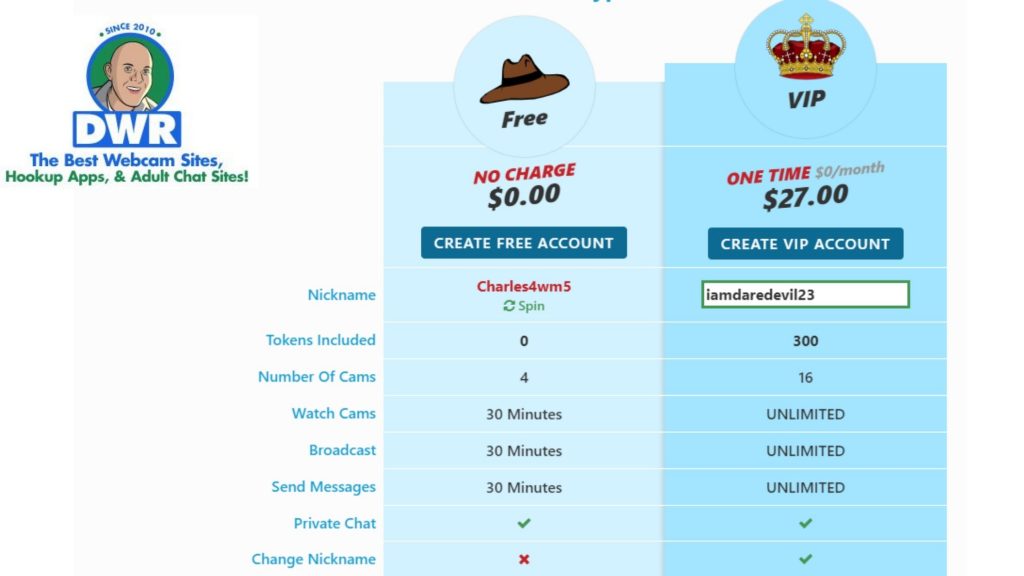 Sites Like LolliChat
By keeping the mobile friendliness, safety, legitimacy of Lollichat in mind, I believe I wouldn't recommend you to try this shady camchat site. However, there are a handful of top cam sites available on the internet that could help better with high-quality webcams.
Well, Stripchat.com is definitely one of the popular cam sites that I would recommend on any day. The webcam quality and the number of options to explore within are top-notch. The best part is that it works totally free.

However, a private cam-to-cam chat with a sizzling model at Stripchat would have cost lesser than the VIP price at Lollichat.
Feel free to share your own Lollichat review if you have been a member.
Comments
comments