iSexyChat is an adult sex chat site online nude chat rooms to meet and chat with random strangers on the internet. Learn more about the features, members, prices, and other fascinating things about this free sex chat site in our iSexyChat Review.
Over the years, the need for meeting people online for sexting, dating, and hookups has significantly increased. The extensive evolution of online dating sites and sex chat sites has made almost everything possible with their diverse features.
The best thing about most of these sites is that they provide applications that can run on smart devices and web browsers. The exquisite features like online chat rooms, sex cams, random video chat, live sex chat, and other live communication features have made our nostalgic dreams come true.
Well, iSexyChat is one such free sex chat site for adult users. The biggest setback for any sex chat site of iSexyChat standards would be its safety concerns. Irrespective of the poor safety, hundreds of users are paying a visit to iSexyChat every single day.
Our honest iSexyChat Review will unravel the hidden truths of this site.
iSexyChat Introduction and Overview
iSexyChat is a free adult live sex chat site that is optimized for use on desktop, mobile devices, and tablets. The history of this nude chat site started back in 2006. Since that time, it has garnered popularity for being a legitimate free live sex chat room.
Despite being a legitimate sex chat site, iSexChat compromised the safety of the users. The site doesn't have any predefined registration process to follow. Since it is free for all and no restrictions or whatsoever, spammers take charge and lurking everywhere on the site.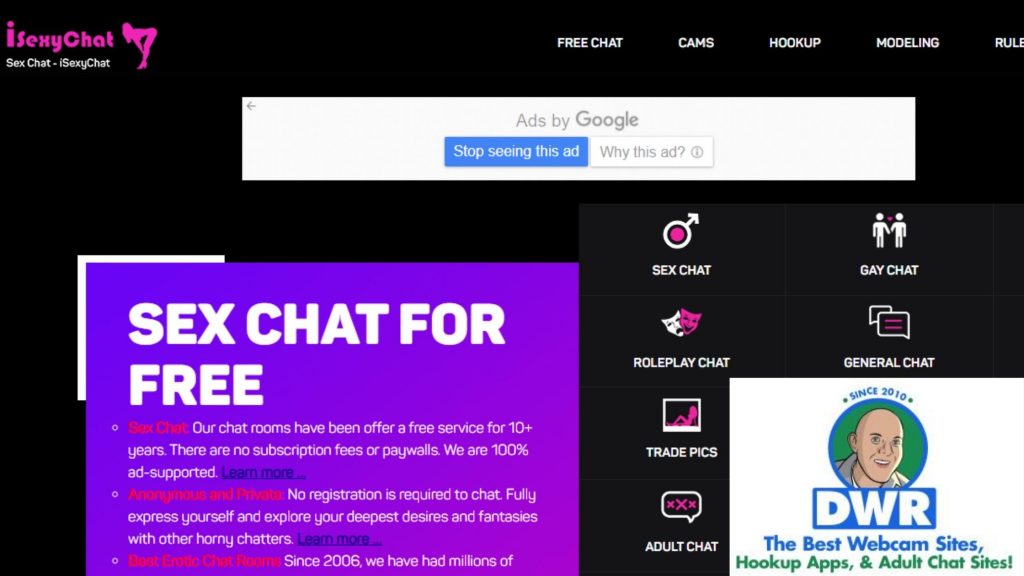 It is a bogus sex chat site that happens to deceive users with false ads and spammy websites. You can't be sure whether the anonymous sexual partners are real or fake. Unlike in Omegle (review at the link), the algorithm will not connect you to random strangers online.
Few minutes into any of the adult chat rooms, you will receive bulk messages from spammers. Trust me, every messages you receive from the users of these live sex chat rooms are phishing and spammy URLs that will lure you off the site.
iSexyChat.com Overall Features
As said earlier, the doesn't have any registration process for legitimate users. That's very unlikely for hookup sites or any adult chat site. You just have to choose your gender and opposite gender to get started with sick chat rooms.
Talking about the design and layout of this nude chat site, they're pretty ordinary and not appealing. Irrespective of numerous useless features on the site, you cannot have an audio or video chat at isexchat. Honestly, it doesn't have anything in particular so that people keep coming back.
The dozens of mediocre chat rooms aren't really worth your time. No matter what you choose, the same users will be coming back and you will end up encountering a handful of users. These live sex chat rooms are full of junkies sexting, teasing, abusing, and sharing spammy URLs.
Here are the overall live sex chat rooms on iSexyChat.com
Free Live Sex Chat Rooms
Sex Chat – The popular live sex chat room at isexchat. This chat room is dedicated especially to the users who are into sexting. This will allow you to send texts and trade pictures in public with the members online. Choose your gender to get started.
Gay Chat – It isn't that good as it sounds. This is just another trick in this nude chat site's hat. The fewer number of members online and fake users will disappoint you to the core at the Gay chat room.
Lesbian Chat – It is designed specifically for lesbian users to have dirty chats. Beware of spammers sending links to unsafe websites.
Roleplay Chat – Roleplay is one of the favorite kinks for many people online. We absolutely love watching cam girls performing roleplay on webcam sites. This has nothing to do with that as you will get to see random people abusing over chat.
General Chat – Just an ordinary chat room that can be used to share your thoughts. However, you don't get to see people active on this nude chat room like in Faceflow (review at the link).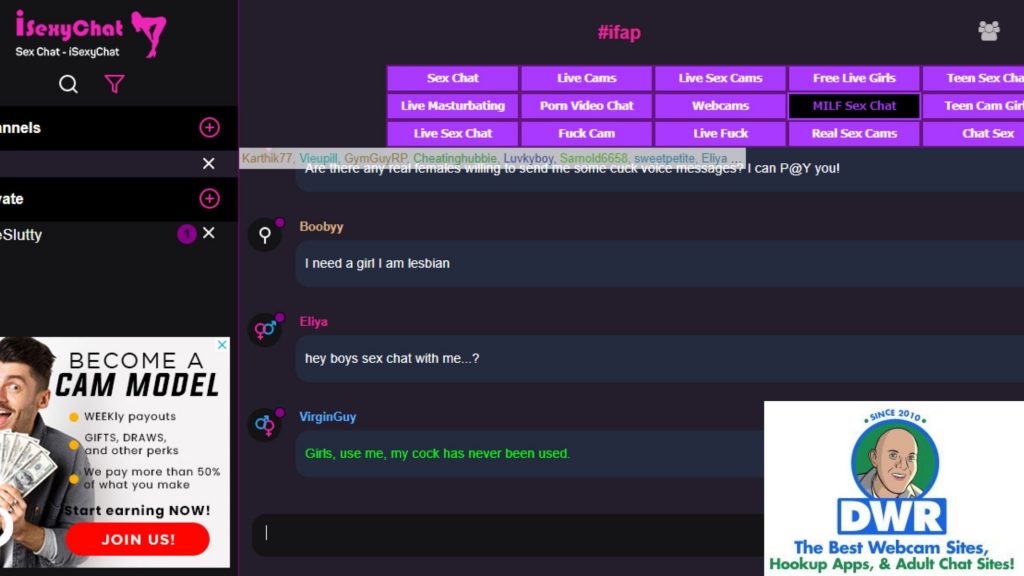 Trade Skype/Kik/Etc – Your privacy will be at stake if you use this spammy chat room to disclose your personal information. Play smart and choose not to share any personal information unless you feel genuine.
Trade Pics – Just like other existing nude chat rooms, you can trade pics and send texts in this chat room. Again, do not share your personal pictures in a sick live sex chat room like this as it is highly risky.
Live Chat – I don't get what's the whole point of having multiple chat rooms when the motto and users are the same in every room. This is another gimmick to deceive users.
Apart from these mainstream live sex chat rooms, there are other features on the top that's presented to grab your undived attention. These features like Free Chats, Cams, Hookup, and Modeling lift you off the sie to some random affiliate sites.
The cams section takes you to some of the top cam sites like Stripchat.com. This clearly tells you that iSexyChat is nowhere close to being the best sex chat site.
Pricing at iSexyChat
The only takeaway from this mediocre sex chat site is that it's totally free like Joingy (review at the link). You don't have to shell out a dollar to make use of any of the features present on the site.
However, the third-party sites it redirects you may charge for various functionalities. Although it comes free of cost, it cannot be recommended as the site is full of pop-up ads and lacks advanced search options and features.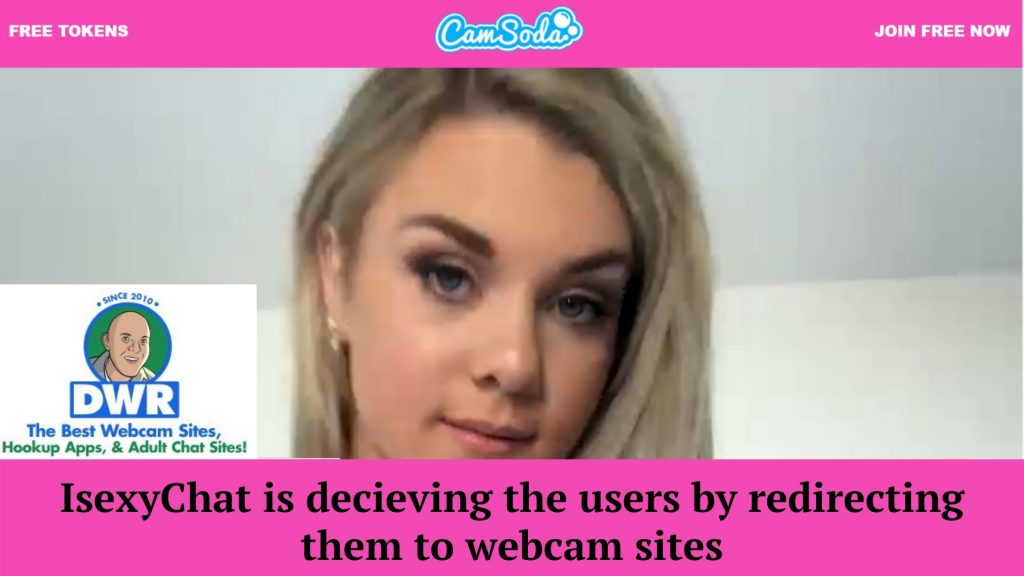 Sites Like iSexyChat.com
To be bloody honest, there aren't many real girls on the site. Even after using it for hours, you will end up finding no girl at isexchat. Thus, we recommend you to try Skibbel (review at the link) as it has an edge over this phony nude chat site.
Also, giving a shot to Stripchat and Livejasmin.com will be much effective as you can find thousands of gorgeous cam girls to talk and stream nude shows. However, these sites have really done justice to the users by staying true to what they meant.

Well, if you are craving for nasty conversations and wouldn't mind with whom you're having, iSexychat is worth trying. Leave your own iSexyChat review if you have been a member.
Comments
comments