Wireclub is an online chat room-based social network site to chat and connect with strangers. Is Wireclub.com a worthy social media site to try or outdated? Find out everything you want to know about this free chat site here.
Wire club is full of chat rooms with various topics that people might find interesting to talk about and discuss online. With more than 15 years of existence online, wireclub still runs a small number of employees to take care of the moderation work.
Users have the option to pick any chat rooms they like and start joining the conversation. Besides, they also have features to create their chat rooms and set rules & descriptions of their choices.
So, how is wireclub.com working these days? Is that still relevant to the trends? Our updated wireclub review will explain everything in detail.
Wireclub Analysis & Breakdown: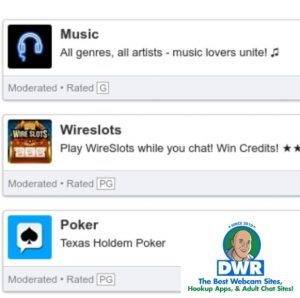 An interesting fact about the wire club; it got more than 7.9 million registered members so far. The website has an out-of-date look having less than ten chat rooms mentioned on the homepage.
As usual, male members dominate the chat rooms compared to any other gender. It gives you back memories of accessing Orkut because of the way wireclub.com profile and dashboard works.
Most of the users are accessing the free chat rooms to kill the boredom. That said, users from more than 120 countries log in to wireclub.com every day. Lately, this has become more of a place for casual dating and hookups.
Hookup sites do have a particular template/style to keep the members intrigued by their platforms. Wireclub.com is a combination of different chat sites, and we wonder how it works now.
Wireclub's Features:
Registration
Signing up is way easier than most of the other random chat sites. Enter a valid & working email id and choose a password to complete the registration. Once you pass through the first step, you can fill in the other details on the profile.
Here is the list of items you can add to your profiles,
Photos
Biography
Interests
Hobbies
Clubs
Ethnicities
Hair Color
Body Type
Education
Job
Sense of Humor
Drinking Habits
Religion
As a registered user, you can decide which details you want to update online. It's not compulsory to add all the information asked in the wire club.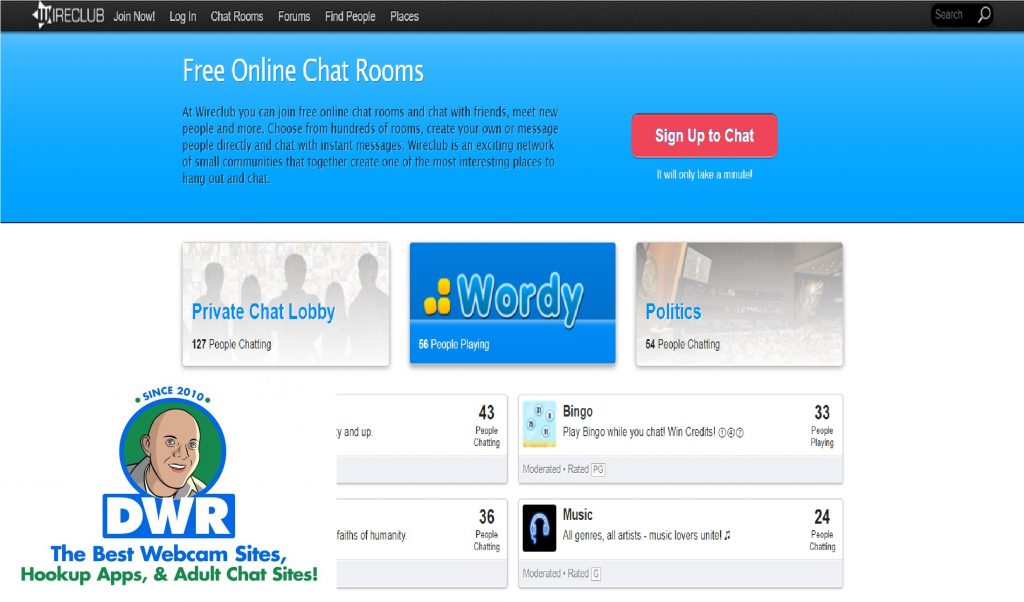 Online Chat Rooms
Not all the chat rooms in wire club are free to get into the conversation. Here are some of the online chat rooms that get the guest users coming in
Private chat lobby
50 plus chat
Music
Religion
Politics
Apart from that, they have dedicated chat rooms for dating members. We can check casual dating, hookups, one-night stands, online dating, and all sorts of hang-out chat rooms available online.
Guest users cannot join any of these chat rooms without registering their profiles. Uploading the photo is compulsory during registration. Hundreds of chat rooms available, but only a handful of them have a maximum of 200 users.
Forums
Forums are barely working these days. Wire club has lots of forum topics, but none of them are updated frequently. We are not sure who sorted the forum topics because everything looks like a buzzkill.
Here are a few forum topics from wireclub.com, martial arts, books, brands, business, cars, drummers, etc.
Additional Features:
Find People
One thing is clear as crystal. Profiles are not getting moderated thoroughly. We could see numbers, google images, & sexually exploit photos available on user profiles.
We can see profiles by different filters such as name, gender, age, email id, location, nearby status, online users, or random. Almost 90% of the profiles didn't have any current logged-in status. Try this website instead.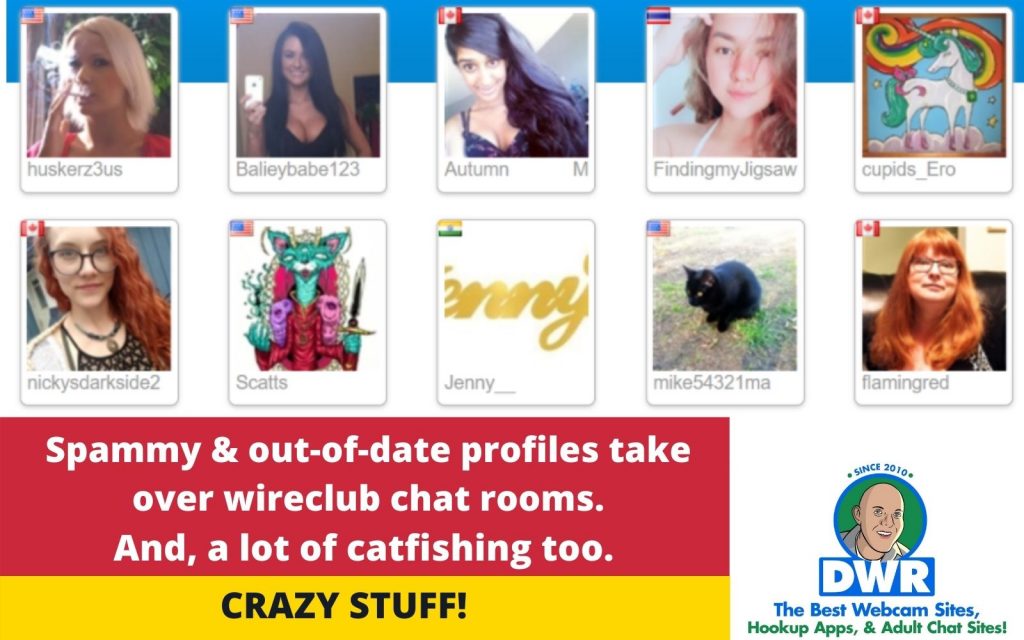 Also, there will be profiles that occur for ratings, so you can rate, or skip or even report at them if they're inappropriate. We found thousands of fake and spammy profiles throughout one week of testing.
Many people lie about their gender and create dummy profiles. The old trick isn't working any good for the website.
Places
We can also find online chat users by filtering the countries. Even though the website has members from 100+ countries, only 30 active countries are named. Here are the top list of countries with live members,
United States, United Kingdom, Canada, India, Australia, South Africa & China.
Sites Like Wireclub.com:
Unfortunately, the wire club did not have any video chat rooms available for adults. That's where other chat roulette sites take the marginal advantage by attracting thousands of users every day. Don't confuse Wireclub with WireChat, both are different chat room sites.
Alternative sites like CamSkip & Joingy (review at the links) have both free text chat and video chat features for adults. That said, it's shown as free chat room sites, and the reality is different. They're freemium websites with an additional cost to chat with female members.
Most adults are looking for something unique where they could talk dirty without getting any backfire. For them, we specifically tested adult chat sites that could well be the perfect thing for them.
For example, you can take StripChat & ImLive (review at the links) for naughty chats with female webcammers.
Legit chat users and the secured platform get the trustability factors these days among chat room members. Online hookups are a lot more different than what we have seen in the last few years.
We have reviewed one more cam site called LiveJasmin.com that streams 3000+ webcam members on a secured platform. It gets regular updates, and you will not see any abusive members on that.
Wireclub.com Reviews Conclusion:
One word review = Outdated. Wireclub isn't the best of free chat sites online for current generation users. Website structure, fake users, and load user experience will make you regret choosing wirechat instead of other online chat room sites.
ChatRoulette sites and free video chat sites are 100% filled with pervs looking to show their privates online. It's tough to spot the best ones nowadays but no sweat. We got this.
Here's one of my recommended platforms you can take a chance on.

In short, wireclub.com is not the ideal place for free chat, casual dating, or hookups. We also spent hundreds of hours cracking the best hookup sites online & feel free to take a chance at that.
Comments
comments