Chatroulette is a random video chat site for adults to connect with strangers and friends online. Is Chatroulette.com a decent platform to chat nowadays or filled with inappropriate users? Check this updated ChatRoulette review to find those answers once and for all.
Many of us think of chat roulette as a random video chat site, but it does have other features for online text chat and voice chat. It is one of those chat sites that rose to the top instantly without much of a promotion.
So, 12 years after the launch, chat roulette is still up and running with drastic changes to its website design, policy, and standards. How is chatroullete.com doing these days? Is it a clean site without nudity and obscene users? Let's find out.
ChatRoulette Overview: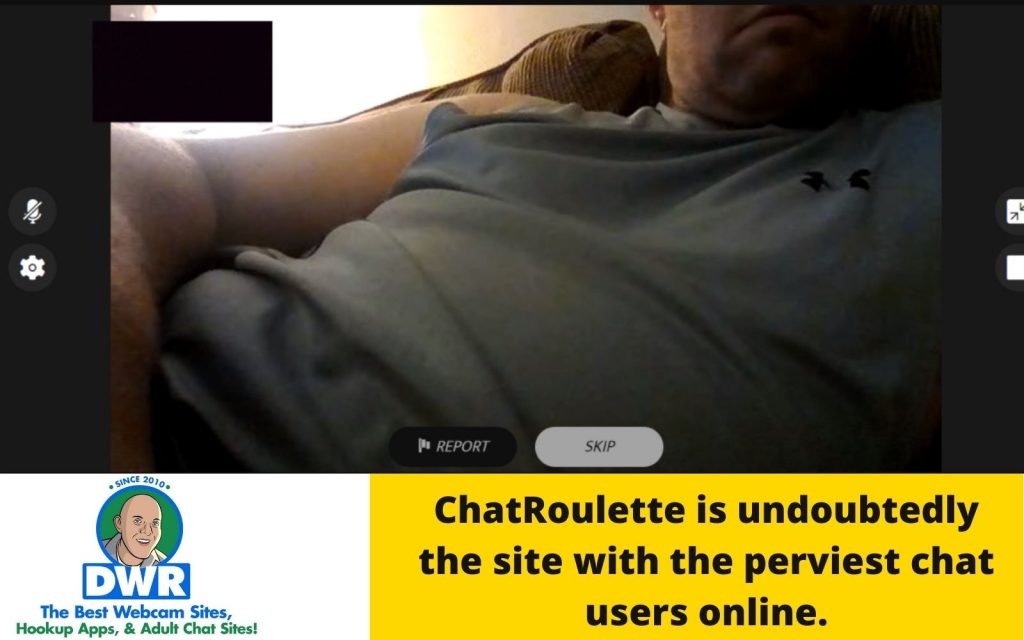 Chat roulette is one of those random chat sites to connect people for fun online. Who can use chat roulette.com? Anybody who is 18 and above can access this random video chat site.
There are elements where accidental nudity and profanity take place at chatroulette.com, and that's why you have to be an adult to accept the terms and conditions before entering the website.
Previously, the website didn't have signup as compulsory for users. After facing some backlash that the teens are accessing the website in large numbers, roulette chat has updated its privacy policies and the signup process.
ChatRoulette Features:
Registration
The signup requires a username, legit email id, and password. The current terms and conditions state not to share any offensive or pornographic content after a successful registration. That said, we are not sure how many users have taken this seriously.
Once you have registered the profile, you can add additional details such as age, gender, location, short bio, interests, and photos. They have close to 100 moderators working in teams to remove inappropriate users with pictures and videos.
Guest Chat Rooms
Unlike the old days, the roulette chat site has two chat rooms now. First, we have random chat rooms, and second, the unmoderated chat room. Let's dive deep into these chat rooms and see what they got to offer.
Random Chat
The random chat room is currently the one with the most legit users signing in and accessing it to connect with strangers. However, history repeats here too. We could see random cam users who like to send sexual messages and flash tits and boobs.
The image of old chat roulette hasn't changed in people's minds. No matter how many updates, 90% of the users are using it as a dirty roulette platform. What a pity!
It is the currently recommended chat room that says nudity equals ban. Users are still hiding their faces to flash their privates on cam and getting away with that.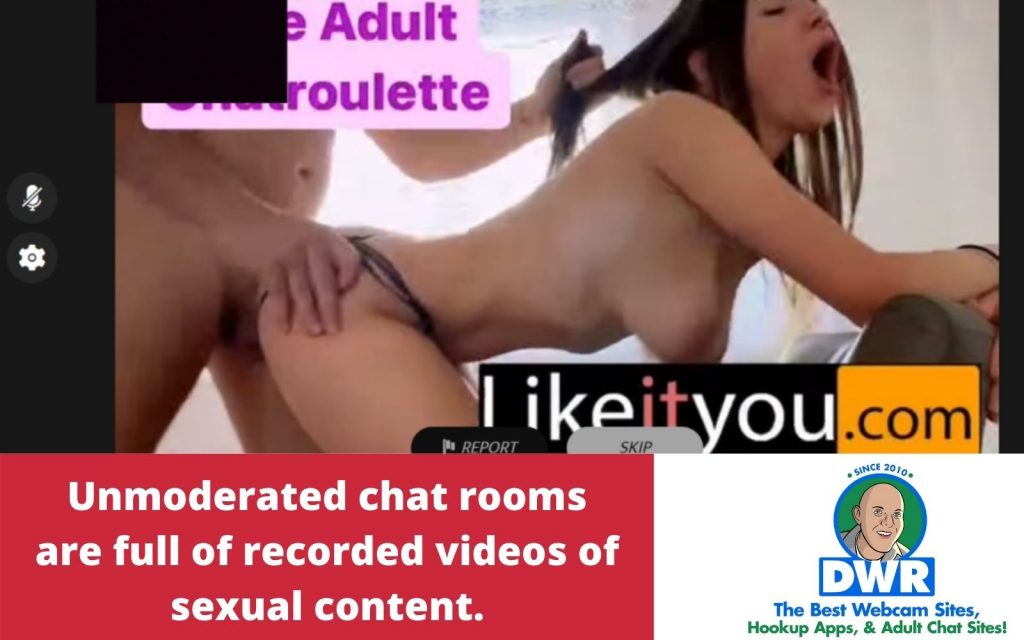 Unmoderated
Next up, we have the unmoderated chat room that gives a disclaimer – enter at your own risk. Well, we did, and guess what we found? A chat room full of bots sharing sexual teasing images with website URLs in video format.
Chat Roulette Pricing:
Thankfully, you don't have to worry about membership plans here because it is 100% free to use. That's one of the reasons why even after many updates, the website seems to have spammers.
CamSurf & Bazoocam (review at the links) are two alternatives that can rival chat roulette on features.
Additional Settings & Controversies
Reporting
A report button is available below the chat window with the skip option. We tested the chat rooms with more than 500 swipes, and 80% of them seem to like chatting with their face closed from webcams.
The website design is pitiful to watch, and since it is still free of charge, many adults take it for a spin. I prefer this site nowadays.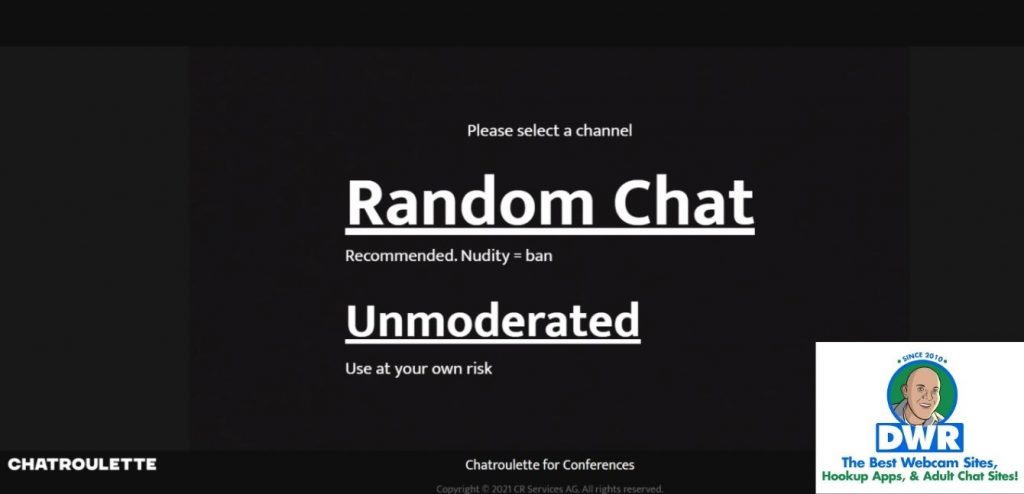 Gender Ratio
A minimum of 20K members uses this random video chat site daily. Abusive members, trolls, pornographic contents are more linked with the brand chat roulette.com.
If we look at the ratio of members, there is a massive drop in female users over time. You have more chances of chatting with a perv who masturbates on cams or stays half nude to prey on users. I guess you figured out why you keep on seeing male members a lot more than females here.
Sites Like ChatRoulette.com:
If you're looking for a more female-centric website and dirty talks for real, stop hovering around looking for random chat sites like Omegle & ChatRad (review at the links).
We got real horny webcam chat sites for adults for uninterrupted sexting online. For example, peek into Chaturbate & LiveJasmin (review at the links). Both are 100% secured webcam sites for adults with more female cam members than any other gender.
Enough with the skipping and reporting abusive cam members. The adult cam chat sites we mentioned above work exceptionally on desktop and mobile devices.
"The user experience is awful on ChatRoulette video chats." – Jason.
ChatRoulette.com Reviews Verdict:
If we calculate the amount of time spent to pass through all the spammers and inappropriate members in roulette chat, it takes away a lot of time. What's the point of this random video chat platform? Are we supposed to keep reporting users? Heck, no.
There's no debate that chatroulette.com is a paradise for naked and masturbating users. Again, the risk is real & you don't want to regret using this horseshit chat random site. That's why we also listed genuine tips to get laid fast online and in real life. If you're a chatroulette user, trust me, you'll also benefit from those tips.
For adult members who love watching couple cams for a naughty chat online, we got something for you. StripChat.com has male, female, trans, and couple cam members who stream their cams 24/7.
And, for those lesbian and gay video chat members, here is one of my recommendations.

In conclusion, chat roulette is an unfit platform that fails to manage the current trends. Online hookups are a lot easier these days, and we compiled a list of hookup sites that would potentially save your time and money.
That's the wrap, and feel free to try reading my blog that has recent additions for naughty cam members.
Comments
comments