Fruzo claims to be the world's first dating social network that uses a random video chat feature to connect potential matches. Find out whether it is true or not along with the features, members, and other interesting things about this cam chat site in our Fruzo Review.
What do you love the most about online dating? It can be the perfect change of pace, when you are too bored to go out and mingle, but interested to meet someone new. So it's pretty obvious that people like the conventional way of meeting people online.
However, these online dating sites always stay up with the trend. It has started evolving with the latest trends by introducing online chat rooms, random video chat, cam chat, and other features. In other words, these are often called random chat sites.
Well, Fruzo is one such random video chat site that is claimed to be the best cam chat social networking site that ever exists. Is Fruzo.com worth joining? Is it safe to use? Stay with us as we unravel the hidden truths about this online video chat site in our Fruzo review.
Fruzo Overview: A Total Sham!
Unlike Fruzo claims, it is a complete clone of Chat Random, another mediocre webcam chat site on the internet. It also claims to be the first free app to combine social networking with a random video chat feature. However, that turned out to be utterly false.
The concept of connecting random people over an online video chat has been used much before, in the early 2003s. Eyeball Chat and ICQ are some of those sites that pioneered the concept of free video chat.
The worst part about Fruzo is that you cannot count it as a legitimate Omegle alternative. Unlike the Omegle (review at the link), free chat now seems impossible at Fruzo. Also, it failed to reprise dating sites or hookup sites with its single feature concept.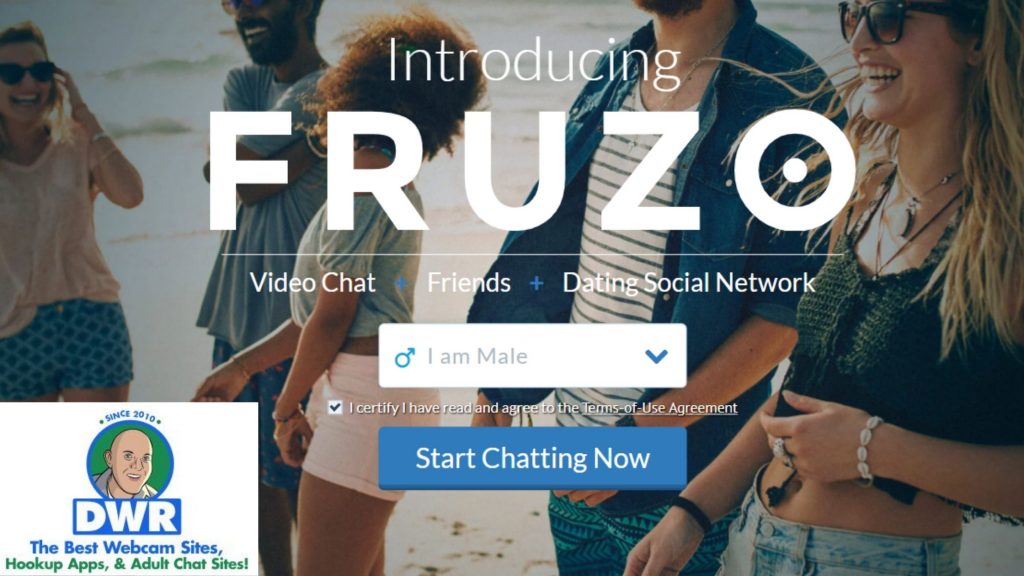 To be bloody honest, if any sex chat site or a random chat site wants to present itself as a trailblazer in the industry, it must have something unique more than just a free video chat feature under the hood. Regrettably, Fruzo has nothing. In fact, it isn't a legitimate online video chat site either.
Talking about the members on the site, the site doesn't even have a registration process for the users to get signed up. The user database is accounted for the Chat Random, and it's just over 3 million.
While addressing the problem of fake users and bot profiles, Fruzo doesn't have to worry about them as everyone can see who they're talking to over a webcam. However, you cannot control with whom you wanna chat, unless you pay from premium membership.
Fruzo Registration and Overall Features
Fruzo is a single-page random video chat site like Chat Random and some of its clones like Chatki and Chatiw (reviews at the links). That said, there aren't any peculiar features on the site to discuss other than the cam chat functionality.
Fruzo Registration Process
As said earlier, there isn't any particular registration process followed at Fruzo. However, in order to subscribe to premium membership, you must sign up at Chat Random.
The registration process is simple. You can either signup using a Facebook account or by using a valid email address. I would recommend you register using an email address. All that requires for getting signed up on the site is an email address, password, username, date of birth, and location.
Random Video Chat at Fruzo
Fruzo has a simple and functional design concept without any elaborate and fancy decors. Upon choosing the gender and clicking on the 'start chatting now', you can have a webcam chat with strangers at Fruzo.com.
The only random video chat feature on the site presents you with an arbitrary collection of users who are currently broadcasting live using their webcams. The algorithm randomly matches you with a random user on the net for cam chat one at a time.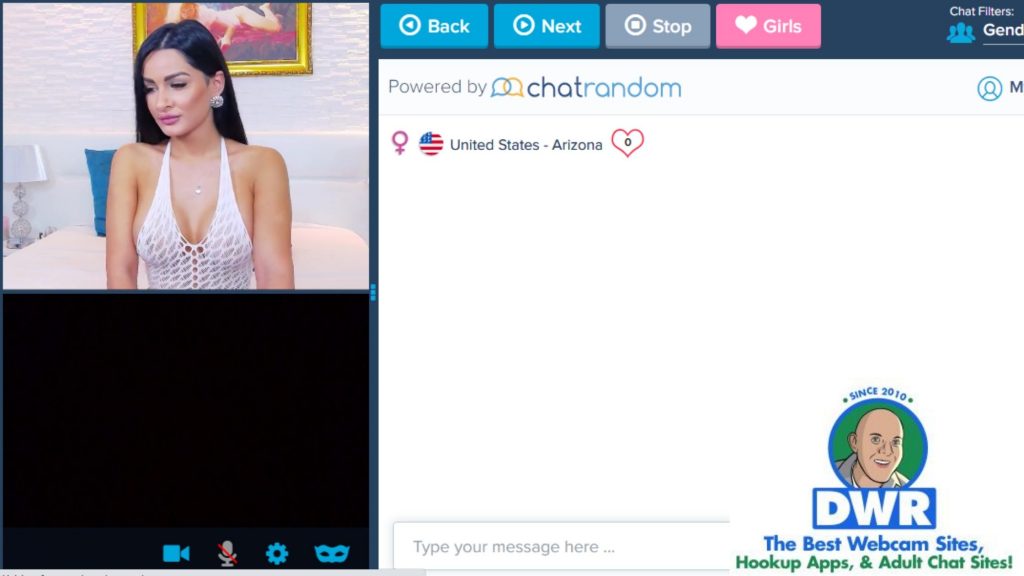 There's nothing to get excited about it as the users you often get connected to are random junks shagging their dicks or perverts up for naked shows. By any chance, if you get connected to a girl, either you may lose them in a blink of an eye or it's just a live feed from webcam sites.
Unlike FaceFlow (review at the link), Fruzo isn't a totally free video chat site. To make use of gender and location filters, you must upgrade your account to a premium subscription.
Gender and Location Filters
The only premium feature on this video chat site is choosing Filters. Setting gender or location preferences on the site requires a paid membership plan on the site. With these filters, you can sort genders featured on random video chat and the country they broadcast from.
Fruzo Prices For Premium Membership
Fruzo premium membership or Chat Random Plus membership starts at a price of $7 per week. The premium membership at Fruzo isn't worth your money. Here are the benefits that you will avail yourself with this paid subscription:
Gender and Location Filters
Ad-free experience
Reconnect with the lost match
Verified VIP badge
Hide your location
24/7 live support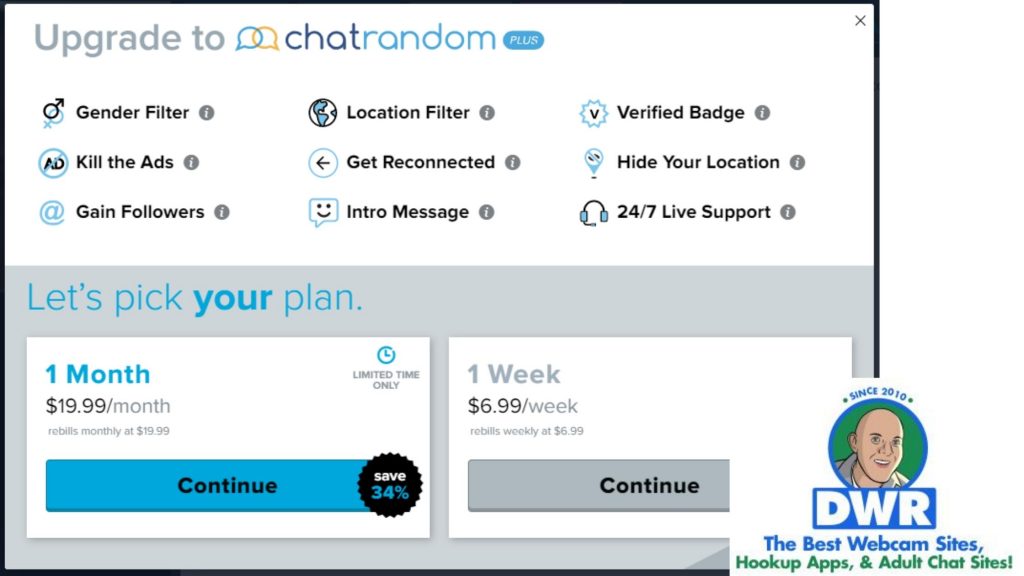 Here are the two pricing plans available for a membership at Fruzo.com:
$19.99 per month
$6.99 per month
It's damn expensive when even compared to the webcam sites like Stripchat.com. There you can get a chance to have a private fun session with a sexy model, unlike Fruzo.
Sites Like Fruzo
Despite having a dating application available for both Android and iOS users, Fruzo failed to receive accolades from the users. That's mainly because of its inability to get you connected with strangers for random video chat.
The cam chat function draws a lot of flak because of poor video quality and matchmaking algorithm. Most of the time, this feature displays the models from top cam sites even after taking a paid subscription. That makes Fruzo ineffective as a video chat site.
Trying out cam sites like Stripchat and Streamate.com would be effective rather than wasting your time on this mediocre clone site. They offer thousands of sexy cam girl streams for totally free.

When it comes to passing final judgment on this webcam chat site, we have already expressed our disappointment using Fruzo.com. Check out our take on iSexyChat here (review at the link).
If you have been a member, leave your own Fruzo review in the comments below.
Comments
comments