ChatSpin is a random video chat platform that connects thousands of people online from different corners of the world. Learn more about this webcam chat site's features, members, prices, and more fascinating things in our elucidated ChatSpin Review.
Man, we are living in a world where we can get almost everything at our fingertips with a click or a push. No wonder that digital space has taken over our lives and we are depending on the internet for every minute thing.
Thus, most people are turning towards random chat sites and online dating sites to meet their significant other. However, most of these platforms are filled with people looking for one-night stands or casual flings.
Keeping that in mind, most of the chat sites introduced random video chat features to stay well ahead in the race. There are so many cam chat apps that are flooding the internet. ChatSpin is one among them! Is it totally reliable for random video chat? Find out in our detailed Chatspin review below.
Chatspin: A Mediocre Random Video Chat Site
Firstly, there isn't anything cool or unique about Chat Spin. It was first launched in 2015 by the popular company SMV Co. The site claims that it has successfully made over one billion connections since its launch. That's utter rubbish!
For a site that is having just a shy of 3 million users to its name, making 1 billion connections is a total bluff. It's nothing but a marketing trick to lure users. However, the majority of the users are from the United States.
This Spinchat can be accessible in 12 different languages. It has made this random video chat app available for both Android and iOS users. Nevertheless, the interface and remains the same as is on this website version.
The infuriating thing about chatspin.com is that it is not a legitimate random video chat app, but a hoax of Chat Random (review at the link). Chat Random is another sick webcam chat site that facilitates users to have free cam to cam online.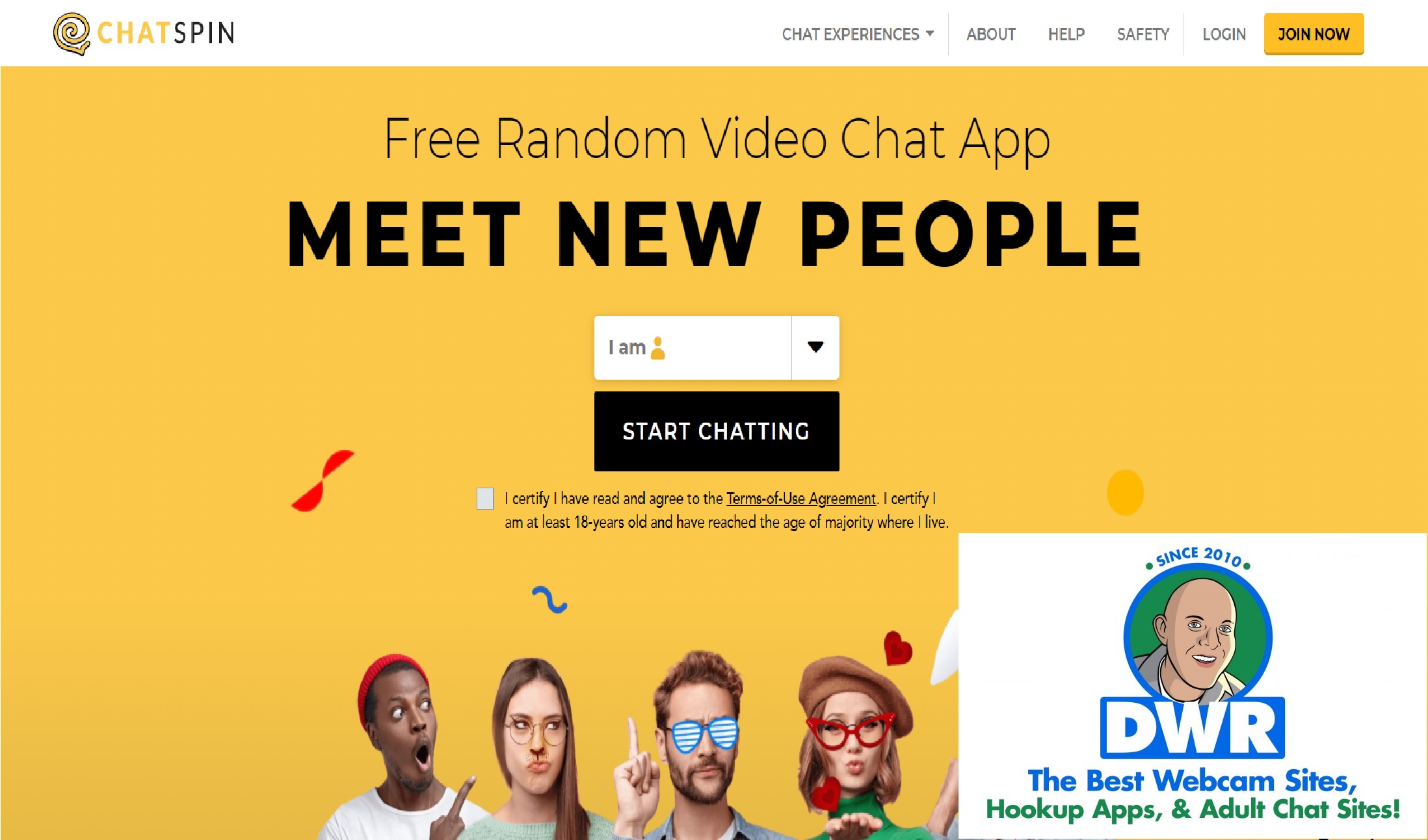 Just like this Omegle alternative, Chat Spin is a single-page/single feature cam chat site. The system randomly matches you with a stranger for free cam to cam or chat one at a time. Unlike Chat Random, this Spinchat isn't entirely free.
You must upgrade your account to a paid membership in order to avail of overall features on the site. It doesn't seem to be any different from Chatki (review at the link) either. Dig deeper into the overall features of this phony random video chat app.
Chat Spin Overall Features
Before getting into the features, I must tell you that Chatspin doesn't have any female users registered on the site or you don't get to see them unless you opt for a premium membership.
Despite being failed to be a potential Omegle (review at the link) alternative, Chatspin.com has a pretty simple user interface and a quick registration process. Since it's a hoax of Chat Random, you cannot expect the design and layout of Chat Spin to be any better.
ChatSpin Registration Process
Thankfully, Chatspin doesn't require any signup process to kick-start random video chats with strangers. Unlike in hookup sites, you can simply enter your gender and start chatting without any hassles.
However, if you wish to get registered, it won't take you more than 2 minutes. You can signup using Gmail, Facebook, or an email address. All you got to furnish is a valid email address and a password. Upon successful validation of your email address, you're good to get started.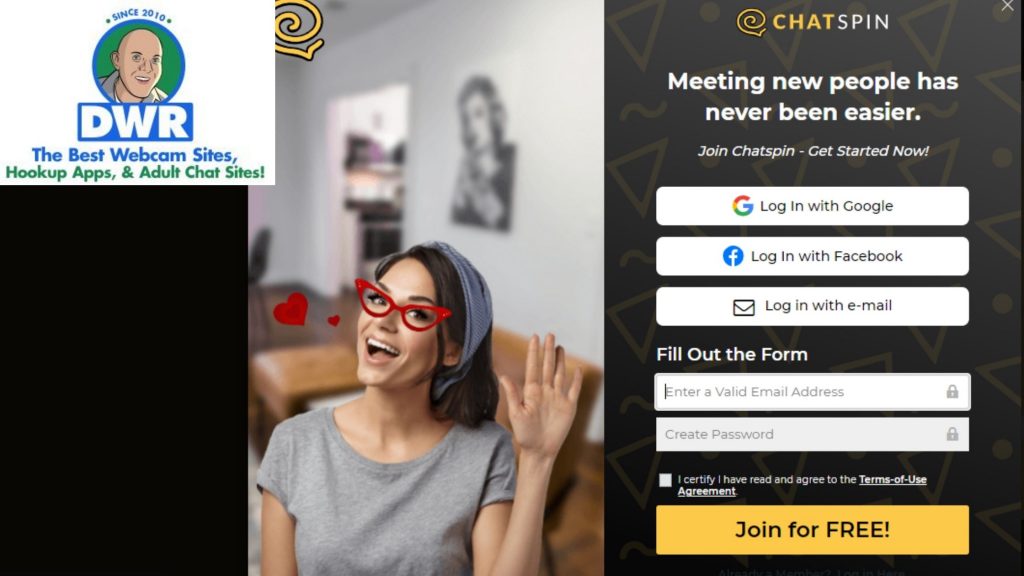 Random Video Chat on ChatSpin.com
The simple user interface will take you directly to a random video chat screen upon clicking on the Start button. By default, the system will connect you with a random stranger online for free cam chat.
However, you will only get connected to male users from remote countries either wanking or streaming naked. Also, the quality of webcam chat is very subpar.
Irrespective of your preference, Spinchat will connect you to a stranger for free cam to cam. That said, you must turn your webcam on all the time for uninterrupted webcam chat. There are only two ways to talk to strangers at Chatspin: Video chat or text chat
Video Chat
Under the Chat Experiences tab on the top, you can find Chat App, Anonymous Chat, and Singles Chat. There isn't really any difference between any of these features. Each of these features connects a random stranger one at a time. You will be given options to add them as your favorite or can skip to the next one.
While keeping your cam on, you can make use of AI filters that serves as digital masks to your face. In this way, you can keep your identity undisclosed. The gender filters and region filters on the top will match you with the exact preferences set. However, that's only for premium members on the site.
Text Chat
The Text Chat under the Chat Experiences isn't really any different from the rest of the video chat features. This will only match you with the stranger who has disabled their webcam.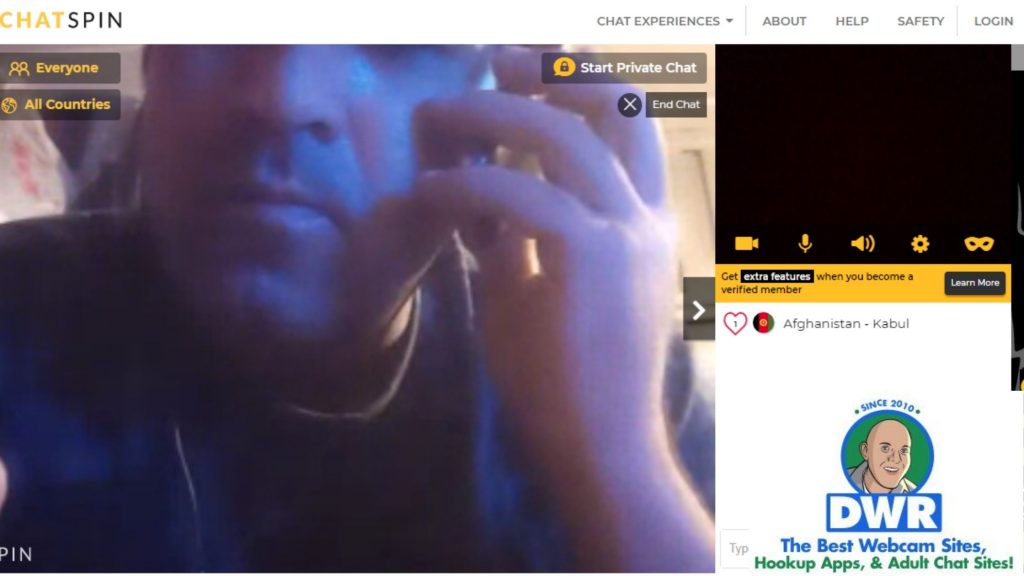 Filters
As said earlier, the gender filter and location filter were made available for the premium users on the site. With these, you can set your match preferences from the location you desired.
ChatSpin.com Costs For Premium Membership
There are many totally free sex chat sites available on the internet like Faceflow (review at the link). However, Chatspin isn't one among them. The premium membership plan starts at $15 per month. The pricing plans are as follows:
1 Week – $6.99
1 Month – $19.99
6 Months – $89.94 ($14.99/month)
Some of the perks you can avail yourself with this premium membership are:
Gender and Location Filter
VIP Badge
Get Reconnected
Hide Your Location
Ad-Free Experience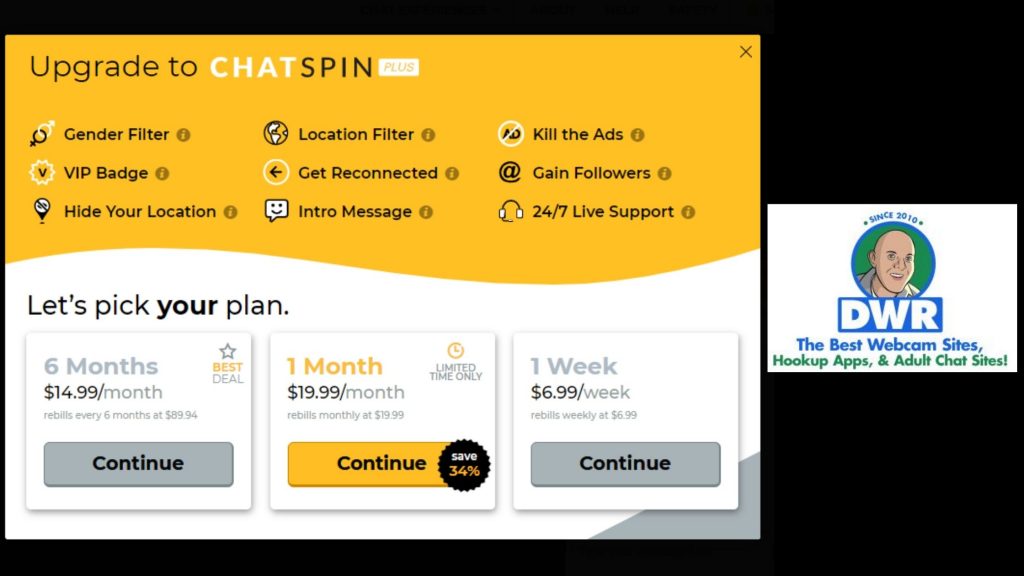 Sites Like ChatSpin
To be honest, free cam to cam isn't meant for random chat sites. Especially not for a mediocre random video chat app like Chatspin. It is meant for top cam sites like Stripchat.com. They facilitate users to have an ultimate free cam chat with stunning models.

Talking about the Chatspin alternatives, there are quite a lot of random chat sites available on the net that can overthrow Spinchat. Chatous is one such random chat site that deserves giving a shot.
Well, if you have been a bored stiff one and decided to try out random chat sites on the internet, Chatspin is worth giving a try. Also, make sure to leave your own Chatspin review if you have been a member.
Comments
comments