Chatki is an online random video chat site that is designed to bring people together from different parts of the world. Learn more about this Omegle alternative as we unravel its hidden truths, costs, and features in our detailed Chatki Review.
Talking and chatting with random strangers online can be the strikingly best way to pass our time. Honestly, we're lucky enough to have some of the best sites with chat rooms and random video chat features to meet someone interesting.
Some of them even let you chat anonymously with anyone and expand your social circle. Thus they got huge success in really quick succession. Well, Chatki is one such random video chat site that allows users to talk with strangers.
Is Chatki really a legitimate chat random site or just a hoax, Is it really worth your time, Is it safe to use? We have answered all your questions in our detailed Chatki review below.
Chatki Overview: A Clone of Chat Random
The Chatki isn't a legitimate online chat site, but a clone site of shady Chat Random. However, you can see some nips and changes in the design, layout, and user interface of the site. Besides that, it isn't a popular or promising chat site to talk with strangers online.
It is part of the Bridgestone International Group and claimed to be the Omegle alternative. It is a single-page random chat site where users' safety is compromised. Since it is powered by Chat Random (review at the link), you cannot find anything better from it.
According to this omegal alternative site, there are currently over 7.9 million registered users on the site. However, we aren't sure about the number as it's hard to say whether they're signed up on Chat Random or Chatki.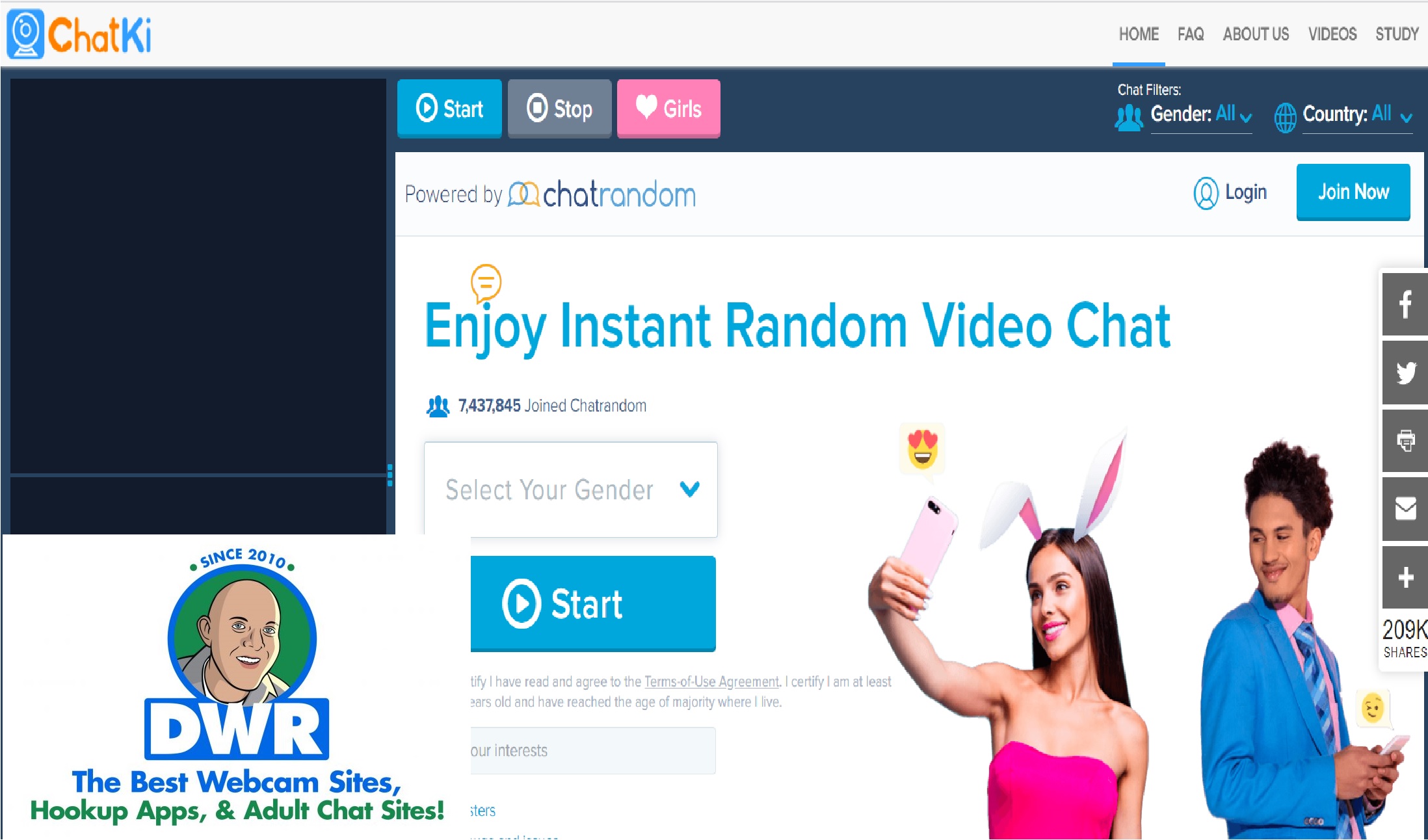 The gender ratio of female to male is terrible at Chatki. Even after skipping hundreds of profiles on the free video chat feature, you barely find a girl cam. Even if you get a girl by chance, you will end up seeing her getting vanished in a blink of an eye.
The site is full of pervy junks who love to shag their dicks to the camera. Talking with strangers is a total myth here. It's truly disgusting to see random chat sites are being used for sexual purposes and becoming less safe for stranger chat members.
Unlike Chatib (review at the link) and other random video chat sites, Chatki isn't entirely free. You must upgrade to a paid membership in order to get the most of it.
Overall Features of Chatki.com
It doesn't seem there are any notable features on Chatki, as it is a single-page random video chat site. Even though users can talk with strangers through cam without any registration, it does have a quick registration process.
Chatki Signup Process
By clicking on the 'Join Now' tab present on the top right corner of the homepage, the registration process will get started. You can either join using your Facebook account or using an email address.
However, I would suggest using an email address, as it's unworthy to risk your personal Facebook account for this shady chat random site. All you got to do is add a valid email address and password.
In the next step, you will receive a confirmation email from this omegal alternative to validate your account. Once you validate your account, you're good to go!
Videos
As Chatki.com claims it is an Omegel chat alternative, all you could find on this site are Omegal funny youtube videos. Don't expect to meet Omegle girls to have naughty conversations here.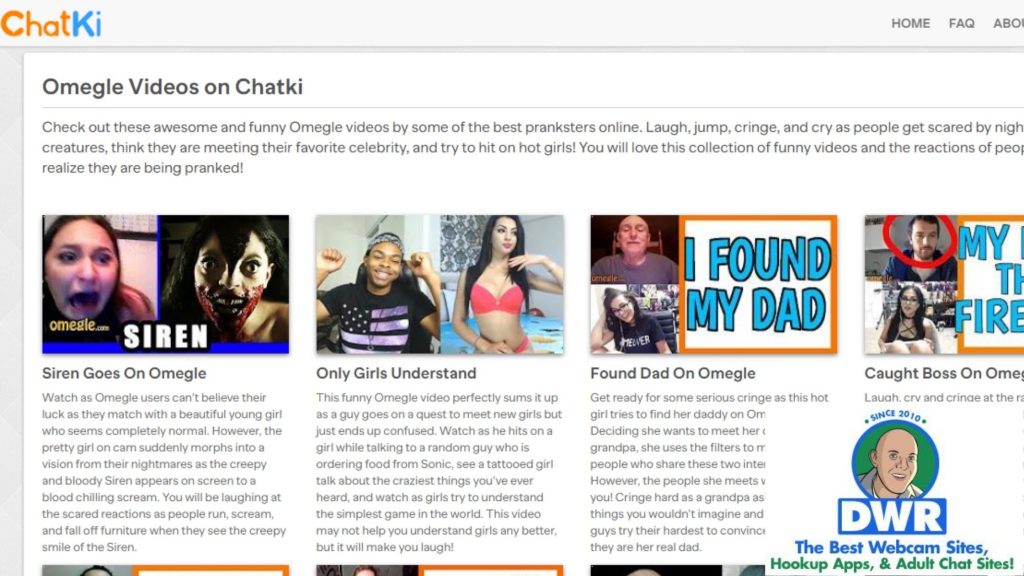 Random Video Chat
The instant random video chat feature is the core feature of Chatki. However, it doesn't distinguish it from its clone site, Chat Random. A significant chunk of matching with strangers done randomly at Chatki.
The lack of female users or poor matching algorithm doesn't give you the best cam chat experience as it does in webcam sites. You just have to choose your gender and click on start to begin the random chat.
Once you get connected to a random stranger, you can have the option to talk with strangers via chat or video. The chat screen on right will allow you to send text messages. You can even add a mask to your face to stay anonymous here.
Next will skip the current user and connects with others, whereas, Back will take you back to the previous chat. However, it is a premium feature and requires a paid subscription. You would be surprised to see how chat random lookalike sites work, take this one, for example, Shagle.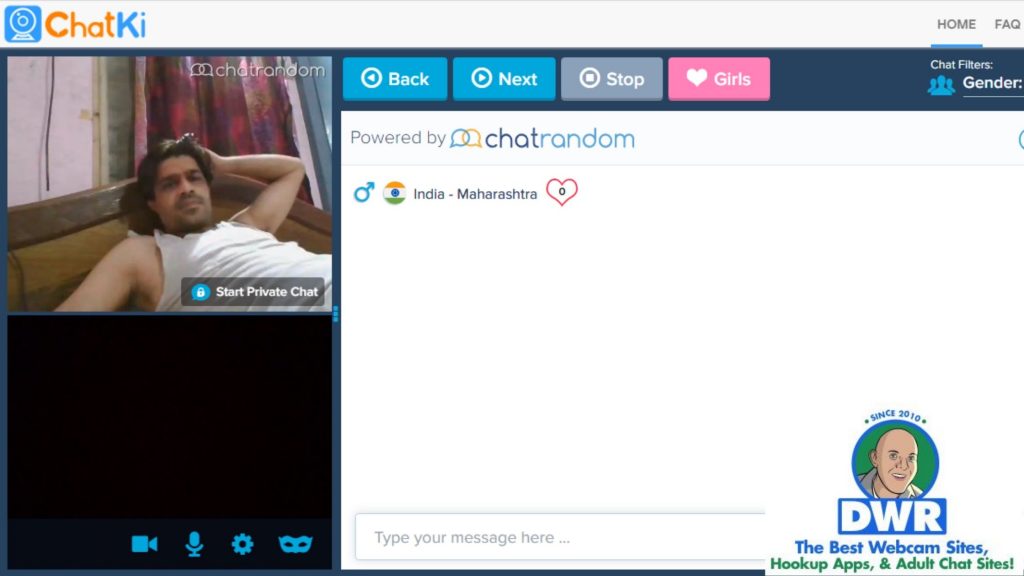 Gender and Country Filters
This feature is only for the premium members on the site. Here, you can set your gender preferences among Females, Male, Couples, Everyone, and Transgender to see the desired results. However, it's of no use as almost 95% of the site users are men who are up for dirty talks.
Similarly, the country filters allow you to find users from specific regions. Some of the top countries with large user databases on the site are India, the USA, Germany, Turkey, Georgia, and Russia.
Chat Random Premium Membership
The premium membership at this free video chat site starts at $20 per month. Here are the two pricing plans available for Chat Random Plus or premium membership:
$19.99 per month
$6.99 per week
Here are the perks you get with this free membership at Chatki.com:
Gender Filter
Location Filter
Ad-free experience
Gain followers
Get reconnected
Introduction message
Verified bade
Hide your location
24/7 live support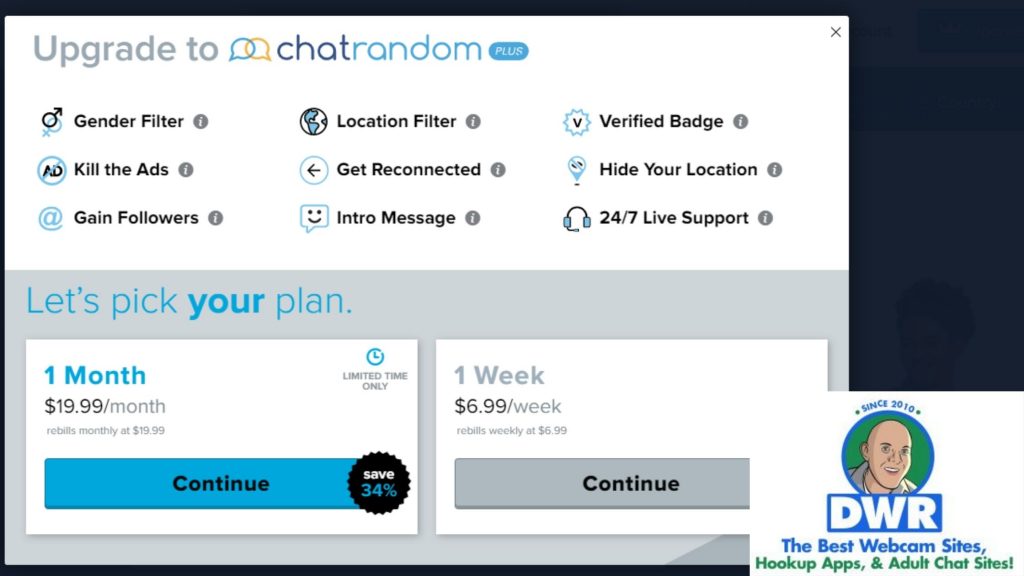 It's totally worthless to shell out tons of cash to such shady free video chat sites. Instead, use half as good as that amount at Stripchat.com to get an unimaginable cam chat experience with a busty cam girl.
Sites Like Chatki.com
Honestly, I don't recommend phony sites that take their users as scapegoats. Well, Chatki is definitely one such hoax chat site that is copied from Chat Random.
It's really hard to find random chat sites that are free of perverts. However, there are quite a handful of chat sites that could work better when compared to this random video chat site. Adultdates is one such site that you can rely on. Also, you can try this site if you're seeking singles for all sorts of relationships.

As said earlier, webcam sites like Stripchat (review at the link) and Chaturbate.com work way better than this sick random chat site. You can find hundreds of sexy models online with whom you can have steamy conversations while watching them naked.
Check out another shady adult chat site, FapChat review here. Also, check out another Chat Random clone, the Fruzo review.
Finally, Chatki isn't any good platform if you are looking to have a video chat with random girls online. Feel free to share your own Chatki review in the comments if you were a member.
Comments
comments