What is Woo App? 
Woo Dating is an international dating & matchmaking app that puts women *first*. 
They have built this app to inspire trust and comfort. Woo helps users to meet like-minded people with a lot of unique and interesting features.
It is mentioned that Woo Dating App has matched over a million single women and men in India & South East Asia.
How Woo App Works?
1. In simple terms, Woo app uses the geolocation & interests of users and recommend profiles based on that. It helps users to match with people they like.
2. The app uses swiping functionality, you can anonymously like or dislike a profile by swiping left or right! This can be done without revealing your identity using Woo dating app.
3. If you both like each other's profile, it's a match! A private chat room will open for the two of you. You can then send text messages and let the conversation flow!
Let's see how it looks inside the Woo App: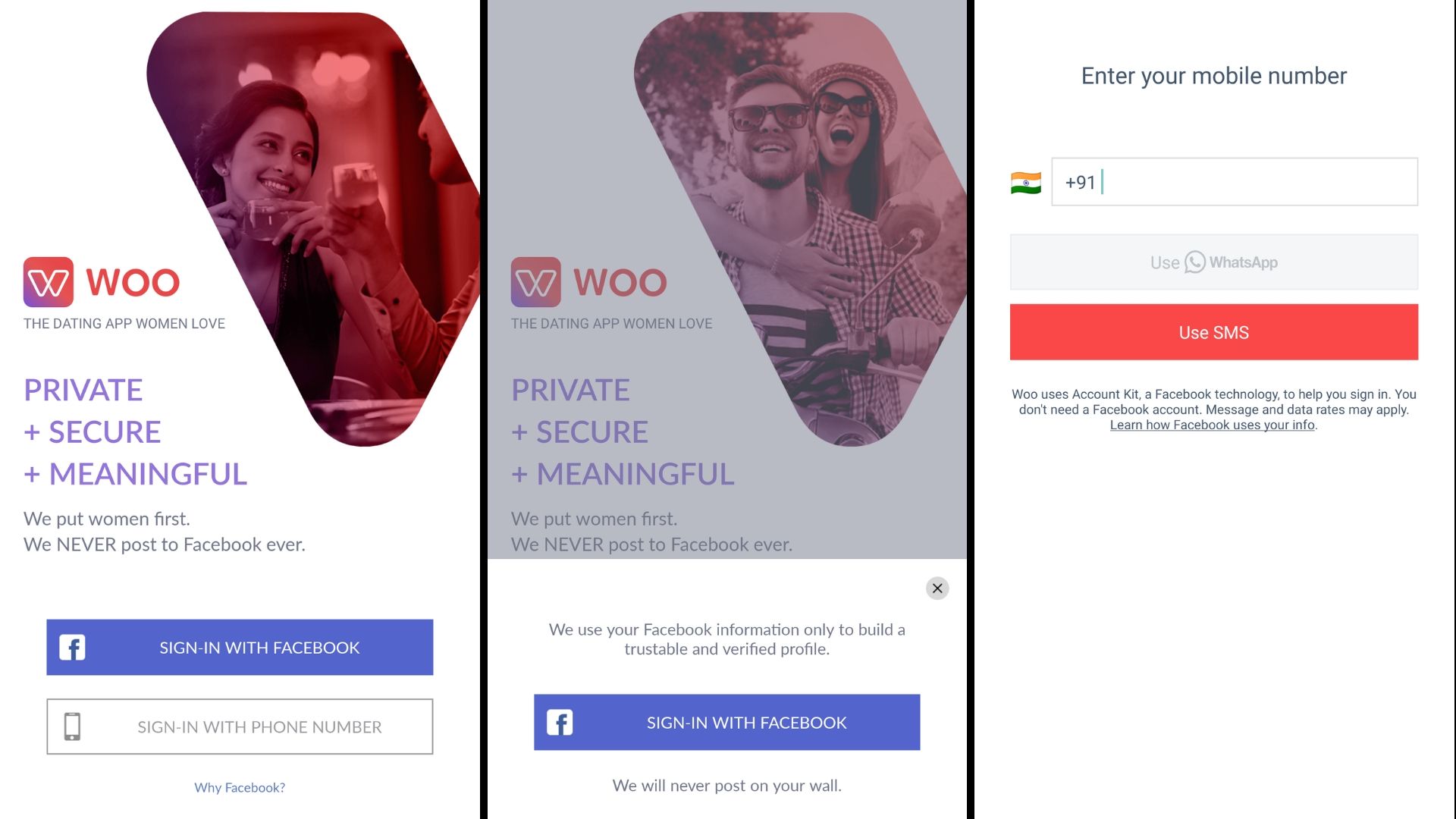 You can sign in using either a Facebook account or Phone number. 
User need to login to a Facebook account. A Facebook flash screen pops up requiring username and password.

Enter the phone number and you'll receive an SMS code on the registered number to activate the Woo account.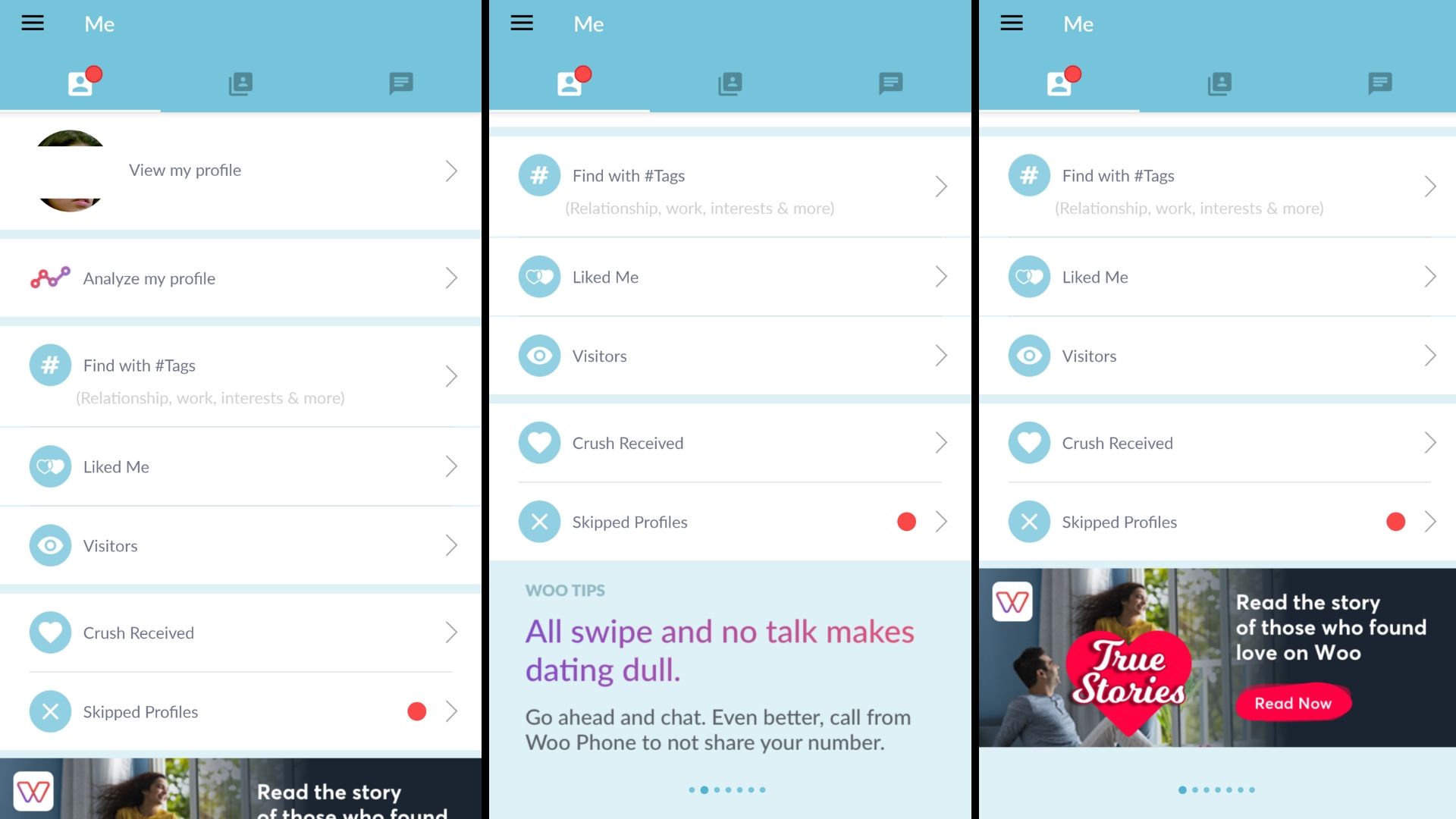 The home screen of Woo app has got three options up front namely "Me, Discover & Matchbox".
Me – This option enables you to view & edit your profile.
Discover – Helps you to check at profiles which are near to you and have similar interests.
Matchbox – Unlocks the option of Chat Room. It only appears only when the other person also liked your profile & vice versa.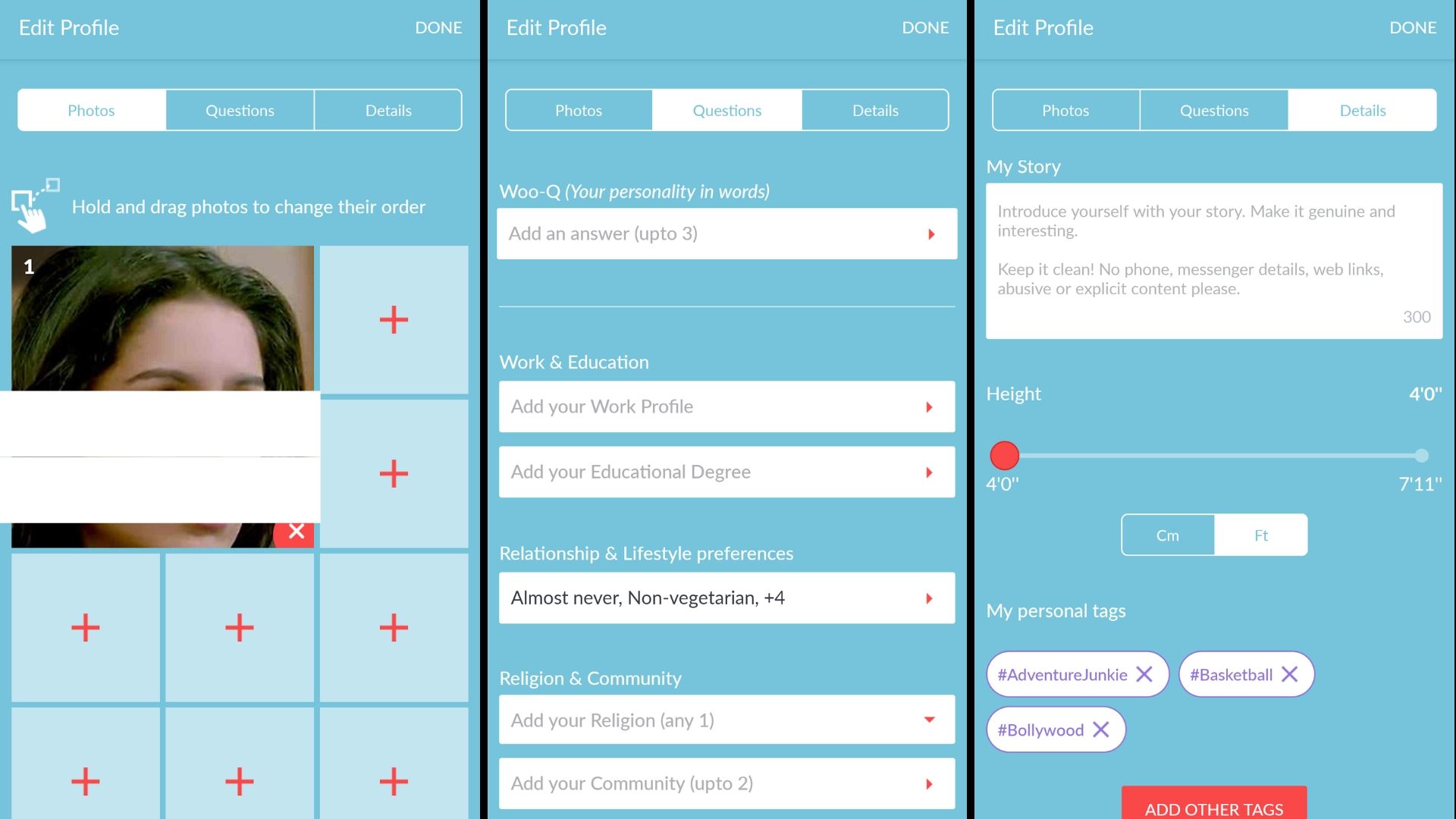 In order to edit your profile, just tap on Me option and choose "View your profile". Then, editing profile includes these below options,
– Adding more images (9 is maximum), 
– Updating some answers for the default questions in the app
– More Information like Work & Education
– Relationship & Lifestyle Preferences
– Religion & Community
– My Story (A short bio)
– Height
– My Personals Tags (Interest Tags)
– Lastly, you can choose how you want to show your name. Example, MJ in short or Michael Jordan in long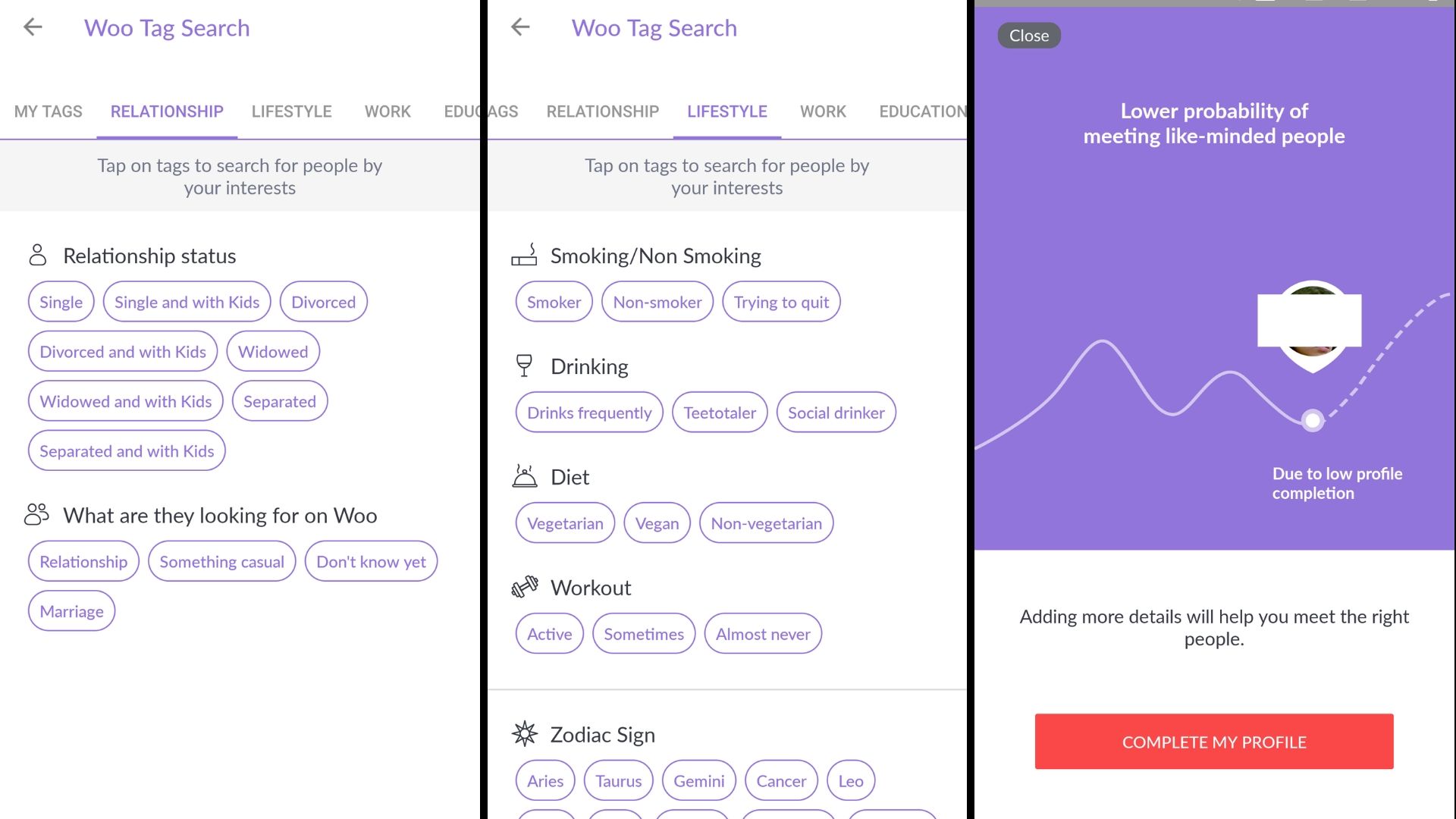 Interestingly, Personal Tags has got a lot of options to choose from. Probably, one of the best feature in Woo app. More tags can get your profile shown to a lot of search results. 
Here are the tags category you can choose in this dating app,
Relationship

Lifestyle

Work

Education

Community

Interests

Personality

Sports & Fitness
You can also check at your profile graph and build for a better dating experience. (Me > Analyze my profile)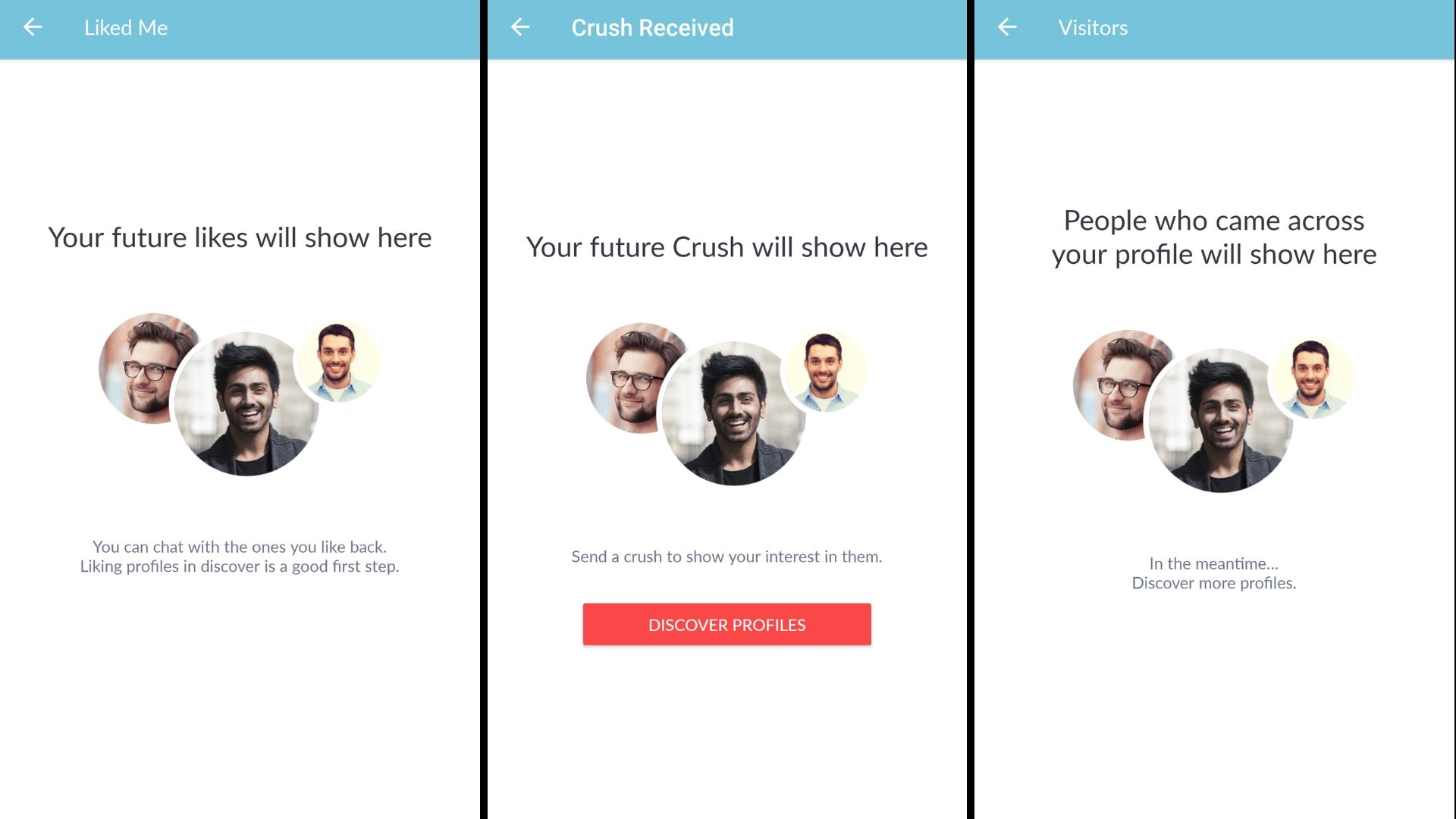 Under the Me section, you can see options such as,
Liked Me – To check at profiles who liked you
Visitors – To check the users who have visited your profile
Crush Received – To check if any user sent you the crush
As a Free user, you can see the skipped profiles for 24 hours time. After that, it will disappear. Most of the other sites don't show the ignored profiles, comparing to those this app is much better in that feature.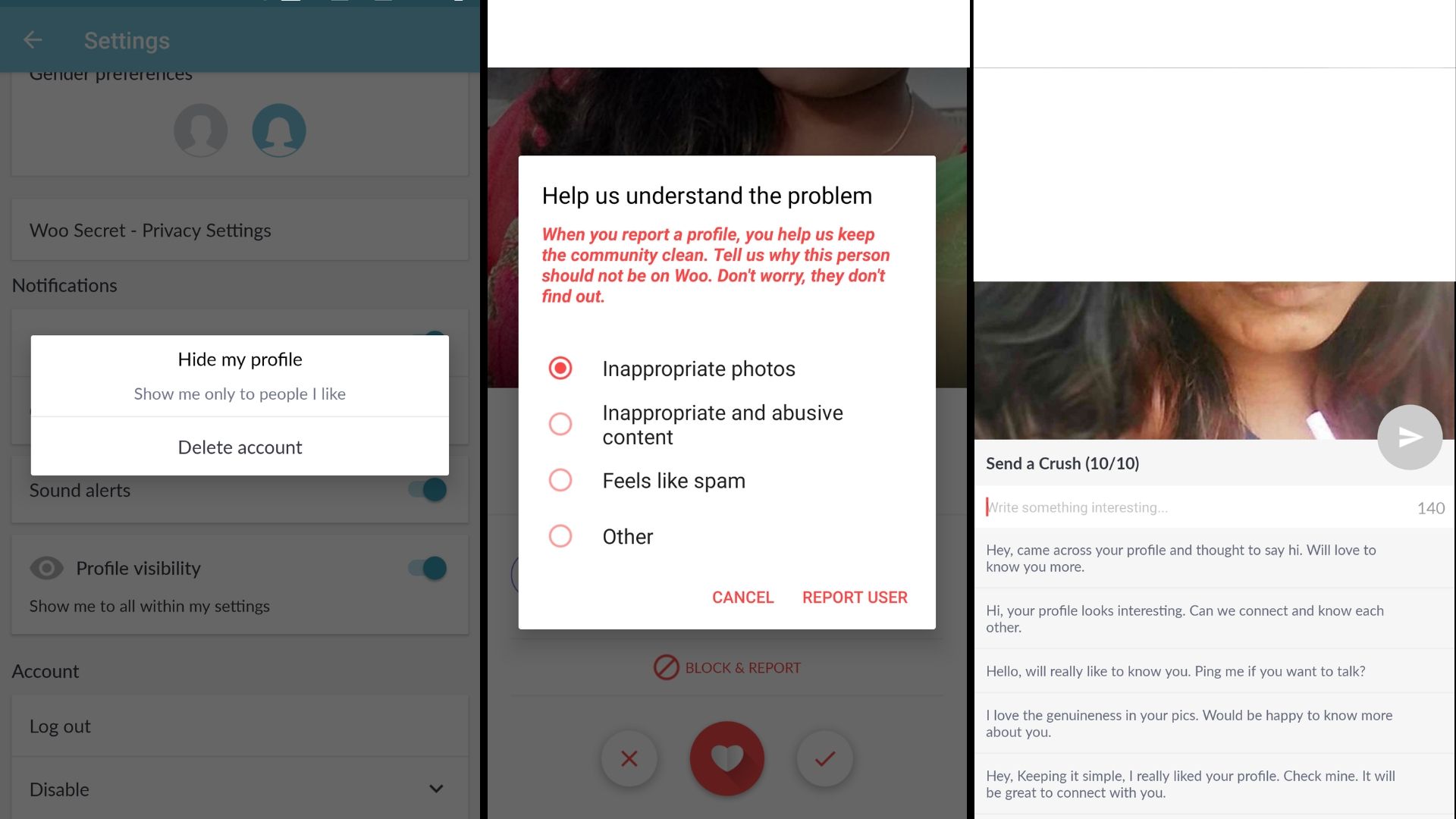 Here are some of the other options to check out for, 
Hide My Profile – The user can choose to show their profile to the only people they have liked. Go to Settings > Profile Visibility > On or Off.
Report a Profile – The user can report a profile choosing either of the options given by the app.
Send a Crush – By default, the app has got some creative first messages to choose when a user wants to send the 'Crush'.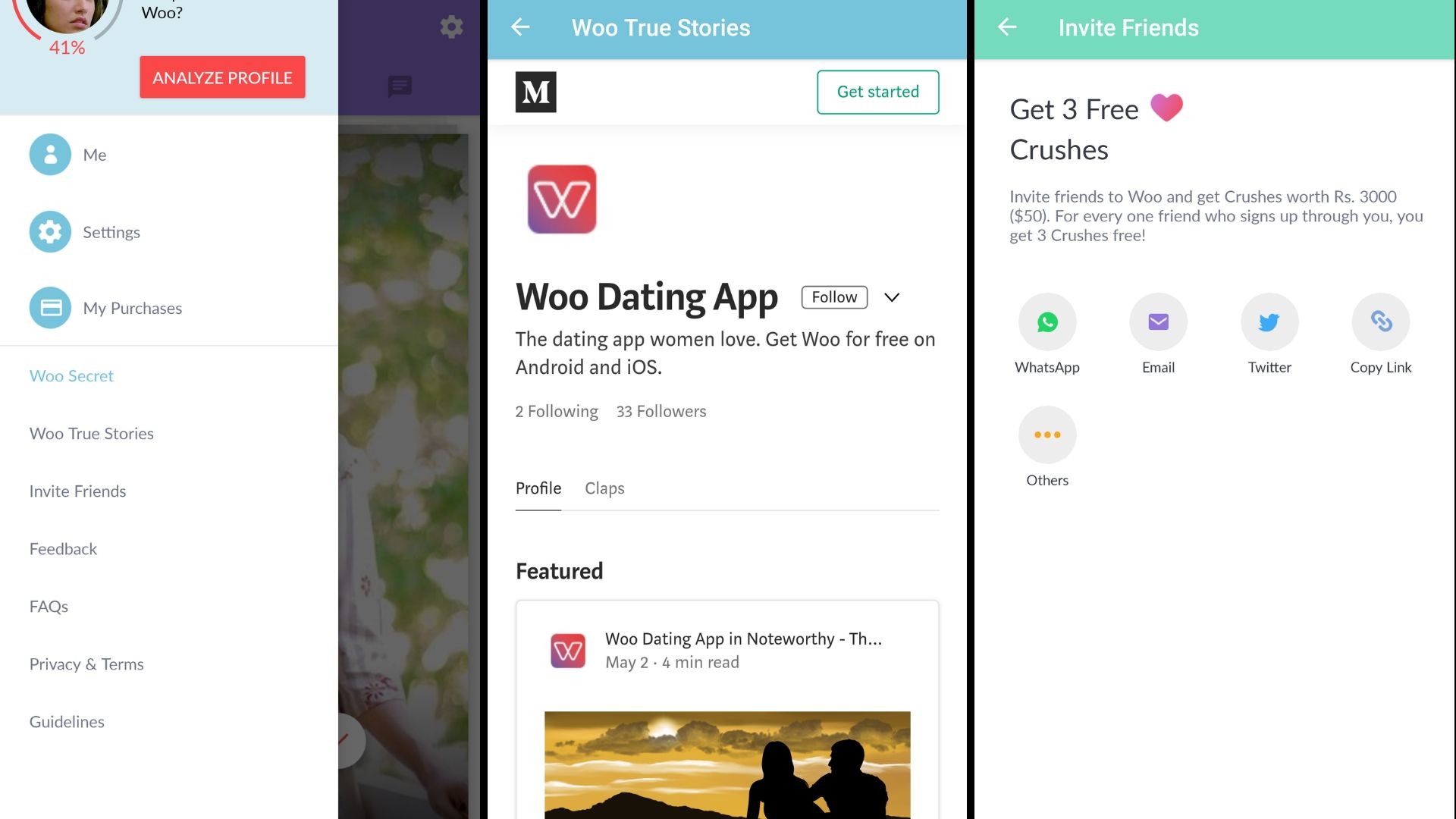 Apart from all the features and functionalities, Woo app provides engaging options and trustability factor by including "Woo True Stories" – where you can see successful dating or love stories happened because of using Woo app.
Other important options like Invite Friends, Feedback, FAQs, Guidelines, Privacy & Terms are also available.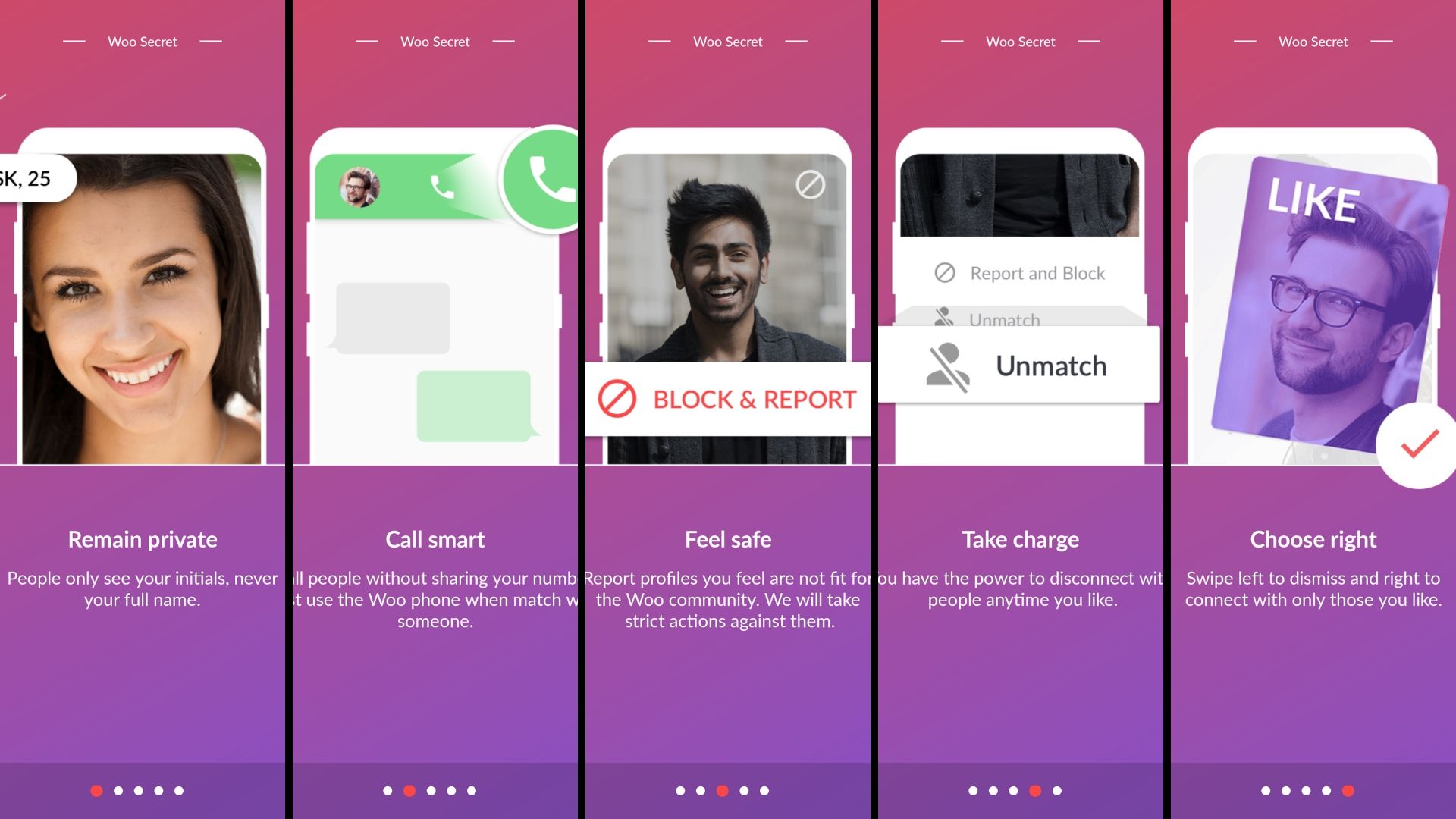 NEW FEATURES: 
1. WOO PHONE: Single women can now directly voice call someone they have liked from the app while their number remains hidden and private. This is another specially created feature in the world of dating, and it is available only to women.
2. WOO SECRET: Single Women's details will remain confidential in hidden mode. Such as Name, Phone Number & Location.
3. WOO SAME: This feature helps users to find single men and women who share common interests using tags. In other words, if you really like someone, just send a 'Crush' to direct message them and speed things up. After all, dating is all about matching your interests and choices.
4. WOO ANSWER: Users can write their own interesting & witty answers to the default fun questions added by Woo. However, all these things can help a user get discovered even faster.
5. WooPlus: Apart from all the above, Woo Plus got many premium features which help you get matched better and faster! Some features are: See who's visited you, liked you, revisit the profiles you skipped by accident, get unlimited likes.
How Much Does Woo App Cost?
Woo Dating App is free to use but for more dating matches, & features premium subscription plan need to be used.
Woo Subscription Plans (From App Store)
No
Description
Price
1
WooPlus 1 Month
₹899
2
WooPlus 1 month
₹299
3
Woo Plus
₹619
4
Woo Plus
₹1,099
5
Set of 10 Crushes
₹249
6
Pack of 1 Boost
₹159
7
Crush
₹249
8
Crush Pack – Woo App
₹799
9
Woo Plus
₹1,599
10
Boost Pack – Woo App
₹799
Woo Plus Subscription Plans (For Global Users)
No
Description
Price
1
1 Month
$12.99
2
3 Months
$29.99
3
6 Months
$39.99
Woo Crushes Subscription Plans
No
Description
Price
1
5 Crushes (Most Popular)
₹50/Crush
2
2 Crushes
₹60/Crush
3
10 Crushes
₹45/Crush
Woo Boost Yourself Subscription Plans
No
Description
Price
1
4 Boosts (Most Popular)
₹75/Boost
2
1 Boosts
₹120/Boost
3
10 Boosts
₹55/Boost
Woo Plus Subscription Plans (For India Users)
No
Description
Price
1
3 Months (Most Popular)
₹216/Month
2
1 Month
₹399/Month
3
6 Months
₹147/Month
4
12 Months
₹112/Month
Get Woo Globe Subscription Plans
No
Description
Price
1
View 50 Profiles (Most Popular)
₹6/Profile
2
View 100 Profiles
₹5/Profile
3
View 200 Profiles
₹3/Profile
Premium Features Of Woo App:
WooPlus
1.  To see who liked Us
2.  To see who Visited our Profile
3.  To Get Unlimited Likes
4.  Revisit the Profiles We Skipped
5.  Browse More Profiles
Get Crushes
1.  To Send Personalized Messages
2.  To Stand Out from the Crowd
3.  To Get 10 Times higher Chance of Matches
4. Crush Gets Showcased in Crush Section 
Boost Yourself
1. To Jump in Front of the Line of Profile Search Results
2. To See who Visited Our Profile While Boosted
3. To Get 15 times Higher Chance of Match
4. To Be Seen By Popular Users Around Us
Woo Global
1.  To Discover Profiles by Location Anywhere in the World & Swipe
2.  To Discover Profiles by Religion
3.  To Discover Profiles by Community
How Many Users are on Woo Dating App?
Play Store – 5,000,000+
App Store – Not mentioned
Languages: English, Indonesian, Portuguese, Spanish, Vietnamese
Who Created Woo Dating App?
Woo Dating App was founded by Sumesh Menon (CEO and Co-founder) and Ankit Nautiyal (CTO and Co-founder). The app was released in July 2014.
Customer Support Information for Woo: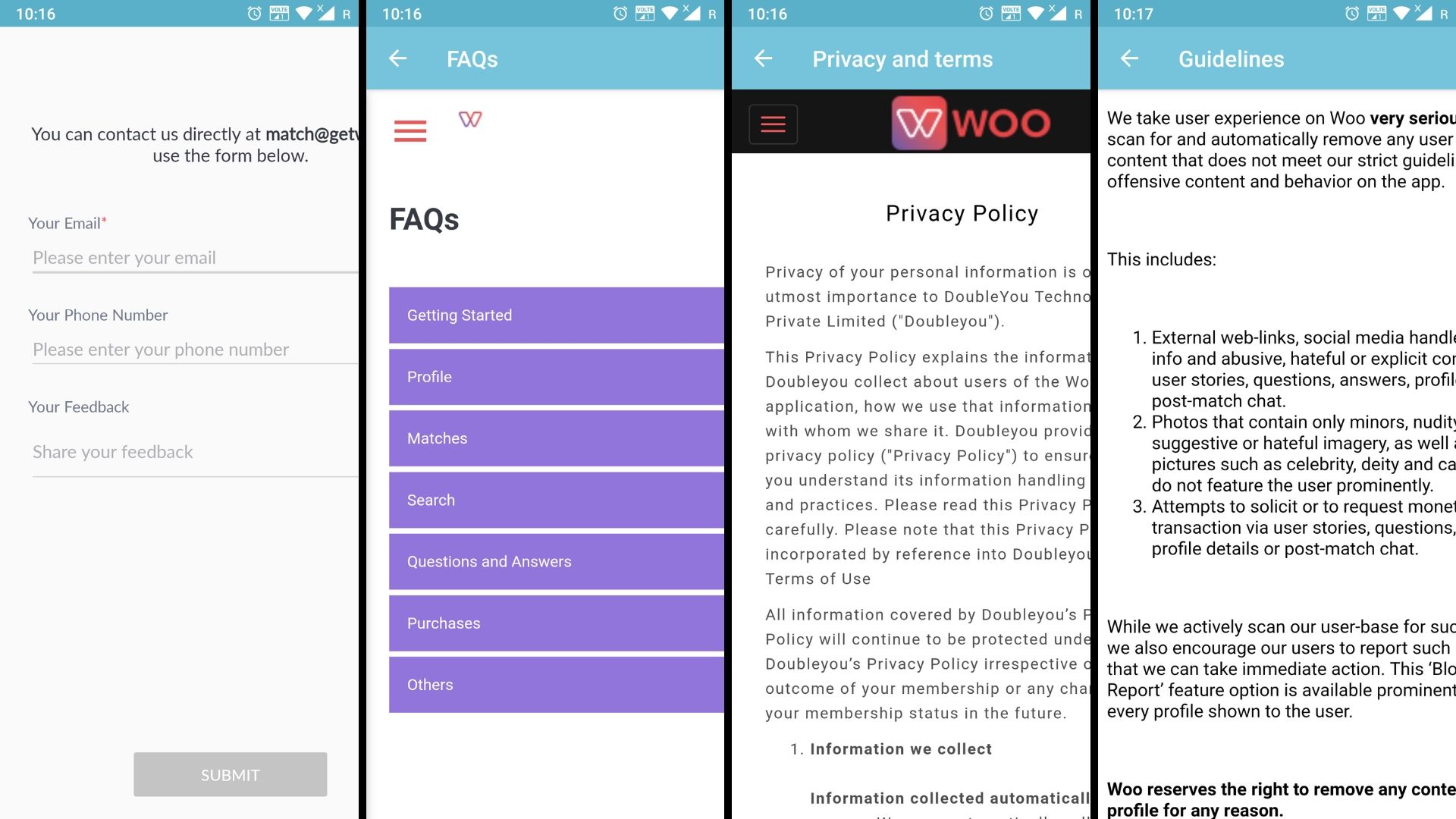 Click on the left top three icons. And then users can see Feedback, & FAQs situated in the menus.
FAQs have default questions and solutions as answers. Other than that, regular blocking and reporting of profiles are monitored by moderating teams.
Support Email ID: match@getwoo.at
Woo App Reviews Summary:
To sum the review, we can say Woo is top class dating app in terms of design, functionality & features. It has got all the unique features for dating users. Especially the secured voice call & interest based personal tags are so cool. 
In general, you can use all the features but matching might not happen. Or we can say, it's a lot tougher than you imagine. About pricing, looks genuine for the features and not so expensive.
If we check the play store reviews in common, it's slightly going in the wrong direction for Woo. Main reasons are the number of fake profiles, spammy profiles, inappropriate & seducing messages from users. Although the app seems to encourage more women, we can understand there is a big ratio difference between male and female users. 
However, Woo dating app is certainly one of the best designed and featured dating apps in India if not around the globe. 
App Sizes:
Play Store – 48M but increases to 104 MB after installing.
App Store – 184.6 MB
App Reviews:
Play Store – 3.9 out of 62,543 Reviews
App Store – 4.1 out of 1.3K Reviews
In some ways this is a dating app like tinder, read our tinder review and see what you think. Likewise, check out the table we have with dating app reviews. There we even ranked the most popular dating apps and share the key differences.
Comments
comments