As this app's name suggests, TalkWithStranger allows you to do just that: connect with random conversation partners through text, audio, and even live cams.
According to the site, this free chat, no registration site is mostly used for dating and connects users from over 220 countries. There are specific chat rooms for various topics, including ones meant just for young teens aged 13 and up.
Naturally, this means that TalkWithStranger has no age verification process, which is disconcerting given its primary function: free sexting. So, let's see what this free random chat site has to offer for adults. Buckle up and check our updated TalkWithStranger review here.
TalkWithStranger Analysis & Breakdown:

Right off the bat, TalkWithStranger bombards its guests with long paragraphs of information about its mission: to provide free online chat rooms for all.
This has been the case for most of the random chat sites on the internet. They fill in too much content and too little entertainment.
Much of the homepage is reserved for long-winded paragraphs about how fun and cool it is to talk with strangers instantly, hearkening back to the glory days of instant messaging in the early 2000s.
Aside from these monologues, there are a handful of navigational buttons sprinkled on the site's header that can direct you to public chat rooms and other features on TalkWithStranger.
TalkWithStranger's Features:
Most of us know from an early age how dangerous it is to talk to strangers online. But instead of acknowledging just how scary this can be, TalkWithStrangers sees adult isolation as an even larger issue.
Their stance on using technology to chat? We do it on social media anyway, so why not? This statement is obviously very uncomfortable for any parent to see on a site like this, and for good reason.
TalkWithStrangers may have some tame room topics for discussing your favorite music, movies, games, and other benign subjects, but the site often compares itself to dating sites and offers its users the chance to talk to hot girls and other teens.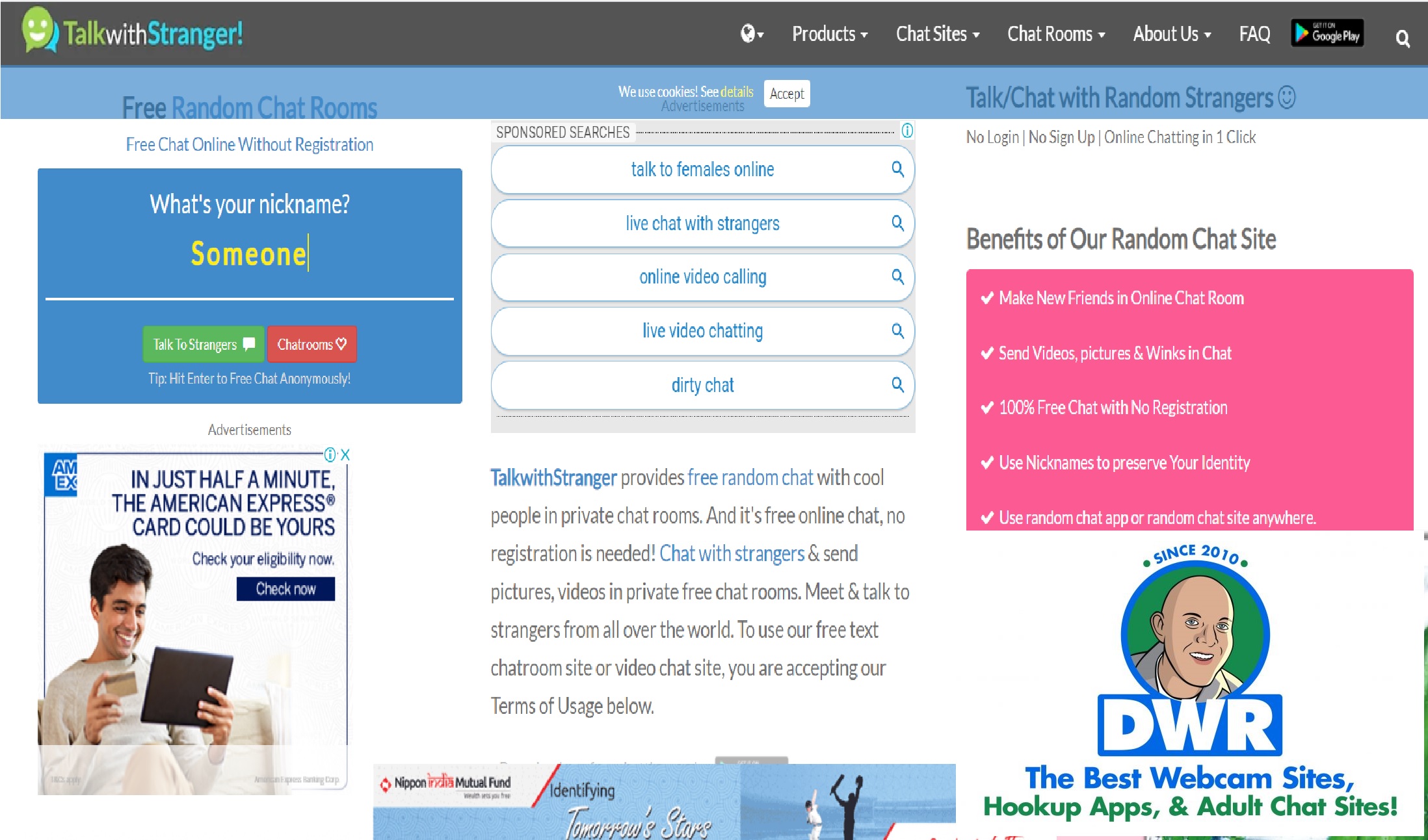 You can connect with other strangers from your country by selecting regional chat rooms, or scroll through the site's popular topics to join an ongoing conversation with strangers from around the world. You can also play a number of minigames in TalkWithStranger's collection.
The site even lists a few other chat apps and dating sites, including Bumble, Omegle, eHarmony, and TinyChat. TalkWithStranger's native blog contains a few articles about flirting and being friendly online.
Although there are many open chat rooms to discuss topics with a group of online strangers, TalkWithStranger's most popular feature is it's 1 on 1 chat.
This format should be familiar to anyone who's used Omegle or Tohla before–it connects two random users on the site in one private chat room to start a conversation.
Even though TalkWithStranger considers itself a family-friendly site, sex is a common topic among its user base.
Sites Like TalkWithStranger.com:
It's pretty obvious that a lot of TWS's conversations are centered around sexual topics, and with site users sending images, & videos. Sometimes, broadcasting to one another, there is a disturbing potential for sexual material to reach the wrong crowd. No thanks, I would rather use this website.
The anonymous nature of TalkWithStrangers means users can easily victimize young site members. There's no way to tell what age your conversation partner is.

Some users may be unknowingly (or even knowingly!) engaging in dirty chat with a minor. To avoid these dangers, you can rather look at adult chat sites like Chaturbate & Flirt4Free. (review at the links)
Luckily, there are some tools TalkWithStranger provides that may help mitigate these issues. You can block entire countries and users you don't click with. Also, if you screenshot your conversation and send it to the site's support team, they may be able to help.
The site claims that they don't normally store conversations between users to uphold their commitment to privacy, but they will make exceptions to prevent spam and moderate chat rooms.
TalkWithStranger.com Reviews Conclusion:
Overall, it's not a fruitful experience at talkwithstranger.com. The site gives importance to fill ads and lure users rather than working on fixing the user experience.

Free sexting on TalkWithStranger is a bad idea. Its 13 and up community makes random chatting risky business. Get your thrills the right way by joining Streamate.com.
Streamate is one of the best live cam sites around with 100% verified adult models that you can get intimate in a group show or a private one-on-one experience with instantly! Signup is FREE. What are you waiting for?
Comments
comments