Tohla is one of many stranger chat apps used for chatting online with strangers. Like its larger predecessors, Chatroulette and Omegle, Tohla is 100% free to use with no registration required.
With just one click of a button, you can chat with a new strange each time you hit "Connect." You can use simple text chat, voice chat, and even video chat to communicate. Tohla also has a drawing feature for sharing your creations online.
In between chatting, users can hit the "I'm Bored" button for a quick mini-game or enjoy a round of "TLoons."At first glance, Tohla's simple design screams "kid-friendly," but that couldn't be farther from the truth. Let's check the stranger chat site Tohla review right here.
Tohla Overview:

The very first thing that caught my eye about Tohla is that they have a section of their website that reads "Don't talk to Strangers."
Once you enter this section, Tohla immediately says that even though most parents tell their children not to talk to strangers, they don't pay any mind to these warnings. Oof.
Right after suggesting that kids should instead defy their parents and talk to strangers anyway, Tohla launches into a quick spiel of how great and fun their features are, and that their platform is the best place to express your views on politics, SEX, or, you know, whatever. Excuse me?!
Unlike other random chat sites, tohla vaguely alludes to the site being monitored for obscene material via a moderator, but Tohla is clearly sending the wrong message to minors exploring their site.
Instead of educating users about appropriate conduct, Tohla then decides to forewarn them about possible identity theft and technology addiction. Way to get your priorities straight, Tohla.
Tohla's Highlights:
Above all else, Tohla centers anonymity in all of its operations. The site mentions multiple times that users should never reveal their personal details and that Tohla itself will never ask you for them either.

While this can be advantageous in some situations, it can be difficult to prevent harassment or track bad apples without this information. There is no method for age verification whatsoever, and Tohla doesn't seem to mind.
However, anonymous chatting can be a nerve-wracking experience, especially for an impressionable minor. When chatting with random people, you never know what you could be walking into or where the conversation will lead.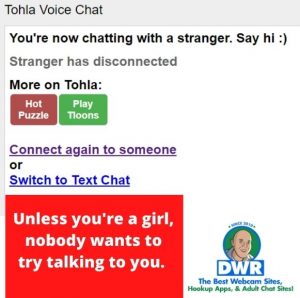 Tohla claims that chatting with strangers can make people feel better instantly and relieve loneliness, but they completely ignore the dangerous possibilities of talking to strangers online.
The only real comfort the site provides for users is the ability to report their connection to the site.
Aside from this, Tohla declares that talking to strangers is a matter of personal responsibility.
Is Tohla Enabling Risky Internet Behavior?
Not only does Tohla encourage kids to go against their parent's wishes and talk about adult topics with total strangers–they even provide a list of other free-to-chat websites to do this on.
Among these sites are other notorious stranger chat apps like Omegle, Tinychat, and Chatrandom. None of these aforementioned websites require registration, so minors are free to join random chat rooms with strangers as they please.
Of course, each of these sites comes with the same dangers as Tohla. You never know who could be on the other side of the chat room. Instead of spending time here, we could have chosen StripChat to watch random girls and had a naughty chat for free.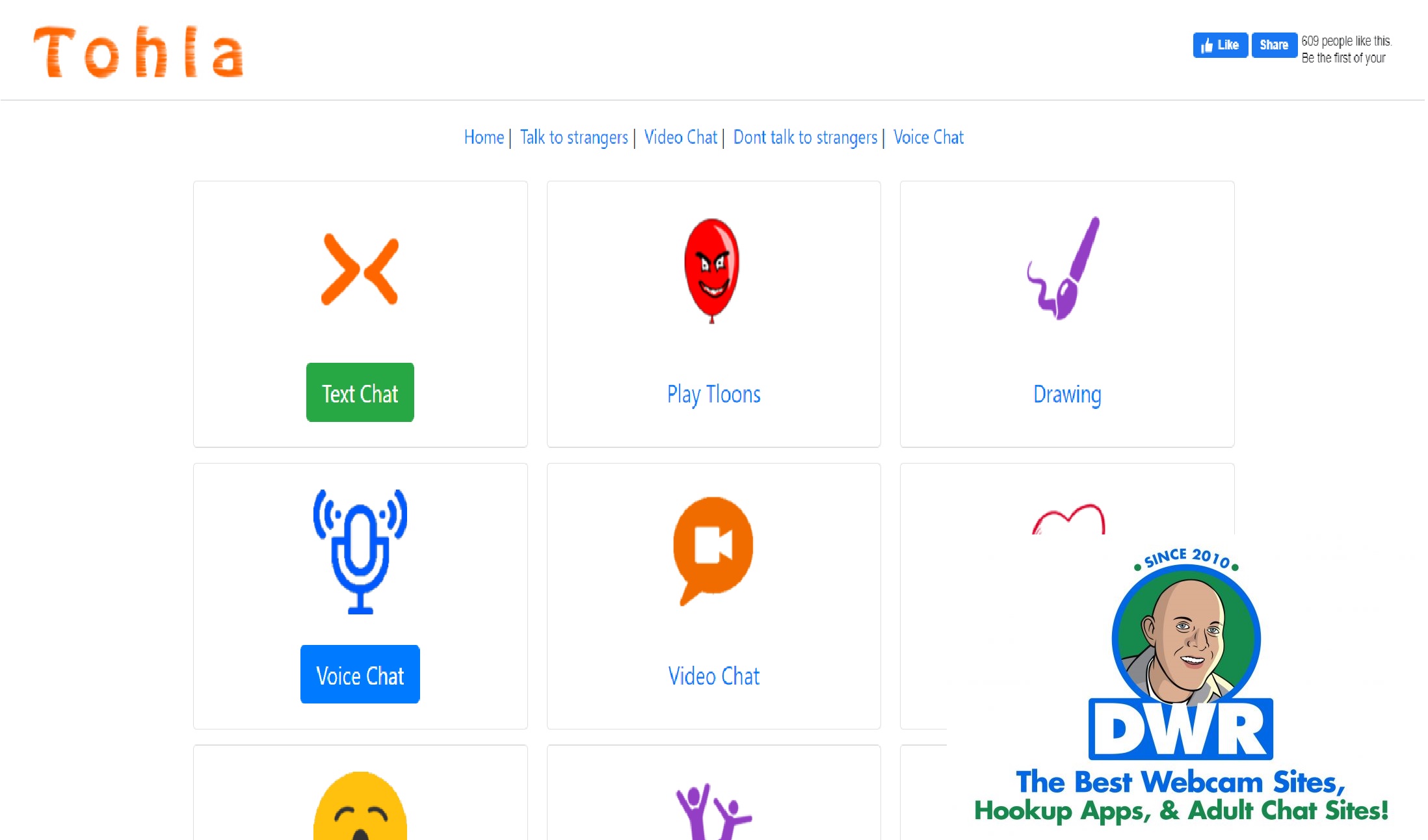 Tohla.com Reviews Verdict:
Tohla discusses chatting with strangers as if it's a rite of passage rather than a parent's worst nightmare. This site knows how to lure kids in, with cartoon characters and simple mini-games that anyone can play. So if you want to chat with the grown-ups, Tohla is not the place to be.
Besides, Tohla.com has closed the function; random video chat for strangers. What a bummer!
This site may give users tips and tricks on how to chat with random girls, but if you really want to flirt your way into a sexy session, you'll want to try LiveJasmin.com instead!
LiveJasmin hosts thousands of the sexiest women from all over the world. You can start chatting for free and work your way up to hot cybersex instantly. Best of all, each and every LiveJasmin model is 100% legit and verified, so you can chat with these sexy strangers worry-free.
If not, you can always try sites that have an equal number of male and female members. For instance, I have recommended one right below.

Comments
comments