eHarmony claims to be the most trusted dating site that follows a no-nonsense approach. This site might seem genuine but do not take it at its face value before reading my review.
Online dating has always been tricky because not every individual wants the same thing. While dating sites have opened a sea of options for everyone to choose from, there's always a catch.
Some of you are over the casual sex phase and think it's time to settle down with "the one". Therefore, eharmony is for everyone who is searching for long-term relationships.
Now the question is, can you rely on dating apps like eharmony? Discover what you can expect as a user of this site.
eHarmony Review: What Is It All About?
eHarmony is an online dating service that is in the market for more than two decades now. This site brags about helping people discover their potential partners every 14 minutes which sounds very odd IMO.
If you just want to fool around, eharmony is not the site for you. As per its claims, it strives at giving everyone a chance at finding the love of their lives.
The matchmaking algorithm analyses a user's personality and suggests relevant profiles. eHarmony covers over 200 countries and has tons of registered users from all 50 US States.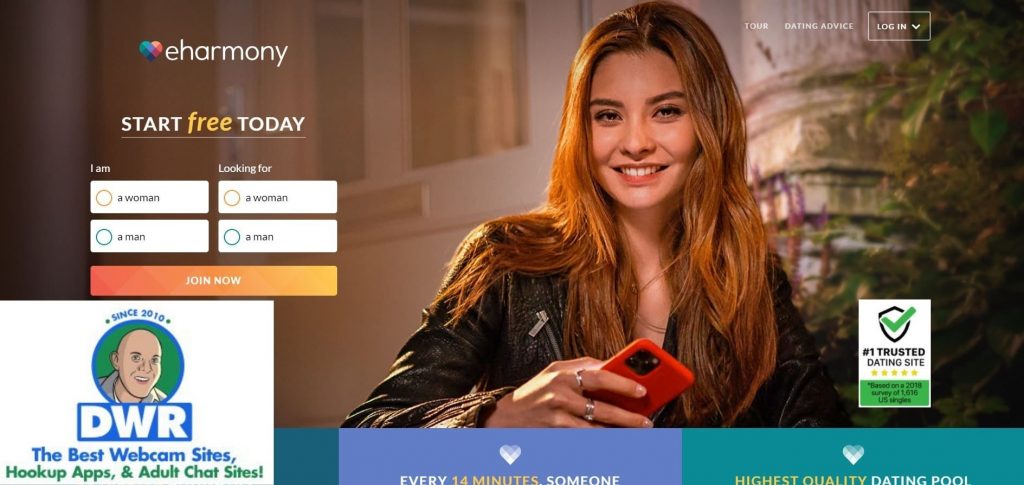 Singles on this dating site are usually hoping for committed relationships. While eHarmony does require a little bit more work and costs a little more for some singles it may be a perfect fit.
Key Features:
Creating an account:
Building your profile is complex and laborious. First off, you should state your gender and add an email address. The next step is to complete a compatibility quiz so that you are paired off to your best matches.
After you finish the comprehensive questionnaire, you will be asked to fill in few more details like name, birthday occupation, and more. The entire eharmony login process takes about 15 minutes and honestly, it gets frustrating as you reach the end.
Once you have survived the long-ass registration, you are redirected to your profile. You can upload a profile picture but it is not mandatory.
Main navigation buttons:
Home: Information regarding your profile and thumbnails of potential matches are displayed here. You can write a bit to describe your personality, update hobbies, add images that will boost your chance of finding like-minded individuals.
Matches: In this section, you can visit matches and add them to your favorites. You can sort the profiles by compatibility score, distance, and few more filters. Likewise, you can check who visited your profile.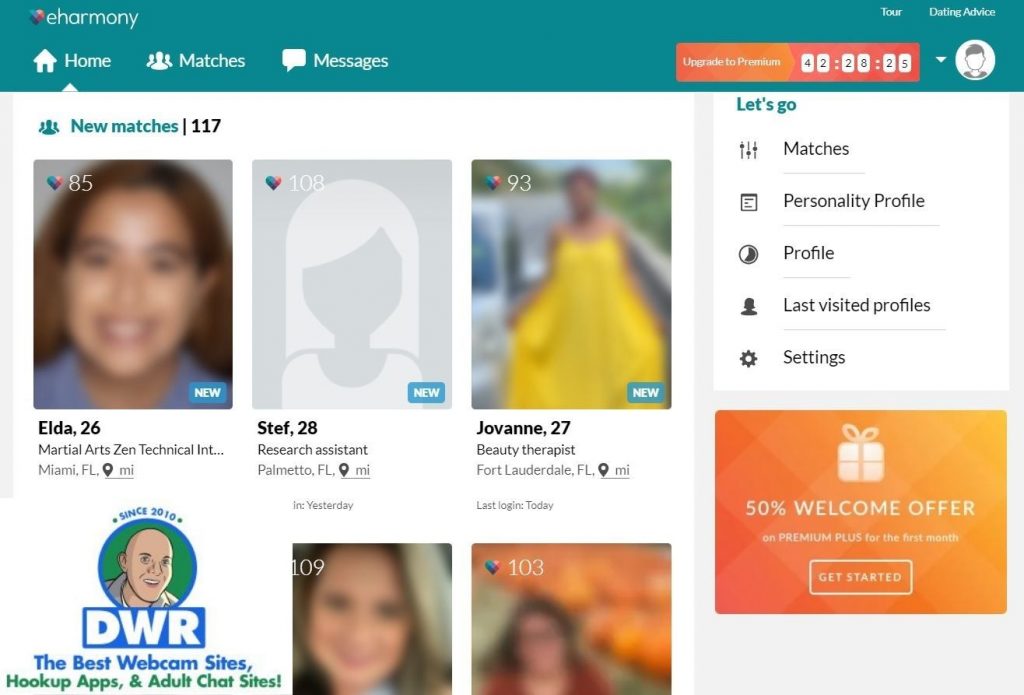 Profiles: 
Talking about the member quality, eharmony is not the best. However, you will find a decent number of profiles that share your interests. Visit a person's profile to learn more about his/her personality.
You can send them a smile, ice breaker, video date, or message. Realize that a basic account on dating sites like eharmony is pretty much useless.
The reason why I say this is you cannot do anything other than viewing profiles. If you want to look at a user's pictures or message them, you need to upgrade to the premium membership.
eHarmony Pricing Structure:
eHarmony is among the higher-priced dating sites. It is no surprise that this dating site hides its services behind a paywall. The perks of having a premium membership include:
Send unlimited messages and view photos
Filtering options to find the best matches
Distance search
Check who has viewed your profile
The premium membership packages are available in three variants namely light, plus, and extra. Most of the people would refrain from registering because of the extortionate prices.
Moreover, those who are looking for casual flings wouldn't want to invest when they have tons of affordable hookup sites to choose from.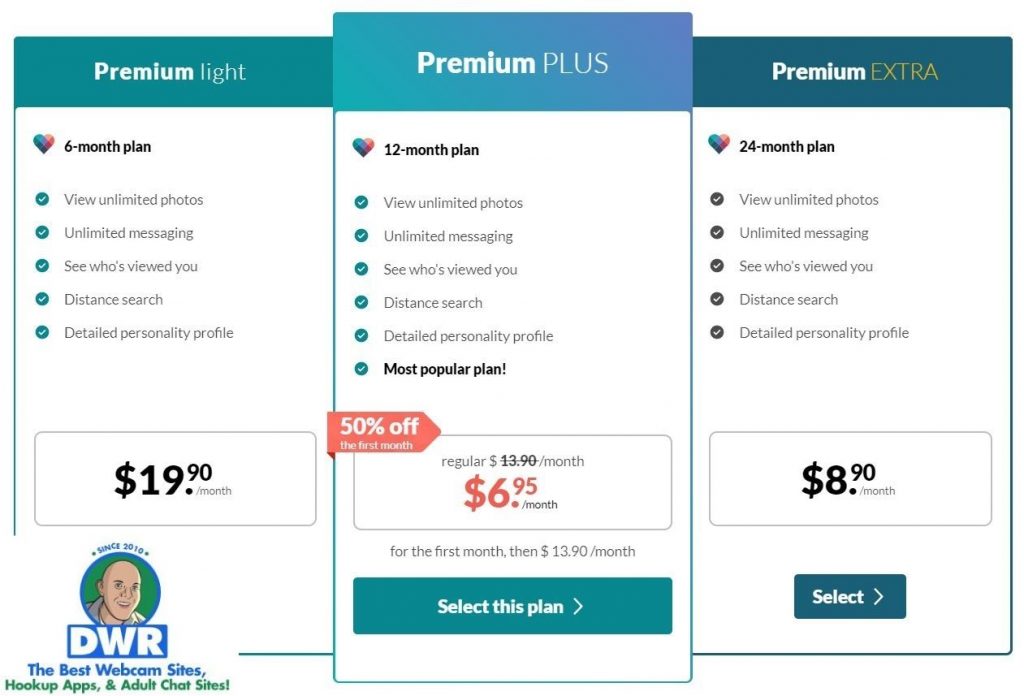 Summary: Why Does Harmony Fail To Impress?
In spite of having an efficient interface and a huge userbase, eharmony barely manages to deliver a promising dating experience. This site is definitely not for people who want to get laid for the night and never see each other again.
Therefore, if are planning to get hitched and are hoping for a fairytale romance, you could give eharmony a try. However, let me come right out and say that it's going to take an eternity for your profile to be noticed.
I can assure you that you will be at your wit's end in the hope of finding matches. – Jason
Another major concern is the paid membership that seriously costs a fortune.
My hunch is that a majority of individuals wouldn't want to pay for something that has no certainty. Just think about it. You could build the coolest profile and still not find what you were looking for.
And frankly, is serious dating even a thing now? This fast-paced generation can hardly spare time for a committed relationship. To sum it up, most users of this site will circle back to adult webcam sites that provide casual yet endearing encounters.
Streamate.com is one of the top choices for men who love jerking off to chicks undressing on camera. And you don't have to wait because there are over a thousand cam girls working all day.
If you ask me, I found the best experience with booty calls at this site.
All in all, after reading terrible user reviews of eharmony, I wouldn't recommend it.
Comments
comments