The Singles Around Me app is one of the hottest apps around for proximity dating. Learn more about the app features, costs, members, and other interesting things in our exclusive Singles Around Me Review.
In this internet world, finding a date can be as easy as strolling along the streets. Gone are those days where you need to be outgoing or super confident to find dates. With the evolution of internet dating, you no longer have to be one of those creepy junk who hits on everyone.
The online dating sites and apps have come to your aid to make connections for you with the local singles. In some dating sites, if you happen to cross paths with a member, you get a chance to connect with them. Crazy technology I say!
Well, Singles Around Me one of such dating apps that help you in finding potential dates around. Is that truly the hottest dating app that will make you overlook hookup sites? Find out in our Singles Around Me review below.
Always got to be super cautious when trying a dating app that has fingers in many pies – Jason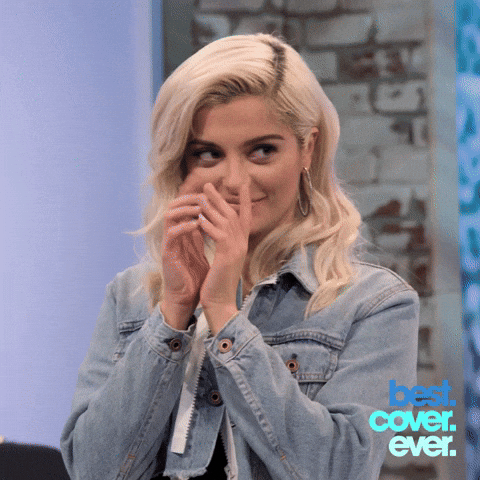 Singles Around Me Introduction and Overview
Singles Around Me (or SAM in short) was founded in 2009 and has since grown rapidly. Its app was launched in April 2010 and currently is available across mobile platforms, such as Android, iOS, and Blackberry.
People with sexual orientations straight, lesbian, and gay are welcome to get signed up on the site. However, trannys don't stand a chance at this local singles dating app. Although the app uses industry-standard dating software, it still feels like the site replicates a popular dating app, Tinder App (review at the link).
SAM claims that they pioneered mobile dating on a smartphone by developing the world's first, and currently one of the best social discovery dating apps used by millions of people around the world. I highly doubt that!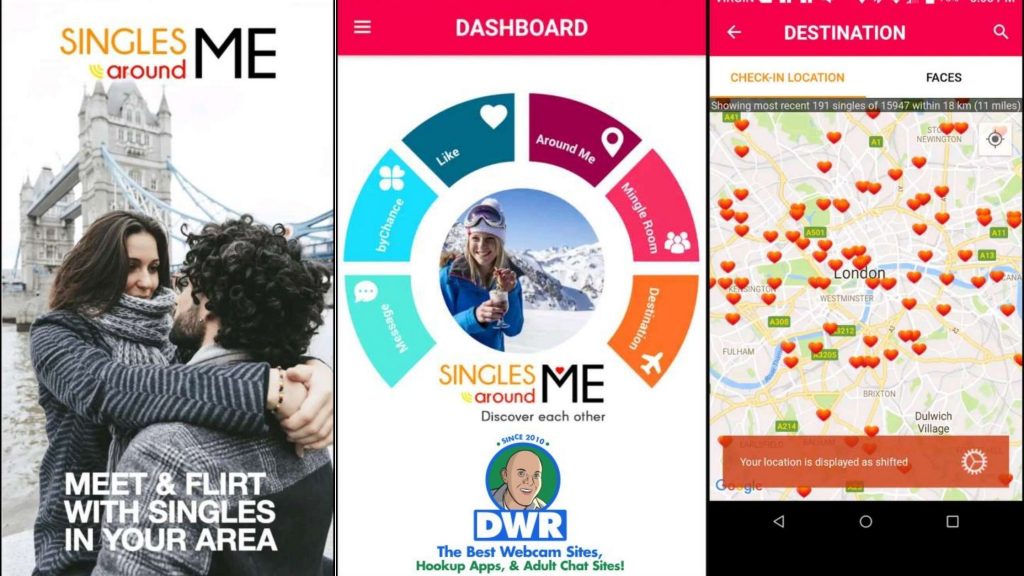 Despite being said that it is popular among the apps for local singles, the user database didn't exceed 5 million. That said, most of these users are from the United States and the people from remote countries are likely to get nothing from it.
Talking about the users on the app, it's quite infuriating to tackle tons of fake profiles. Man, stumbling across one or two is par the course, but running into hundreds of spammers and fake profiles is a definite indication that there's something terribly wrong with it.
Also, the site isn't entirely free to meet local singles like in Free.Date (review at the link). You must shell out stacks of dollars in order to make use of the majority of the features.
SinglesAroundMe Signup Process
The registration process at Singles Around Me is pretty tiring. You have to pass through as many as 50 questions in order to get successfully registered on the site. Well, you need this dating app for sure to get signed up. The website doesn't allow users to register for it.
You can either sign up using Facebook or manually by entering an email address. By clicking on the 'Join' you will be prompted to the first step where you have to add username, password, email address, birth date, gender, looking for, and location.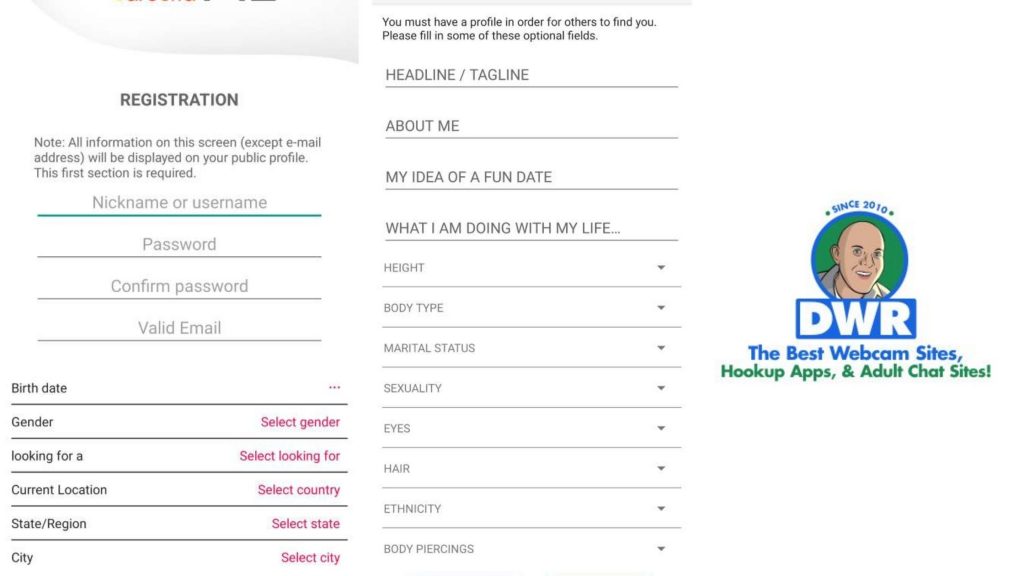 Here comes the hectic task! In the last step, you are required to enter the following details: headline, bio, a fun date, about your life, height, body type, marital status, sexuality, eyes, hair, race, piercings, tattoos, star sign, interest in finding, languages known, drinking, fitness, religion, education, and children.
In the end, it doesn't matter as you can skip this entire step and get registered on the app without a profile picture. Also, you don't have to validate your email address and thus you can imagine how unsafe it is.
SinglesAroundMe.com Overall Features
Adding to the misery, the site and dating app are designed way cluttered. The site pages in particular load slow and the user interface is not at all elegant. Browsing profiles can get hectic as most of them are repetitive.
It can be accessed both via the website and a dating app. Nevertheless, the user interface, features, and everything on the site differs from the actual dating app. In fact, it just serves as a forum where you can see the list of profiles, but can't take any action.
For instance, there is a video feature on the site where you can find videos uploaded by members on the site. For some reason, we could only find two, and this feature isn't available on the dating app.
Here are the overall features that Singles Around Me offers via a dating application:
Message – Ideal place to keep track of matches and messages incoming and outgoing. The messaging feature at this local dating app is not free, Gold membership is required to send messages.
By Chance – This will show you the local users who have recently crossed paths. Yeah, just like in the Happn dating app. This is again a premium feature and requires a gold membership.
Like – Allows you to see the profiles you liked, likes you got in return, and mutual liked matches.
Around Me – The local singles around you will be displayed as hearts on the map. By clicking on the faces, you can see the profiles that are around.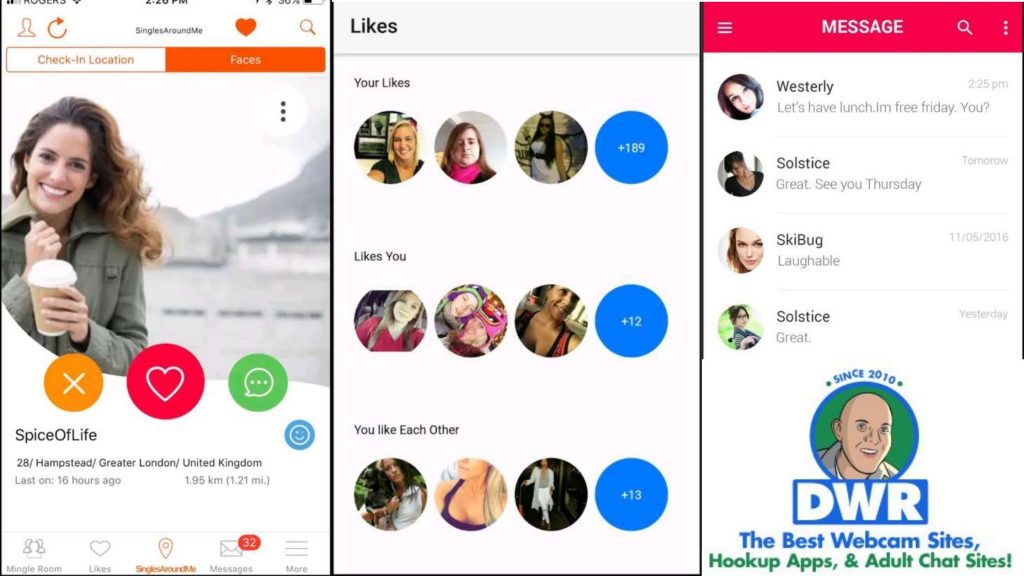 Mingle Room – It is a place to socialize with a mixture of single people from your area who recently signed into this local dating app.
Destination – The "Destination Search" tool allows you to look for singles at certain locations that you choose, such as bars, restaurants, resorts, other cities.
Singles Around Me Costs for Gold Membership
It costs nothing to download the app and to sign up at Singles Around Me. However, to get access to most of its features, you require a paid membership called GOLD. Here are the pricing plans for GOLD Membership at this local dating app:
3 months – $44.99 ($14.99/month)
12 months – $99.99 ($8.33/month)
With a paid subscription, you can avail following benefits:
See the people that already like you
Match with more people with unlimited likes
Unlimited messages
3x more likely to get a match
It's totally worthless to shell out cash for such lame features. Instead, you can save it for better and can make worth of it in cam sites like Stripchat.com. At least, you will get to have a private cam2cam session with sizzling babes.
Sites Like SinglesAroundMe.com
Compared to many other mobile dating apps, SinglesAroundMe doesn't stand a chance in providing the best local dating experience. With the tons of fake profiles lurking around the app, it's quite impossible to make potential dates in here.
Even the best hookup sites are tackling well in order to keep the fakes off their sites but this local singles dating app failed miserably to do so. Thus, I would like to recommend you this site for real local dating. Unlike SAM, you don't have to bear with spammers.

Moreover, the users here are open to all sorts of relationships and thus uninterrupted dating experience is guaranteed. Remember it works 100% free and there are no hidden charges.
Well, to make Singles Around Me worthwhile, a lot of improvements have to be made. Make sure to leave your Singles Around Me Review if you have been a member.
Comments
comments