What is Happn app?
happn app is the first 100% mobile, geolocated & real-time dating app to find people in real life.
happn app has a team of 100+ people based in Paris. The App had crossed the 50 million user mark recently and it is present in the biggest cities of the world: Paris, London, New York, New Delhi, Buenos Aires, Istanbul, Sao Paulo, Sydney, Oslo & other cities.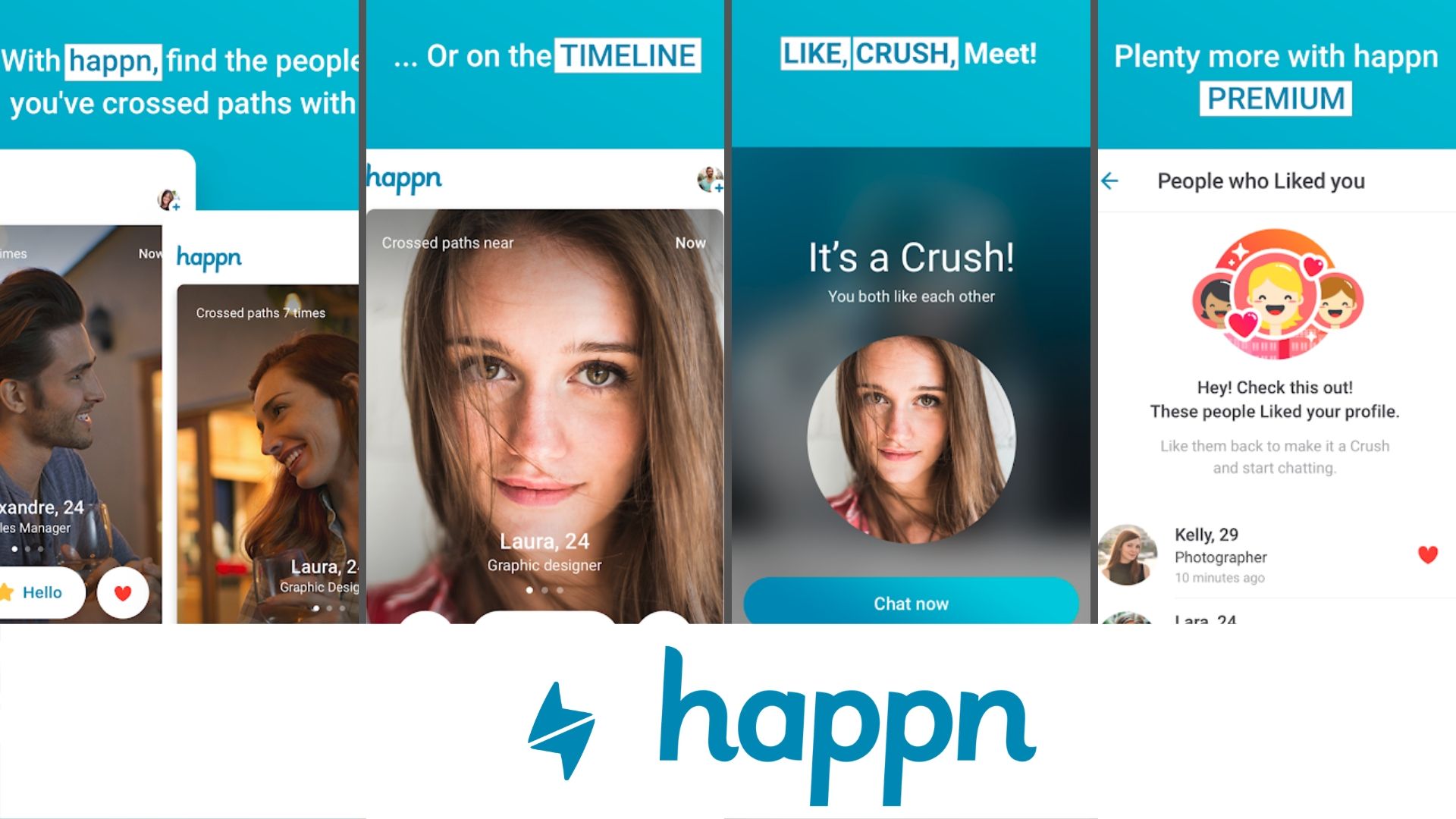 How Does Happn App Work?
It's quite simple: (That's what mentioned by Happn)

When you cross paths with someone in real life who has happn, their profile appears on your app.

Check your Timeline to find all the profiles you've crossed paths with. For each profile, you can see how many times you've crossed paths, as well as the location and time it happened (no, no need to be a detective)!

Fancy someone? Like them secretly. We promise the other person will not know about it unless they Like you too (yes, you might get lucky). Would you like to get noticed? Say Hello to send a notification!

You Like each other? It's a Crush! But wait, that's not it… Find the right words to start a conversation (show off your writing skills)!

You can also choose to defy fate and play CrushTime, the game in which you have to guess who Liked you amongst four profiles you've recently crossed paths with.
Step by Step happn app Process After Installation:
Step 1:
Sign Up Process: After Installation, feature images are shown as slideshow followed by two options, Connect with Facebook or Use my phone number. User can sign up using either one of the options.
Step 2:
Choosing Phone Number for Sign up: After entering your phone number, you'll get an SMS code to verify. 
Step 3:
Date of Birth: Entering Date of Birth is needed.
Step 4:
Name & Email Address: Entering the name is compulsory & for Email Address, user can choose whether to update or skip.
Step 5:
Pictures Upload: Next up, uploading of user pictures has four options. Those are, Choose from Library, Instagram, Facebook or Take a Photo.
Step 6:
Location Access Request: The app was designed to work on geolocation, so it's compulsory to allow Location Access in your mobile/ipads.
Home Screen Review:
After enabling the location access, the home screen consists of, "This week section showing Google Map view along with numbers".
Example, 26 happners to find – 26 crossings today.
The Top right corner has an Edit section "I'm up for…" You can only choose one option from the below list and it will be active on your profile for only 6 hours.
Here's how it looks,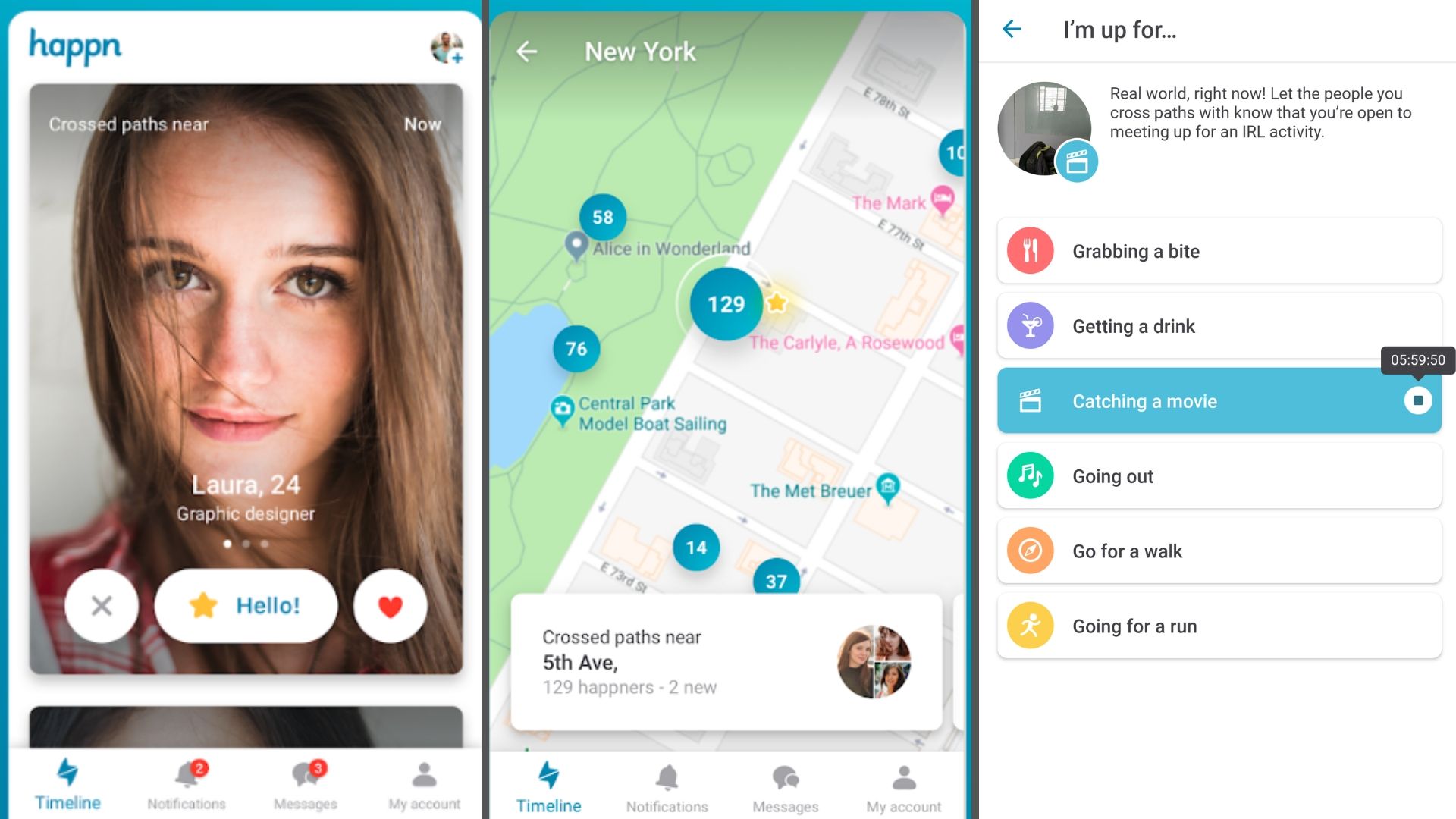 Top Right Option in the App gives you the feature, I'm up for –
Grabbing a bite

Getting a drink

Catching a movie

Going out

Go for a walk

Going for a run
The user can see profiles shown up on the home screen, it will show as 
"Crossed Paths Near or You crossed path recently" followed by profiles. The app recommends premium feature in the profiles section itself. When a user scrolls around 5 profiles, they can see the LIKE feature been mentioned. A good way to improve the conversion rate of normal users into premium users.
User Profiles have these things mentioned,
For the first time! Or Crossed Paths Near

Last login time 5 mins ago or Now

Name and Age

Cancel – Hello (Star) – Heart Options under the image
Discover option shows recently joined users. Clicking on the profile shows the name, age, active today & distance. Users can also report & block a person by clicking on the top right icons in the profile.
When you click at a premium feature image or any other options, then you have to wait for 60 – 90 seconds to look at profiles again. It refreshes every now and then when you check other buttons. Sometimes it takes a lot of time and ends up not showing the profiles.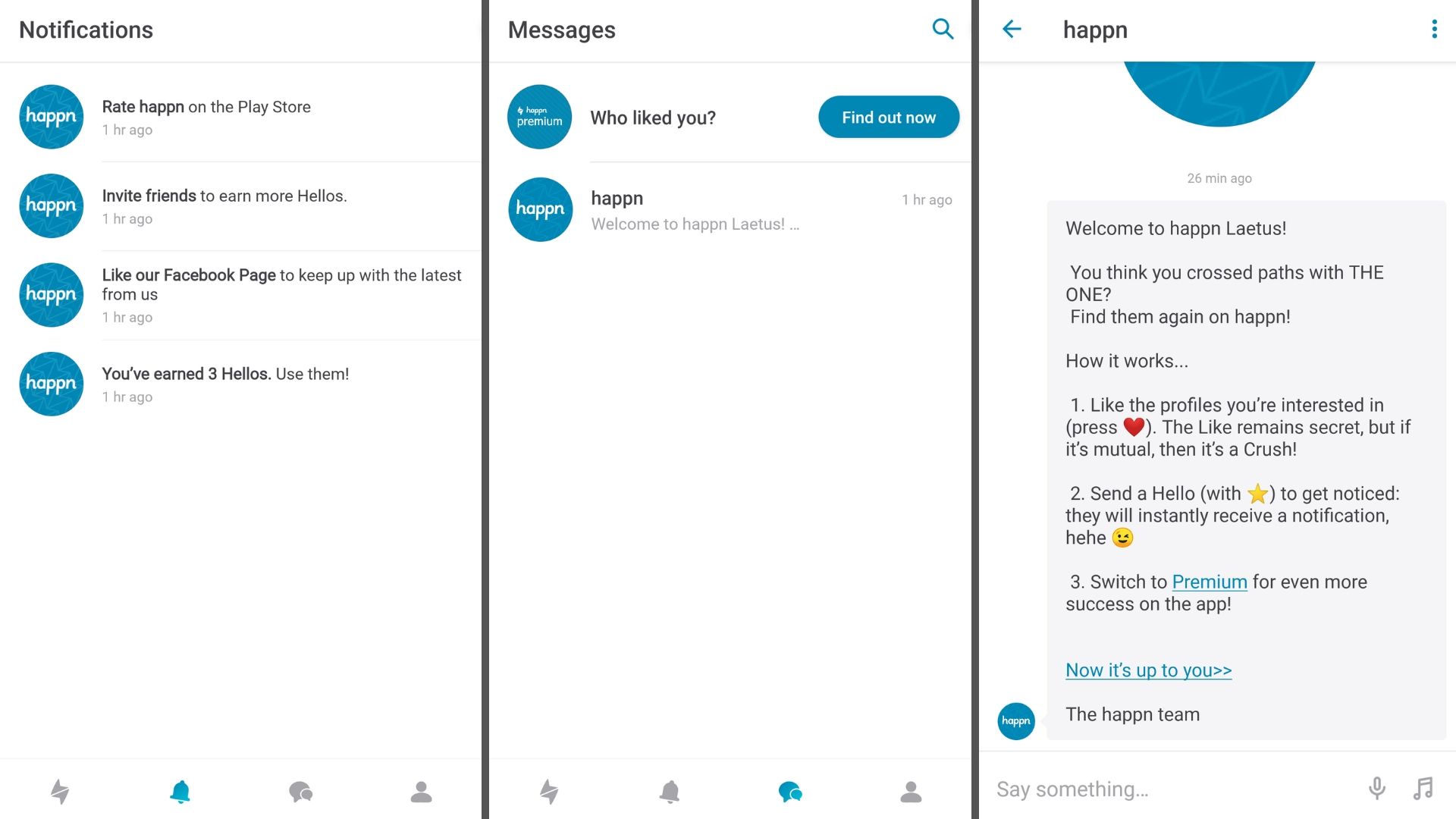 happn app Notifications section, (Default notifications mentioned below)
You've earned 3 Hellos.

Use them!

Like our Facebook Page

to keep up with the latest from us

Invite friends

to earn more Hellos.

Rate happn

on the play store
Messages section, (Default messages mentioned below)
Welcome message from happn highlighting three important points such as,
Like the profiles, you've interested in (Press Heart Icon). The Like remains secret, but if it's mutual, then it's a crush!

Send a Hello (with Star icon) to get noticed.

Switch to Premium (URL attached to this PREMIUM Keyword) for even more success on the app!
My happn app Account Section:
Image (with edit option) – Click that and you'll see sections to update your profile.
– Name, Age, Work & Education
– My Info option consists of: Looking for – Sports – Cooking – Travel
– About Me
– My Instagram Pictures
– My Music Selection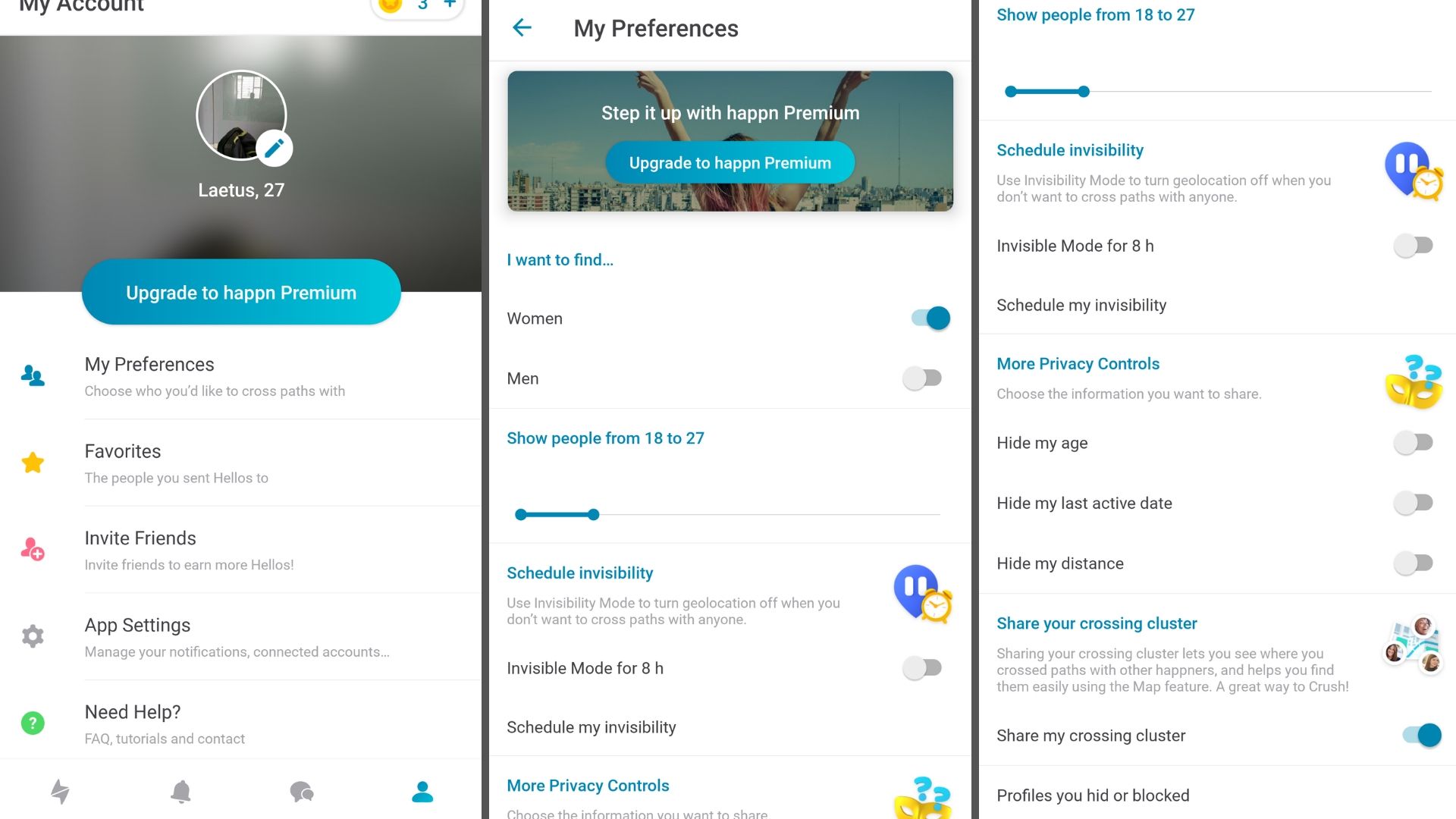 Option My preferences consist of,
Choosing which gender you're interested to find

Show profiles by Age

Profile Invisibility

More Privacy Controls
Favorites – Your favorite profiles will be saved for later reference.
Invite Friends to happn app – A referral link is given which you can share clicking the Refer People button.
App settings – To control the notifications, connected social accounts (Instagram & Spotify), distance units & to read other legal notices. (Clicking legal notices options redirects to the website of happn).  Log out & Pause account option is also under this section.
Deleting the Account – User has to click My Data section under legal notices and then delete their accounts.
Accessing & Changing of Data – Under My Data section, users can check these two options.  Access my data requires the users to send proper email to the support team with all the required authentic documents. Change of Data can be done directly editing your profile & for changing the name, age or gender, users have to go to their respective Facebook page and update the following section " About – General Information & Data".
Need Help – Includes FAQs, Tutorials & Contact Options (Also redirects to the happn website while clicking)
Happn's 6 Important Commitments: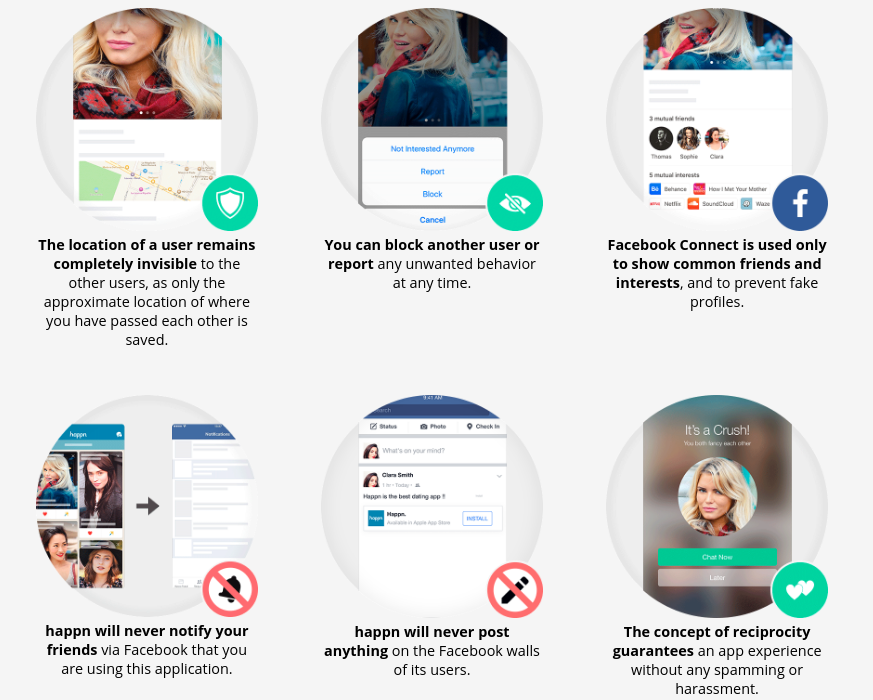 ---
How Much Does happn app Cost?
App Store Details: (For iOs Users)
| | | |
| --- | --- | --- |
| No | Description | Price (Per month) |
| 1 | Starter pack – 10 Credits | $1.99 |
| 2 | 60 Coins | $10.99 |
| 3 | Starter pack – 10 Credits | $2.99 |
| 4 | 100 Coins | $16.99 |
| 5 | happn 1 Month subscription | $19.99 |
| 6 | happn subscription | $24.99 |
| 7 | 250 Coins | $36.99 |
| 8 | happn subscription | $22.99 |
| 9 | 60 Coins | $14.99 |
| 10 | Happn 1 month subscription | $14.99 |
Play Store Details: (For Android Users – India)
| | | |
| --- | --- | --- |
| No | Description | Price (Per Month) |
| 1 | 12 months | 120.75 Rupees |
| 2 | 6 months | 174.83 Rupees |
| 3 | 1 month | 299.00 Rupees |
happn app Premium Features:
Peek at Who Liked You

Send up to 10 Hellos per day

Like without limits

Schedule Invisibility

You're in control – More privacy controls

Cross paths with people – not with ads
Payment Method: Using Your Google Play Account
– Adding Netbanking
– Add Credit or Debit Card
– Redeem code
Another option is – Want to pay with Cash?
Buying a prepaid Google Play gift card with cash or credit card at Shops nearby.
It shows 3 popular stores in your region.
How many users does Happn App have?
The happn app has 50 million users worldwide. Happn reached India in 2017 and now has around a million users in Delhi alone although having a decent presence in Mumbai, Bengaluru, and Allahabad.
Current Number of Downloads in Google Play and the iPhone App Store:
Play store – 5,00,00,000+ Downloads
App Store – Not Mentioned
Languages:
English, Danish, Dutch, French, German, Greek, Hindi, Hungarian, Italian, Japanese, Norwegian Bokmål, Polish, Portuguese, Russian, Spanish, Swedish, Telugu, Thai, Traditional Chinese, Turkish.
Who Created happn Dating App?
It's founded in 2014 at Paris by three people – Didier Rappaport, Fabien Cohen & Antony Cohen. 
Didier Rappaport – Chief Executive Officer
Fabien Cohen – UX/UI
Antony Cohen – Chief Technology Officer
Customer Support Details:
Direct Email for happn app – support@happn.fr
Via Website – https://www.happn.com/en/contact/
Via Social Media – Also, users ask questions related to the happn app via Facebook – https://www.happn.com/en/faq/
Happn Review Summary:
To put it a nutshell, the happn app is certainly unique and got easy interface and settings. In order to use it, you got to keep the location-enabled all the time (which can considerably drain your phone battery if you're using it for a long time). The real-time profile recommendation and the distance mentioned keeps the app fresh and live. 
People who haven't tried any dating app would feel awe. But having said that, there is always room for improvement. Loading of profiles can be much faster than the usual time now. Repetition of profiles looks unnecessary. Overall, start from the sign up to upgrading to premium features, the app is pretty easy to access. No such complexity in getting used to the app.
The full-fledged tutorial is not mentioned in the Play store as well as the App store. Explanation of important feature is only covered in a mobile view.
The authenticity of profiles and images is not up to the mark on happn app. We can see a lot of general images, quotes, celebrity images which makes it less effective results for a serious dating user.
The Size of the app is slightly on the higher side. For Play Store, it shows 18 MB in size but the fact is after downloading and using it for an hour, it increases to 100 MB, so the size varies with device, & usage. For ios the App Store, it shows 169.b MB in size.
The App was created on a principle of reciprocity: i.e we promise you'll never receive a message from a profile you are not interested in. Which means the user has to use HELLO or LIKE options to show interest on a profile, only when the other person looks at your profile and feel likable, they'll respond back. So, it totally eradicates the usual direct message option. Phew!
Your location will not be shown to other members. It will only show the path in which users have crossed before. Again it's a geometric feature and need not worry about privacy. It's fully secured. 
Invisible mode is free for 8 hours and if in case of scheduling the invisibility option, you need to be a premium member. For hiding the age, login date or distance, you have to be a premium user for that. 
Ratings – 4.3 from 1,341,963 reviews (Playstore)
Ratings – 4.2 from 18.2k reviews  (Appstore)
To sum up Happn, it is a pretty interesting app which helps people to find dates near or within a particular distance. Comparative to other dating apps, happn seems to be affordable & mobile friendly. If you're a new user looking for finding a nearby date, probably happn is your best bet. Downloading and use of this app is FREE!
Comments
comments