What is Free.Date?
Free.Date is one of the top dating sites which offers its service completely free of cost. It is the Popular Free Dating Site and a brainchild of Laetus Dating Private Limited in Bangalore, India. The vision is to become the first choice for completely and totally free online dating site.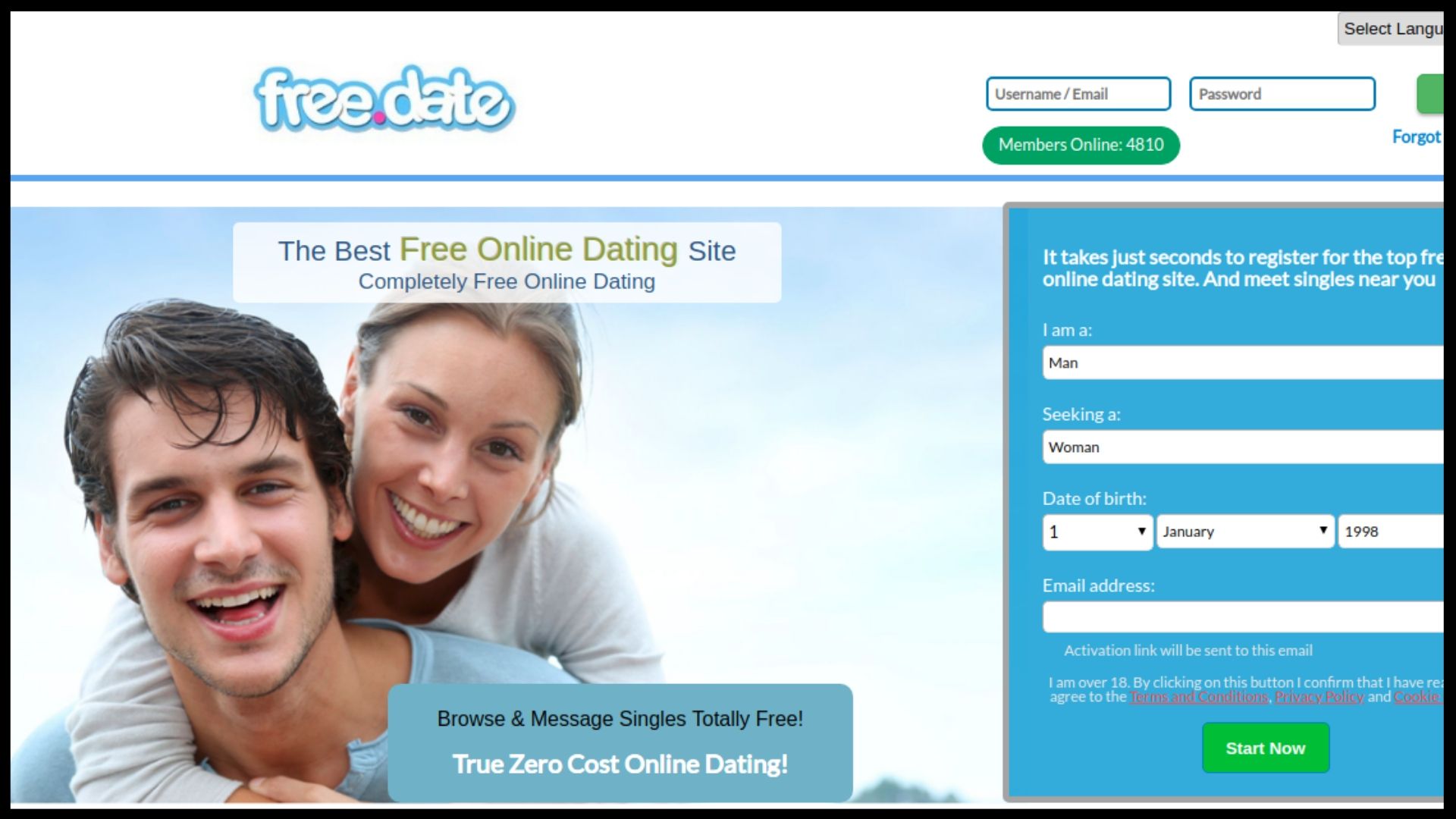 How Does it Work?
Unlike most dating sites, you can actually signup easily using the Email ID. The design of the signup button looks easy and not complex.
Here is the simple process to follow,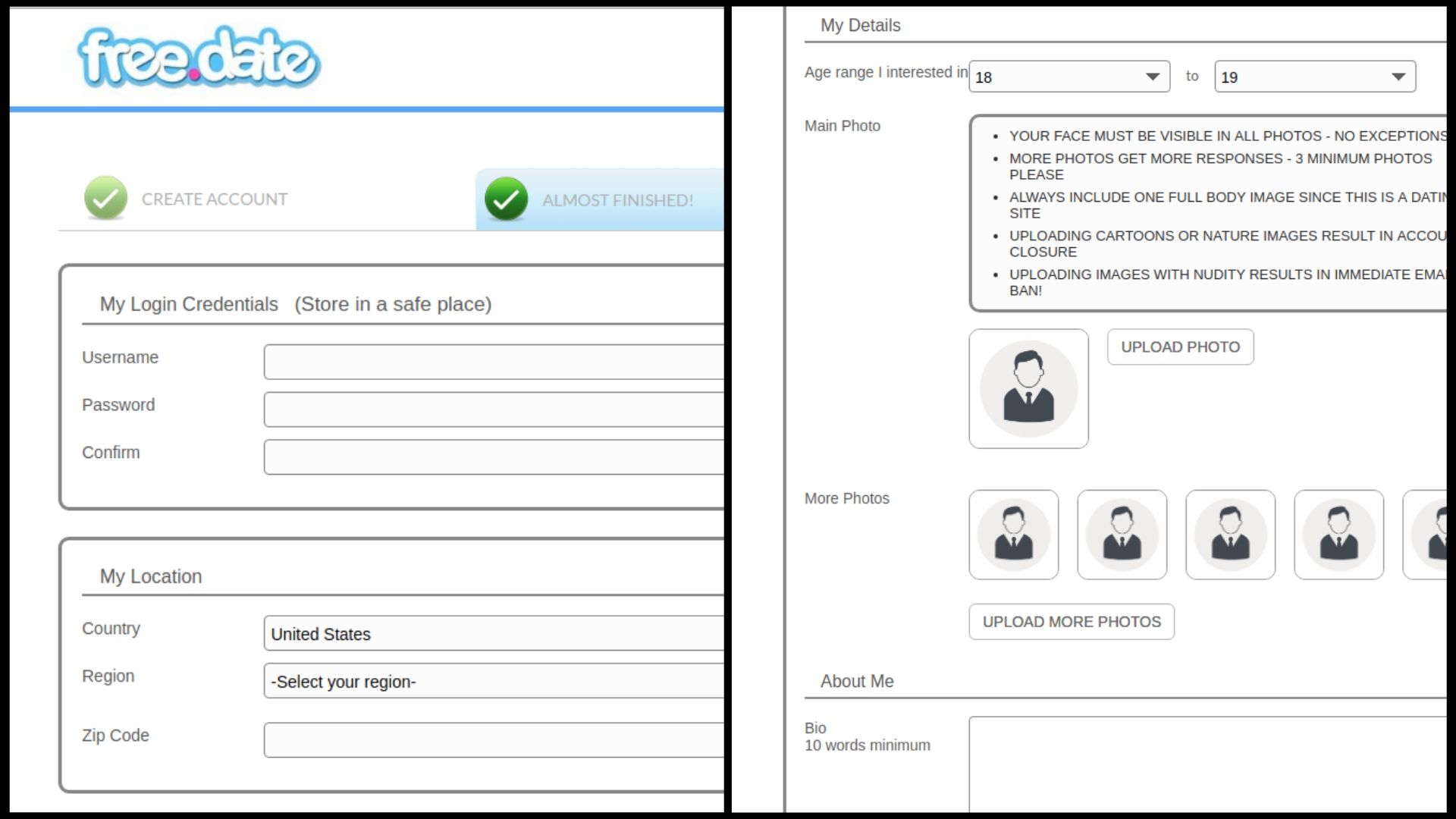 Once you have entered the details in the home page sign up box, the next page you will see is this one. Users have to fill these details in order to make their account get processed,
Username

Password

A location such as country, region, city & zip code

Age Interested

Photos (Minimum 3)

Biography

What I am Looking For

Appearance

Background Values

Lifestyle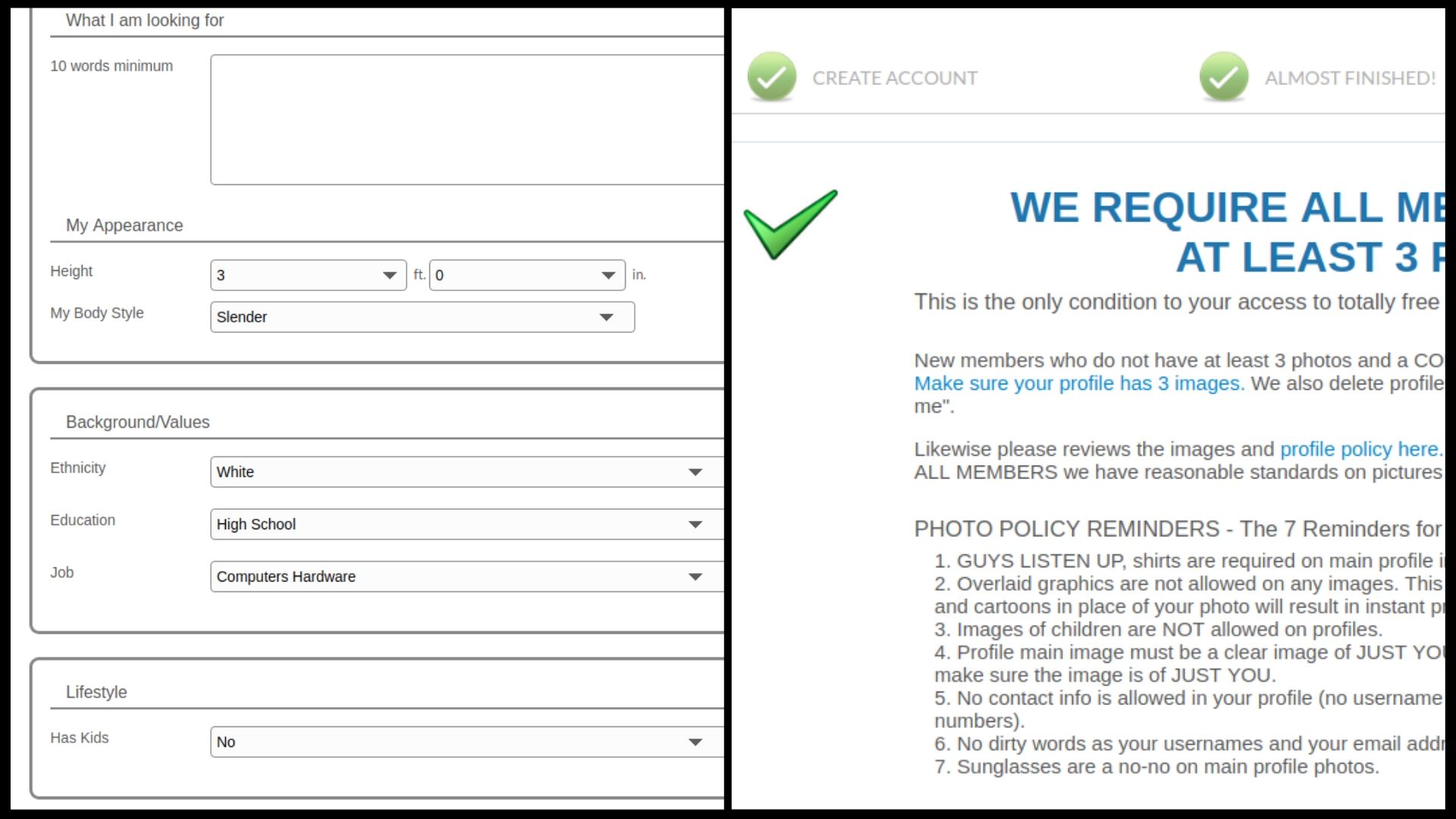 Next up, the user can see the Welcome option explaining the importance of photo policy. 
Below that, interestingly right away you can see who's online now. A list of 12 profiles are shown in random order and it is definitely a great move to help the new user get attracted to this site.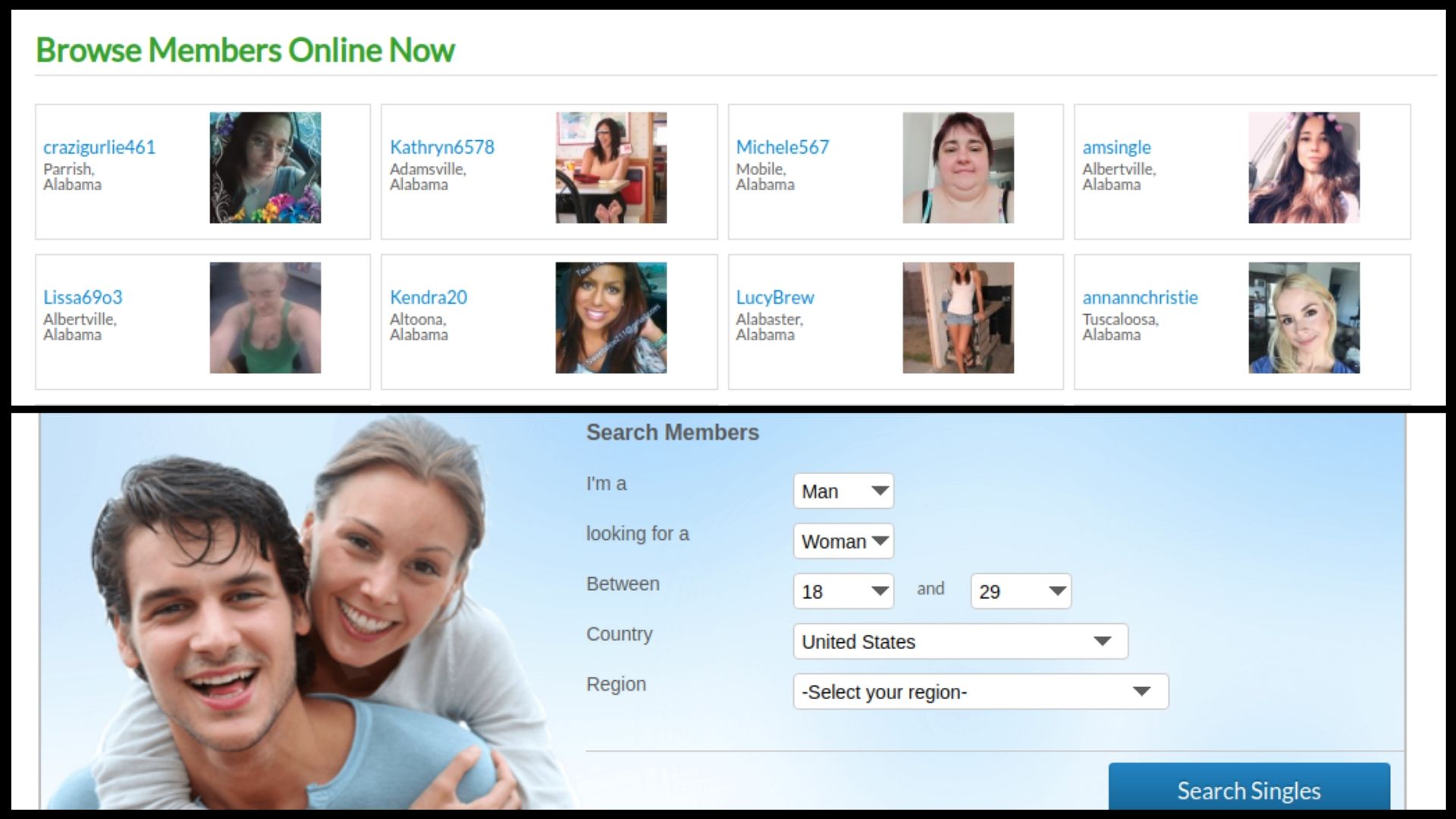 After that, you get to see the search option where you can check for singles at any mentioned location. 
Users can adjust the options located inside the search box. Options such as,
I'm a 

Looking for a 

Age Between

Country 

Region
And click SEARCH SINGLES. After this, you'll be directed to the result page of Free.Date which can fetch the profiles as well as have all the necessary options to look at in the site.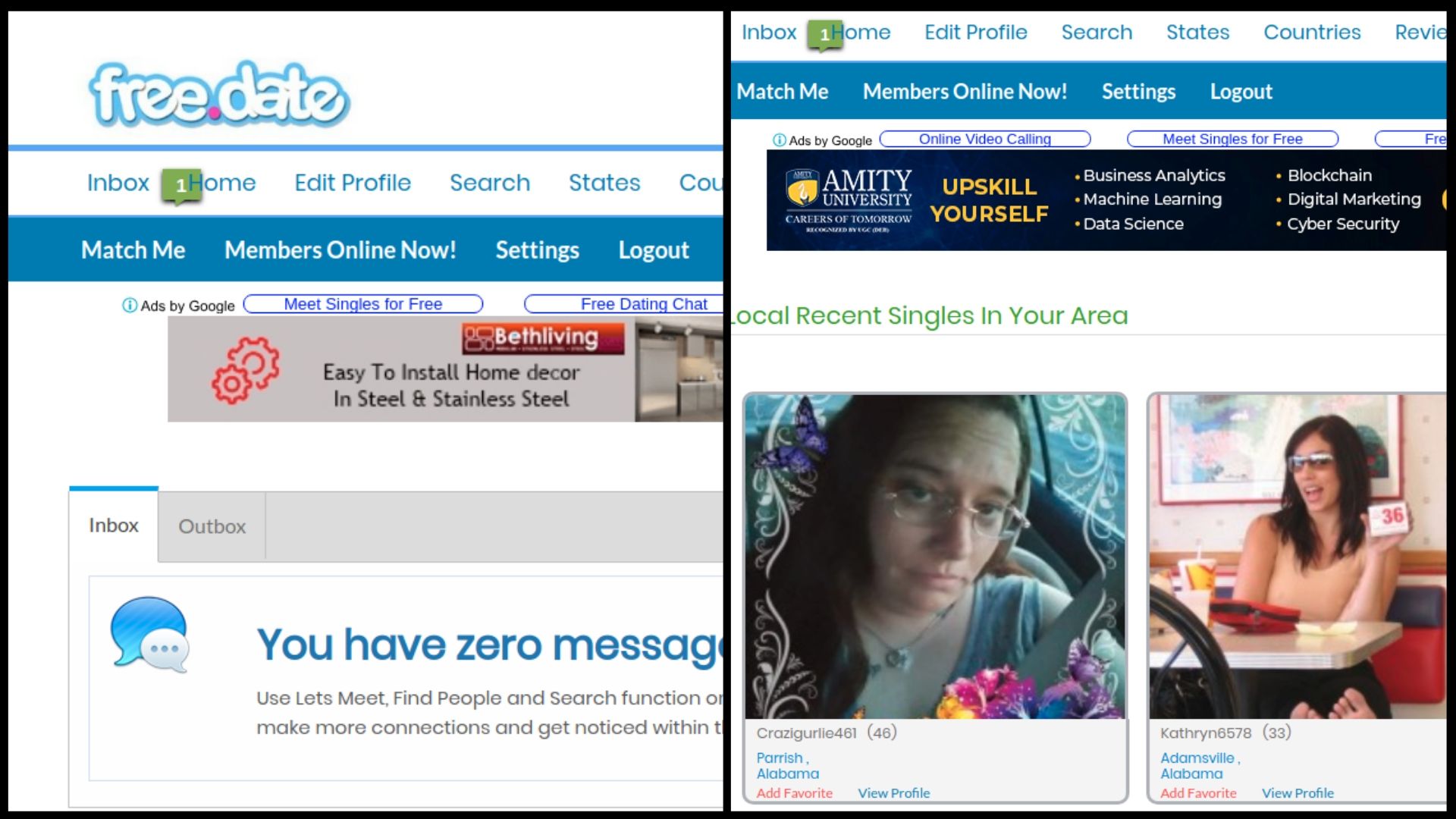 Inbox – Where you can check your incoming messages from users. It also has an outbox option to check your outgoing messages.
Home – The home page option consists of showing local singles in your area. (Preferably the mentioned state or city while signing up)
Home > Pledge

– Which explains the do and don'ts while using this site which includes understanding the fake users, how to report them, and importantly the Photo policy reminders.

Home > FAQs – Frequently Asked Questions about Free.Date such as the usage, how to find profiles, how to delete profiles, other free dating sites from Friends Date Network, how to use meet me, wink and etc.
Edit Profile – As per the title, users can edit the profiles in this section. Updating Location, My Details, Photos, Bio and Looking for section. Also, deletion of profile option is mentioned here.
Search – This is pretty common as the user would have already used this section after signing up, what's new is the Groups tab in the search section. Groups included topics like Trending Discussions, Over 40, Webcams, Site Discussions, and so on.
Profile Section: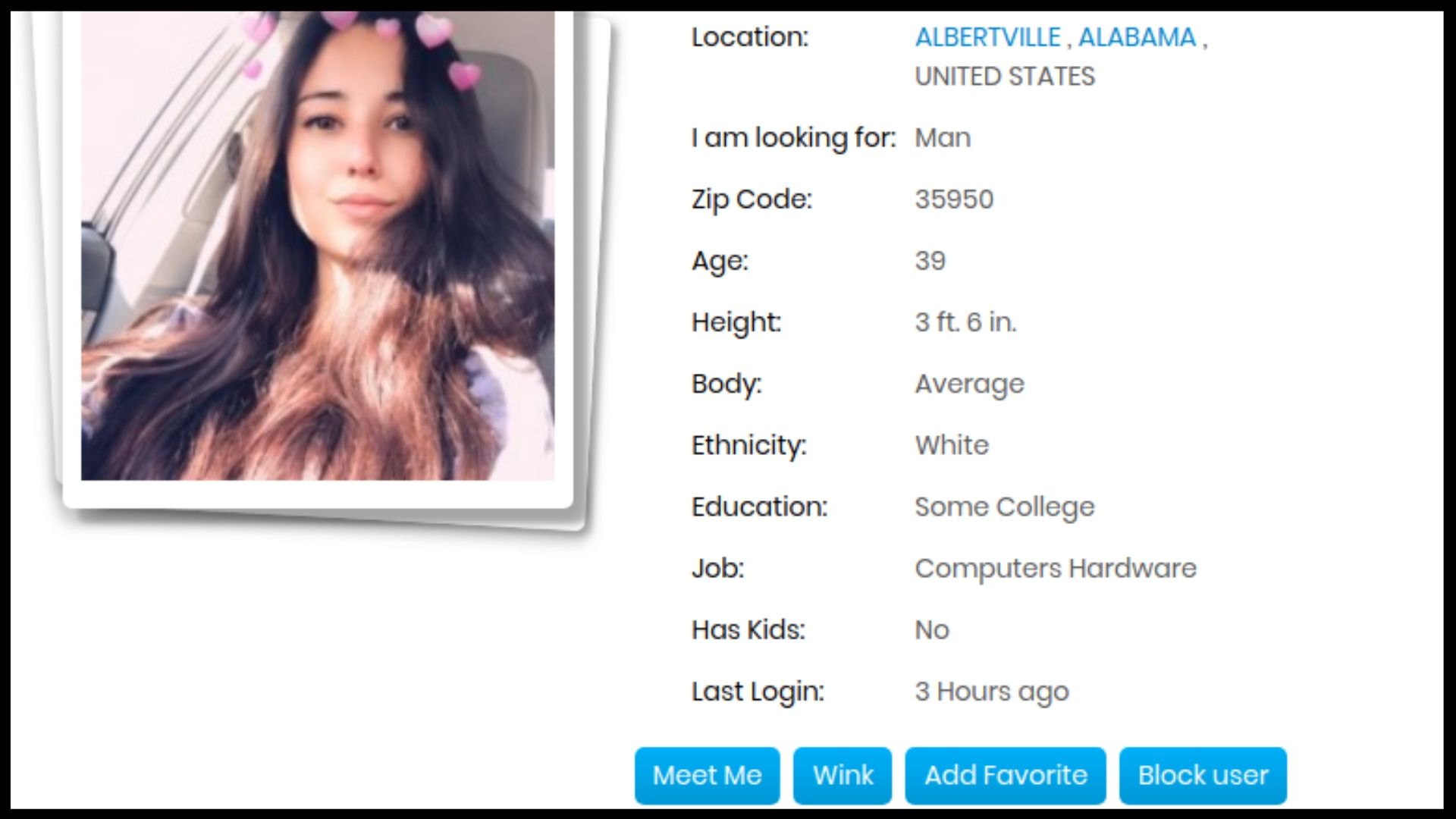 The User profile has unique options for a Free Dating Site. Generally, you won't have much of an option but take a look at this.
Profile > Meet Me:

This option lets the other profile know that you would like to meet them.

Profile > Wink:

Users can wink at profiles which they like.

Profile > Add Favorite:

Option to include profiles into your favorite list.

Profile > Block User:

If any user is annoying or seems fake or spammy. You can block them.

Profile > Report User:

You can directly report the user if you'll feel they're not a real person.

Profile > Send a Quick Message:

Users can send messages directly to the interested profiles. But excessive messaging to a lot of users will put the user mostly reported and removed from the website.
States – This section shows the 50 states of the USA and its popular cities where users are more.
Countries – This section shows the different countries and the profiles associated with it. Users are not limited to search for countries. They can search users from any mentioned country and communicate with them.
Match Me – Just like many popular dating apps, Free.Date also has recommended profiles shown up for users on a daily basis. (Based on the state, & city mentioned). It has three options to chose for such as Yes, Maybe & No. If a user chooses YES option, then the chosen profile will receive an email regarding the interest shown.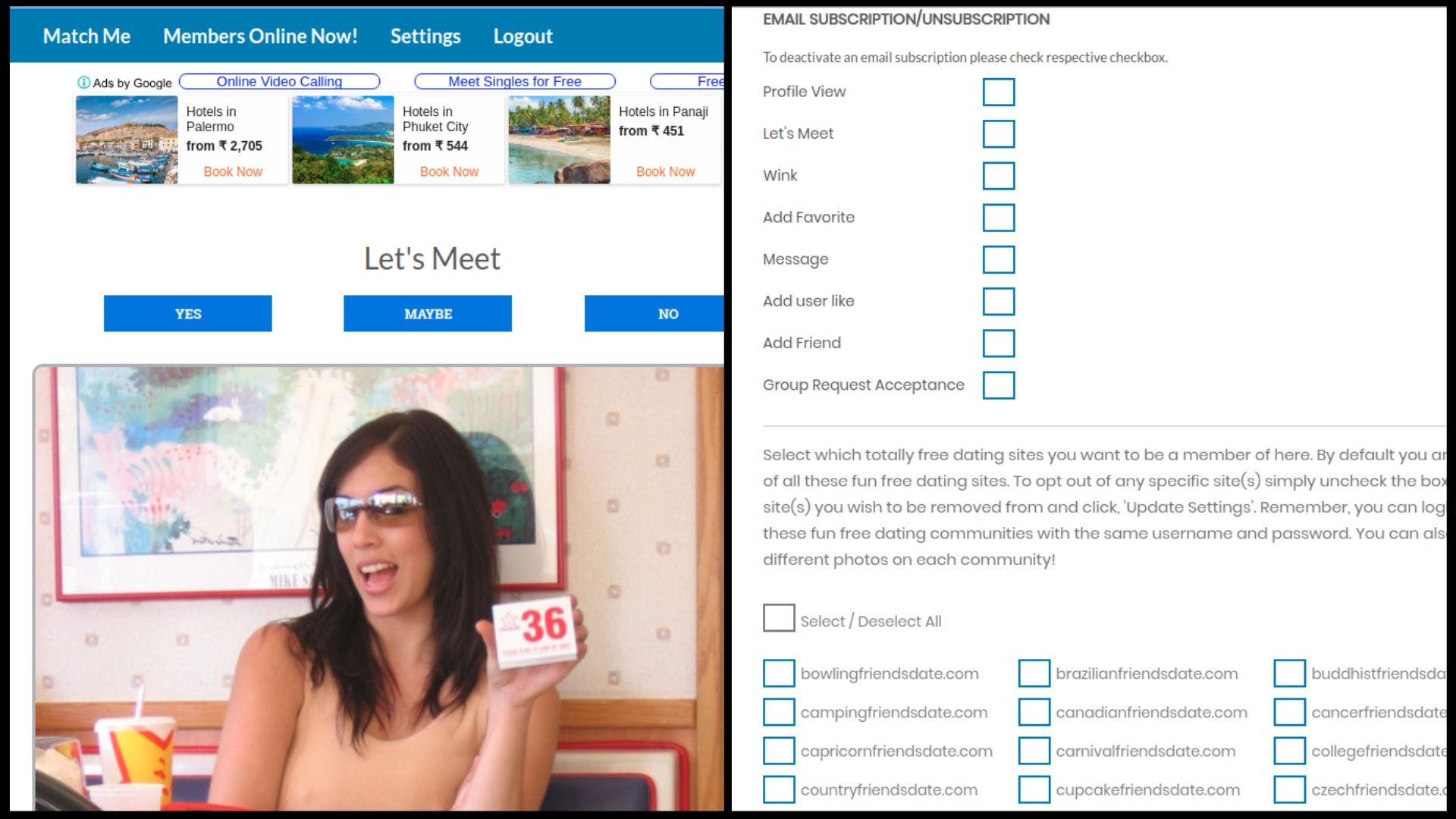 Match Me >

Notification:

Shows who viewed your profile, Let's meet & Maybe option after looking at your profile in Match Me.

Match Me >

History:

The history of profiles that you have viewed, liked and blocked.
Settings – Helps users to check their username, email address mentioned while creating the account (also users can change email), update the passwords, email subscriptions & unsubscription plans, also by default the new user can log in to different websites under the Friends Date Network. Users can select or deselect sites which they want to access and click the Update Settings. Delete my profile is also mentioned here.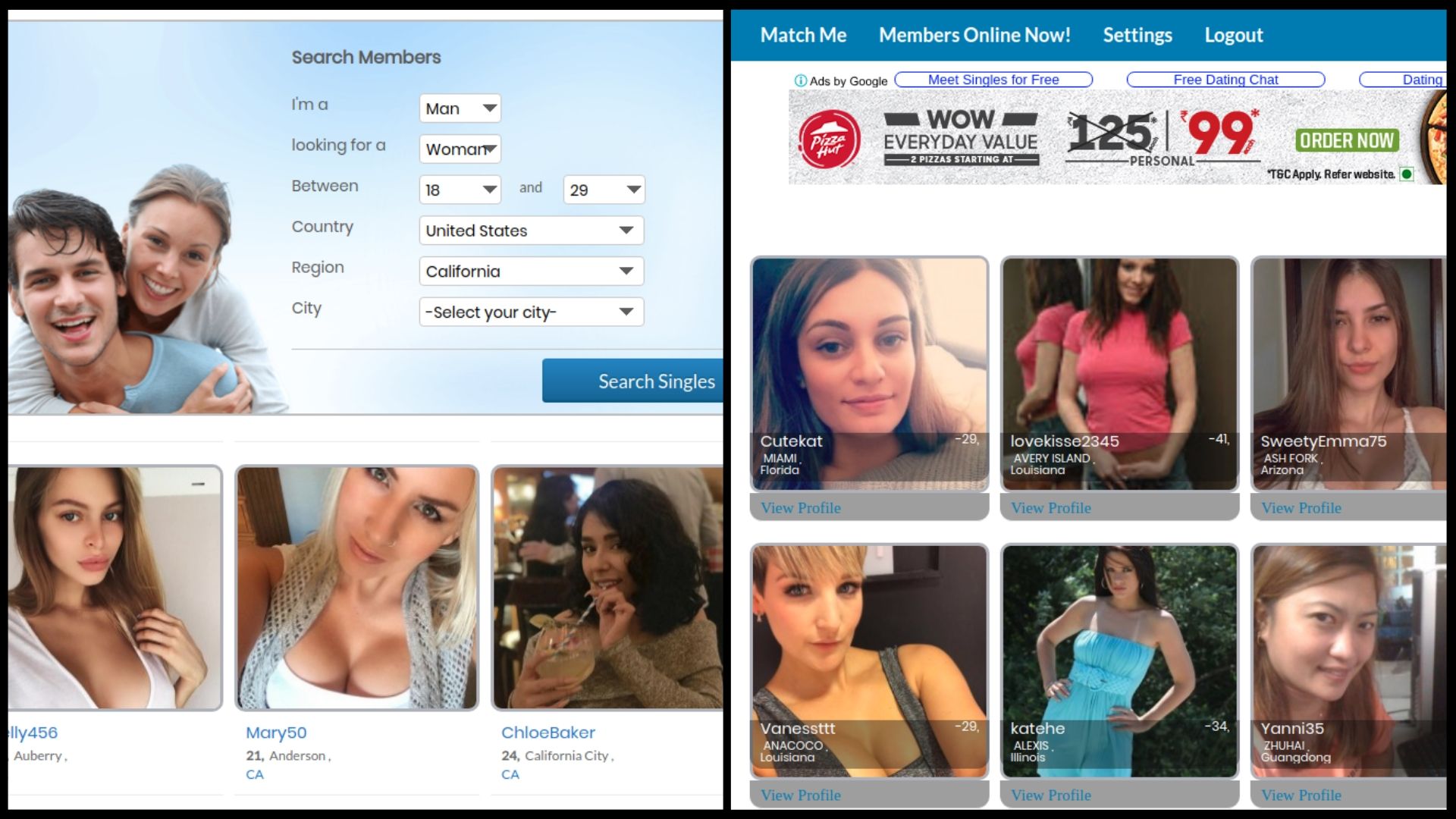 Members Online Now – Option to check the members who are in online and available for messaging. 
Reviews – It explains about the other popular premium & free dating sites and their insights in a nutshell.
Languages – On top of the right corner of the site, you can find the languages section which translates the site's content into different languages. So far, they can translate up to 103 languages across the globe.
Footer Section: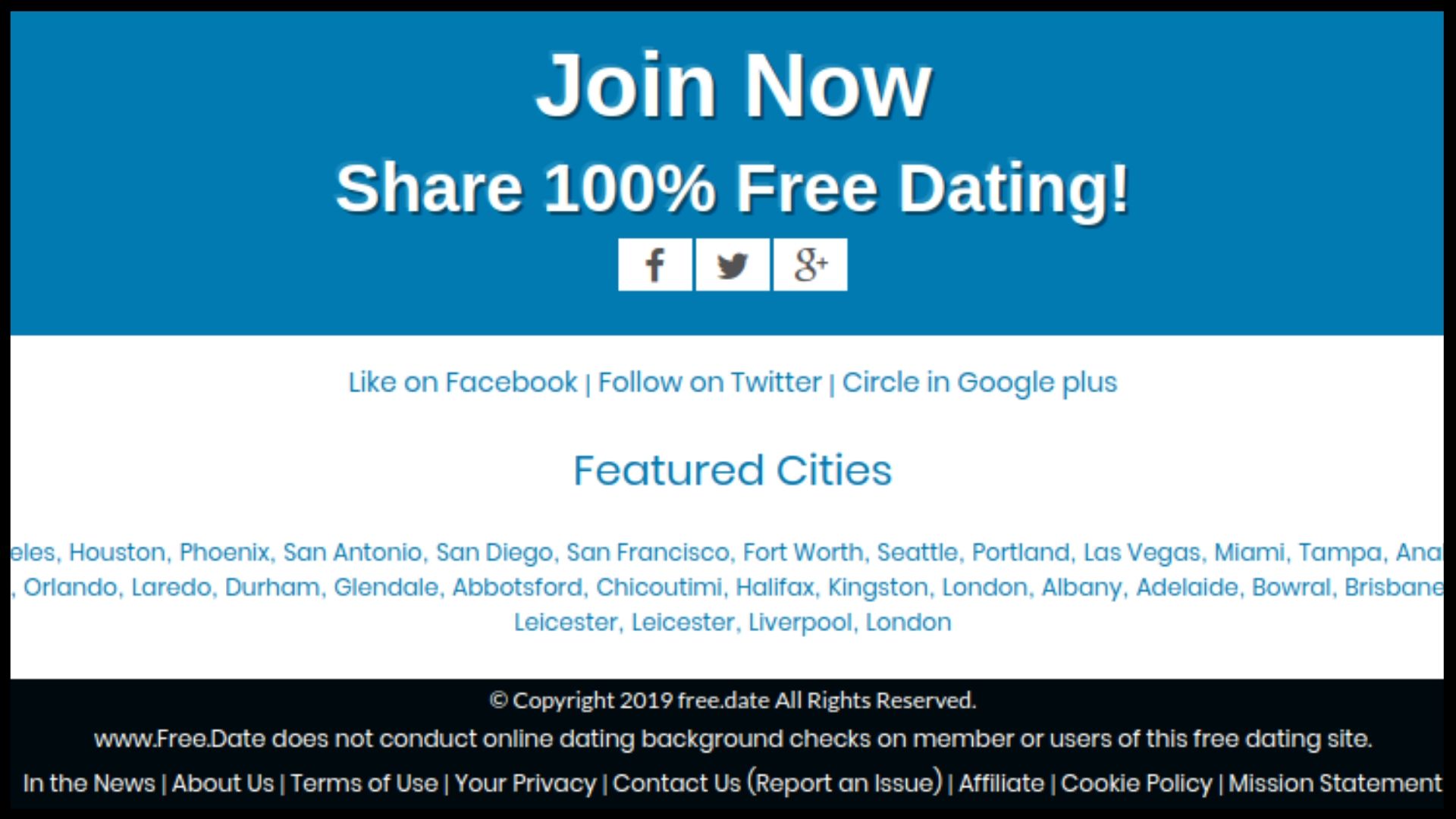 The footer section on the home page consists of different cities across the USA, UK, Canada & Australia.
It also includes the other important details about Free.Date such as,
In the News

– Media mentions about Free.Date

About Us

– Generally information about Free.Date site.

Terms of Use

– Regular Terms & Conditions like other dating sites.

Your Privacy

– Privacy Policy on using Free.Date

Contact Us

– Contact option for general site Queries, Affiliate, Business-related, Jobs, Media Coverage, Advertising and so on.

Affiliate

– Special page dedicated to affiliate programs for users.

Cookie Policy

– General cookie policy statements for users.
Mission Statement – The goal is simply to provide a respected and real community of global singles and continue to always provide real free online dating. 
How Much Does Free.Date Cost?
Zero. It is 100% Completely Free to Use Dating Site.
How Many Users are on Free.Date Site? 
300K Users
Who Created Free.Date Site?
Free.Date is a brainchild idea of Laetus Dating Private Limited in Bangalore and they have many key partnerships across many countries & dating sites. One among is the Free Dating Sites giant Friends Date Network. Friends Date Network has got 150+ dating sites up and running for absolutely free for everyone.
Customer Support Information for Free.Date:
Check out the Footer Link where we can see Contact Us option for all sorts of support. Here is the link to communicate with them – http://free.date/page/contact-us
Free.Date Reviews Summary:
To sum up free.date, it is certainly one of the user-friendly sites compared to other free dating sites. It got cool features which most of the dating companies deliver with a cost attached but Free.Date is also about free dating. Interestingly the partnered brand Friends Date Network has got a lot of free dating sites according to different niches such as interests, age, country, religion, sports, profession, and star signs. It enables users to date like-minded people if they want to. Here is the Url – https://friendsdatenetwork.com/join-network/
Comparing to all the available free dating sites in the market, this probably is a better place to find Singles without spending a penny. If you're looking to find singles nearby your place, city or country-specific, this site is exactly where you should be spending your time.
Another exciting news about Free.Date is, they will be releasing the free online dating application for Android & iOs very soon.
Feel free to check out other Free Dating Sites reviewed here.

Comments
comments