Our match review goes in depth on all facets of match.com. It is said that 1 in 5 relationships starts on Match.com but is that really true? Well let's take a detailed look at Match.com and see what we can learn together.
Let's start off with our Match.com reviews on video… (This is how I try to approach doing reviews on all sites) Ignore the link in the video as they link goes from YouTube to this page) So scroll down and let's talk HARD FACTS about the features and costs for Match.com dating site.
The Most Watched Video Match.com Review Ever!
Yes, this is me doing a match review on YouTube. This match review has been seen by over 100,000 people now ranking it as the most read match.com anywhere on the web. So let's talk about the match.com of 2019!
Before I get too far along though let me remind you that our Match.com coupon codes are always located here. We are always being notified by Match.com as far as their new special offers so you can rely on the best deals being always up-to-date here.
As a matter of fact to save you some time here they are as well: A. 20% Off Discount
 B.  3 Day FREE Trial
Right now we have both a 15% and a 20% Match.com promo code offer live. See link above or offers below. Again, there are 3 current offers that can save you money on joining Match.com right now and those are in fact the deepest discount that Match.com is offering anywhere online. They include the free trial offer below as well as the 20% off discount below. Most match.com review posts will not share these special offers.
Match.com experiences & our take.
Before we get into the match.com features and costs let me tell you my bottom line opinion on Match.com. Point blank match.com simply outdoes almost all other sites online due to its VAST size and the advanced features that the site offers.
When you compare Match.com to sites like Zoosk or eHarmony you simply have to acknowledge that each time there is a cool new feature at another site, Match.com comes along and duplicates that feature and makes it better. Their ability to constantly innovate as keep them ahead of most other dating sites. Perhaps you did not know, Match.com also shares a parent co. with the owners of Ourtime.com as well as Chemistry.com.
Did you know that in 2010 Match.com also bought SinglesNet or SinglesNet.com and then in 2011 Match.com also acquired OkCupid? They also own People media which powered the dead and buried AOL personals as well as the popular African-American dating site called BlackPeopleMeet.com. Match.com is also currently in the process of buying HowAboutWe.com. The truth is Match.com the clear leader in online dating.
Match.com membership features
Match.com has a very easy to use search feature that is streamlined which saves you time when you are browsing peoples profiles. Again, going back to membership size, it seems that almost any city that you live in you will find the most online singles at match.com over other sites. I don't know about you but when it comes to shopping for anything, selection is key! So getting back to features. Match.com is loaded down with all the features that almost every dating site has these days but at match.com most of the features simply work better and the load times are lightning fast.
So let's talk specifics! Beforehand here is the match.com about page that explains how match works; a must for any match review.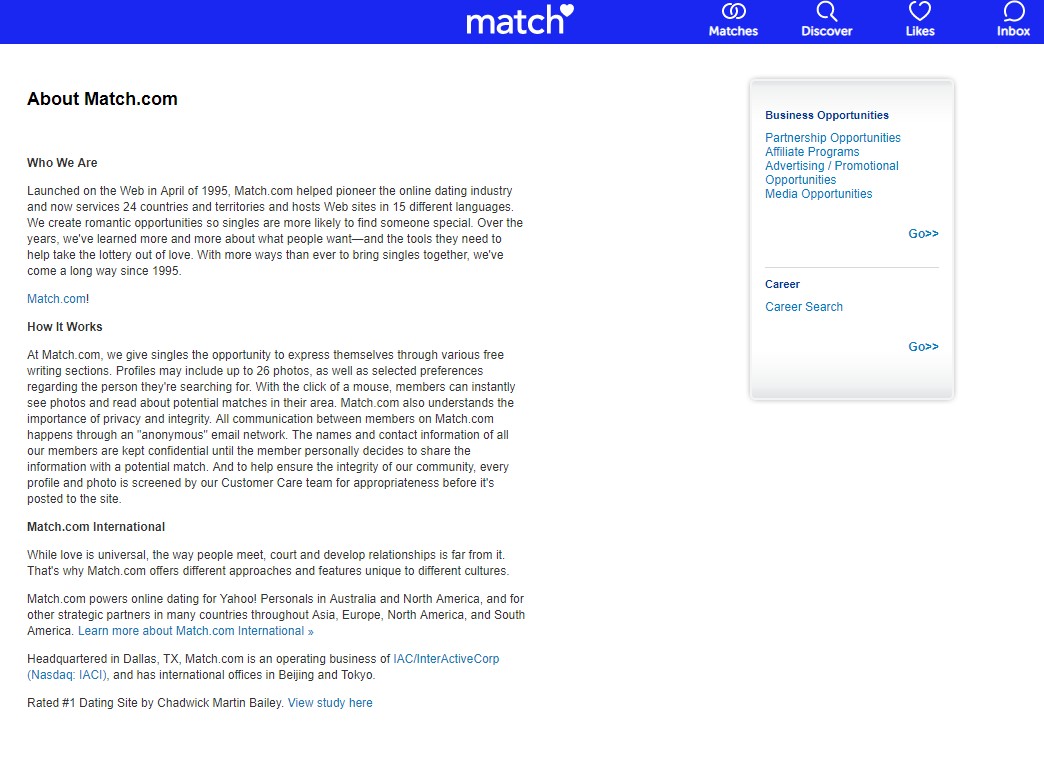 Which features are unique to Match.com?
– Match Platinum. This service incorporates your own personalized Matchmaker! Yes, Match.com does this! Busy professionals love this! This is a special add-on service at Match.com and of course comes at an additional cost.
– Matchwords is a really cool feature that I referred to above when I was talking about how fast and easy you can search member profiles. Matchwords is like a search engine of sorts that allows you to search singles profiles by keyword. This is REALLY USEFUL in finding people who have shared interests. After all people don;t always use the same phrases to express the same idea and when you search Match.com using this feature is renders a whole new world of potential matches.
These are just two of our favorite match.com feature from a much larger list of about 15 Match.com features that most other mainstream dating sites simply do not offer. Stir events are the latest addition, read more about those below. We just updated our match review with the most recent prices for match dating site.
Match.com membership costs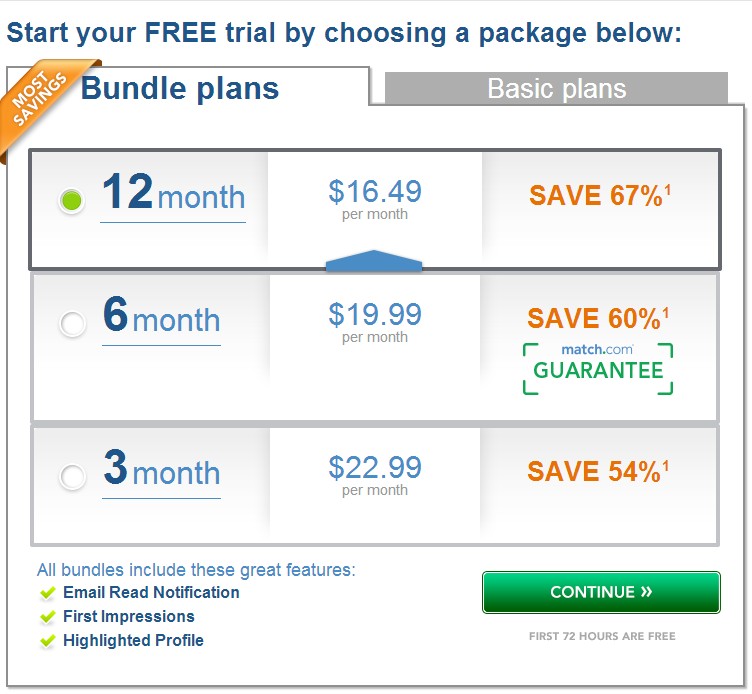 Match.com has responded to market pressures a number of times and adjusted its membership prices. However, when we last checked the membership cost for match.com it was still set at $24.95 a month. Match.com discounts are also always available for the 3 month, 6 month, and 1 year plans. Like most online dating sites, Match.com discounts are the deepest when you join for 1 year where you can save nearly 50%.
Match.com Traffic Stats / Demographics
Match.com traffic according to Alexa.com as of June 2013 was 375 meaning that there are literally only 374 other sites in the world that get more traffic! So clearly the answer is yes when it comes to asking if Match.com members are very active. Also it is interesting to note that 51% of members are female and 49% are male giving the guys a slight upper hand. Just to give you a scope though on the size of Match.com compared to average niche dating site consider the fact that this dating site gets over 2,000% more traffic than most of it's nearest competitors.
Nearly 100 million visits per month and over 80 million members globally. So if you think you have heard a few complaints about Match.com the fact is, is that with that much dominance over other online dating sites you are apt to.
Match.com Languages, Translation, and More
So let's look at the scope of Match.com. Match is actually available in more 24 countries in 5 continents with 8+ languages using the site. It's truly global. Match.com also has partnerships across Europe and Latin American in MatchAffinity and Meetic making the network that much larger.
Match.com History: Gary Kremen actually started Match.com clear back in 1993 making match.com one of the longest running online dating sites out there. Learn more about the detailed history of Match.com with a timeline at that link.
Match.com Stir Events
Stir events are actual planned networking events that are featured on Match.com. These were launched in late 2011 but just now in 2013 are they becoming really popular. Read more about Match.com stir events here.
Match.com mobile app reviews
The Match mobile app we consider to be had and shoulders above all other mobile dating apps. As we wrote about here, the app allows you full functionality on the go meaning you can use all the great match search functions and other great features without needing to stop and hop on a desktop. We tried the Match mobile app on both Android for Samsung Galaxy and Apple as well as a Blackberry and across all three were left to conclude match.com has the best mobile dating app. 
Our conclusions about match.com reviews 
Yes, due to the large membership size of Match.com you may at times have a hard time dealing with unreliable daters or overly aggressive men (or women in rare cases) but think about it!
The selection is nearly unbeatable and you are, after all still in the safety of your own home so simply ignore and erase the people you want to forget about and be thankful that you're getting as many winks and activity on your profile as you typically will at match.com. Remember, with many small niche dating sites the exact opposite is the problem! At Match.com, providing you have a decent profile written and some photos up you are nearly  guaranteed you will meet someone. Actually, correction. You actually are guaranteed you will meet someone.
How the Match.com guarantee works
The Make Love happen guarantee rules can be found here: Essentially though what Match.com guarantees you is that if you create a profile as a paying member for 6 months and then fail to meet anyone, as long as you reply or initiate contact with at least 5 members and have a photo you will get your membership extended for free another 6 months! That's a pretty considerable statement of confidence from the worlds largest online dating site.
With so many singles to choose from you are in the driver's seat as far as choosing the men or women that you want to ask out of dates. Match.com delivers a great user experience as well as a superior value to most any online dating site.
Match.com reclaimed the spot as the top ranked dating site online in our editors pick of the best online dating site of 2013. We update our dating site reviews more frequently than any other site so check back for the latest Match.com reviews periodically and realize that you will always find the most up to do date offers for Match.com here.
Also keep in mind our Match.com reviews are updated every 90 days to incorporate the latest actual user experiences and reviews from past members which are featured below.

Lastly, here again is the 2014 free trial offer for Match.com. Make sure to leave your own match.com reviews above, 1 per IP only if you have been a member in the past.

Comments
comments