Okcupid review

,
Okcupid reviews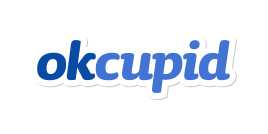 Introduction and History of OkCupid.com:
OkCupid.com was launched in 2004 as a free dating site and it has been an incredibly fast growing site ever since. Its founders had the idea of creating a dating site that will base its match-making criteria not on subjective impressions like most such sites do, but on a solid mathematical algorithm. Members receive in forms of percentage their "match" or "enemy" levels with other users based on their answers to numerous personality questions and tests, making it a fun and attractive feature, not to mention that is also free.
Features and amount of members at OkCupid.com:
OkCupid.com has over 5 millions active members and thousands of new members subscribe every month; however these numbers are just estimated and unconfirmed, as the site does not release this information.
OkCupid offers a general free membership with multiple features for its users.
Here is what you can do with a free membership:
Create your profile and add your photos
See other profiles and photo albums (as long as you have a photo of your own)
Answer personality questions and take personality tests written by other users or by the site's staff, that will be use as your match-making criteria
Search matches by sex, age range and region or perform advanced searches by criteria from height, drug use, religion to diet, education and offsprings
Order matches by enemy/match percentage
Save other members as favorits
Send messages to other users or reply to their messages
See who visited your profile
Once you subscribe and become an "A-listed" member you gain access to the following extra features:
Possibility to change your username
Visit profiles and browse the site in invisible mode
Perform searches by body type, attractiveness, number of answers and question answers
Order your found matches by similarities, personality traits or just totally random
Filter the messages you receive by lenght, key words and attractivenes
Know when and if your sent message had been seen
See the full list of people who like you
OkCupid.com membership plans:
1 month: $19.95
3 months: $14.95/month – save 25%
6 months: $9.95/month – save 50%
OkCupid.com Contact info:
OkCupid.com can be contacted using the form in the "Contact" page from the site or by postal mail at its headquarter in New York City.
Postal mail:
Humor Rainbow, Inc.
555 West 18th Street
New York, NY 10011, US
OkCupid.com also provides the following email addresses:
press@okcupid.com for media inquiries
bizz@okcupid.com for business/corporate inquiries
Our conclusion about OkCupid.com:
OkCupid.com is a very large and popular dating and match-making site. Its founders are very transparent and confident about their matching algoritm, the site even has a section where this entire process is explained. Besides its dating purpose, OkCupid is also a fun and entertaining social platform. Members answer numerous question, the average number of question answered by a member is around 200, and all their anwers are used as matching criteria. Also, users can indicate the answers they would accept from parteners and the importance they give to a specific question. The site seems very interactive and friendly with its members; I think it would be a very nice place that would give pretty high chances to meet exactly the person you are looking for.
Home page screenshot of OkCupid.com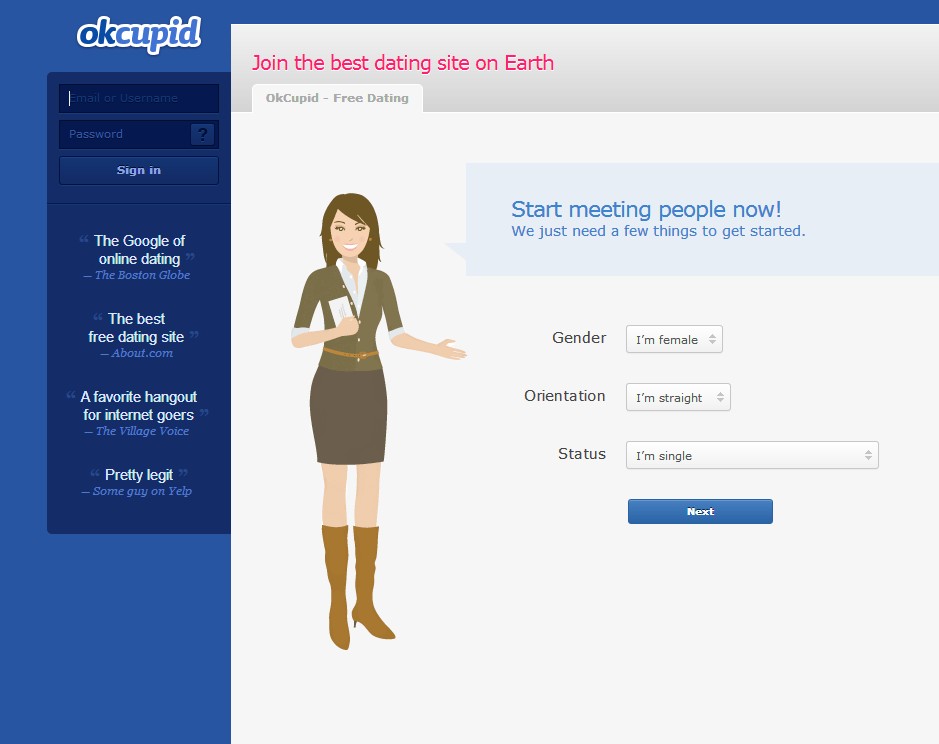 Check out our feature deal here on one of the best rating online dating sites.

Comments
comments