The jaumo app is on the move with lots of new singles but how does it compare to top dating apps? Likewise in our jaumo dating app reviews we cover prices, install process, and more!
What is Jaumo App?
Jaumo is a well-established dating app made in Germany. Flirt, Chat & Date is their main motto. It has got two founders. Jaumo is an Aramaic term which means a New Day or Sunrise. Like a flirt that can be the start of something new and special.
App development is completely done in-house. They have got a support team as well, to help moderate and assist jaumo users 24 hours a day, seven days a week.
How Does it Work?
Here is our Step by Step Instructions After Installation,
Step 1: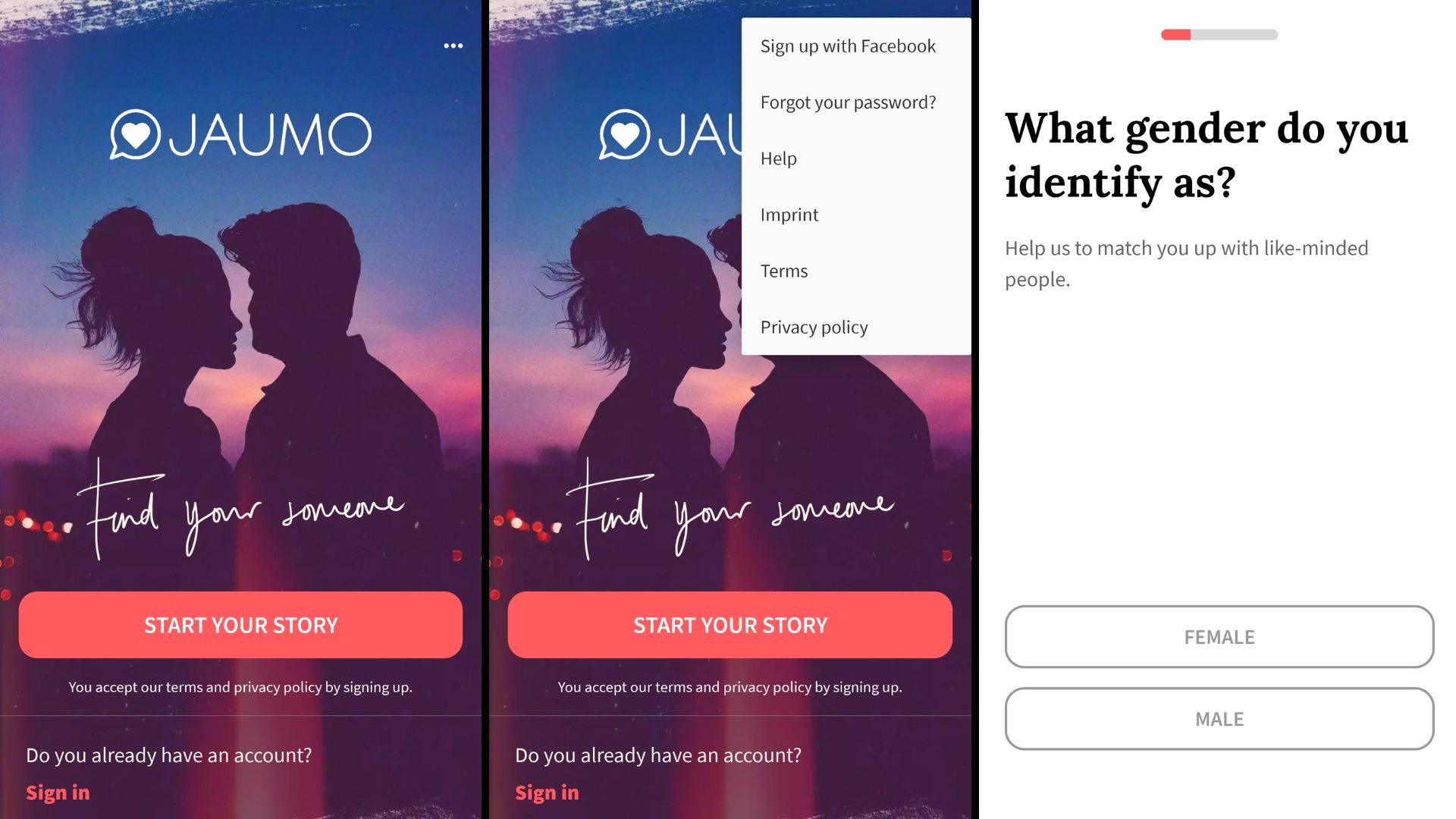 After installation, you can see the display screen with few options such as "Start your story" – for the new dating user. The second one as "Sign in" – for the existing users.
Interestingly, we can also see the top right three dots which gives us more options up front which you won't see in many apps. Here are the menu options it shows,
– Sign up with Facebook
– Forgot your password
– Help
– Imprint
– Terms
– Privacy Policy
Step 2: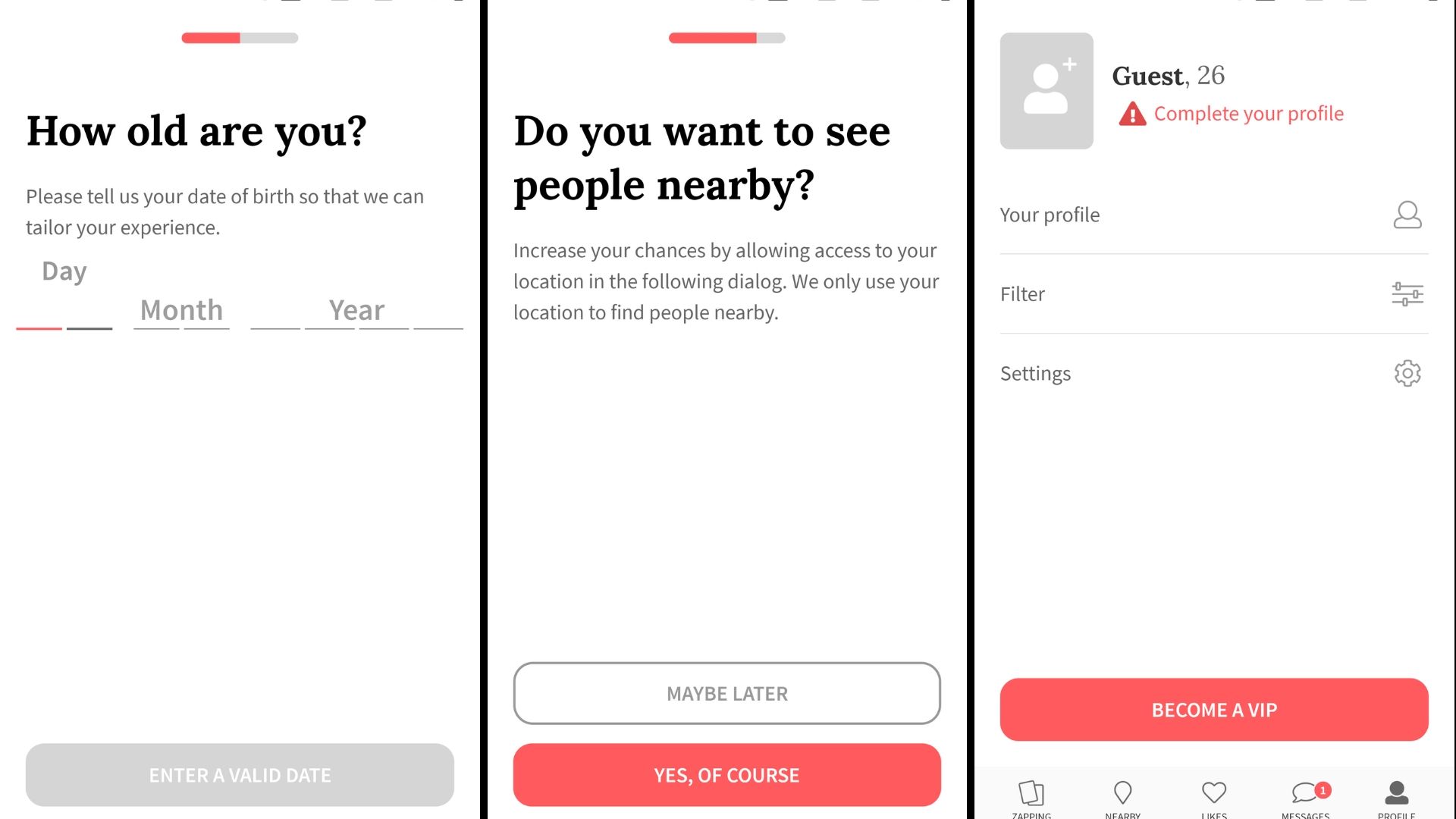 Just fill up your age, & location. Pretty much it for using a free account. By default, you'll see your name as Guest.
Step 3: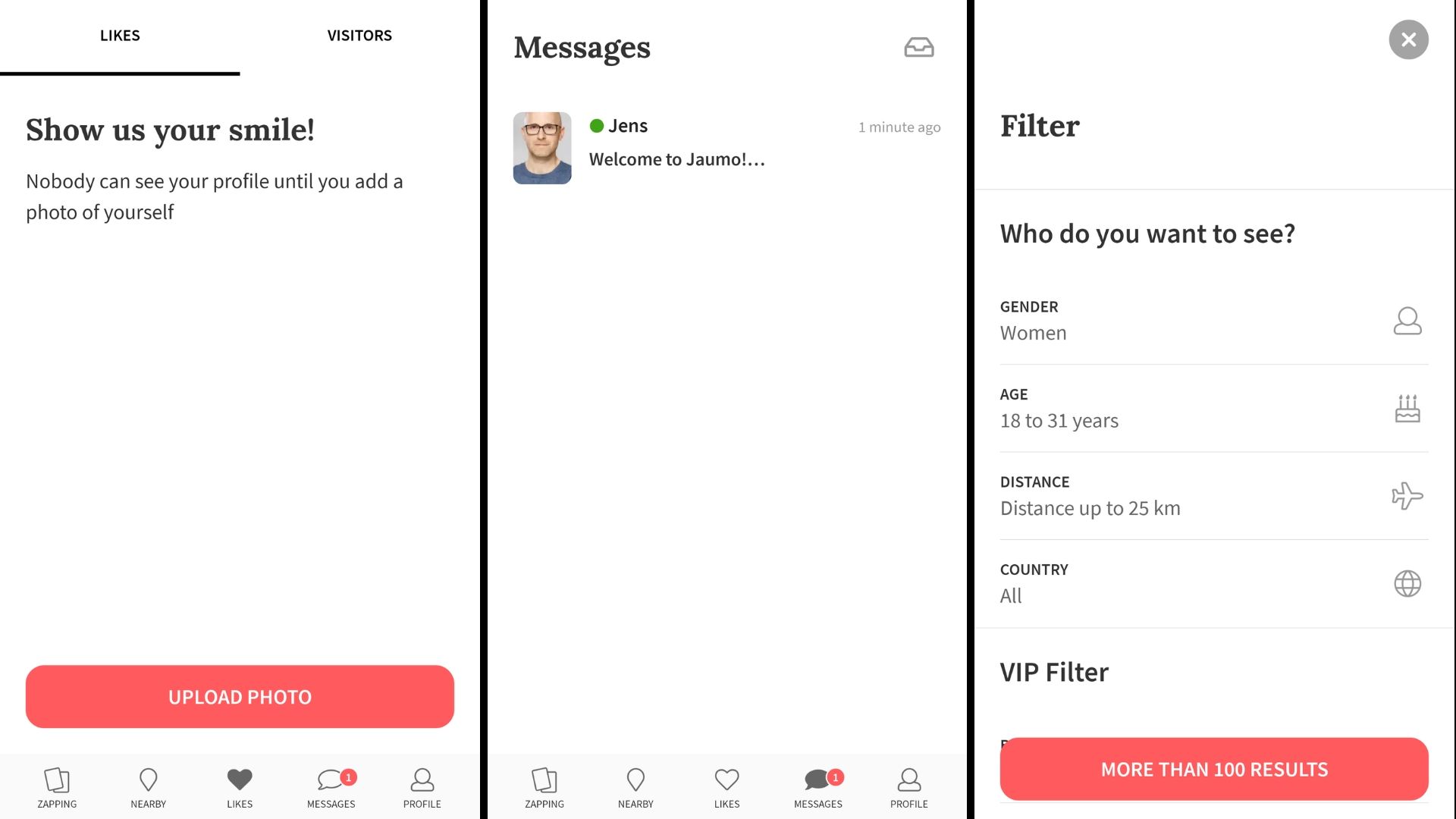 After that, you can get into the home screen of Jaumo app with 5 options mentioning Zapping, Nearby, Likes, Messages & Profile.
A default message from the founder is also received. You can like or send a message to a profile only after you upload your picture.
Edit Profile has got so many options to fill in, here are those,
Name, Location, Hometown, Profession, Looking For, Relationship Status, Body Height, Education, Smoker, Religion, Body Type, Language, Drinking, Exercise, Tattoos, Pets, Music, Diet, Children, About Yourself, Add 5 more photos about hobbies, pets, etc.
In the profile edit, the Filter setting gives the user to select, Gender, Age you're looking for, Distance (In Kilometres), & Country.
According to the distance chosen, the profile count will be shown.
Step 4: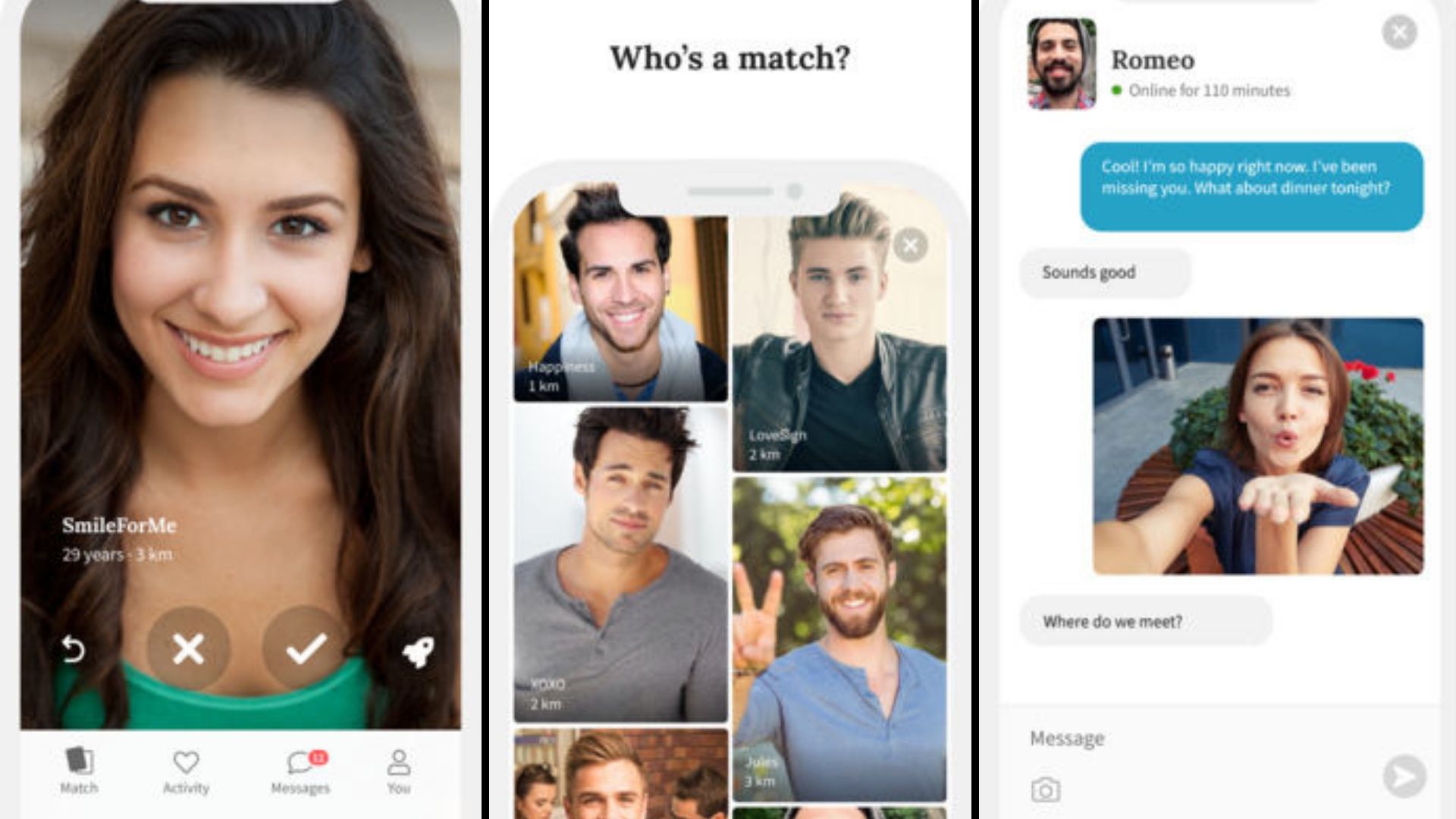 At the end of a profile, we can see four options mentioned such as, 
Previous Profile symbol – To check at profiles which are swiped left (Only VIP members can see Ignored profiles)
Cancel mark – To choose when you don't like a profile
Tick mark – To choose when you like a profile
Rocket Symbol (Boost) – Which means, you can make your profile visible to a lot of users but it's available for VIP members only.
As a free user, you are allowed to send 5 messages to other profiles per day. And you can like up to 20 profiles per day.
Set up Step 5: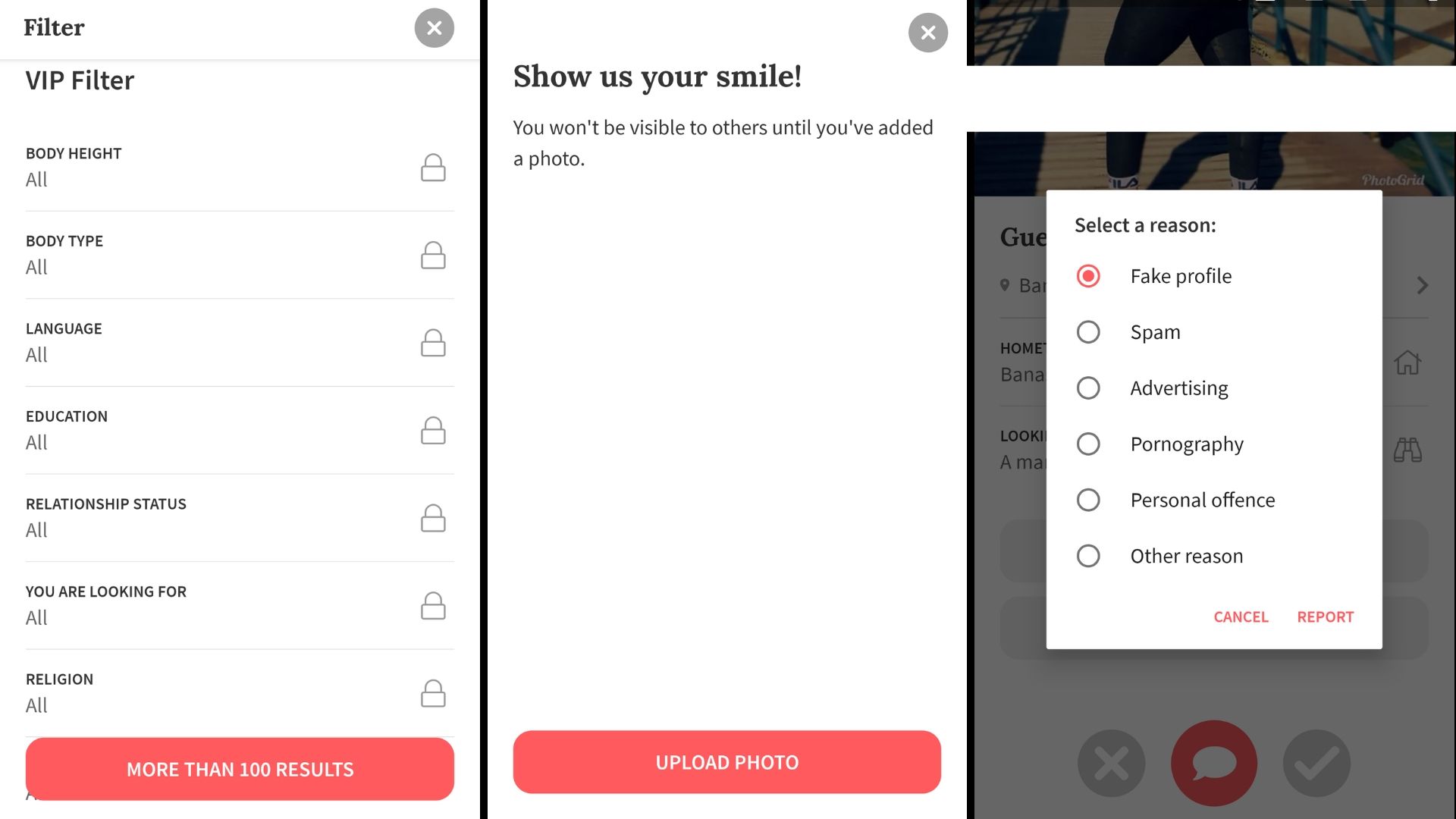 Under the Filter setting, you can see a lot of options under VIP Filter like Body Height, Body Type, Language, Education, Relationship Status, and so on. 
This means as a VIP member, you can able to access and check those options from any users.
Boost option prices are different according to country-specific.
Block & Report option is mentioned at the end of every profile. If you want to report a user, you can click that option and select any of the 6 options given,
Fake profile

Spam

Advertising

Pornography

Personal offense

Other reason
Step 6: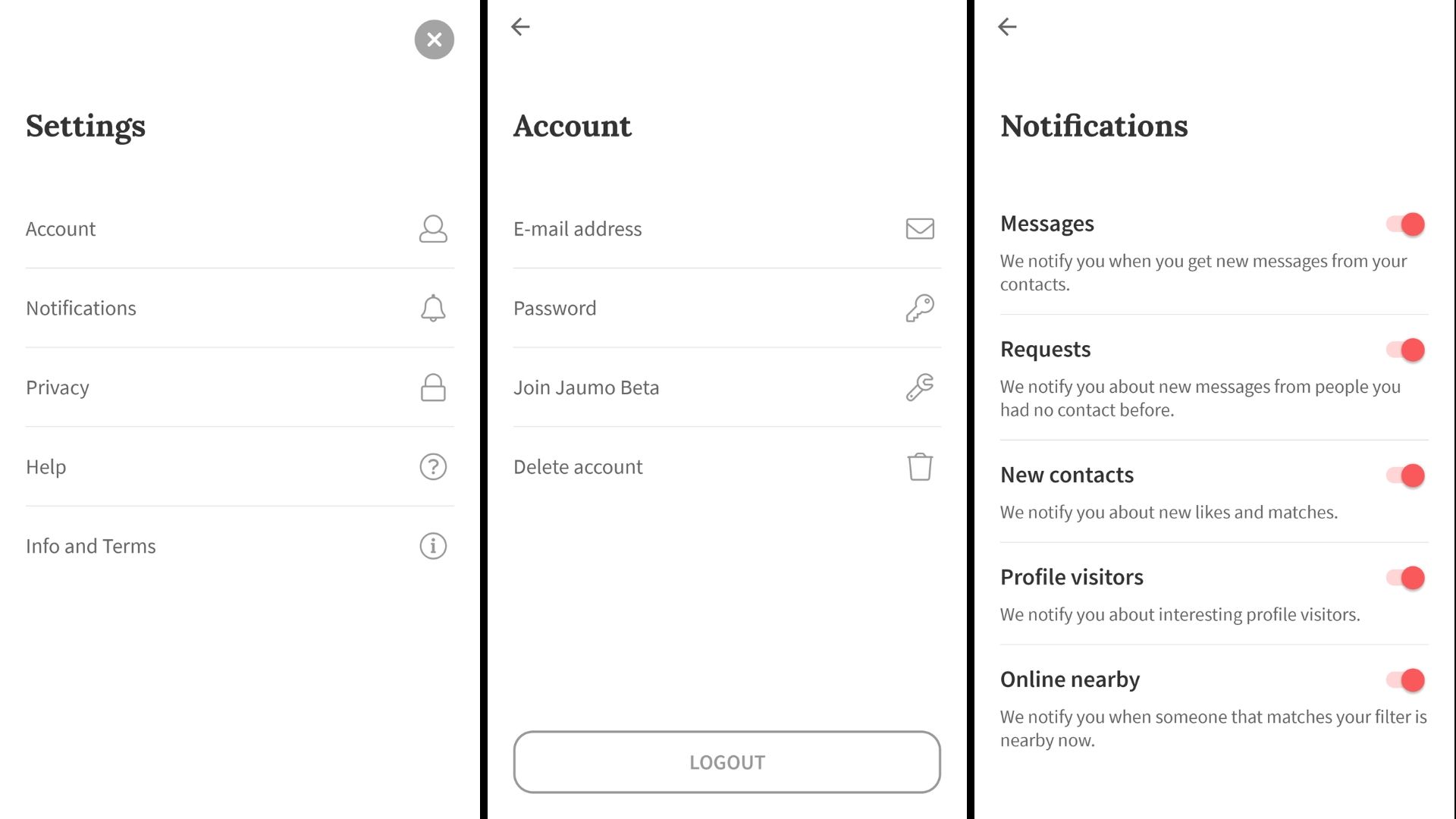 Here are other important things to take into account for,
Setting option – Account, Notifications, Privacy, Help, Info & Terms.
1. Setting > Account option – Email Address, Password, Join Jaumo Beta & Delete Account mentioned.
Fill up Email Address and Password for logins to Jaumo.
2. Setting > Notification option – Messages, Requests, New Contacts, Profile Visitors, & Online Nearby.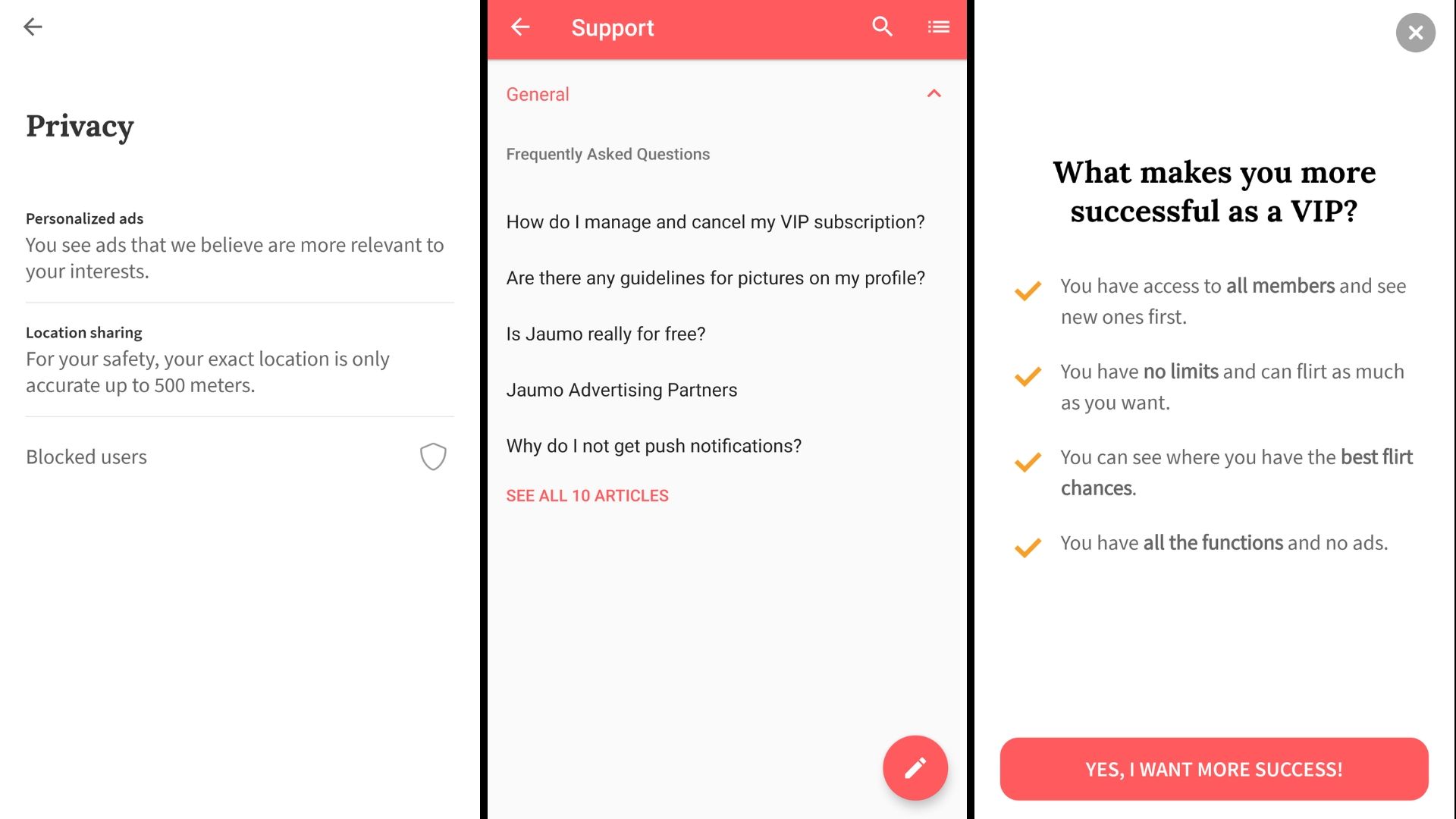 3. Setting > Privacy – Consists of Personalized Ads, Location sharing & Blocked Users.
4. Setting > Help – Shows support options with important Questions & Answers for Jaumo users.
5. Setting > Info & Terms – Imprint, Terms, & Privacy Policy, redirects to the website when you click on to one of these options.
How Much Does Jaumo App Cost?
Basic usage is free & limited. Here are the other premium features & pricing mentioned in Jaumo app.
Jaumo Subscription Plans
No
Description
Price
1
1 month
$10.99
2
VIP 1 month
$6.99
3
VIP 1 month
$9.99
4
Test VIP for free for 7 days
$17.49
5
3 months
$21.49
6
Test VIP for free for 7 days
$34.99
7
VIP 1 month
$4.99
8
1 Boost
$3.99
9
VIP 1 month
$2.99
10
VIP for a month
$4.99
Jaumo Boost Subscription Plans (For India Users)
No
Description
Price (Indian Rupee)
1
1 Boost
109.99
2
5 Boosts
399.00 (79.80 for 1 Boost)
3
10 Boosts
699.00 (69.90 for 1 Boost)
Jaumo Subscription Plans (For India Users)
No
Description
Price (Indian Rupee)
1
1 Month
249.00 / Month
2
3 Months
166.33 / Month (Most Popular)
3
1 Year
1499 (Yearly)
How Many Users are on Jaumo Dating App?
It is believed that Jaumo app has 40 Million Jaumo Members & 1,50,000 Daily New Members.
The current number of Jaumo app downloads,
Play Store – 10,000,000+
App Store – Not Mentioned
Who Created Jaumo Dating App?
Unlike other dating apps, Jaumo is a bootstrapped company and still operated by just the two founders.
Jens Kammerer – Partner, CEO
Benjamin Roth – Partner, CTO
Customer Support Information for Jaumo:
1. Profile > Settings > Help > Support Q & A – To read all the related solutions for problems.
2. Profile > Settings > Help > Write Option (Red Icon at the right bottom) – Clicking on write option allow users to send unique issues along with the attachment of files option.
Interestingly, Jaumo website has got dating tips under which we can see how they're fighting against Fakes & Romance Scammers. For more information on this, please visit – https://www.jaumo.com/dating-tips/
Languages Used:
Here is the list of languages accessible if you're using Jaumo dating app,
English, Arabic, Bulgarian, Croatian, Czech, Danish, Dutch, Finnish, French, Georgian, German, Greek, Hebrew, Hindi, Hungarian, Indonesian, Italian, Japanese, Korean, Latvian, Lithuanian, Malay, Norwegian Bokmål, Persian, Polish, Portuguese, Romanian, Russian, Serbian, Simplified Chinese, Slovak, Slovenian, Spanish, Swedish, Thai, Traditional Chinese, Turkish, Ukrainian, Vietnamese.
Jaumo Reviews Summary
Jaumo is a cool, easy & user-friendly dating app in the market. It's a well-recognized dating app, especially in Europe & North America. Privacy options are far better compared to other dating apps. The featured video is attached only in the Play Store & not in the App store.
While most of the dating apps would show it's premium features in the video, Jaumo reminds to be different. Jaumo didn't use mobile numbers for setting up the profile which is again a different approach, which means the users have to depend on location-based dating users around them.
Here are the Jaumo app reviews,
Play Store – 4.4 from 10,73,938 Reviews
App Store – 4.4 from 597 Reviews
Jaumo App Size:
iOs Users – 144.6 MB
Android Users – 18 M but it increases to 60 MB after installing the App.
Another aspect to check is their different taglines for Android & iOs users.
"JAUMO Dating – Find Your Someone (Android)
JAUMO Flirt Chat & Dating (iOs)"
However, as a free user, the options are quite limited like the other apps, VIP member in Jaumo would allow the users to,
– Access to see all the members
– No limits on using the app
– Users can see where they have the best chances to flirt
– All functions are accessible without ads.
To sum up, Jaumo looks a promising app for dating users with ample privacy options and smoothness in using the app. However, Jaumo still has ordinary features but very good at it. 
If you're looking for awesome cool features, this might not be the best fit but it has own limitations & features. If you're a first time dating app user, this could actually be good for you. Also, the pricing options are slightly costlier, but we got to accept they have got very few stand out features to show.
We felt like this was a dating app like happn in some ways. You can read and happn review and see what you think. Also compare other top dating apps and meet local singles using your mobile phone.
Comments
comments