Chatblink is an online free chat platform where users get to meet new people across the globe. Learn more about this chat online free features, members, and other interesting things in our elucidated review.
What else is the best way to spend time online other than chatting? Hands down, nothing! There are quite a lot of users who are more interested in meeting strangers online. For which there are hundreds of websites available on the web that allow you to talk to strangers.
It's quite obvious that they act as a good platform to talk to girls online, but are they real? Definitely not! Most of the users on such online free chat sites are spammers or catfishers. If you don't act smart, you will eventually fall into prey.
Find out whether Chatblink is any different from other random chat sites or it's just another sick, free chat site in the detailed Chatblink review below.
A blink is all it takes for you to get connected with a spammer at Chatblink – Jason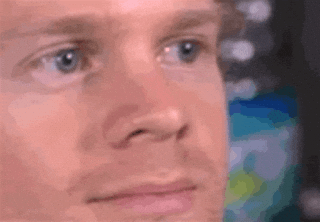 ChatBlink: A Shady Free Online Chat Site
It's a bit difficult for people to notice a free online chatting platform like Chat Blink amidst the pool of popular random chat sites like Omegle and ChatRandom (reviews at the link). Well, Chatblink.com is a free space where you can meet like-minded people for fun conversations.
It simply pairs you with random users online so you can start having a chat. That said you get to meet random people across distinct chat rooms on the site. However, you just can't be sure about the genuine users on the site.
Since Chat blink allows users to have a free chat anonymously without even getting signed up on the site, tons of catfishers are lurking on the site. Well, you don't want to get disrespected or lured by a stranger whom you have known for a couple of minutes, do you?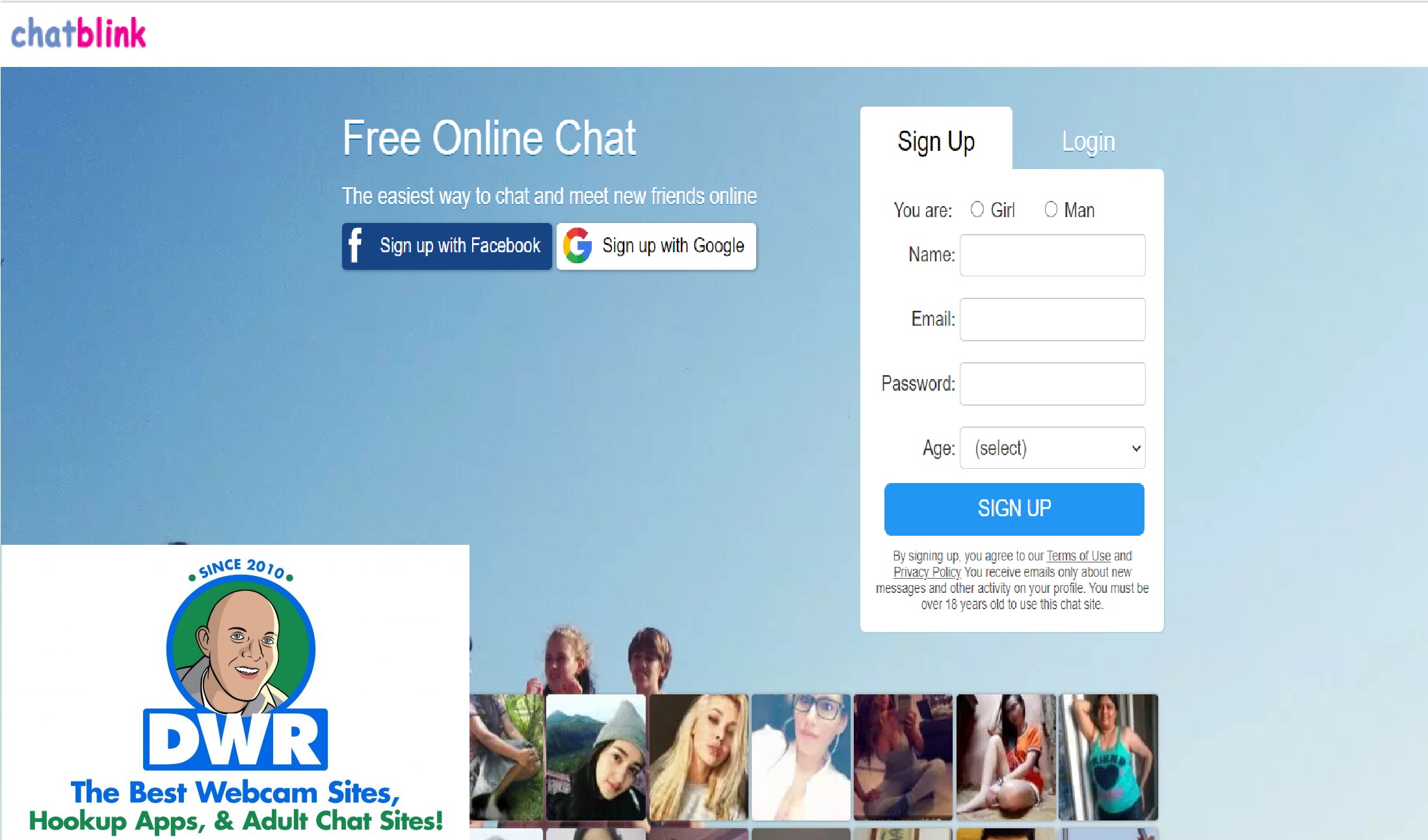 Free dating site, it says, and thus you can expect a lot of crude teenagers and pervy men on the site. The majority of the users are from the United States, followed by the Philippines, Canada, United Kingdom, and Newzealand.
When compared to the tycoons of chat online free platforms like CoffeeMeetsBagel, Chatblink has nothing out of the box to leave them behind. Dig deeper into the overall features and interface of Chat Blink below.
Chat Blink Overall Features
To be honest, the design and layout of Chatblink.com are very bland. With a pretty clumsy user interface, it makes it worse for the users looking to get started. The homepage has a grid of pretty lame profile thumbnails along with a short registration form.
There aren't any unique features that diversify ChatBlink from other sex chat sites. Let's begin with the signup process of Chat Blink.
ChatBlink Signup
The signup process is pretty quick and doesn't take up much of your time. As a guest user, you can access everything on the site but private chat. You can signup through Facebook or Google at Chat Blink. The traditional signup requires a valid email address, gender, name, age, and password.
For some or other reason, the site is not accepting new registrations. It was down under maintenance and we really can't help other than trying it as a guest user.
Free Chat Rooms
Chatblink allows users to talk to girls online in various free chat rooms. These are created on the basis of different genres, regions, and interests of users. Choose the chatroom that interests you to get started. However, these are a bit clumsy and difficult to keep the conversation going.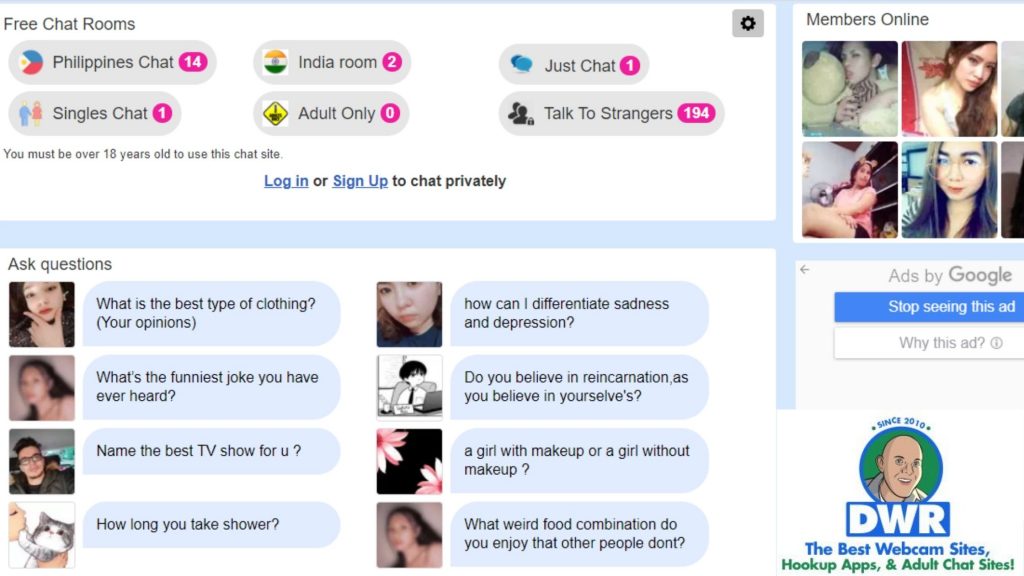 Some of the free chat rooms are Indian Women, United Kingdom Men, Philippines Chat, Just Chat, Adult Only, Talk to Strangers, etc. With zero to less active users on these chat rooms, the online free chat will be impossible.
Random Chat
Here you can have a free chat with random strangers online. You can initiate chat straightaway by verifying the captcha. By clicking on the 'Stranger Chat' tab, you will get connected to a random stranger on your chat screen. You can share images and other media files along with text messages here.
Talk To Strangers at ChatBlink.com
It is another free feature on this online free chat platform. You just got to pick the best from the lot. You will be shown a list of profiles who are online at the moment to pick from. The ideal number of people online at any given time will be less than 300.
Most of the users are kinky dudes who just wanna show their dicks off. When you pick a stranger from the list, you will have two actions to take: talk to a stranger or report the profile. There's nothing much you can do with this feature.
If random stranger chat sites don't meet the current trends, it gets thrown away quickly. Chatzy (review at the link) is the recent free random chat site that fails to meet the expectations.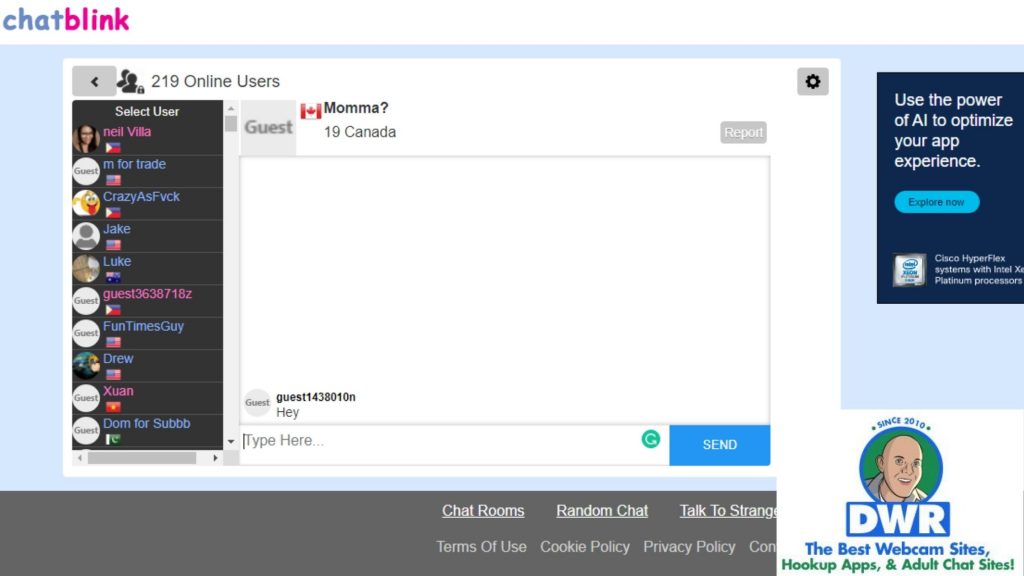 Ask Questions
There's another inactive feature on the Chat blink called 'Ask Questions'. Here you can post useless or lame questions so that fellow users can answer them via comments. This feature is only for the registered users on the site.
Sites Like Chatblink
I get it, inactive free chatrooms and getting to watch jerks on chat sites is a bit tiring. Well, there are a handful of alternatives to Chatblink available on the internet. However, many of them follow similar patterns and offer old-school features.
Out of them, Chatib (review at the link) is moderately good as most of the members on the site are at least active. To be frank, trying out these random chat sites is a waste of time.
Instead, get into webcam sites, where you can watch tons of real sexy women masturbating from the comfort of their bedrooms. Check out Stripchat.com if you really wanted to have fun online instead of getting catfished by spammers.
Just like Chatblink, it works totally free and you can watch hours of seamless cam shows. You will have dozens of categories out there to choose cam girls based on your fetish.
If you still find fun in chatting anonymous, Chatblink is worth your time!
Comments
comments