CoffeeMeetsBagel reviews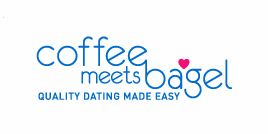 Introduction and history of Coffeemeetsbagel:
Coffeemeetsbagel was created by 3 sisters: Arum, Dawoon and Soo, as a dating application for users within the United States. It was launched in 2012 and the idea of it is actually simple: members get one match, one "bagel" as they call it, every day at noon. And they can like him or her and get in contact or pass the match. And that is all. No profiles browsing, no searches…but despite that, apparently it became very popular. It can also be used as a website too.
Compatibility, features and amount of members at Coffeemeetsbagel:
Coffeemeetsbagel application is compatible with: iPhone, iPad, iPod touch and it is optimized for iPhone 5.
Coffeemeetsbagel is currently used by over 70,000 members, with over 1.5 million made matches, according to its founders.
Coffeemeetsbagel is a free application; all users receive one match daily. However, there are some extra feature, like seeing you and your match's mutual friends or being able to change your mind once you have passed a match, for which there is a virtual currency: Coffee Beans.
Coffeemeetsbagel costs:
Coffeemeetsbagel is free, but you can use extra features like obtain extra information about your match (for 65 coffee beans) or change your mind about a match (for 265 coffee beans) using a virtual currency, the Coffee Beans.
Also, you can collect coffee beans by inviting friends, filling details on your profile, basically by being an active member.
Coffeemeetsbagel Contact info:
Coffeemeetsbagel does not provide a question form, but only a FAQs section. However, there is a list of e-mail addresses that can be used according to the purpose of contacting the site:
Our conclusion about Coffeemeetsbagel:
Coffeemeetsbagel is a fun website and dating application. It is very easy to use and it uses no actual matching algorithm. One of the 3 principles behind the creation of this app is that friends are best conduits for our dates, so the site simply seeks for mutual Facebook friends and location in order to send your daily "bagel". Yes, you sign in to Coffeemeetsbagel using your Facebook account, but even so, you benefit from a high level of anonymity. The other two founding principles are that dating life should be private and that meeting quality people should be easy and fun. And the app totally stands up for what it states.
You can try out CoffeeMeetsBagel here:

Comments
comments