Y99 chat is yet another free chat site that connects strangers online through live cams and interactive chat rooms. Is Y99 a genuine place for a stranger meetup? Find out more on this full-fledged y99 review.
Hoping to emulate the old-school feel of 90s chat sites like Yahoo Messenger and MSN, Y99 offers its users a chance to chat without borders instantly and share pictures, videos, and more, all while keeping your information private and anonymous.
There's no registration required whatsoever. Simply make a nickname (that you can change at any time) and you're good to go! Using Y99, you can make friends, go on virtual dates, delve into immersive role-plays, or simply talk about your favorite interests and hobbies. Sounds like a dream, right?
Think again. Spare a few mins to check this y99 chat review to find the real truth about them.
Y99 Chat At A Glance: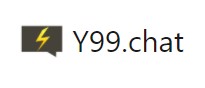 At first glance, Y99 seems to have a lot of cool, community-building features. Its biggest draw is its international user base. You can start a conversation with people from all over the globe.
The site's chat rooms are mobile-friendly, and you can join or create your own rooms without any sign-up needed.
You can use Y99 Watch Together to watch your favorite videos from YouTube, Dailymotion, and Vimeo with your online friends.
Not many random chat sites like y99.chat have so many ads and features at the same time. The end result is poor user experience.
Sometimes you can use Y99 to draw, a virtual whiteboard service to create or illustrate as a group. You can create a contact list for voice and video calls in case you hit it off with any users on the site.
Of course, there are also private messaging features in case you just want to send someone a quick message. It's interesting to note that even while advertising this private messaging feature, Y99 delicately asks people not to be creepy while approaching other users this way.
It's almost like they're acknowledging the potential for abuse on their site, but leaving it entirely up to users themselves to sort these problems out. This isn't unique to Y99 of course.
Plenty of random chat sites like it naively expect users to just play nice, completely ignoring the fact that a culture of anonymity is a perfect breeding ground for toxicity and outright abuse.
The Dark Side of No Sign-Up Sites Like Y99: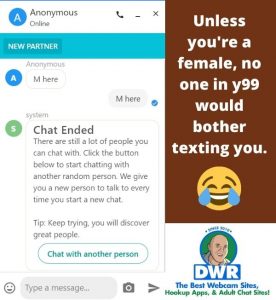 Sites like Y99 prioritize anonymity at the risk of leaving their users vulnerable to abuse online–especially underage users.
Despite having chat rooms specifically for dating on Y99, the site doesn't require anyone to be over eighteen years old.
There is no method for age verification or even content moderation in place on Y99, so anyone can use the site as they please with little regard for repercussions.
Most of them are looking for sex chat with girls and thus fell into love chat rooms like y99.in.
Unfortunately for them, taboo chat rooms and chatzy rooms aren't giving enough female users to chat.
If you're really looking to flirt and dirty chat with girls, you better look for adult chat sites like LiveJasmin and Flirt4Free (review at the links). Both adult sites enable guest users to flirt with girls without registration.
Y99 does state that they use log files to store some user information (IP addresses, ISP, time stamps, etc.), but nothing that is otherwise personally identifiable.
As I mentioned earlier, users can change their nickname on Y99 simply by logging out and signing back in under a different username. This means malicious users and even child predators could easily go undetected for long stretches of time without interference.
Is Y99.chat Legit?
Y99 allows minors to access the site at their own risk. The site encourages parents and guardians to educate and monitor their kids' online activity but makes no attempt of their own to moderate or prevent them from accessing harmful content.
I am all about personal accountability when it comes to online safety, but even I have to admit that this is a reckless move on their part. Alternative chat sites WireChat, Zadomaso & Xcamy (review at the links) also raise questions about the security of the chat users.
Y99 offers parents one very small comfort–if they collect any information on a child that is thirteen years old or younger, you can request that their information be removed from the site's records.
Unfortunately, this does absolutely nothing to protect these children from more overt forms of harm online, like cyber-bullying, harassment, and sharing explicit imagery or content. These issues run rampant on anonymous chat room sites, and Y99 is hardly an exception.
Y99.chat Reviews Verdict:
Y99's all-inclusive community isn't conducive to more, ahem, adult activities. If you're looking for some raunchy online fun, stay far away from no sign-up sites like Y99!

We truly mean it. Do not waste your time accessing these useless sites like y99.in aka y99.chat for nothing.
You never know who you could be talking to. Try out Stripchat.com instead to chat instantly with hot ladies, gents, couples, and trans adult models. Create your free account today and enjoy hundreds of live cams featuring the sexiest hotties from all over the world.
Do you still fancy online hookups with females? Alright then, here are our best hookup sites that can help your Wiener get proper jackoff.
Comments
comments