Zadomaso is the very first completely anonymous BDSM-specific FREE chat site, promising to connect kinksters with compatible fetishes via pictures, videos, and its crowning feature: live chat.
At first glance, Zadomaso is sort of like a no-holds-barred sex club with no bouncers. Here, users have a chance to let loose in a judgment-free zone where no fetish is off limits–even ones that would normally be banned on other adult platforms.
Users of all sexual preferences are welcome, and, because of Zadomaso's total commitment to anonymity, all ages are too. Check out the updated zadomaso review right here.
Zadomaso Analysis & Breakdown:
No Age-Verification Required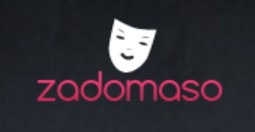 You can start connecting with other Zadomaso users in a matter of seconds, simply by plugging your preferences and your "age" in the required fields.
The site won't let you claim to be any age under eighteen, but when has that ever stopped anyone before? You don't have to download an app or provide any identifying info like your email or credit card.
This is great for keeping the site's users anonymous, but not so great for making sure minors aren't accessing this highly adult-oriented chat site.
Obvious potential consequences aside, BDSM can be treacherous territory even for adults. So the fact that Zadomaso is passively allowing children to engage with its adult user base is downright disturbing.
Zadomaso's Highlights:
The BDSM chat community, overall, is a welcoming place for adults to explore their sexuality openly and freely. But it's no place for children or the faint of heart. Many fall victim to abusive members who prey upon the inexperienced and vulnerable for their own twisted agendas, and even adults are no exception.
It takes a lot of emotional and mental preparedness to engage in BDSM scenes–neither of which are readily found in most minors. To compound the issue even further, some social media platforms (I'm looking at you, TikTok!) are rife with misleading views on BDSM.
Meanwhile, these same platforms habitually silence those who can speak on it the best–sex workers. As a result, more young people than ever are aware of BDSM chat and curious about it!
Sadly, this also means ignorance on the topic runs more rampant than ever too, making impressionable minors an easy target on Zadomaso.
At best, the lack of age verification is just one big oversight on Zadomaso's part. But when children's safety is at stake, I am baffled as to how they can be this naive.
We had the same doubts when using y99 chat (review at the link). Jeez, the internet is full of unsafe chat sites that need a careful attention.
Is Zadomaso Too Hardcore?
Among the fetishes Zadomaso has advertised in its form, the ones most concerning are "blood", "edgeplay*," "excrement," and "animal play."
Most cam sites and even porn sites outright ban these hardcore kinks and more because of concerns raised by a combination of anti-porn laws and prudish payment processors like Mastercard and Visa.
So while you can't sell hard kink porn on these platforms anymore, there's nothing stopping people from kinking it up for free. As you can predict, this gets problematic very quickly. That's why we have separate sex chat sites that work with a lot of attention and proper guidelines.
Hard kinks that involve body fluids like urine, feces, and vomit must be handled delicately, and ideally, by seasoned professionals.
When you exclude them from the equation and leave it to amateurs, a lot can go wrong. These scenes may leave one or more participants injured or exposed to infection because of unsanitary handling. That's not how you want to spend kinky chat online.
Instead of trying something bizarre and hurt yourself, it's better to watch slave bdsm cam models doing everything for adults. It's 100% hardcore & bondage for free. Chaturbate & StripChat (review at the links) are two of the most-kinkiest webcam sites bondage addicts prefer nowadays.
There's also the tricky matter when it comes to animal play, of whether or not sexual acts involving animals are entirely consensual.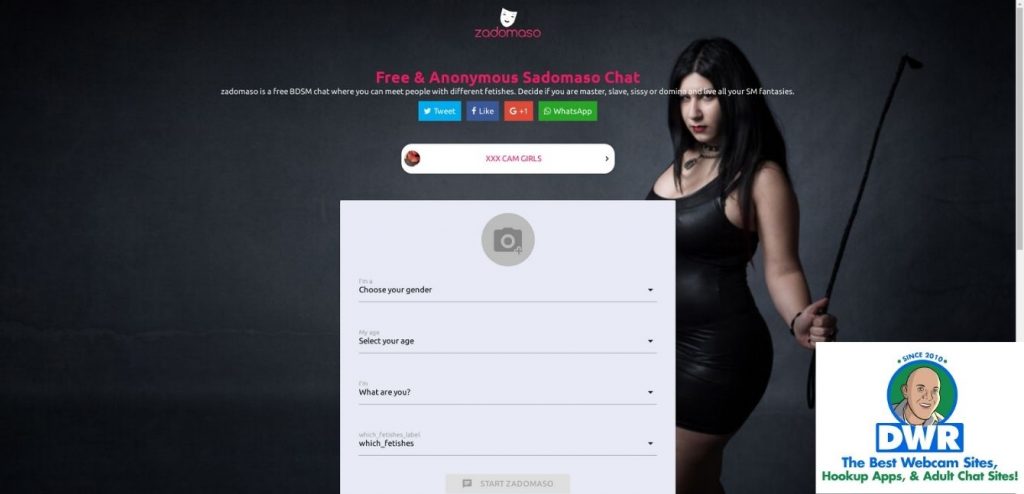 It's still unclear as to how Zadomaso intends to handle content moderation, if at all. But if the site truly means what it says–that anything and everything is allowed–then this leaves room for a lot of unsafe practices, and more importantly, unsafe people, to go completely unchecked.
I would rather prefer using sites like Streamate (review at the link) than trusting sadomaso for fetish chats.
*Edgeplay: any type of sexual activity that challenges S.S.C. (Safe, Sane, and Consensual) and R.A.C.K. (Risk-Aware Consensual Kink) conventions and limitations. This is mostly subjective from person to person.
Zadomaso.com Reviews Verdict: There's a Better Way!
Zadomaso is downright dangerous. There's no way to trust the site to keep you, or any of its other users, safe! Luckily, you don't have to subject yourself to self-styled "dominas" or "slaves" to get your rocks off. Just go to Streamate.com and search your favorite fetish tags so you can play it safe.
The experience of using sadomaso is horrifying, and it has many elements that could get users in trouble for a sissy chat with members who are not adults. Our best suggestion, don't risk yourself for a fetish chat on unsafe platforms like zadomaso.com.

We got safe and best adult webcam sites for bondage lovers too. Feel free to hop in and check those adult cam sites. One of the perks of that is, we get to watch nude cam shows first without spending any money. It's free!
Comments
comments