Voyeurism is a fetish that involves watching unsuspecting people having sex. Porn is fine but it cannot match the adrenaline rush you get when you see someone getting nude without their knowledge.
No doubt, voyeurism is a controversial kink. However, that hasn't stopped the adult cam sites from introducing the concept of voyeur cams.
Today, I will be exposing VoyeurHouseTV, a site that promises to offer girls, guys, and couples getting nude on camera. Read the review and decide if there is anything worthwhile here.
The main thing to know right off the bat is this is not free such as other sites like pornhub.
VoyeurHouseTV Overview:
VoyeurHouseTv came into existence in the year 2016. It is home to dozens of couples who are willingly allowing themselves to be filmed.
Obviously, the participants are very well aware of the whole premise. Don't expect anything to happen without consent because that would be illegal.
They are not pornstars but amateur people just like you and me. You can watch them going about their lives all day. Several cameras are fixed in all the rooms of the apartments.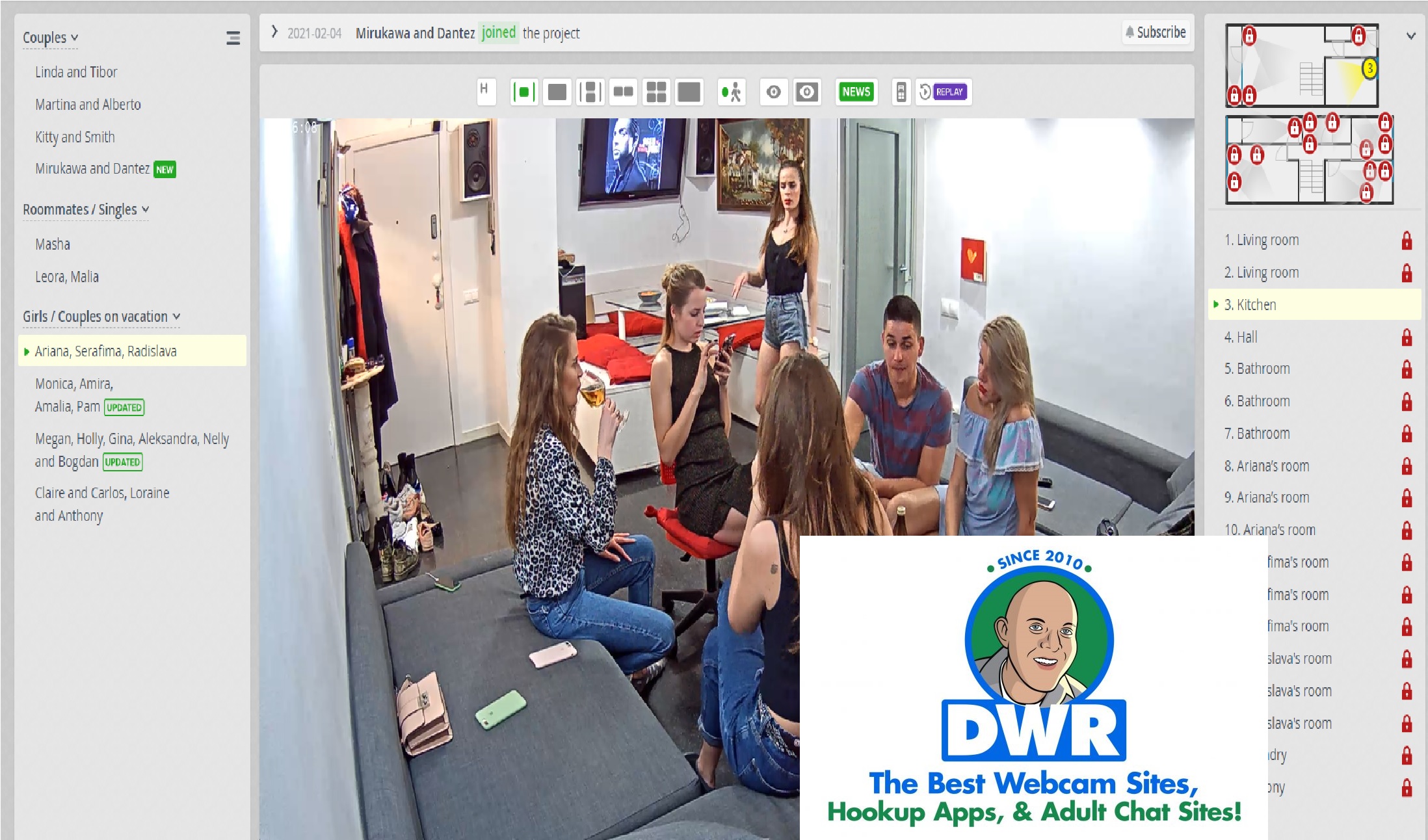 So you see, the whole idea is to appeal to voyeur freaks who love getting off to other people having sex. Besides watching the couples fucking, you will also get to see them cooking, cleaning, or running errands.
Everything sounds good so far. However, what people don't know is that voyeur house tv is not completely free. The main issue with live voyeur sites is their marketing ploys.
Initially, it paints a picture of letting users access all the services without any payment. However, in reality, you can view only one or two rooms of the house for free.
In the next section, we will dig deeper into the functionalities and interface.
Features:
As of now, there are twenty apartments on voyeur-house tv. The cameras are set up in every room at different angles to ensure you don't miss out on any action.
When you enter the front page, a cam window will appear on the screen which usually covers the living room. On the right side, there is a list of the rooms you can access.
Likewise, a layout of all the apartments is displayed on the left. So you can easily switch between different apartments as well as hover on them to see what the participants are up to.
There are solo girls, lesbians as well as heterosexual couples participating. Likewise, you will also get to see a bunch of gays and threesome buddies here.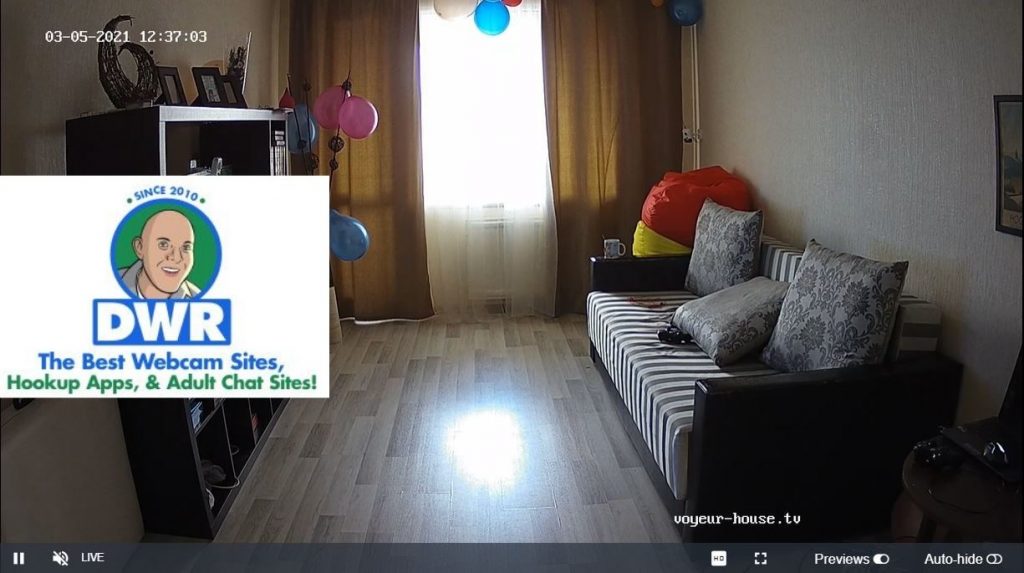 Now, let us get into what happens inside the voyeurhouse. The truth is far away from your expectations. Voyeur enthusiasts or anyone for that matter hope to see hardcore steamy sex, especially when are the cameras are literally everywhere.
I hate to burst your bubble but the performers on this voyeur villa seem disinterested and bored. In fact, most of them prefer to be aloof, staring at their phone screens.
I was seriously down in the dumps looking at these enthusiastic dudes and dudettes stuffing their faces with food all day.
Once in a while, you might run into some staged sexual acts. That is of course if you are ready to wait for hours.
Cost of Live Voyeur Cams
By now you would have understood that voyeurhousetv is not a place to find free voyeur cams. If you are ok looking at the empty living rooms, well and good.
However, I am guessing a majority of you wish to witness uncensored fuck scenes. For that, you have to pick a paid membership. Here are the two options.
Standard membership:
With a standard membership, users can get access to all the rooms at a monthly price of $29.95. There is a valentine's special offer going on that will let you view the hidden sex cams for 10 days at $15.95.
Premium membership:
The premium membership unlocks all the features including HD streaming quality and the option to archive the voyeur videos. More details in the image below.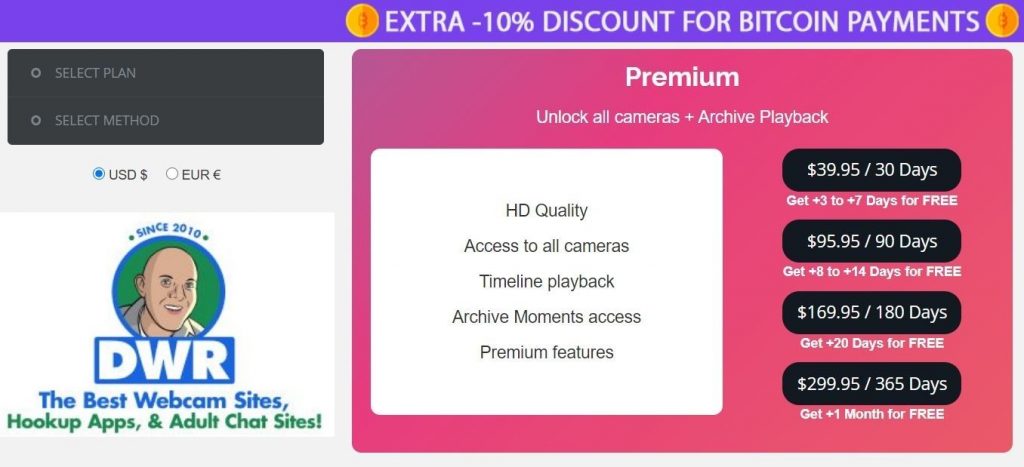 I seriously don't understand why would anybody pay for voyeur cams that don't even deliver the expected quality. VoyeurHouseTv has major stuttering and lagging issues which is disappointing to the core.
Hidden sex cams sites like VoyeurHouseTV:
Most sites like voyeur house tv operate behind a paywall. In the past few weeks, I went through several vouyer cam sites in the hope of finding something intriguing.
However, I was quite disappointed to discover that Camarads and reallifecam (reviews at the links) deliver subpar quality and charge exorbitant prices.
Final Words on VoyeurHouseTV:
One cannot deny the fact that voyeurism is a stirring fetish but it is not for everyone. Moreover, watching people having sex without their awareness is not something you can do in reality.
At least if you don't want to end up behind the bars. VoyeurHouseTV falls short mainly due to the lack of authenticity in the voyeur cams.
The staged sex performances are like any other porno video so there's nothing spontaneous or exhilarating. Likewise, the premium membership costs a fortune and nobody is willing to pay that much. In my opinion, adult cam sites are far better than the so-called voyeur cam sites. And honestly, the girls on voyeurhousetv are not even attractive.
I mean, Chaturbate.com also has a lot of amateur chicks but they are absolutely gorgeous. Moreover, they are lively and charismatic and show their love for sex unabashedly.
Likewise, the beauties on LiveJasmin.com are going the extra mile with their seductive outfits and HD sex cams. This is the kind of live nude cam action I crave!
Long story short, VoyeurHouseTV didn't impress me. I wouldn't be going back to it ever again.
If you read so far, don't forget to go through the webcam site reviews.
Comments
comments