I ran across some interesting insights in an article by Eli Goodman at www.clickz.com today that I wanted to pass along. The article is titled, 'Tinder Sparks Renewed Interest in Online Dating Category'. The article highlights a very stark thing that is happening right now in the online dating industry. What I am referring to is of course the way by which the majority of people are now access dating site is changing from desktop to mobile. What is so shocking is that this change is happening. This graph shows the rapid shift that has happened for the most part in less than a year as far as how the majority of online dating site visitors are now using mobile devices to access dating sites.
mobile dating statistics – how users are accessing dating sites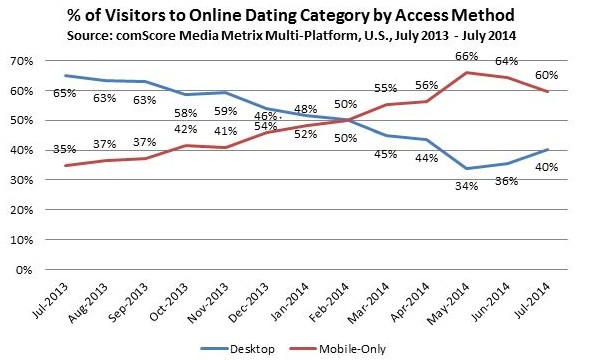 Source:  comscore.com
The other interesting element of this online dating news article was the very simple way by which Tinder packages an online dating experience and how that appeal to younger singles. I really look at Tinder as just being the first to offer some basic mobile functionality in a clever way and I expect more dating sites to in essence copy these features or offer similar swiping ability to browse profiles as well as notify those singles that they are interested in them. I just expect future Tinder like dating sites to bring a more focused and classier marketing angle and be more niche. I also expect to see more many niche Tinder-like clones including those that focus on a specific area alone and offer singles events.
Lastly another interesting takeaway from this article was that over the past few months Match.com (reviews at that link) and POF.com (reviews at that link) mobile numbers in addition to Tinder have really made substantial gains over Zoosk (review at that link) while Skout dating app has even advanced as well.
You can read our Dating App Reviews here.
Comments
comments