Random skip is a free random video chat website to watch girls and guys & connect with them for friendship and fun. RandomSkip.com states that it is a ChatRoulette alternative website.
Well, it is not the first time we hear a free webcam chat site mentions that. Randomskip is a simple to use platform that enables two things to use for free. First, the video chat, and second, the text chat.
After analyzing the random skip website for hours, we got some vital findings that you want to check. If you're someone who loves joining live video chat rooms and free texting with stranger girls, feel free to check this updated random skip review.
RandomSkip Analysis & Breakdown:

Randomskip is a chat random site to talk to strangers. That is true, and nobody is refusing that.
However, the website is unbelievably old to claim itself as a ChatRoulette alternative.
It has become a usual business to call mediocre websites an Omegle alternative & similar to chat roulette sites. Randomskip.com is the type of place you want to think twice before entering. Sounds shocking?
Check out the full features of randomskip & you will realize why the whole "Chatroulette alternatives" is a ruse.
Random Skip Features:
Homepage
The home page is dull-looking with two webcam windows and a start button to proceed forward. Look wise, randomskip .com follows most of the random chat sites available online.
Video Chat
Before entering the video chat, you must realize this is a webcam chat room site for adults. Make sure you're 18 and above for accessing this website.
Allow access to the webcam and microphone on your desktop or laptop and kick start the world of stranger video chat. Here are the additional options you have on this video chat page,
Believe it or not, we tried for 30 minutes straight to find a webcam user. Unfortunately, no one showed up on the webcams with their faces. A couple of users turned their cameras facing in a different direction.

Text Chat
Once we entered the text chat section, we found random chat users start the text by mentioning their gender. The moment they know you're a male random chat user, they disconnect the chat and skip the area.
It is bizarre to see randomskip.com suggesting users sign up to meetzur to keep track of friends. Then why the heck are we on this random webcam chat site?
Group Chat
The group chat looks like a forum chat arena but without any users. Yes, you read it correctly. The group random chat section has ZERO members.
Gay Chat & Talk to Girls
Both gay chat and the talk to girls section are a daylight trick to send free cam chat members to AdultFriendFinder (review at the link). This free webcam chat is toying with the emotions of adult cam users. It does make you feel like a joke!
Meetzur & Imeetzu
The last two sections on randomskip.com are meet people and the android app. Each of them redirects us to a different website. Meet people redirects to meetzur.com and the Android app to Imeetzu.
Imeetzu is another Chatroulette similar site that runs this random skip platform. There are a lot of twists in one roulette cam site. This is too much to take for users who came in to find genuine chat rooms for a chat.
The mobile app Imeetzu is another example to highlight why sites like Chatroulette are failing on current trends. It has 2.4 ratings out of 5. Try using this site instead.
We tested the Imeetzu app too and it's good for nothing app. Whatever features we see on random skip.com, it is available on the Imeetzu app too. End of the day, it's fruitless to have random chat sites that are not giving any value to chat users.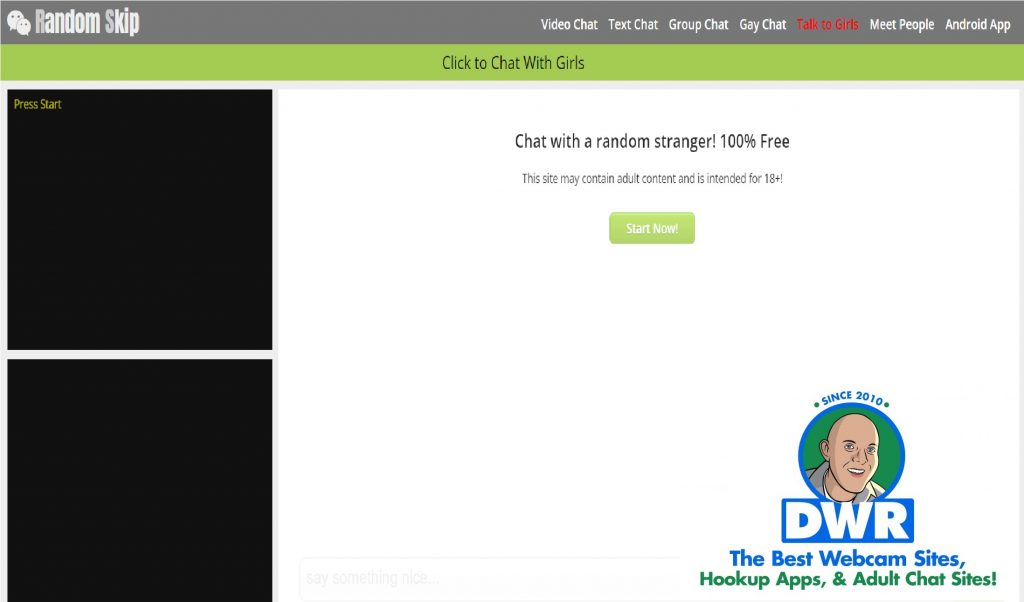 Sites Like RandomSkip.com:
ChatRad & ChatKi (review at the links) work likewise to random skip, but to the least, you will find some users on both the sites.
The best place for stranger cam chat users is not Chatroulette-type sites. We could promise you that from experience. Then, where to find genuine girls, guys, and couples to chat?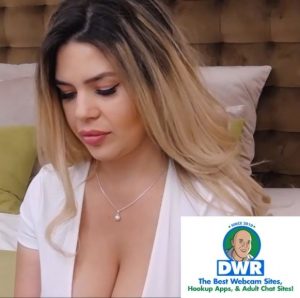 Look for adult webcam chat sites like Flirt4free & ImLive (review at the links). Both adult cam sites have an enormous list of live cam girls and guys to chat and watch their cam shows for free.
Most people think adult cam sites are just another roulette cams platform. Cam to cam sites have multiple usages, and we can use them for normal webcam chat with girls, dirty talks, stranger cam chat, watch adult cam shows, and spy at other webcams.
For example, LiveJasmin.com is one of the best adult cam sites with all the features we see on free random chat sites. Whether it is a gay random cam or couples cam, it has everything.
RandomSkip.com Reviews Verdict:
What went wrong in the random skip?
In short, the answer is everything. Start from the website theme, unwanted redirects, zero member groups, no real webcam users, poor mobile app recommendation, and whatnot.
"Random skip is a free webcam chat site but no exciting features for adults." – Jason Lee.
Ramdomskip.com is a complete disaster we have reviewed so far. The fact that it is still up and running is a big sham. You will see the inbuilt ads showing two names, Sarah and Jack, clicking on that redirects to meetzur webcams.
So, the next time you want to stop for a webcam chat with strangers, forget about random skip once and for all.

As a bonus for reaching it so far, here is our list of hottest live cam girls to watch for free webcam shows. If you're lucky, some of them even strip naked and play with their tities.
Comments
comments