LoveAwake is a free dating site for people who like to chat, meet, and date singles online. LoveAwake.com is a 100% free matchmaking site. How legit is this love awake dating site? If you're thinking the same, we got the answers in this LoveAwake review.
It is not the first time we encounter a free dating site for single men and single women online. That said, millions of dating users prefer choosing free online dating websites over mobile dating apps.
Nonetheless, there are pros and cons linked to using a free online date website. Will Loveawake fall in the exception of trustworthy dating sites?
Are you one of those free dating app/site users? This LoveAwake.com review exposes the authenticity of the website.
LoveAwake Dating Analysis:

Love awake dating site has more than 1 million registered users. However, male users dominate this free dating site with more than 68% percent registration. More than 300K female users registered at Loveawake.com.
Once again, the concept of free dating without payment gets the majority of the users. Just for a moment, we thought Loveawake.com is a dating site or a random chat platform. It's baffling if you're a regular stranger chat user.
Almost all the features in the love awake dating platform matches with other free chat sites.
LoveAwake's Features:
Account Registration
To sign up successfully on loveawake.com, here are the details you need to enter. It takes 3-5 minutes to finish the complete process. That is quite a lot of time for a free online dating site.
Gender
Seeking
Country
City
Birthdate
Username
Password
Email ID
And finally, click the terms and conditions to kickstart the process. The next page asks for additional information such as photos, height, weight, star sign, and mini biography details.
Featured Women
This section has all the registered women profiles with and without photos. There are some filter options available to use. For instance, they have the options to choose new, verified profiles and top-viewed profiles.
Featured Men
Whatever we have seen in the women section, the same applies here. Apart from that, we could find a lot of dirty photos, text images, and nude pics shared on men's profiles. Are they moderating the profiles and verifying them? We highly doubt that.

Advanced Search Options:
Choose the gender, age limit, country, and show photos only options to search the registered members. Almost every page has a search box added to improve the profile results.
Chat Rooms
Live chat rooms are available but with tons of spammers, bots, and paid abusers. We can find chat rooms for almost all the countries and cities here. The trick is they have a common database and show results from the same profiles on different searches. That is why I use this site instead.
Messaging Options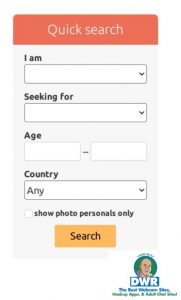 Since the awake dating site is free, any user can send unlimited messages and emails to other registered users. There are more chances of losing private data if we are not careful.
Mobile App
Thankfully, loveawake dating doesn't have any mobile apps. The website itself is facing hundreds of accusations on safety and security.
Even though it has SMS verification for users, that isn't 100% successful over the years.
However, the page speed is a worrying sign for chat users who lack patience. A good internet connection to use this site. The navigation through the site is not bad at all.
Video Chat
Forget about it. You cannot do video chatting with users on loveawake.com. Nonetheless, we listed some of the top video chat sites for singles who like video chatting with strangers on a secure platform.
Love Awake Pricing:
As we mentioned earlier, this is a free online dating site, and they stick to that no matter how many users register. If you're thinking about what's the benefit for them, here's the answer. They earn money from Google ads.
A quick fact to understand the caution. Free dating websites are some of the go-to places for hackers to steal information. So, the next time you use a free online date site, keep a reminder of that.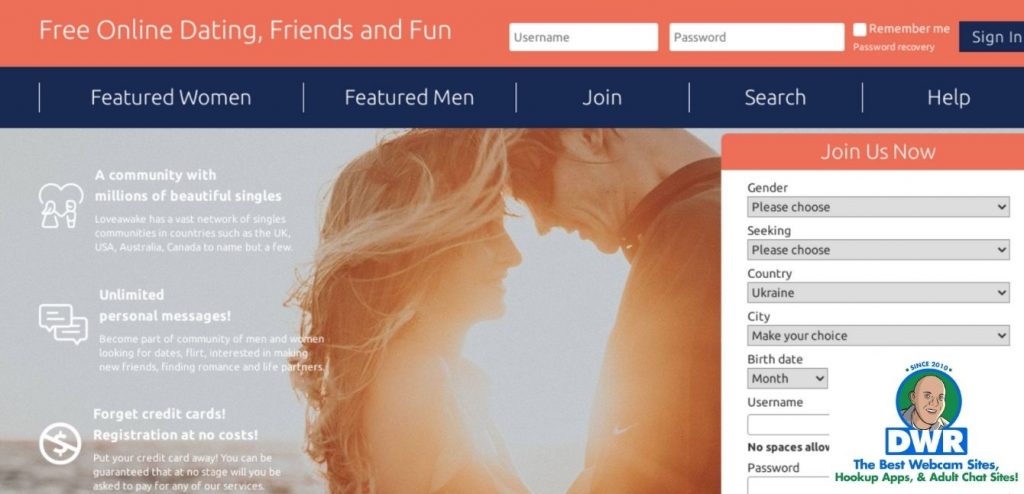 Sites Like LoveAwake.com:
Well, here's my take on another dating site that is quite popular and yet free. Take a look at Fdating (review at the link), which is another proof of why you shouldn't believe in free dating websites. I use this site instead.
It would be a lot easier if we get the facts checked correctly. Adult webcam sites are more trustworthy platforms nowadays and if you want to check all by yourself, be my guest.
Webcam sites such as ImLive & Streamate (review at the links) are places to watch video streams of models, and you can join them for free.
Free online dating sites have more risk than any other premium dating platform. – Jason Lee.
LoveAwake.com Reviews Conclusion:
Overall, Love awake date site has got more negatives than positives about them. Some of the pages often open with unsecured connections leaving the users at risk of losing their private data.
Think twice. Why would a dating site like Loveawake com be free? A dating service to free users? That's rubbish. You know that by now.
My best suggestion is to look for random chat sites or even webcam chat sites. Since many of them have secured browsing experience, it's a better choice than to throw ourselves under the bus using unsafe sites like love awake.

To sum up, avoid dating sites like loveawake.com. It's safer for you and saves a lot of time.
Comments
comments