Fdating is a free dating site for adults who want to text with men and women. We cracked this dating site and found what's it all about in this updated fdating reviews.
So, fdating.com tagging itself as a 100% free dating site. The question is, whether it is a genuine site or not? This dating site is a decade year old and still running with thousands of members.
We have seen hundreds of free dating sites and know how it works. That said, I couldn't help but feel skeptical about fdating.com too. If fdating.com is free, how does it earn money? Can we find genuine users?
Check out the full-fledged fdating reviews to find all the answers.
Fdating Analysis and Summary:

The homepage of fdating straight away opens with lots of men and women profiles. Little that I know, this free dating site has a german version of the webpage view too.
We could see 1200+ members online every minute and 65% of them are male users and 35% of female users. Although the site has a bright look, it is old and didn't give us a great impression.
Fdating.com runs in 15 languages, and you can see the country flags to check which ones. This dating site is completely free to use and doesn't ask you a dime to send messages or use features within the website.
However, the site has a decent recognition among other dating users. That said, our analysis shows the fdate site is full of spammers and bots.
Free Dating Features:
Account Signup
Here's a small fact before mentioning the signup details, fdating.com gets millions of views every month. Quite a staggering number for a free dating platform. There are two ways to signup on the fdate site.
First, we can signup with a valid email ID and a strong password. Second, sign in using a Gmail account. The home page is enticing with the most popular members from this free dating website.
User Gallery
The gallery section opens a page with 67,000 plus women profiles with photos, names, online status, and profile details. Users' photos might look new, but that's not the case.
Also, the male profiles come around 78,000, and 25% percent of them are without photos.

Quick Links
We could see a quick links section on the left side of the homepage which adds a search page of women and men from the most registered countries. Here is the list of countries mentioned, USA, UK, China, Russia, Brazil, Ukraine, Philippines, Canada & Australia.
Important Highlights:

You cannot send a message to any user without a registered profile. That's the only checkmate you have to cross. Besides that, the fdate site has three additional features,
Adding to favorites
Add to blacklist
Abuse
Again, these three options are available and used only by registered free dating website users. Do not share any personal details on bumpy sites like this. It's a huge risk that you don't want to take.
Advanced Search
You can seek profiles by clicking the search section on the menu bar. A long list of 23 options is available, and here are some of those, name, age, gender, photo, height, weight, religion, marital status, etc.
Free dating sites in the USA are more in numbers compared to any other country in the world.
Fdating User Quality
When it is a free dating website, we can expect a lot of spammers and bots. Fdating.com isn't an exception from that. You will receive hundreds of messages and poking from fake profiles. That is one of the reasons why I use this site over free dating websites.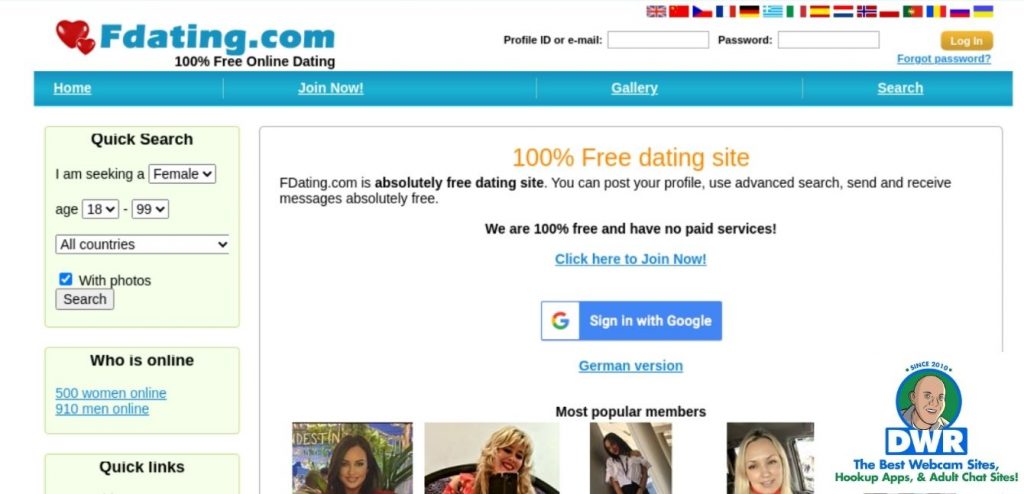 Sites Like Fdating.com:
If you're looking for free online dating with a more secure platform, then Free Date (review at the link) is a better option. It has 300K plus users, and the majority of them are female users.
We couldn't keep the fact that fdating.com users are spreading sexual messages to others. Furthermore, they share links to risky websites. If you like sexting with girls, we got a list of the best webcam sites for that.
For instance, here are a couple of adult webcam sites that work wonders whenever you're bored or desperate for a naughty chat.
Streamate & ImLive (review at the links) are two of the finest webcam sites that stream naked sex chat rooms for adults.
Fdating.com Reviews Verdict:
Whenever you require totally free online dating sites, our best advice is, take your time and check for reviews first. Besides, the risk of losing data is higher on free and cheap dating sites.
Choose the appropriate sites for your needs. Fdating.com is not a dirty chat website, but it became a useless site. Also, the site has lots of ads that heavily affect the user experience. Either you can look for better sites or dating apps to find legit users.
Here is an alternative site that could help you find single girls and singles guys,

Fdating.com fails to acquire the trust among dating users nowadays, and that's the bottom line of this whole review. It doesn't matter whether it is f dating or totally free online dating sites online. Always read the reviews from a trusted source like ours and get informed.
Nonetheless, we gathered some of the most popular and most visited hookup sites for adults. Feel free to check on that as well.
Comments
comments