JapanCupid is one of the niche online dating sites from Cupid Media.com. Japan Cupid tends to help Japanese singles to meet potential dates online. We busted this Japanese dating site and found some shocking stats about them.
First, Japancupid.com is not only for Japanese singles. If you're into Japanese men and women, you can capitalize on this dating site and try your luck. Whether you are in Japan or outside, Japancupid.com acts as a bridge to connect foreign people meeting Japanese men and women.
Since it is a child product of a dating giant cupid, it gets recognition and branding without much sweat. That said, Is Japancupid is a legit platform to meet Japanese singles or not?
Follow my updated Japancupid review to find interesting facts and figures and get the answers to whether we can trust this Japanese dating website or not.
JapanCupid Analysis & Summary:
The website itself mentions it got over one million registered users. Now that is something we don't often see in countries like Japan.
Besides, the dating trends are a lot different in Japan than in other European countries.
A big sigh of relief to see non-Japanese members are available on the dating site. Cupid media is a world popular company and got over 30 niche dating websites under its belt.
If you've heard Japan cupid.com is a free Japanese dating site, then you're probably wrong. Japan cupid dating site is a freemium platform. In other terms, the registration is free but not the best of features.
It might sound crazy, but true, over 100K people registered from the USA on the Japanese cupid site. Also, it tells us how much Americans love dating Japanese girls.
Japan Cupid Features:
Account Registration
As I mentioned earlier, the registration is free, and anybody over 18 can sign up following the instructions. Here are the things you need to add to create an account in Japanese cupid.com,
Username, Password, Email, Gender, Age, Country, & City.
Confirm your account by following the steps from the email shared with you. After successful registration, you can step into the main menu to watch the Japanese women and men.
Registered Members
Straight up, we could see a lot of Japanese men profiles and a less number of Japanese women profiles. For instance, the ratio is 5:1 in favor of male users. That's a downer at the start for non-japanese members who want to find girls for a date.
On average, 5000 members come to log in to the Japan cupid dating site every day. It's a lot less to their standards. That's what happens when there is an imbalance in the dating users ratio.

Japanese Cupid Users
We find it quite contrasting to see 30s dating members are more than young adults. The dream of finding a Japanese girl is still there but not that easy.
At the same time, most Japanese women's profiles are not active for over a year. Whoever is online as a female never replies to any of our messages. It is true that Japan cupid.com also has fake and spammy users.
Dating sites seem to face this problem no matter how big the company is. I'm not going to lie, sometimes I prefer the best adult webcam sites to flirt with Asian chicks, and it works wonders.
Japan Cupid Membership Plans:
This niche dating site follows a similar pricing pattern to other cupid dating sites. There is nothing fruitful you can do with a free user account. So, if you're planning to upgrade to a premium account, here us out.
It got two membership pricing, first, the gold membership and second, the platinum membership.
Gold Membership Plans
29.98$ – 1 month
59.99$ – 3 months (20$ per month)
119.98$ – 12 months (10$ per month)
Platinum Membership Plans
34.99$ – 1 month
69.98$ – 3 months (23.33$ per month)
149.99$ – 12 months (12.50$ per month)
The pricing is 100% above average and not successful. That is why I prefer using this site nowadays over cupid networks.
Benefits of Premium Membership
Send messages to all registered members
Instant messenger options
Go anonymous and spy at other profiles without been noticed
Better ranking of profile ahead of others
VIP badge
Advanced search
It doesn't matter how many features they give to premium users. End of the day, whether the website helps you find a genuine Japanese single or not, the answer is no. This dating site won't help you get a Japanese girlfriend.
However, you could always try your luck watching Japanese live cam girls here at DxLive (review at the link).
Sites Like JapanCupid.com:
I did try my luck on other Asian dating sites such as AsiaFriendFinder & AsianDating (review at the links), and the results are not welcoming too.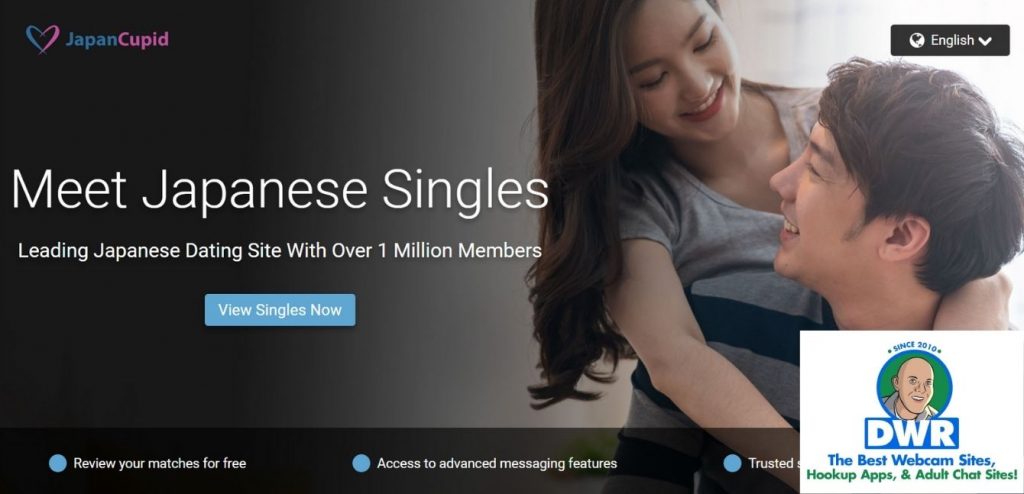 How many are genuinely looking for a date with Japanese girls? We keep asking the same question to cupid members, and some openly say they want to hook up with Japanez girls.
The thing is, you're knocking on the wrong door. Look for webcam sites such as LiveJasmin & Streamate (review at the link). Both sites have beautiful Japanese cam girls waiting to get hooked up online.
The important news for non-Japanese users is, webcam sites have English-speaking Japanese models. So, it is a lot more fun compared to dating apps.
Japancupid.com Reviews Conclusion:
The intention is to find Japanese singles to date, but it looks like most of them have already lost it. Yes, there is a Japan cupid app available. However, that didn't get the user anywhere close to finding genuine members.
Nevertheless, the dating app is even worse than a website. It has lots of bugs, and the loading speed is not up to the standards of cupid.com.
The male members are annoying and female members are inactive, and the active ones are fake. So, you do the math. It's been a ridiculous experience using Japancupid.com.
"Japan cupid dating site is a flop show for everyone." – Jason Lee.
Overall, it's a disappointment, and the wait for finding successful Japanese dating apps is still alive.

Find out how other hookup sites from Asia and other parts of the world are doing right now. The bottom line, Japancupid is not a trustworthy platform because of the users.
Comments
comments