Our Asiafriendfinder review was just updates for 2019. As you will see above we collect real aggregate reviews from ACTUAL past users of AsiaFriendFinder.com. We also limit people to 1 review per IP! Therefore, our AsiaFriendFinder.com reviews carry alot more REAL weight.
So now to my editor comments and official AsiaFriendFinder.com reviews
A dating site for Asian singles is big claim for any dating site to make. That is because of course Asian women who are from Taiwan, China, Thailand, Japan, etc… would all of course much rather be called by a more appropriate title; the correct one notating their real nationality. Perhaps calling American men and women North Americans will explain best what we mean.
However, one site pulls this off rather well. It is called simply Asia Friend Finder. AsiaFriendFinder.com is an online dating service created for Asian people all over the world. It is owned by FriendFinder Networks Inc. company, which was founded in 1996. The site encourages people to join whether they are looking for friends, casual dates or more serious relationships that could even lead to marriage. Also, all sexual preferences are accepted and encouraged. As the largest online dating service focused on this niche, AsiaFriendFinder.com is available as a mobile version and as an application for iPhone, too. The site can be used both in English and Chinese.
Features and amount of members at AsiaFriendFinder.com:
No AsiaFriendFinder.com reviews would be complete without talking about the true size of the database as far as how many singles total have registered on this site. According to the information provided on the Homepage of the site, AsiaFriendFinder.com currently counts over 3 million members, with more than 2400 new photos added weekly.
AsiaFriendFinder.com offers a free standard membership with basic features for its members, but also the possibility to upgrade to a paid subscription.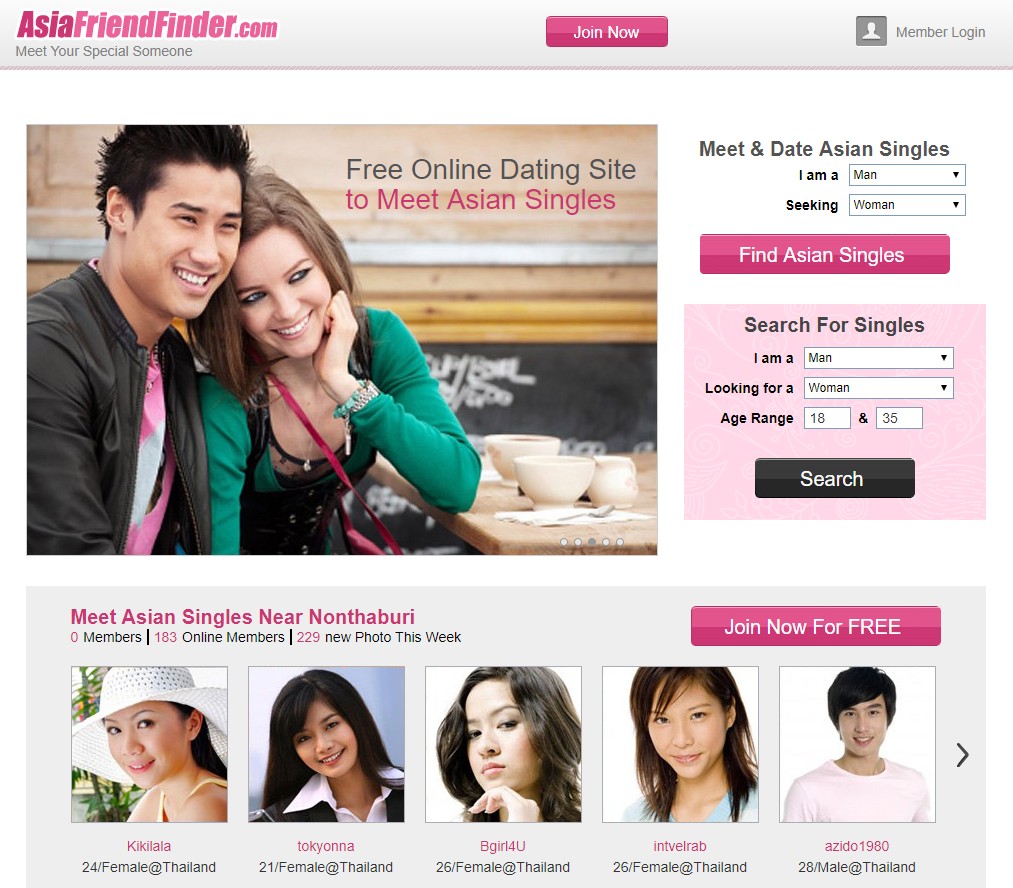 Here is what you can do with a asiafriendfinder.com Standard Membership:
Create a profile and add photos
Add a greting video
IM and chat to other members
Browse through other profiles and have a limited view of other profiles
Perform basic searches
See your emails for 30 days
Add up to 200 members to your Hotlist
Use the interactive Magazine of the website, post or comment to other people's posts
Complete personality tests and get up to 10 matches
Benefit from technical support by email within 2 days
With a Silver Membership you gain access to the following extra features:
View profiles of other members and up to 5 of their photos
View othe members videos
Get up to 20 matches
Add up to 500 people to your Hotlist
Have your profile and photis reviewed much faster
Appear higher in search results
Send emails to other users
Perform searches by advanced criteria
Benefit from technical support by email within 24 hours
Benefit from technical support by phone
A Gold Membership allows you to acdess the following extra options:
All the features available for a Silver Membership
Perform super-searches with much faster results
View all photos of other members
Add up to 1000 members to your Hotlist
Get up to 30 matches
Appear on the top of the list in eearch results and maximize the visibility of your profile
Have access to more contact information about other members
Benefit from technical support by email within 12 hours
AsiaFriendFinder.com membership plans:
Silver Membership:
1 month: $14.99
3 months: $29.97 (with $9.99/month)
12 months: $71.88 (with $5.99/month)
Gold Membership:
1 month: $18.99
3 months: $50.97 (with $16.99/month)
12 months: $107.82 (with $8.99/month)
Payment can by done via PayPal or by sending a check or a money order at the postal address of the company.
Those best served by Asia Friend Finder
Let me start by sharing what three groups will see the best value from this dating site.
1. Asian men and women in North America looking for other other Asian singles.
2. Caucasian men and women in North America looking for Asian counterparts.
3. Men in North America looking for Asian women in both Asia and North America.
If you like in Japan and are looking for Japanese singles you are at the wrong site. Now that we have covered which audiences are best serviced on this dating site lets talk about the site itself.
AsiaFriendFinder.com is operated by FriendFinderNetworks the same company that operates many very large and successful dating sites such as PerfectMatch.
This is a purely a premium Asian dating site and considered by most the best General Asian dating site
AsiaFriendFinder Membership Costs
Cost: $24.00 monthly with discounts for longer times frames. The best option is the 6 month membership with gives you around 38% off the monthly membership fee.
AsiaFriendFinder Member database information and total members.
The database is the single largest when it comes to overall Asian dating sites. I do advise people to look at specific countries though because in the case of Thailand, Taiwan, China, and Japan there are better local options. That being said for a legitimate 'Asian' dating site with widespread adoption and an active members base Asia Friend Finder is the best site of its kind.
AsiaFriendFinder.  contact information:
AsiaFriendFinder.com can be contacted using the form in the Contact section, by phone, fax or by postal mail.
Phone: 408-702-1033
Fax: 408-745-5680
Postal mail address:  FriendFinder Inc.
Attn: AsiaFriendFinder.com team
220 Humboldt Ct.
Sunnyvale, Ca 94089, USA
Our conclusion  AsiaFriendFinder Review
AsiaFriendFinder.com prides itself to be the largest Asian dating online service and the first website of this type to be catering especially to Asians. Created with a very friendly and easy to use interface, the website is available both in English and Chinese, enabling communication between its members all over the world. AsiaFriendFinder.com offers quite a wide range of features to help its users connect, but also to entertain them. The online Magazine, the dating tips, the blogs and groups, they all offer a lot of useful and fun advice and information for its members, beside all the other existent options. So, either you are Asian or looking to connect with Asians, AsiaFriendFinder.com seems like the right place to be. That is a wrap for the AsiaFriendFinder review. This is our top choice among all dating site to meet Asian Singles!
You can visit AsiaFriendFinder.com here.

Comments
comments