Gk2gk.com reviews / Geek 2 Geek dating site reviews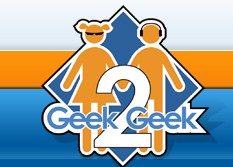 Introduction and history of site
Geek 2 Geek, which is otherwise known as gk2gk.com, is a niche dating sites that connects geeks in their search for love. Through their motto, "This is the best place on the net to meet geeks", Geek 2 Geek connects to the dorkier and nerdy side of people in order to facilitate their search for a potential nerdy soul mate. The website was founded in 2004, and has since become the biggest online dating site in this niche in the world.
Geek 2 Geek Amount of members
Geek 2 geek currently has over 200,000 members.
Geek 2 Geek Features
The basic features that apply to most dating websites apply also to Geek2Geek.com. It is possible to search for other Geek 2 Geek members based on a number of criteria. A silver or gold membership will give you the ability to do more with your profile. Basically, profile customization is quite extensive. Members can set up a detailed profile based on particular traits such as age, gender, height, location, and other personal information.
The main upside of Geek 2 Geek is that the lay-out and system is quite similar to Facebook and Myspace, and is very much famous because of it. It was awarded best niche dating site by about.com.
Geek 2 Geek Cost for members
Gk2gk.com have a full paid membership that starts around $12 per month. Silver memberships are $20 per month, and gold memberships cost $25 per month.
Corporate Info / Contact info:
Geek 2 Geek is part of the QED Marketing Company, that is based in Chicago.
The mail address of the company is the following:
QED Marketing Company
445 E. North Water St #1504
Chicago, IL 60611
Video review of Geek 2 Geek dating site
Concluding comments as far as our impression of this site:
Geek 2 Geek is a great website if you have a nerdy, geeky side to yourself that wants to find a similar geeky soul mate to share their life with. The website takes on a certain crowd of interest that is gaining traction in popular culture due to TV series and other media, and hence there are some great matches to find out there.
Have you been a member? Leave your own Geek 2 Geek dating site reviews below.
Not looking for a geek? Perhaps this free trial may set you on the right path…

Comments
comments