CatholicMatch is a totally faith-based online dating site that caters to Catholic singles online. Here we are running down the exclusive CatholicMatch review. Learn more about the features, costs, and other interesting things about this Catholic dating site.
Holiness and Dating are the terms that are associated with each other quite often these days. With the enormous increase in online dating sites, the exposure to saintly dating sites is quite huge. Thus you can expect thousands of people here looking for serious relationships.
We often hear many success stories of religious married couples who met on online dating sites. That said, most of these dating sites make faith and morals central to the process of matching. These sites facilitate users talking and learning about the strengths and weaknesses in faith.
Well, if you're a Catholic and seeking a partner who shares the same faith, Catholic Match will help you in finding attractive singles. However, it ain't gonna be a walk in the park unless you decide to pay stacks of your money on the site. Stay with us throughout the CatholicMatch review to know its substantial side.
Searching for both love and faith together is a hard nut on these dating sites – Jason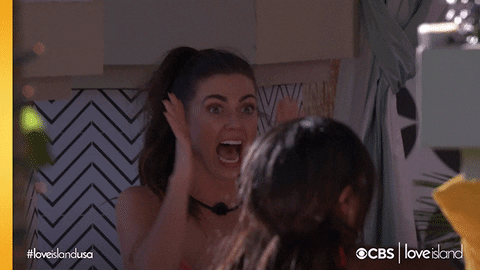 CatholicMatch Introduction and Overview
CatholicMatch is a niche dating site launched exclusively for Catholic singles to meet their potential partners of the same faith. However, this catholic dating site doesn't attract the same number of people you will find on popular dating apps like the Tinder app (review at the link).
That said, the site tailored specially for Catholics and is very sensitive to their beliefs. This catholic dating service, founded by Jason LaFosse and Mike Lloyd has been online since 2004. It is currently operating by Acolyte, LLC and is been one of the leading catholic dating sites.
Despite being one of the best catholic dating sites, Catholic Match failed to attract a wide range of users. Most of the users you encounter on the site aren't serious about faith or religious values. That said, the chance of getting connected with spam users is relatively high.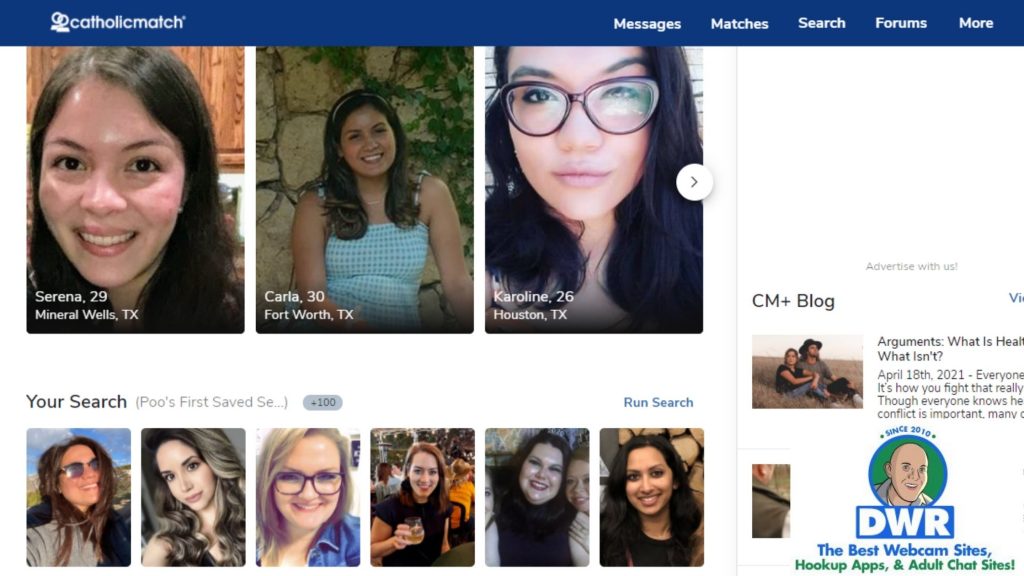 Catholic Match has just over a shy of 1.5 million users on the site. That's too little for a dating site that's been around since 2001. Unless you're in a large metropolitan city, the user pool that results on the CatholicMatch might be quite small.
The site has made its dating application available for both android and iOS users in 2019 with the mirror functionality of the website. Nevertheless, you will unable to send messages either on the site or app unless you upgrade your account to a premium membership.
Catholic Match Signup Process
In general, the signup process at faith-based/religious dating sites is a bit time-consuming compared to traditional hookup sites. Whereas at Catholicmatch.com, the signup process may exceed 30 minutes of your time to create a profile. That's totally bizarre!
The signup process will begin after clicking on the flashy 'signup' button on the homepage. You can sign up at the site by using either Facebook or email address. In the first step, it will ask for the name, location, and gender. Later, you are required to enter your date of birth, diocese you're in, and marital status.
Uploading your picture is mandatory to continue the registration process further. The third step requires details regarding your appearance like height, hair, eye color, body type, ethnicity, etc. After, you must answer questions about your faith practices, catholic church, attending mass, conversion, and more.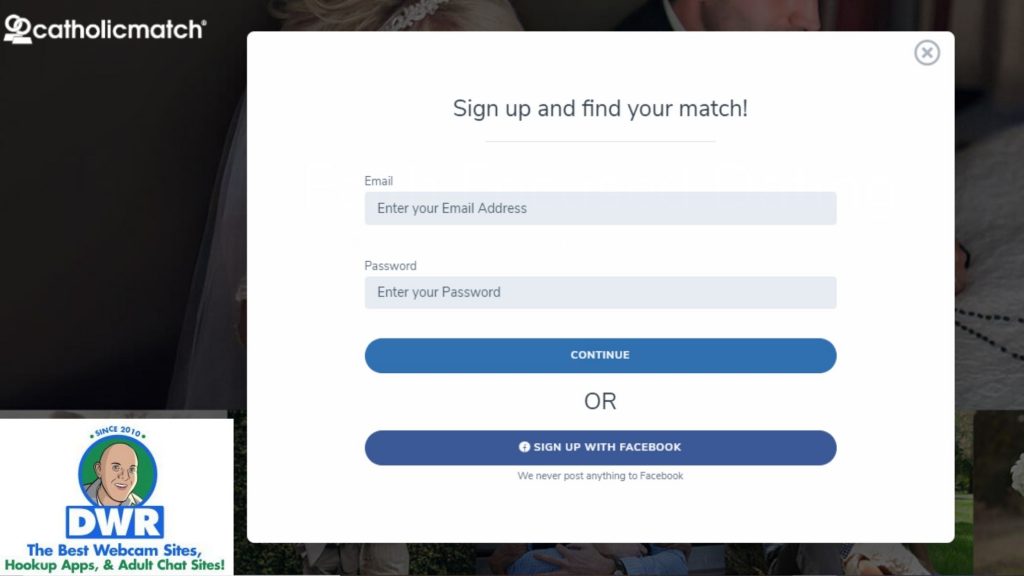 This is a severe time-consuming step as you are required to answer almost 10 questions. Followed by this, you will have to answer Church teaching questions. After that, you must enter additional details like schooling, employment, kids, family life, etc.
Giving a short introduction of yourself with a minimum of 150 characters is essential for successful registration at this Catholic dating site. Choose your favorite things in the last step. These include activities, faith, food, media, music, sports, travel, and reading.
The biggest letdown of the entire registration process is that none of the steps can be skipped. Though faith values are important in match-making, it doesn't make sense to answer tons of questions.
CatholicMatch.com Overall Site Features
Every dating site's performance will be judged on the basis of its user interface, members, and match-making ability. Like in most dating sites, the user interface and search functions are robust and simple to use. However, the lack of genuine profiles might keep people away from using this catholic dating site.
Here are some features that may help you in getting connected with Catholic singles:
Messages – The first and foremost feature of any dating site including CatholicMatch is 'Messages'. Here you can keep track of the messages received/sent along with the list of matches and likes. However, it is a totally premium feature and requires a paid subscription to send or receive messages.
Matches – Another infuriating thing about the site is that you must take a Match Portrait survey before even getting any matches. Based on these results, the matching algorithm will suggest few matches that are compatible with you.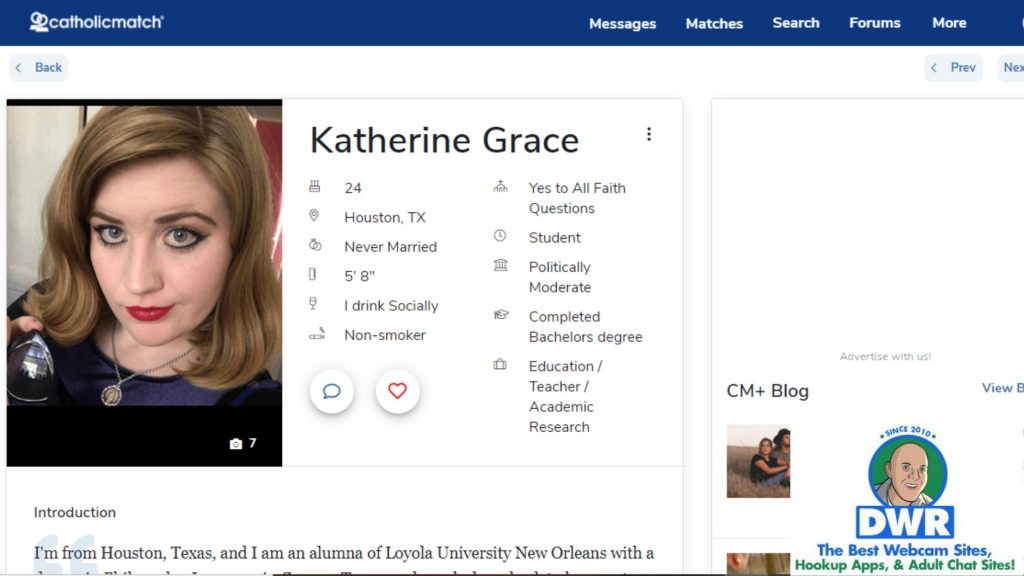 Search – It works best if you have anything particular search criteria in your mind. However, the fewer number profiles will leave you in distress. You can search profiles based on distance, age, recent activity, and the newest members on the site.
Forums – Forums/Community forums at Catholicmatch.com are exclusively for catholic singles to mingle, learn, and share their thoughts. Most of the people who participated in these group forums were inactive for long periods. It isn't ideal for meeting new friends.
There are other features like Blog, Courses, Success stories, and Trivia on this catholic dating site that adds no value in finding catholic singles.
CatholicMatch Prices for Premium Membership
Sure you can sign up for free but you will need a monthly plan to converse and meet singles. This is the case with most of the catholic dating sites like Catholic Mingle (review at the link).
Promo Codes, Discount Codes, Free Trials are all a waste of time searching for. CatholicMatch does not run any promos. They have simple straightforward pricing and they stick to it each month.
Here are the pricing plans for premium membership at Catholic Match:
1 month – $29.99
6 months – $14.99/month
12 months – $9.99/month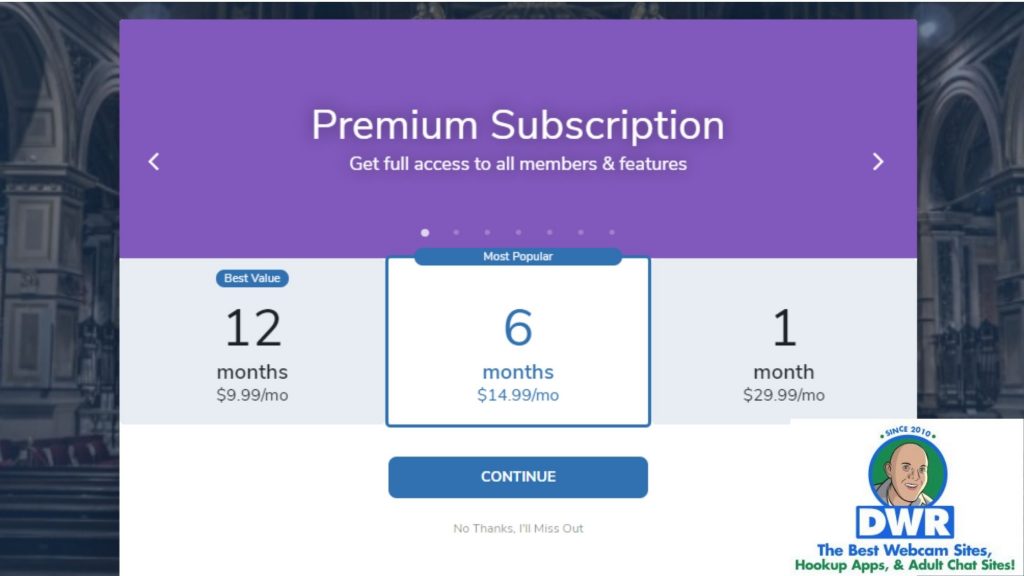 Sites Like CatholicMatch
Catholic Match dating site is an established name in online dating for Catholics. However, you cannot find people open to all sorts of relationships here. That said, trying the best hookup sites would be wiser if you're up for casual flings.
There are pretty handful of alternatives to Catholic Match. Instead of trying out a site that caters to a particular religion, choose the ones that are having large user pools and recommend searching for singles who share your faith.

We highly recommend this site for you to try as you can find people sharing your faith values in large numbers. Also, you can try this site for all sorts of relationships, unlike CatholicMatch. Try your luck on both the sites and let us know your own CatholicMatch reviews in the comments section below.
Comments
comments