ChatRide is yet another video chat platform that claims to be the alternative to Chatroulette websites. Chat Ride is a free chat platform for strangers to connect with like-minded individuals for a fun-filled webcam chat experience.
Millions of adults use random video chat platforms every day. Ever since the launch of Omegle & Yahoo chat, the curiosity of chatting with strangers hasn't changed a bit.
Over the years, hundreds of random chat sites got launched and failed. Some of them even float with basic features for free chat users. One thing is clear; random video chat sites face allegations over privacy, spammers, and sexual predators.
Is ChatRide.com a haven for free video chat users or not? My chatride review will answer that with facts.
ChatRide Overview:

The first impression on the chat ride brings back memories of using some cam media network sites. Many Chatroulette websites start by promoting themselves as free video chat sites, but it's not.
Chat ride highlights that their website is only for adults who are 18 and above. So, anyone less than that can skip Chatride.com.
This chatrandom site is a 16-way video chat site for adults to watch and chat with strangers online. Is it 100% a free video chat site like ChatRoulette? We will find out by looking at all the features.
ChatRide as ChatRoulette Websites:
Registration
The homepage is very much the same as ChatPig (review at the link). It follows the identical design and functionality but changes in colors on the main dashboard. By default, it starts with two options such as guest and member.
Select the gender as male, female, or couples to get started with the free video chat. For completing the member registration, enter the additional details like username, password, date of birth, email ID, and password.
Chat Rooms
There are two types of chat rooms available. First, public chat rooms, and second, members chat rooms. The public chat rooms are smaller in numbers. On average, we can see 25-30 rooms set for public chat rooms.
It is usual to see these two types of chat rooms on sex chat sites these days. Video chat gets the maximum number of people compared to plain text messages.
Contrary to that, there are about 280 – 300 private members' rooms for VIP members. As a guest user, you can watch up to 16 webcams. Anything above that requires a registered account and tokens.

Video Chat Members
We can see five types of member categories on this chatrandom site. Those are men, women, trans, couples, and groups. You can click on the icon on the right side of the dashboard to watch the selected gender's webcam.
Adding webcam chat members to our favorite list is free for registered users and doesn't require any VIP membership.
Webcam girls are very average-looking and want the users to go for private cam chat with them. A bit harsh for adult cam members who came in to watch for nude cam shows.
We got Streamate (review at the link) that still streams thousands of free naked cams of models before going for private cam shows.
Media Gallery
There are options to watch webcam videos and adult content shared by VIP members. We can view it as a trailer but completely. Thanks, but no thanks. I still use this site to view live cam girls for chat.
Chat Ride Pricing:
Chat ride as Chatroulette Alternative video chat site works on a freemium model. The registration, public chat rooms, and webcams are free to use. The rest of the features work with tokens and VIP membership.
One token cost 0.09 USD, and you need 300 tokens/credits to become a permanent VIP member. Users will have VIP status, unique badges, and avatars to keep on their profiles.
With a VIP membership, you can avail certain benefits such as,
Access to the public & private chat rooms
Add photos, videos, bio, ratings to your profiles
Private webcam chat with members
Broadcast your webcams to everyone
Go incognito and watch other webcams
Search Members
We have choices to filter members by gender, name, and online status. Surprisingly, there aren't many sex tags mentioned next to webcam girls.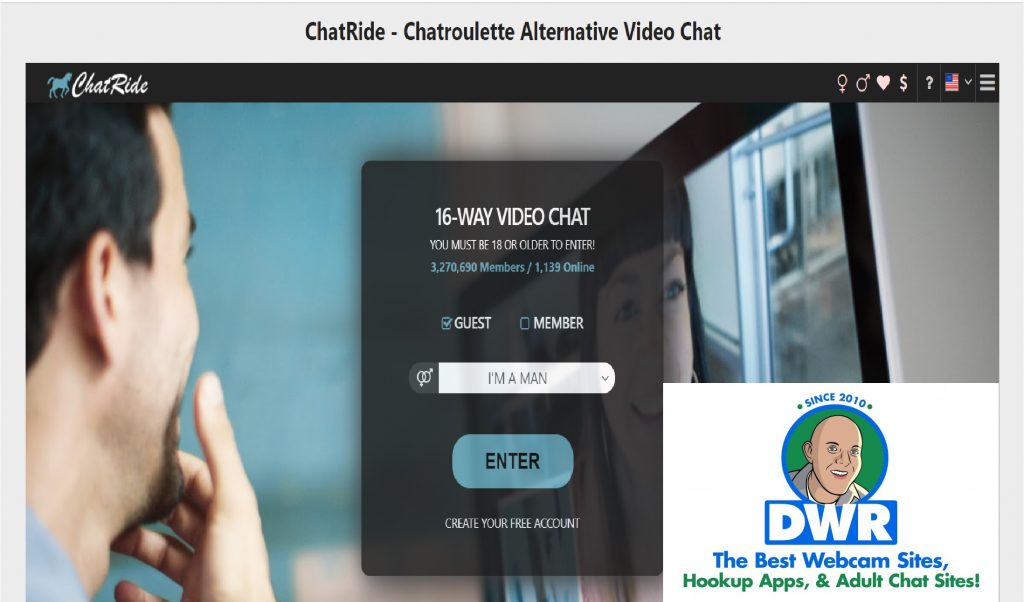 So, the cam media network uses a custom template of their webcam chat to other powered sites to attract more adults. That is why we can use the same credentials to other video chat sites like WickedCamChat & ChatVille (review at the links).
We are not sure how great a strategy to use one backend site that manages the same credentials, tokens purchase, etc. It sounds way too risky to spend our money on this chatrandom site.
Sites Like ChatRide.com: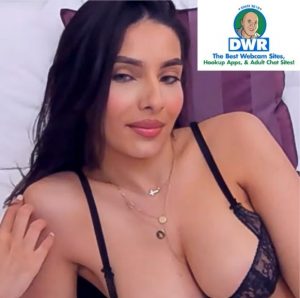 Adults who want to enjoy their time webcamming with strangers can take a peek into these alternatives. Adult cam chat sites such as LiveJasmin & Chaturbate (review at the links) are two of the best places for webcam users.
Unlike Chatide.com, both the cam sites mentioned work unbelievably fast on any mobile device. You won't have a tough time switching from public rooms to private rooms here.
The membership plans are not that clear from the chat ride. Also, to see just shy above 1000 members online every hour is less.
Chatride.com isn't capable of attracting many adult users. That's one of the main reasons I switched from Chatroulette websites like chatride.com to adult webcam sites like StripChat.com.
ChatRide.com Reviews Final Thoughts:
We expected a unique and exciting chat roulette alternative platform for users. Our bad luck, chat ride is just another reproduction from cam media networks.
"ChatRide.com is not a genuine video chat site for adults." – Jason.
These types of clone sites need to be analyzed carefully before giving away any billing details. Chat ride is a force fit on the category chat roulette alternative. To be clear, it is nowhere close to being called like that.
Nonetheless, we would love to suggest you try this fantastic adult video chat site.

In conclusion, chatride.com isn't worth it at all. You don't want to regret spending time and money on that when you have the best cam sites to entertain. Don't think twice. You will thank me later.
Comments
comments