ChatPig is a free cam chat place to find strangers for video and webcam fun online. Chatpig.com helps adults do random webcam chats for friendship, dirty talks, hot fun, and much more.
Chat pig streams free cam girls and their hot cams for adults free of cost. Also, it's one of the adult cam sites powered by cam media networks. We can find and access straight, gay chat rooms, BBW, over 40, 18+ girls chat rooms for free.
The homepage gives us an instant giggle, and it's so amateur to see free cam chat sites does a basic website theme like pig chat. That said, Is Chatpig.com free cam chat as they claim or premium?
Check out more from our updated chatpig review right here. If you enjoy webcamming with models and random chat with strangers, my review will be helpful to figure out the best and safe webcam sites.
ChatPig Analysis & Overview:

The whole website has a pink-colored theme with all the functions similarly to chat roulette sites.
More than 3.3 million members joined chatpig.com to date, and it works on both desktop and mobile versions.
Unlike other sex chat sites, chat pig has options for watching the cam to cam videos of free cam girls.
It is baffling to see most of the header links are redirecting to other webcam and porn sites. These types of cheap tricks are not available on other genuine video chat sites.
Chat with guys, chat with girls, meet guys, meet girls, and videos; all these links send us to different websites such as videos.com, livecam.com, webcamguys, gaymatch, and sexymatch.
ChatPig's Features:
As we stated earlier, chatpig.com is one of the free cam sites powered and maintained by cam media networks. So, the features and the user experience we see here are similar to other cam sites.
Account Signup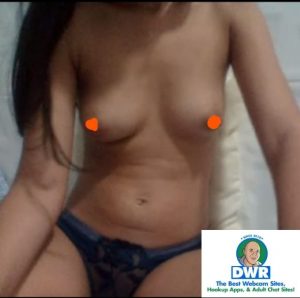 We can continue as guest users to check the free chat rooms and send a few texts to strangers. Thankfully, pig chat has given the privilege for guest users to check all the features without paying a dollar.
However, signing up gives us the luxury to connect with free gay cam members, fantasy addicts, fetish lovers, lesbians, bisexuals, trans, couple cams, and so on.
Gender
Username
DOB
Email ID
Password
Lastly, agree to terms and conditions for completing the first stage of signup. After that, you can add additional details on your bio, interests, etc.
Public Rooms Versus Members Room
Public chat rooms are open and live for free and registered members. Every room has a maximum limit of 200-300 members, and fantasy rooms get full members almost every time. Sending messages to public chat rooms is free too.
Members room is only available for registered members. It's more erotic and sensual for adults. We need tokens to contact adult cam chat members privately. Check the membership plans below for more details on that.
Webcam Cam Chat Members
Pig chat has made their adult cam chat platform extensively available for all sexual orientations. It doesn't matter whether you're a single guy looking for a webcam girl or vice versa because they have everything.
Here is the type of webcam cam chat users you'll see on chat pig.com,
Male
Female
Trans
Couples
Groups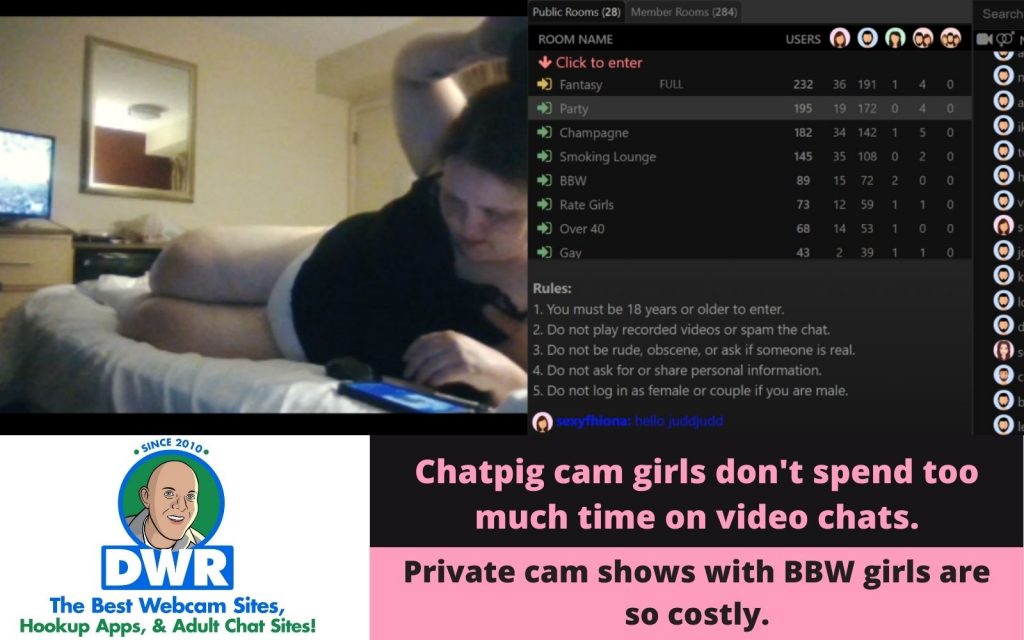 ChatPig Membership Plans:
It all comes down to membership plans. Chat pig tricked users as free cam chat but with limited features. The whole idea of webcam chat with strangers and beautiful girls is possible with the VIP membership. This one is my current favorite site for webcamming with models.
Here's how the pricing looks at chatpig,
0.09$ – 1 token
24.00$ – 270 tokens
You need a minimum of 300 tokens to become a VIP member, and after that, you can keep the VIP badge and continue accessing the features.
Here are the complete benefits of having a VIP membership,
Enter all chat rooms
Stream your webcams to others
Send and receive gifts
Unique badges and avatars
Set custom message above your webcam
Send and receive tokens that are redeemable as cash
Invite others for private video chat
Spy on other webcams
Add more details to profile (photos, videos, ratings)
There is nothing unique or special about this webcam chatroom platform. The fact we can watch up to 16 webcams at the same time may sound seductive for new users.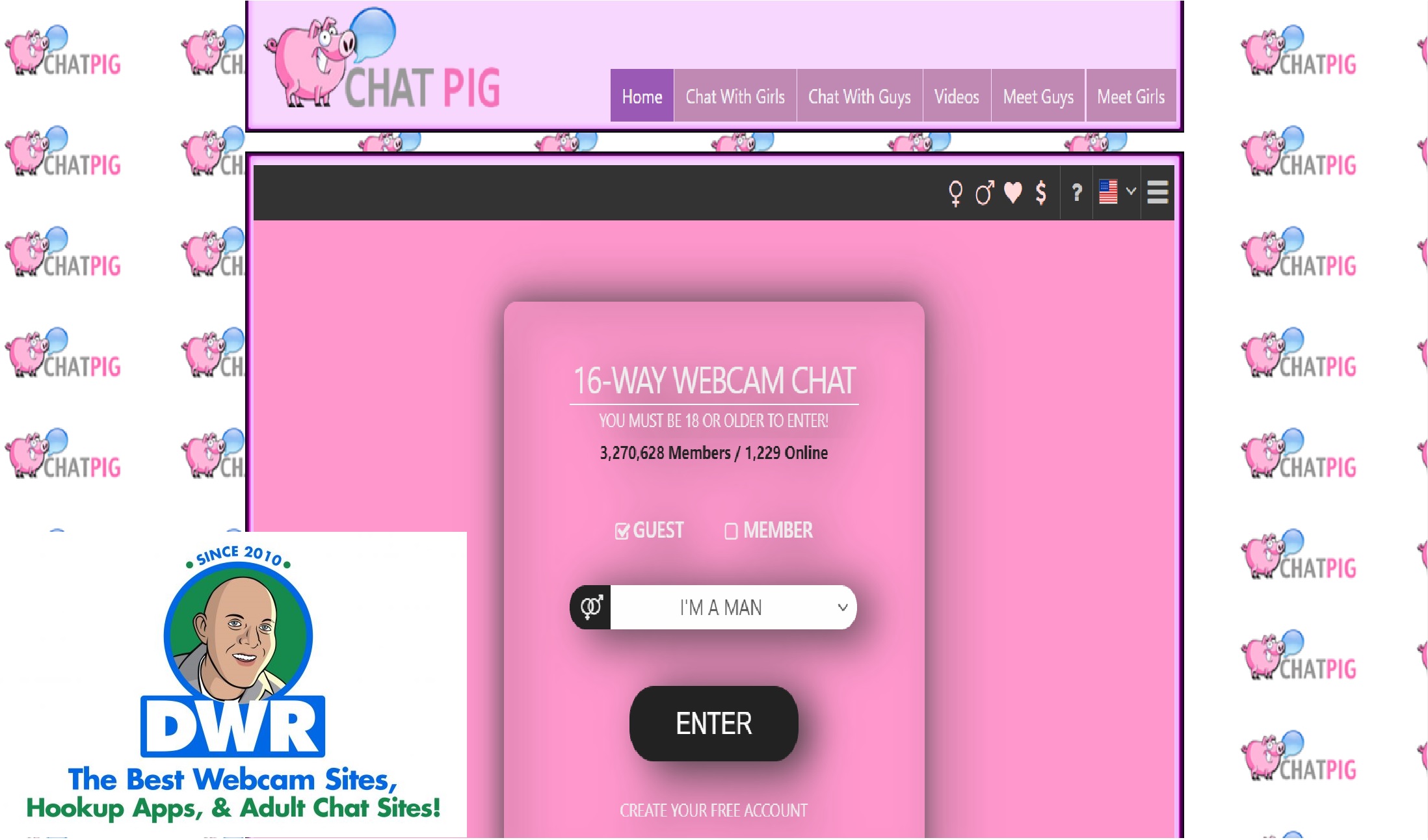 Besides, adult cam sites StripChat & LiveJasmin (review at the links) allows cam users to watch as many webcams as they want without paying a dime.
Sites Like ChatPig.com: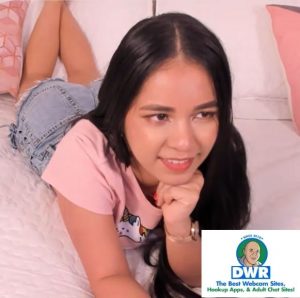 For example, you will find the replica of the website theme and usage from ChatVille and Wicked Cam Chat (review at the links) similar to chat pig. It also mentions buying tokens from one cam media can be used on other sites.
A piece of advice, don't get carried away with those gimmicks. Seriously, mate. You will end up watching the same webcam performers doing cam chat on all cam media websites.
Here's a better deal for adult cam users, you can watch nude cam shows, spy cams, couple sex cams, and all types of webcams on Streamate.com for free. There is no restriction to watch hot webcams on both the cam sites.
Chatpig.com Reviews Conclusion:
The mobile version of chatpig.com has a middling loading speed to watch webcam videos. Besides, the forced fit website theme is not that easy to access. We have seen better days on webcams, but chat pigs aren't the user-friendly cam site we hoped.
Overall, chat pig is a dud webcam chat site for adults. It's a premium place to spend some time with cam girls online. Luring adult cam users for free cam chat and sending them to other unsafe porn sites isn't the cleverest of decisions from chat pig.
"ChatPig is a duplicate of Wickedcamchat and Chatville. Definitely not worth our time or money." – Jason.
In short, you'll never find yourself satisfied or thrilled using chatpig.com. Nevertheless, here is one of my recommendations for adults looking for video chat with girls.

Lastly, we spent countless hours figuring out the best hookup sites for adult cam users. You can find the exclusive list of best and cheap webcam sex sites right there.
Comments
comments