Why adults still prefer chat sites like Chat Avenue? Find out more details, stats, and shocking things about free chat sites from this review.
Chat Avenue is a chat room site that works free for teens and adults. ChatAvenue connects stranger chat users from different parts of the world to their chat room community.
We can see free chat rooms are available for gay, teen, lesbian, adults, and so on. Further, chat avenue has an adult chat app in the play store.
Chat Ave is one of the oldest chat rooms-based sites that still work for free. Moreover, chatave has more than 15 free chat rooms on its homepage.
Is ChatAvenue living up to the expectations or just a sham? Find out that in this update chat avenue reviews to know the answers for your queries.
Chat Avenue Summary: The Worst Nightmare For Free Chat Users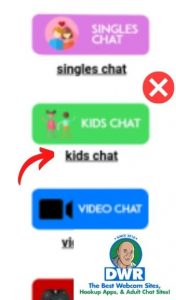 The homepage raises concerns about the legitimacy of chat avenue from the first impression. For example, you don't set up a kids chat section on an adult chat room site. Pretty dumb, right?
Chat Avenue has a kid's chat room right next to the gay chat room. We have seen the worst sites before, but chatave here is straight at the top on the worst chat room list.
No one would want to see kids using a chat-avenue site, where it is full of adults talking dirty and abusive.
In other words, chat avenue fails to impress the free chat users in security and privacy. The site looks like a lost world. Seriously, this is something obsolete and feels back to the 90s. (Not in the best way)
Let's check out chat ave features one by one and see how it is still working.
ChatAvenue Features:
Free chat rooms for everyone. For god's sake, who falls for this trick these days? It is a classic method of luring someone into potentially dangerous sites.
Registration
There is no registration required for many free chat rooms in chatave. You can hop in as a guest user and access the main chat section and participate in conversations.
However, some chat rooms like gay chat, lesbian chat, girls chat, and singles chat will open on a different page with guest login and registration. That said, it's super confusing to trust this free chat now site.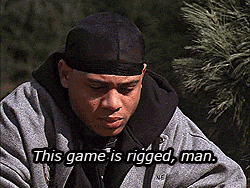 ChatAvenue has all the shades of another adult chat site called Freechatnow (review at the link). Not a great place to look for sexting with girls and guys.
Chat Room Users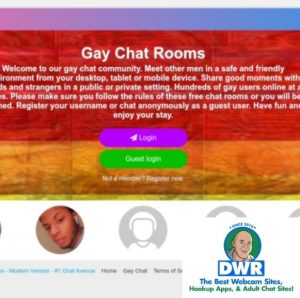 Offensive, insulting and rude messages are the trademark of this chatave site.
To be sure, it's because of single guys who wander around to pick girls for sex chat and are disappointed by not finding any.
No offense, chat avenue has more gay chat users in all the chat rooms. Not sure it's the best idea, but the damage is 100% done already.
ChatAvenue should stop misusing the claims of calling them as the #1 chat site for adults. That's a fucking lie.
Chat Windows
#1 Chat Avenue is having one of the wickedest chatboxes in adult chat rooms. In short, messages are slow comparing to the standards of other sex chat sites.
Hence, a lot of free chat users get frustrated and send abusive messages. Chat-avenue is getting worse as we explore it.
Strangely, it has some chat users coming every day in hopes of finding the right person for sexting or maybe dating. Most of them are Filipinos looking to find an online date.
Stop chasing free chat sites like Omegle any further. It's dead meat that you don't want to take.
Free Chat App
As we mentioned earlier, chat-avenue has an android app named free chat that works the same as the website version. With a rating of 2.1 stars, the free chat #1 chat avenue app gets knocked off at the contention for chat users.

Adult Chat Room
No matter which chat section you choose, you're going to get the same treatment. Many bots are available too and spreading spam links via messages to send users to unsafe sites.
Live Music on Chat
Although this mix of music while chatting is an old idea, it's not bad as it looks. For instance, you need to have a particular web browser and some plugins to play music.
18+ Live Cams
Throughout the website, we have seen one particular sex chat room site mentioned. The name is MyFreeCams.com, and it is an adult sex chat site full of sex cam girls.
As the name suggests, it is 100% free and works legit. That said, we checked the adult webcam site and wrote an extended analysis on myfreecams (review at the link).
Take a look at the home page of chat-avenue,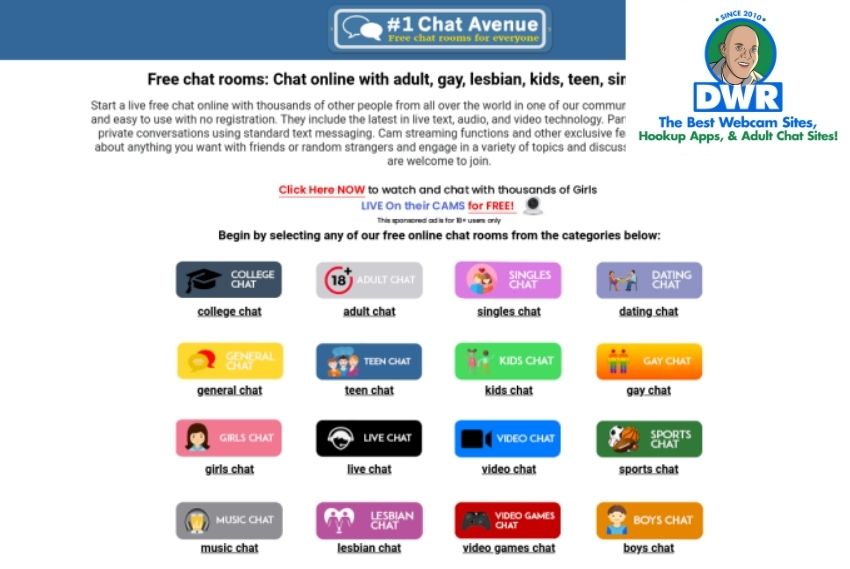 Sites Like Chat-Avenue.com:
Chatavenue reminds us of 321sexchat (review at the link) that offers the same free chat rooms and got busted recently. And so, we realized more free adult chat rooms on the internet need a complete review and shed light on the real face of that.
Also, we found some legit and safe sex chat sites for adults. If you're looking for free adult chat, then check Chaturbate (review at the link) and watch free sex cam shows as well.
ChatAvenue Reviews Conclusion: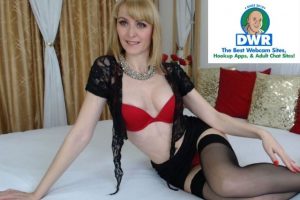 Overall, chat avenue is a regretful experience to review. It's crazy to imagine how people are still using it after knowing the downsides of them.
Adult webcam sites are better and deliver a lot more adult entertainment than dull sites like chatavenue.
Would you believe there are adult sites to find cam girls for free? Check out the LiveJasmin.com site for viewing some of the erotic sex cam girls for cam2cam fun.
Besides, adult chat sites never force you to do anything. You can sit back and watch free live porn shows using mobile or desktop and beat the meat at pornstar models.
To sum up, Chat-Avenue is the worst nightmare for anyone who wants to find genuine adult chat members online.

Free chat at no registration is a cheap scheme and never fall for that trick again. Find out the genuine fun webcam sites that are craftily written for adult video chat members.
Comments
comments