CatholicSingles is a catholic dating site that caters to all the catholic singles across the world. Learn more about the overall features, members, costs, and other interesting things about this catholic dating site in our elucidated CatholicSingles Review.
Finding true love as a catholic single is a bit difficult in this modern world. Since most of the singles are leaving their faith behind in this internet world, you may find it difficult to find them by traditional means.
Even if you meet someone at mass, you can't be pretty sure that they're on the same page spiritually. Also, it would be awkward to ask them whether they're single or taken. Thus, looking for catholic singles outside of church, bar, school, and work can get tricky.
Thanks to the celestial internet as you can find everything at your fingertips. That said, you can find catholic singles online with the evolution of online dating sites. The CatholicSingles is one such catholic dating site where you can find catholic singles seeking love, marriage, and more.
Check out CatholicSingles Review to know whether it is reliable for catholic dating or not.
Whoever believes catholic dating is an act of love, this one is for you! – Jason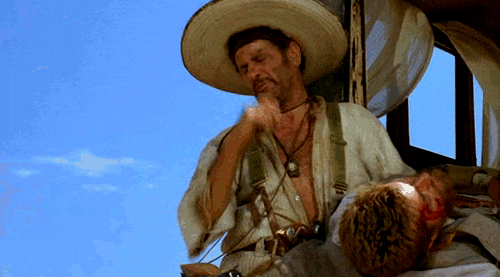 CatholicSingles Introduction and Overview
As the name states, CatholicSingles is a dating service provider exclusively for catholic singles. That includes both sexes, male and female. Despite being one of the popular catholic dating sites in the world, CatholicSingles garners a majority of the users from the United States.
The site was formerly called Saintraphael.net and is founded by Jason LaFosse and Brian Barcaro in 1999. Later, they collaborated with Mike Llyod to help create a welcoming community for catholic singles. Thus, the CatholicSingles came into existence.
What makes Catholicsingles.com special compared to CatholicMatch (review at the link) is the fact that they are accentuating the importance of the catholic faith. However, the major setback trying the former catholic dating site is its small user pool.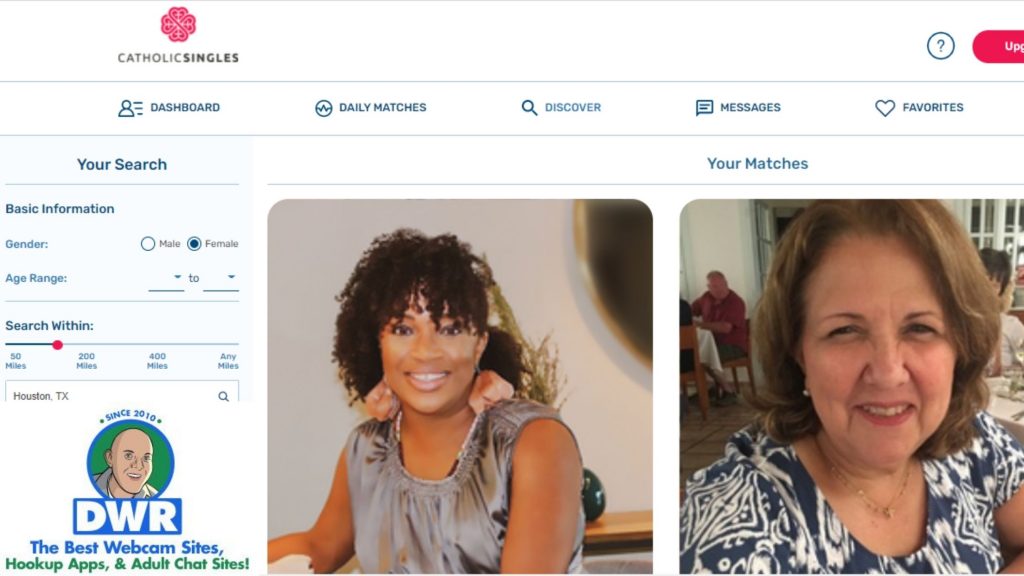 Yeah, the CatholicSingles has a relatively lower number of users registered on the site compared to other Catholic Dating Sites. The site claims that the catholic user database at Catholic Singles hovers around 1.5 million. Out of which, almost 1.2 million are from Northern America.
Also, you don't get to see people looking for casual flings like you do on hookup sites. Most of the users on the site are mature singles and you don't expect to see them hanging around for hookups.
CatholicSingles Login and Signup Process
The Caltholicsingles login process is a bit fuzzy as it isn't straightforward. The signup process will get initiated after you choose the gender you're looking for followed by the age range and zip code. After clicking on the 'Search Singles', the actual signup process will begin.
The catholicsingles login can be done via the email address or Facebook account. Answering all the questions in each step will take you a while to complete the registration process. In the first step, you are required to enter your full name, email address, username, password, gender, and dob.
Later, you must specify your country, city, and zip code to proceed further. This will let you set up your profile at this catholic dating site. Here comes the real fuss! It's pretty evident that it's time-consuming as you have to answer every question in each step without skipping.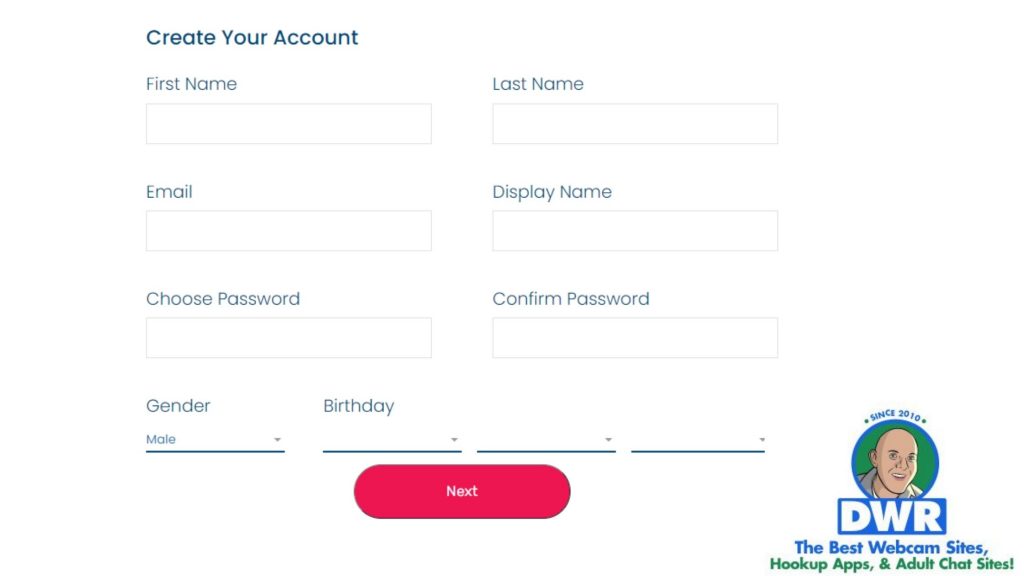 Some of the questions that have been asked to create a profile are related to ethnicity, religion, how often do you pray, religious upbringing, relationship, what you expect, children, pets, personality, education, political views, and hobbies.
The only satisfactory thing in this whole pesky Catholicsingles login process is that you can skip adding your profile picture. Remember, you don't have to validate your email address and thus your privacy is at stake!
CatholicSingles.com Overall Features
One of the first things that you will notice after logging into a dating site is its design and user interface. Even though the interface is pretty smooth, the design seems outdated. Well, the good thing has to be the ad-free dating experience.
As said earlier, the site has very few active users around the clock. The standard users don't stand a chance at this catholic dating site as you require a paid membership to send messages to profiles.
However, every standard user will get three favorites for free at the time of signing up. You can use them to let profiles know that you're interested in them. If you receive a favorite back, it will be counted as a successful match.
Dashboard – It is more of a catholic discussion forum where users on the site share their ideas and answer polls. On the right of the screen, you can able to see the new members who joined recently to the site.
Daily Matches – The site will curate a few catholic matches for you every day. These curated profiles will get expired by the end of the day if not take any action.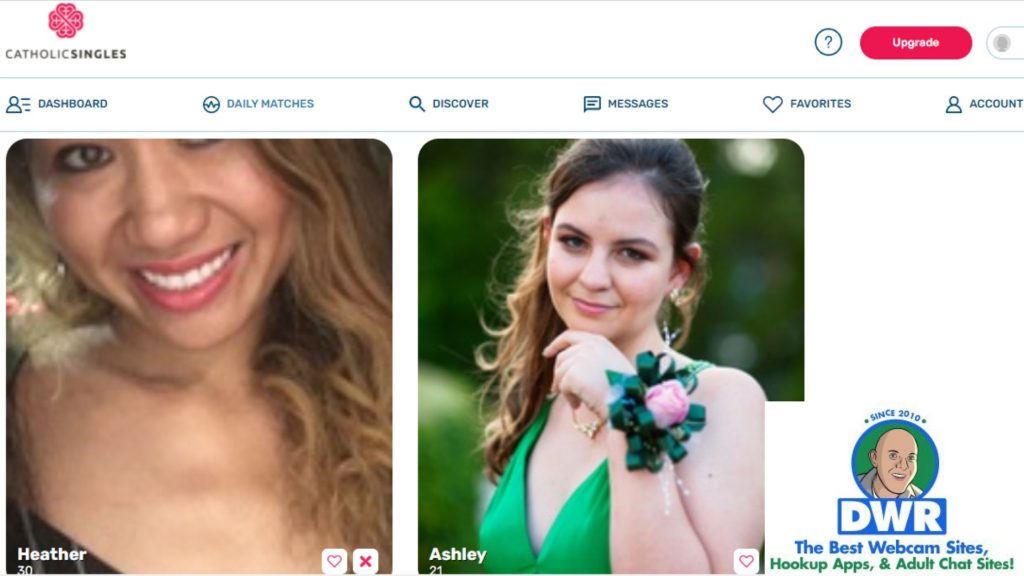 Discover – The search feature makes up for its lack of matching ability. The advanced search filter allows members to look for specific characteristics in members like their physical appearance, hobbies, and location.
Messages – The message board of this catholic dating site is brisk. However, to make use of this, you must upgrade your account to a paid membership. Standard users cannot access sending messages on the site.
Favorites – As said earlier, favorites will mark your interest in a specific profile. Along with messages, adding favorites is another way of communication at CatholicSingles.
Catholic Singles Costs for Premium Membership
Besides creating a profile, browsing through profiles and blogs, everything else requires a paid membership at Catholic Singles. With the paid membership, the user can get access to:
Catholic compatibility test
Personal profile page
Religious news
Send and receive emails
Advanced search
Here are the pricing plans for premium membership at CatholicSingles:
Monthly Plan – $24.95
Quarterly Plan – $16.65 per month
Semi-Annual Plan – $12.49 per month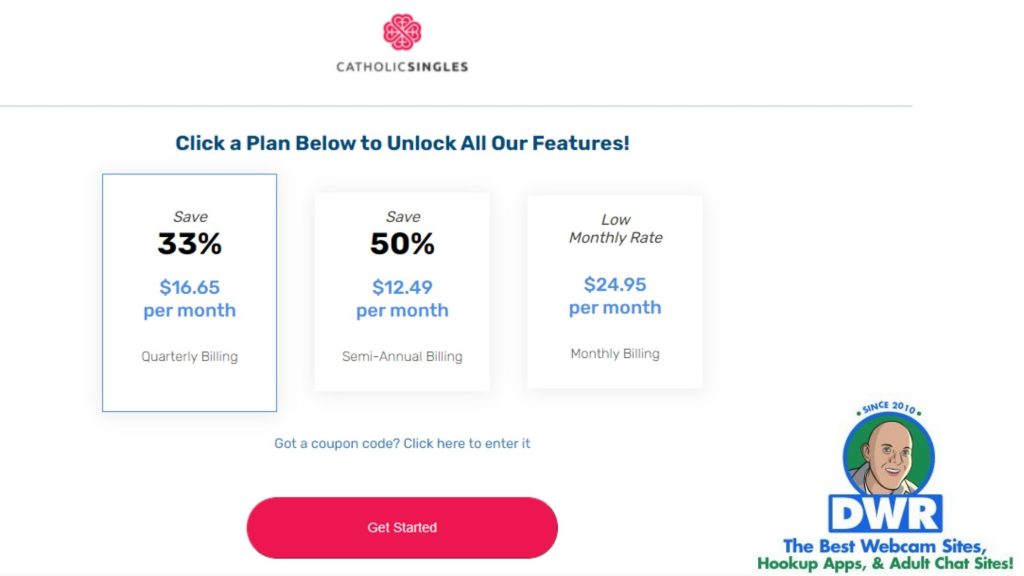 The pricing plans are highly overpriced when compared to other catholic dating sites and best hookup sites. In fact, an intense private cam to cam with busty cam girl at Stripchat.com would cost you much lesser than the monthly plan at Catholicsingles.com.
Sites Like CatholicSingles
There is a handful of dating sites in the niche with a relatively large user database, unique features, high-quality profiles, and inexpensive premium plans. With hundreds of spammers lurking around the site, it failed to live up to its promise.
Thus, we recommend you to try this website as it has a super vast user database spread across the countries. Unlike in CatholicSingles, you can find people open to all sorts of relationships. Be it one-night stands or friends with benefits, everything gets covered here.

Nevertheless, you don't have to bear with mature profiles as you will get to meet young, sexy women here. However, if you're devoted to finding someone with high catholic values, CatholicSingles.com can be worth trying.
Please share your own CatholicMatch review if you have been a member.
Comments
comments