The anonymity factor is the main reason why people prefer adult chat rooms like adultchat.net. While the idea seems harmless, there's more to such porn chat platforms than meets the eye.
You will get a better picture as I review adultchat.net and break down its functionalities.
Online chat rooms are prevalent since the 2000s. In the last few years, these sites have become inclined more towards sex talks.
As we proceed further, we will talk about how online chat sites without registration raise safety concerns.
AdultChat.net Overview:
AdultChat.net is one of the oldest adult chat sites created in 1998. This site is for anyone seeking online sex chat with random strangers.
As per the claims, this erotic chat site is strictly for adults and ensures a safe space to express all of your kinks and carnal desires. Whether you want to engage in adult roleplay chat or share nudes, adultchatnet has it all.
There is no app or registration, you can use the website to access the adult chat rooms. When it comes to random chat sites, it is the same drill.
Users can chat unlimitedly without paying a dime. It is natural for people to be drawn to anything that pitches free services. And adult chat net has managed to make a decent userbase with the "free chat no registration" marketing ploy.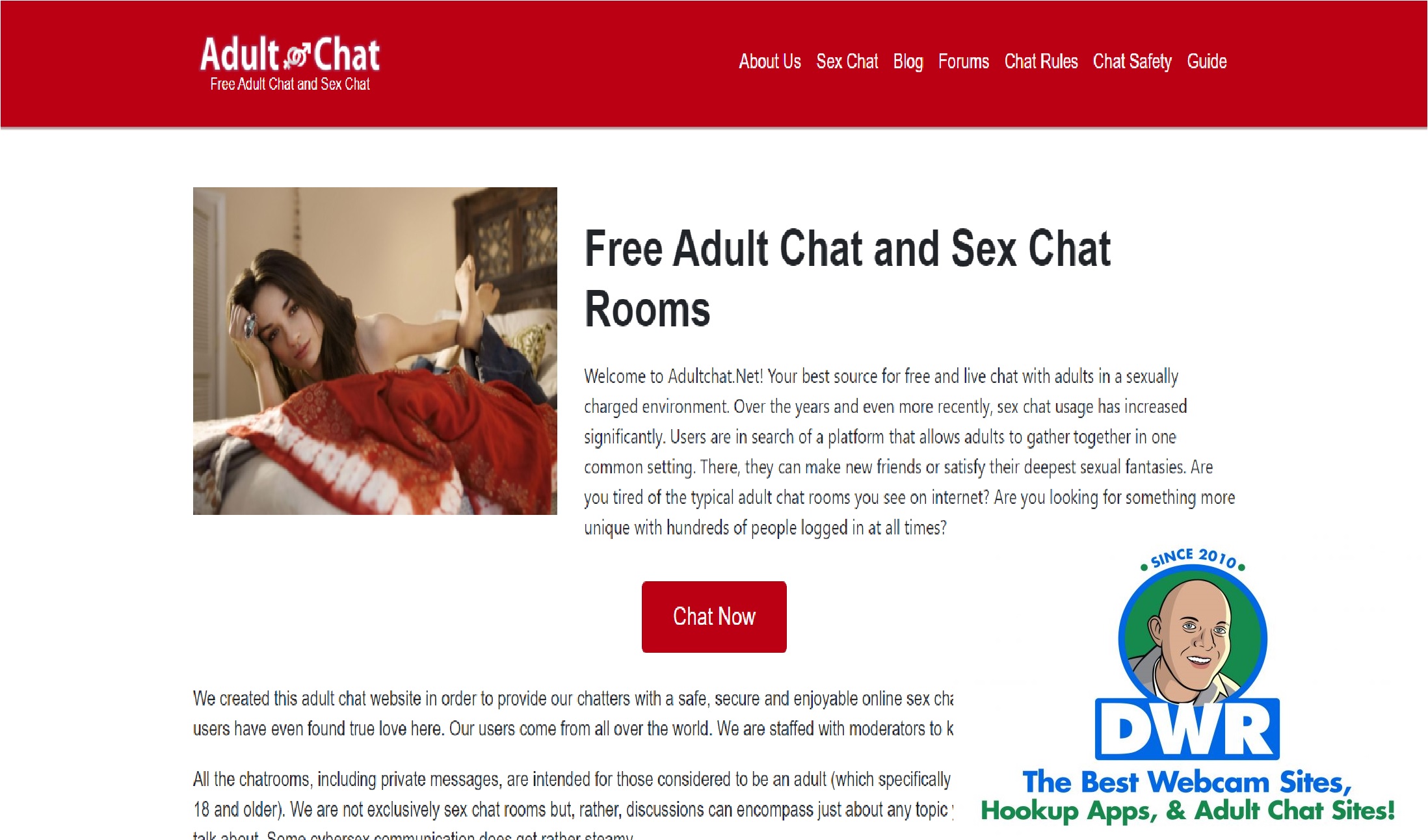 The landing page is smartly designed with images of brazen chicks to lure users. Adultchat.net constantly tries too hard in pitching its kinky chat services to a point where it gets overwhelming.
Honestly, I can't help but feel skeptical about sexting websites without registration. For this reason, I think it is essential to stick to sex chat sites that employ a well-structured sign-up process.
Features:
When you enter the home page, the first thing you see is an elaborate description of what the adult chat net is all about. Once you click on the chat now button, you are redirected to the sign-up page.
To create an account, you have to submit a username, password, and email address. Furthermore, you should specify your gender and age.
Alternatively, you have the option of logging in as a guest user. After verifying your account, you automatically enter a group chat. About 300 members can be found online.
However, 90% of them are just males typing with one hand. From cheap pickup lines to unsolicited gifs and dick pictures, it can't get any worse.
Here is what the group chat looks like.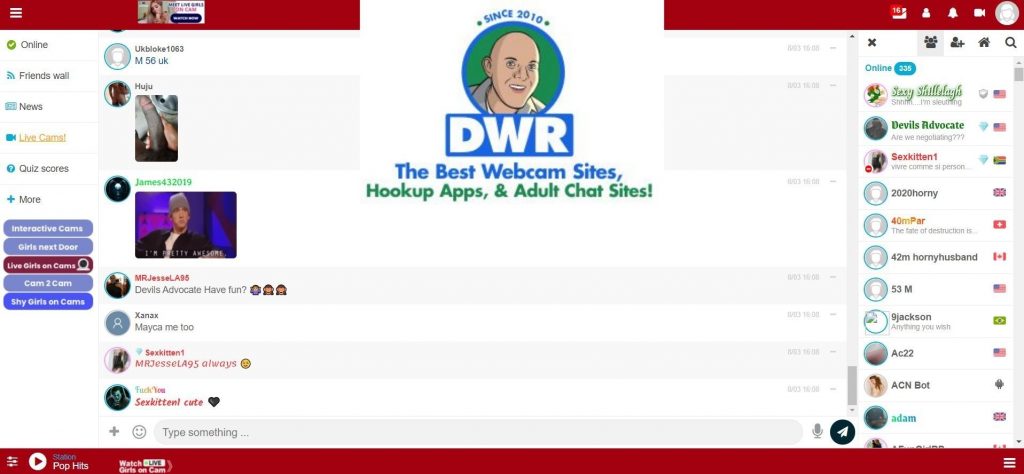 Adult Chat Net has features that are honestly unnecessary and stupid. For instance, there is a music station at the top that has different genres of songs you can pick from.
Well, people who are horned up surely don't care about the damn music. Likewise, you will see a quiz score section and a news tab that posts random updates.
The right side of the page works as a menu bar where you can make changes to your profile settings. You can chat in private with any of the users and also add them to your friend's list.
User Profiles:
As I already mentioned, a majority of the population on adultchat.net are men who leave no chance of making a woman uncomfortable. Seriously though, if you are a lady, be prepared to receive all sorts of nasty messages and cock pictures.
And although advertising is prohibited, it was downright disappointing to see that there is a lot of it. I mean, my inbox was filled with 20+ promotional messages just minutes after registering.
Do not throw caution to the wind and click on such shady links. You can never be sure of how these sites can steal your private data and sell it.
There are literally thousands of fake profiles cashing in on unsuspecting members. Therefore, it is conspicuous that adult chat net is far from safe.
Similar to this random chat site, there are others like Flingster and LuckyCrush (reviews at the links) that should be avoided at all costs.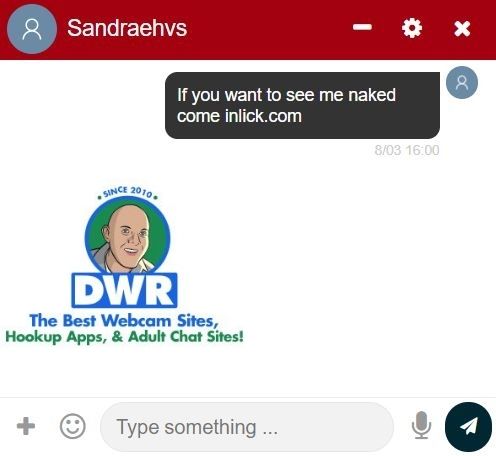 AdultChat.net is taking users for a ride in the name of offering porn chat with beautiful cam girls. However, you should know that the live cams aren't original but fed from a different site called MyFreeCams.com.
Thus, it is safe to say that adultchatnet has nothing legitimate to offer. You are better off without this subpar site.
Final Words on AdultChat.net:
By and large, adultchat.net is like any other stranger chat site that does more harm than good. The site is filled to the brim with spams, perverted dudes combined with a mediocre site interface.
Therefore, the truth is, expecting free erotic chats with hot to trot girls is nothing but a waste of time. If you want something real, you need to try a top-notch adult cam site like LiveJasmin.com.
With so many bewitching cam models to choose from, LiveJasmin is a complete package of adult cam fun. Likewise, private chats are the cream of the crop and it's a treat to see the frisky ladies in their full glory.
All in all, I think adult chat net is something everyone should forget. Check out my bazoocam review.
Comments
comments