Seen all those Millionairematch claims and want to know if this is a legit millionaire dating site? Worried Millionaire Match is a scam or not legit? If so read the Millionairematch review and see what to expect as a member.
Millionaire match is an elite dating website for singles who like to meet and date wealthy singles. The site keeps reminding the users; this is not for sugar daddies and sugar mommies.
Furthermore, this millionaire dating site is receiving both positive and negative feedback. It makes a baffling situation for users to decide. So, I decided to give a shot on this wealthy dating site and found some key points to discuss.
Spare a few mins as well as uncover some important facts and experiences on this updated millionairematch review.
Don't get confused Millionaire dating site as sugar daddy dating site. You get neither of them here, LOL! – Jason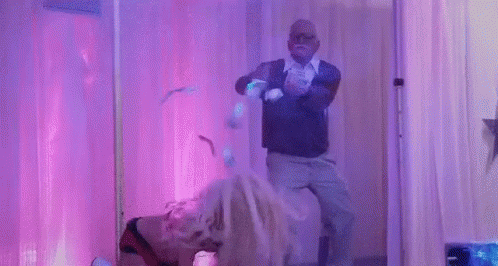 MillionaireMatch Overview
As the name suggests, MillionaireMatch is a dating website for well-heeled individuals. Launched in 2001, this dating site is specifically designed for those that are looking for a new 'rich love'.
The website more specifically wants to bring together those that are looking for a certain millionaire lifestyle. Likewise, it also offers options to those that have the means to live that lifestyle: rich singles.
It's not surprising that filthy rich have a hard time finding a serious relationship. Fortune hunters are always on the prowl and leave no chance of luring unsuspecting wealthy individuals. And this is where millionaire dating sites came into the picture.
Also, this millionaire dating site isn't a legitimate site. It is quite dreadful to know that it is a total sham of BikerKiss and LargeFriends (reviews at the links). They've all come under the same group, 'Successful Match' along with 50 other mediocre dating sites.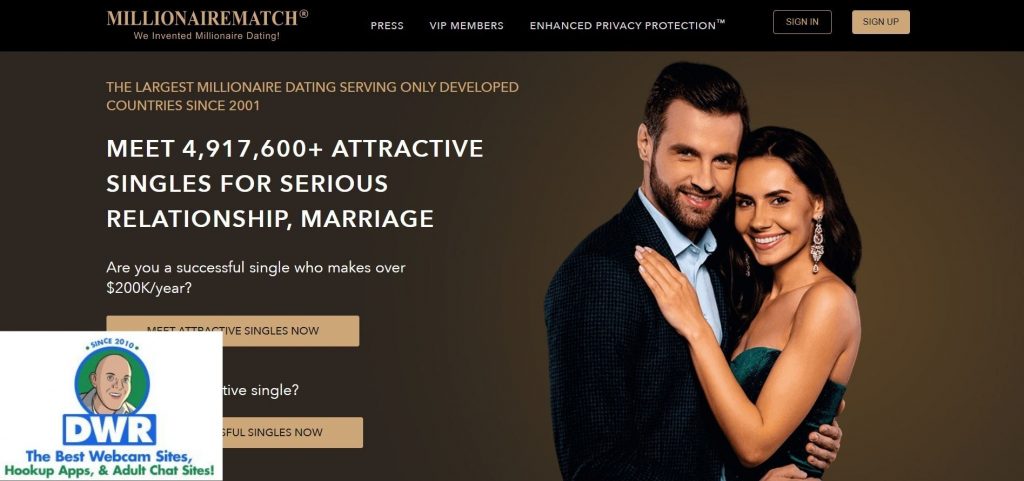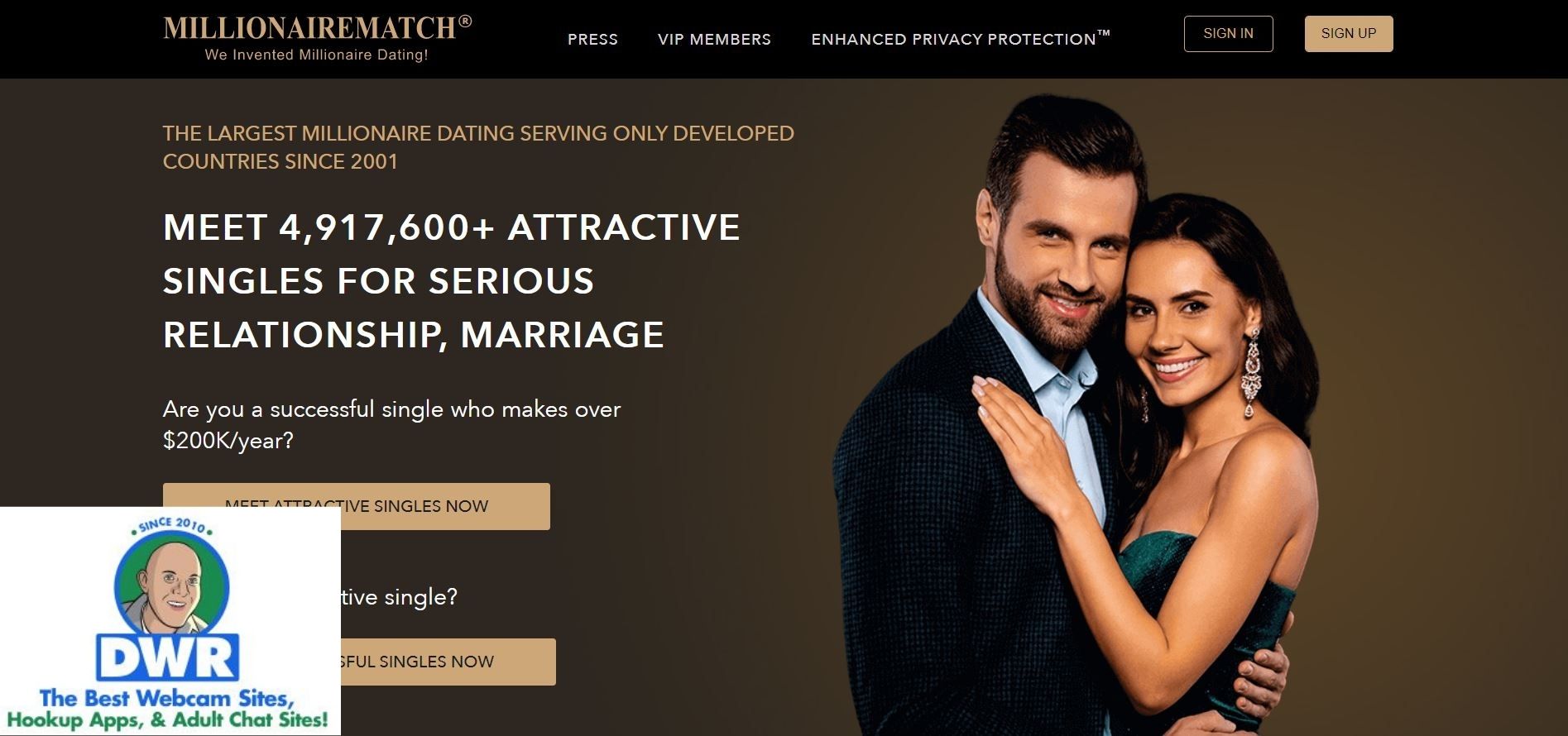 Sure the idea pitched by millionaire match seems rosy but does it live up to its expectations? The simple answer is no. Just think about it.
Can a site that invites bigshots and wealthy businessmen be safe from the sneaky eyes of fraudsters? The truth is this millionaire matchmaker site is less of rich dudes and more of phonies using every trick in the book to loot people.
Millionaire Match Registration Process
Although this millionaire matchmaker is a premium dating site, the registration process is totally free. The users can sign up at the site using a Facebook account or an email address. I would advise you to use an email address instead of risking your personal Facebook account.
In the very first step, you must have to add your gender, age, email address, followed by a username, and password. Later, information related to your location, annual income, height, ethnicity, and relationship status is required.
After successfully adding these details, you are allowed to add your profile picture and a brief bio about yourself and your match. Remember none of these steps are optional, and you must pass through everything to get started.
Email validation and mobile number verification are mandatory in order to get an active account at this millionaire dating site.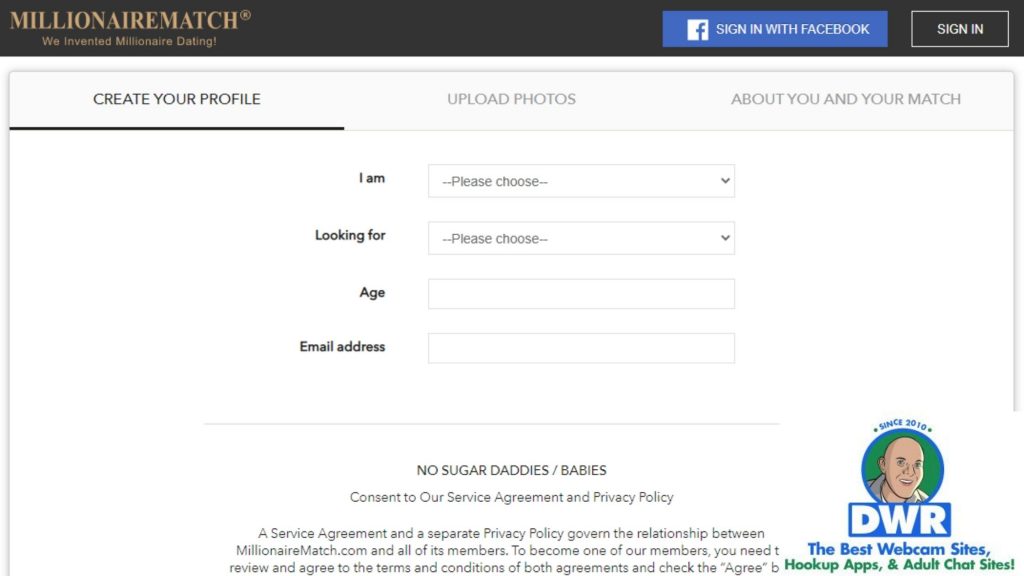 Members and Features at MillionaireMatch.com
Since MillionaireMatch.com comes under a group of dating sites, the user database is accountable for all of them. This site currently has well over 3 million members. That's far less compared to the best hookup sites.
Apart from first date ideas, luxury shows, and millionaire events, MillionaireMatch doesn't have much in store for us. The rest of the features are mediocre that you would expect on any standard dating site.
Here are the overall features on the site:
Home – An ideal place to see all the updates from the profiles on the site. Just like on social networking sites, you can see people posting statuses and uploading pictures on your feed.
Discover – It is the search feature on this millionaire matchmaker site. You can set your search preferences based on username, location, age, annual income, height, education, and more. However, it is a premium feature and requires a paid membership.
My Lists – You can see the profiles you have viewed, winked at, profiles viewed you, photo requests, favorites, answers for your questions under this tab. Again, it isn't entirely free for standard members.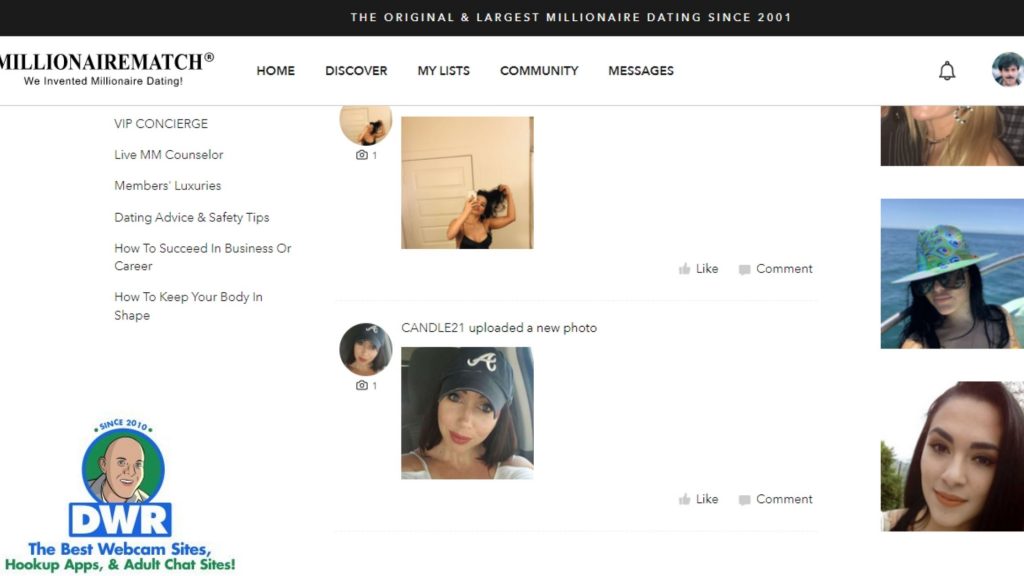 Community – It includes SPARK, blogs, first date ideas, members luxuries, and MM Events. Spark is a typical feature that you find in a popular dating app, Tinder App (review at the link). You will be shown a profile with the options to like, dislike or skip.
Members Luxuries allow users to share their luxurious lifestyle. The events tab will let you know if there's any millionaire event happening around.
You aren't allowed to send messages as a standard member on the site until you upgrade your account to a paid membership. Pathetic!
MillionaireMatch Membership Plans
As said earlier, you must need a paid subscription to get the most out of this millionaire dating site. Here are the membership plans for MillionaireMatch:
1 month – $70
3 months – $170 ($56.67/month)
6 months – $270 ($45 per month)
Without second thoughts, the cost of dating on the millionaire match site is higher. The success ratio isn't that great by spending hundreds of dollars and didn't get enough potential matches. That is why I prefer this site nowadays. It's a lot cheaper and gives successful dating matches.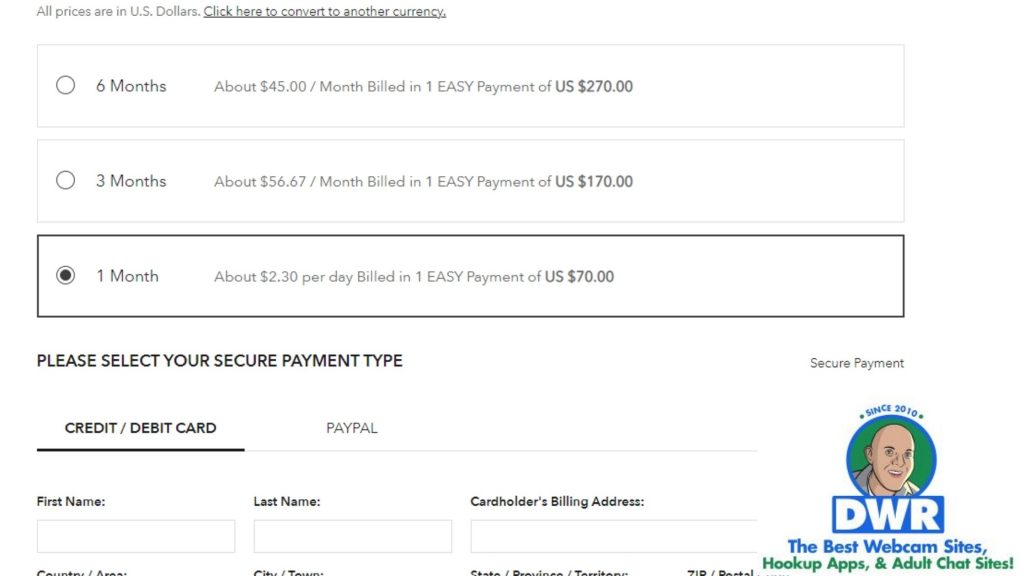 At MillionaireMatch.com here is what you can expect once you actually join as a paying member. Gold membership features at MillionaireMatch.com are as follows:
Full mobile access
Check to see if messages have been delivered
Respond to other's first date statuses
Advanced search options (keyword search for example)
The option to become a certified millionaire!
View comments on the profiles of other members
Ask for a counselor to offer counseling through email or live chat
Millionaire Match Dating App
MM has two dating apps available on Android and iOs for users. Even though the apps have decent reviews, the accusations about fake profiles and sexual favors seem to be true. So, it makes us think twice about the 4+ ratings on app stores.
Also, the app suspends the premium user profiles without giving any solid reason. Beware of catfishing users and mature sugar daddies who are waiting to hit the users for sexual favors. Sometimes, the reporting of such incidents never gets any results.
MillionaireMatch Review Conclusion
MillionaireMatch.com is a dating website if you are specifically and only looking for a wealthy partner. However, the dangers of using it outweigh the chances of meeting someone trustworthy. Few minutes into the site, and you can see your account getting suspended for no reason. Bizarre!

It's just a waste of time verifying email, mobile number, and adding genuine details just to see it getting suspended. Investing our valuable time on hookup sites or webcam sites like Stripchat.com rather than this shady millionaire dating site is pretty wise.
At Stripchat, you don't have to bother about signing up or getting suspended, as you can watch the entire sex cam shows for free of cost. In the end, fulfilling your fantasies is what matters and I don't think Millionaire Match is the right place to be in.
Leave your own MillionaireMatch review if you have been a member here.
Comments
comments