ChristianMingle.com reviews

EDITOR NOTE: ChristianMingle.com is in our opinion the leading Christian dating site online and it was the winner of the 2014 Golden Heart Online Dating Award for best customer service. Here is the review and the reason why it's such a highly regarded dating site for Christians. 
Introduction and History of ChristianMingle.com:
ChristianMingle.com was launched in 2004, a subsidiary to Spark Network, Inc, a  NYSE MKT Company founded in 1997, as an online dating site for Christian singles that are looking for other Christians. They claim they are a community that uses the "tool" of God to bring people together in a safe environment, with a high sense of religiousness. ChristianMingle also includes an "Advisory Board" formed by pastors, authors and founders of different Christian associations to provide guidance and feedback and to enhance a deeper connection of the site with its users. This christianmingle review was last updated july 2019.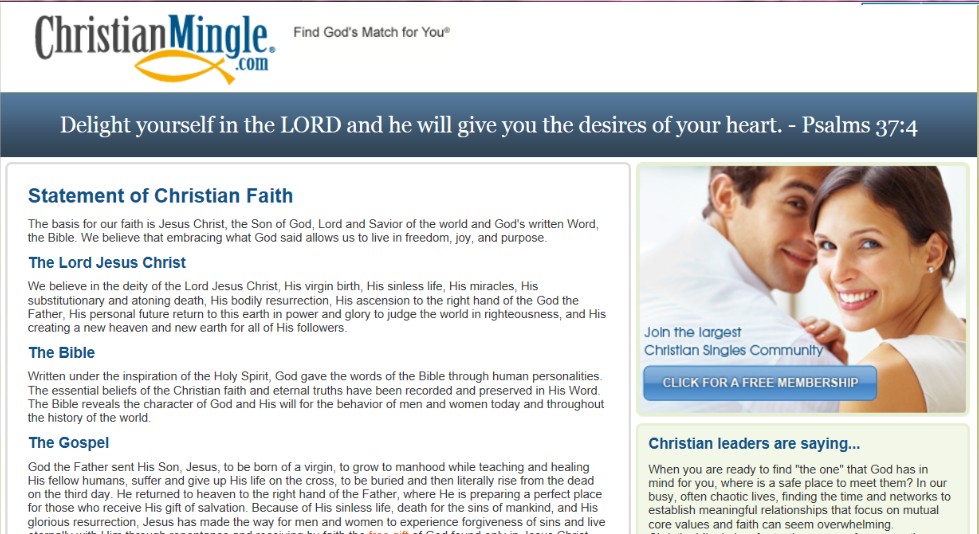 Features and amount of members at ChristianMingle.com:
ChristianMingle.com's current number of members is estimated to be over 10 million, with hundreds of new users signing up every day, but this numbers are unconfirmed by the site, as this information is not officially released.
ChristianMingle.com offers a free membership that includes the basic features of using a dating site.
Here is what you can do with a free membership:
Create your profile and add photos
Add the Color Code on your profile that indicates your personality type
Search for other members by different criteria, including religious views and see their profiles and photo aldums
Send and receive smiles and cards as ice-breakers
Answer religious questionnaires that will be used by "Compass Matching" to seek people according to your preferences
Search for Bible passages and other prayers
Be a Secret Admirer and let other users know that you are interested in them
Have a favorits list and a block list
Have access to other related Christian sites and to a Worship Center
Read posts on the message boards and see calendar of events
Once you subscribe to a paid membership you gain access to the following communication tools:
Send and receive emails
Use chat rooms and IM
Add messages on the message boards
ChristianMingle costs and prices for membership plans:
1 month: $29.99
2 months: $18.99/month – billed in one payment of $56.97
3 months: $13.99/month – billed in one payment of $83.94
ChristianMingle.com Contact info:
ChristianMingle.com can be contacted through the form on the "Contact" page.
Our conclusion for our christianmingle review
ChristianMingle.com is an online community that was created especially for people who share strong religious views and who want to find someone they can relate to as Christians. Their motto is "Find God's match for you", which may sound a little odd for an online dating service, but its foundars claim this is a step forward that Christians took into using modern life tools in good ways. ChristianMingle provides many Bible quotations, religious advice and it even has a "Statement of Faith" page and a list from which members can find Ministries addresses together with their descriptions. The site has become an extremely popular community, providing its services in a safe and clean environment for single people with a powerful religious sense. Clearly that is a reflection of their Christian values and it is for that reason that we can recommend ChristianMingle.com to our users. Join ChristianMingle free here…

Comments
comments