Chemisty.com reviews

Chemistry.com is a niche site that focuses on those that are seriously looking for committed relationships. Sure, some may say it does require a little bit more work but the best part of the Chemistry.com experience is that they do have a higher success rate if you are one that is patient and willing to go the extra mile to meet the perfect partner.
Chemistry.com Membership costs: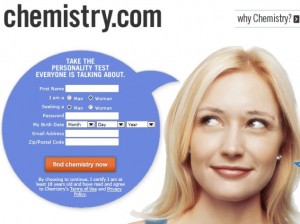 Chemistry.com membership prices are as follows:
Chemistry.com costs $50.00 per month the last we checked.
The three month package though drops the price to $33.00 per month saving you over 30%
The best deal is the annual Chemistry.com membership which costs just under $27.00 per month payable in one payment. Also note we have a Chemistry.com promo code below that gives you a huge savings in 2 free months if you buy 1 month!
Chemistry.com ranks in our annual top 6 dating sites in the U.S. as far as dating site where everyone and all lifestyles are welcome. It is a highly trusted dating site that produces many committed relationships some of which marriages come as a result. Something that also stands out with Chemistry.com is the fact that they also offer a 14 day money back guarantee! That is rare in the online dating space.
Chemistry.com dating site features:
Hide profile if you want to take a break from online dating or if you met someone and you want to see where that leads before dating others.
Search by area, age, height and more.
favorites – yes you can easily store your favorites singles to access those matches later
enhanced privacy. As  Chemistry says, it is a closed community so your profile is not in Google search and only other members of Chemistry.com can see your profile.
Success based coaching as they call it.
Chemistry.com welcomes gays whereas eHarmony does not allow gay singles. This is a major difference. (Also Match.com shares a parent co. in the Match.com group meaning they have the same public ownership)
Matchmaking System: Helen Fisher's personality test
Chemistry.com's patented personality test was developed Helen Fisher, Ph.D. and forms the fundamental pillar for the matching algorithm of Chemistry.com. As a distinguished anthropologist and writer, Helen Fisher works as the company's Chief Scientific Advisor. For over 30 years, she has researched fundamental questions about love. This resulted in two of her books – Anatomy of Love and The First Sex – ending up as New York Times Notable Books.
Helen Fisher's basic premise regarding love is simple: everybody has the chance of meeting a potential partner several times in his or her life. People just have to meet someone who shares the same beliefs and principles to be successful in a relationship. That's the idea behind Chemistry.com's personality test: matching people who share the same values. To date, this matchmaking test has been taken by millions of singles around the globe.
Sign-up process / profile set-up:
Once you complete the simple sign-up process you are then guided through the matchmaking profile test that takes anywhere from 10 to 15 minutes to complete. Your answers result in an elaborate report though about your personality type that is given in neat layout with exact percentages that tell you if you are more of a director, builder, negotiator or explorer (with explanation about all the different types). Pretty neat system!
Trial users will receive up to 5 free matches, which they won't be able to contact until a full membership has been purchased. Paying members of Chemistry.com even have the option to reflect on real life dates, so that the site can further improve its matching algorithm.
Pricing and additional information
See above. Do be aware that the Chemistry.com membership packages are auto-renewed
Chemistry.com is run from Match.com HQ, so their address is the same: 8300 Douglas Ave., Ste. 800 in Dallas (TX 75225). Being a sister company of Match.com, Chemistry.com is part of the IAC portfolio of over 150 renowned online brands. For more information on IAC, check out http://iac.com/.

DEALS: Chemistry.com membership deal for March 2014 3 months for the price of 1! Discover what Chemistry inspired matches can do for you!
Make sure to leave your own Chemistry.com reviews if you have been a member in the past or are currently a member of this dating site. Thank you!
Also check out our Direct Comparison of Match.com vs. Chemistry.com
Comments
comments