Do you ever wonder how a random chat site like ChatLiv works? It happens to be one of the fast-growing free random chat sites for adults. What's the big deal about it? Find out more on this review.
Chatliv is a stranger cam meet site for adults who want to stay anonymous and have fun webcamming with girls and guys. Platforms like chatliv are 100% made for free cam to cam roulette chatting with random strangers.
Many people claim Chatliv.com is a scam and never trust anything on that. From the looks of it and website popularity, it's fair enough to try and assess the chatliv cam site before jumping to any conclusions.
Most free video chat rooms on the web don't have much to attract chat users and are still running them with marketing tricks. Is Chatliv one among them?
We will find out all the answers in chatliv reviews below.
ChatLiv Summary: 100% Scam Site!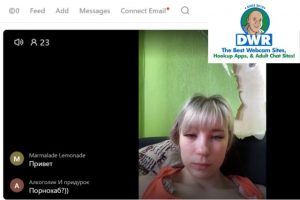 First impressions are the best. In this case, chatliv.com made the worst possible impression you'll get on a webcam chat site.
The homepage has too many ads, and the website looks like some school kid has coded that.
Since it is an anonymous chat site, users don't have to sign up or register to get started.
As much as it sounds cheesy, chatliv.com has keywords and terms taken from all the popular ChatRoulette sites and inserted on their site.
Chatliv.com has all the signs of a scam site, and if you're a stranger chat user looking for quality sites, you might want to stick to this review and get the facts right.
Chatliv's Features:
Country Chat
A list of 35 countries and their chat rooms exists in this section. Chat Room 1 & Chat Room 2 are available for each country.
Clicking on chat options will redirect into different pop-ups and finally reach a point where you have to share access to your mic and camera to start the webcam chat.
ChatLiv.com is beating around the bush with too many redirects. Besides, they want users to spend time on their shitty site and some clicks on their ads. Reminds us of the usage of 7Strangers (review at the link).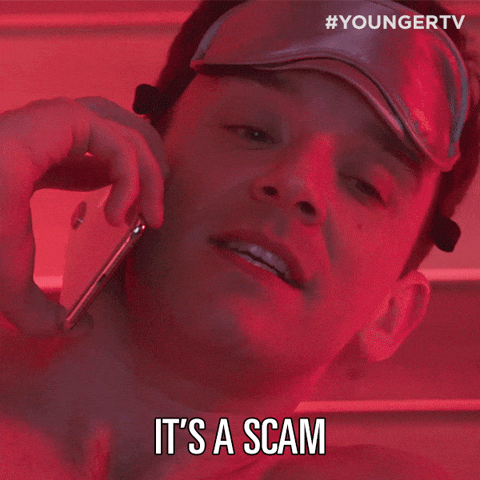 Free Chat Rooms
As we mentioned earlier, chat liv smartly included the popular video chat sites to improve their website rankings.
Here is the list of free video chat sites added in chat rooms,
Omegle Chat
Chat Random
Text Chat
Webcam Chat
Talk to Stranger
Once you enter any of the chat rooms in chatliv.com, you can see many messages coming in from girls within seconds. That's a sign of a scam that we have to be careful using free stranger chat sites.
Moreover, there are hundreds of Russian women logged in and pass luring messages to new guest users. Plenty of cheap tactics to get guest users registered and send them for private cam shows.
So, the worst thing of all, you won't get any genuine webcam girls or guys to talk to and have some chat. Chat liv reminds us of the same experience we had with Jerkmate (review at the link) not long ago.
Free random chat site sucks!
Cam Chat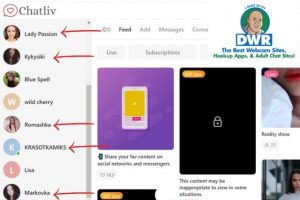 Chat liv throws you under the bus in the name of a free camtocam stranger chat site.
Almost all the cam users we see in chatliv.com are looking for sex chat and dirty conversations.
On the other side, spam and automated messages are welcoming gifts to guests and registered users.
Also, there are vulnerable website URLs sent in messages.
Blog
Articles about free cam chat and random chat pros and cons are available in the blog section. That said, none of them are new to read and lots of outdated content with no use.
Popular Tags (aka trash tags)
Chat liv site has deceiving tags added to their site. So, users who visit their site for the first time would think it is a legit one. Unfortunately, it is not.
For example, there are tags on the left corner of each page.
Best friend
Camchat
Dating
Dating coach
Girls
Flirting
Coomeet
Dirty text
These tags act as a trick to deviate users into different pages and leave footprints.
User Support
For fuck sake, the chatlive site is useless, and no point in having a support section that is not helping anyone.
Here's a look at the homepage of chatliv.com,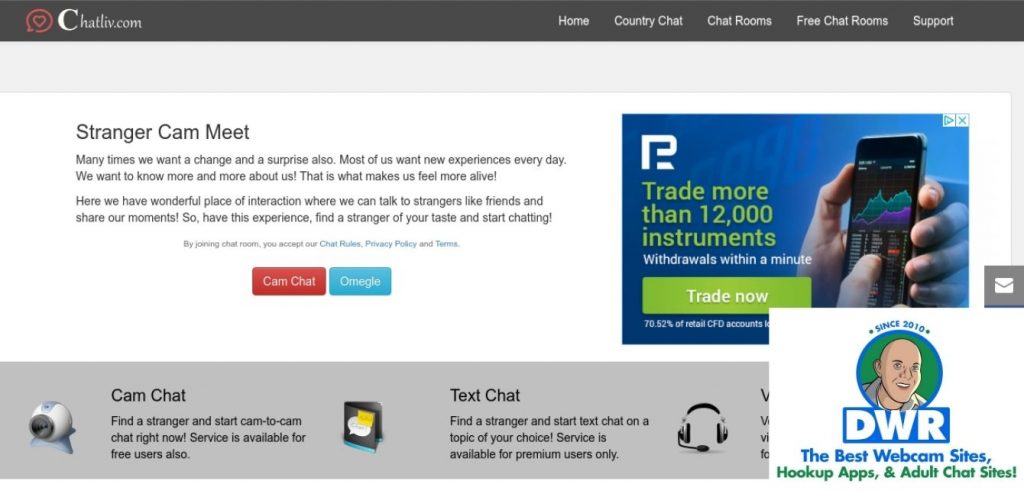 ChatLiv Pricing:
Since most of the random chat sites are free, chatliv.com is also available free of cost. However, sites like coomeet are subscription-based. In short, chatlive is not a bad site, but it's the worst we have seen so far.
The more you spend time, the more we regret checking into chatliv.com. Stranger chat sites like chatliv are dangerous and never share any personal information to luring messages from girls.
Sites Like ChatLiv.com:
A little knowledge is a dangerous thing, and that is how a site like chatliv.com is surviving over the years. It has got nothing exceptional to deliver for users.
Put another way, webcam chat sites are better and gives us all sorts of adult entertainment. More than 70% of users in the chatlive are looking for webcamming with sexy girls and guys.
At the same time, you can't be barking on the wrong tree. Adult cam sites like Chaturbate & BongaCams (review at the links) have lots of cam girls who don't shy about stripping down and get naked in front of cams.
ChatLiv.com Reviews Conclusion: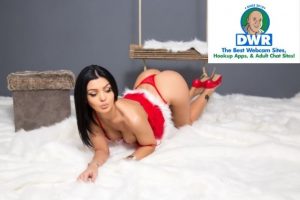 Scam. That's the one-word review we can share for users who are looking for free cam chat on chatliv.com.
It's alright if you're looking for some adult action. We have far more adult entertainment experiences around us, and you have to choose legit cam sites.
Besides that, do you want to know how a legit adult webcam site will look?
Check LiveJasmin.com, for example, and it is one of the most successful live sex cam sites of all time. You can watch sex cam shows of girls, guys, and couples for free.
Spammy sites like Chatliv survive because of half-knowledge among the free chat users. You'll not get any entertainment nor fun at chatliv.com.

However, we have spent countless hours on bringing fun webcam sites for adults that are free and premium. So, Feel free to glance at it.
Comments
comments