WhatsyourPrice reviews
Our review of the controversial hookup dating app and site called whatsyourprice.com. We compare costs and share the real skinny on total members and if this dating site is worth joining or a pass. Learn more here.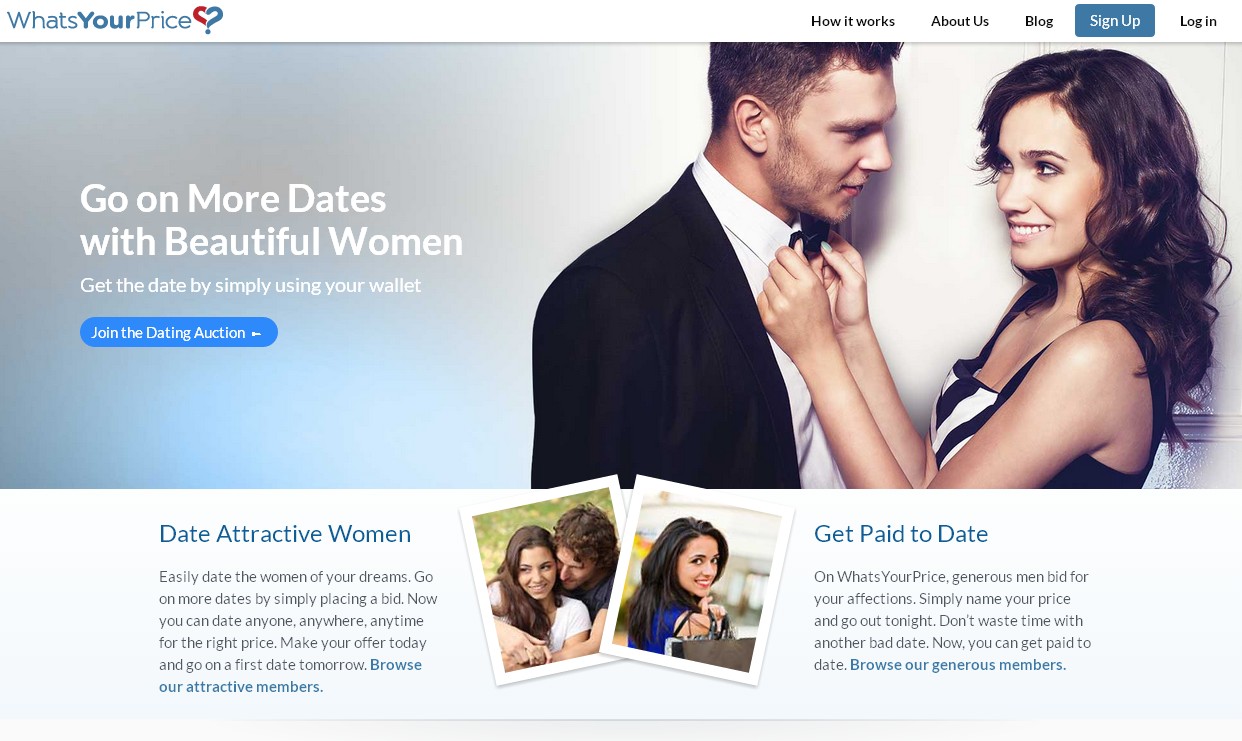 Introduction and history of WhatsyourPrice:
WhatsyourPrice.com is an online dating service based on an innovative idea. Its founders thought about getting a date with the help of your wallet. Based on the presumption that everybody has a price, the website enables members to offer a price or to request a price in order to get a date. WhatsyourPrice does not welcome escorts; it considers itself just a place where men can bid to date a woman. It was released in 2011 and it has become quite successful ever since.
Features and amount of members at WhatsyourPrice:
WhatsyourPrice does not release a current situation of its total amount of members. However, there were 10,000 subscribers in the first month of its release and around 2000 new accounts are added daily.
WhatsyourPrice.com is free to join and it offers some free features. You can buy Credits for some extra options, but the actual payment is only the payment made to another member when bidding for a date.
Here is what you can do at no costs:
Create your personal profile and add up to 6 photos
Search other members
Brose through profiles
Send Winks to other members
Add members as Favorites
See who has viewed your profile
If you buy Credits, you can enjoy the following:
Initiate a first date offer
Increase the amount of offers
Have your profile highlighted
Be prominently featured on other profiles
Female members have free, unlimited access to all options.
WhatsyourPrice Credit Packages:
100 Credits: €50
450 Credits: €150
1000 Credits: €250
WhatsyourPrice contact information:
WhatsyourPrice can be contacted directly via the Customer Support Ticket on the website, by email, phone or postal mail. You can also contact the founder Brandon Wade, on his Facebook page.
Email: feedback@whatsyourprice.com
Phone number:
For US press inquiries: +1 702 493 8910
For Canada & Australia inquiries: +1 702 493 8910
For Europe, Asia & South America inquiries: +1 702 497 8802
Postal address:
WhatsyourPrice.com InfoStream Group Inc.
6871 S Eastern Ave Suite B/102
Las Vegas, NV 89119, USA
Our conclusion about WhatsyourPrice:
WhatsyourPrice is an online platform, basically created for dating auction. Here, men can be as generous as they might and send an offer to a lady in order to arrange a first date.  If the lady accepts the offer, they can start a conversation. Just as well, a beautiful lady can name a price and get paid by her terms. WhatsyourPrice.com does not promise love, like other dating sites do, but it promises an attainable date. It works based on the belief that everybody has a price. The website has a fresh and interesting feeling and the features are very user-friendly. The whole process is very easy, which is going from single to dating with an offer.

Comments
comments