Rose Color Meanings Guide
Knock, knock Guys! Valentines day is on the way so I am here to remind you not to forget. You can thank me later. 🙂 Anyway, since god knows many of us have to Google it every year, here is a refresher on rose color meanings.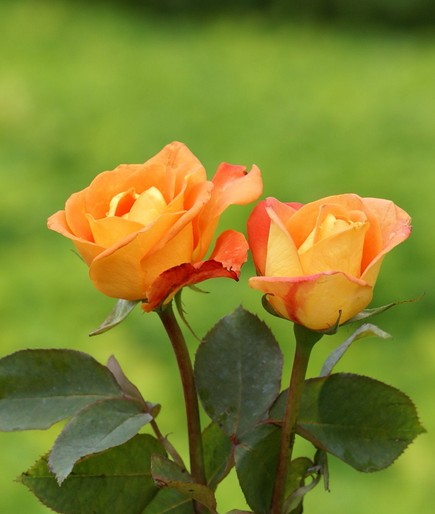 As they say, 'Love can always be found in a rose'. However, the color you choose to give has meaning. Here are those meanings!
Blue/Purple – Lavender Rose Meanings
This mystical color denotes spiritualism, allowing you to send the message of enchantment to the recipient. Known for magick, this color has been appreciated throughout all time from peasants to kings. Like no other color in the family of roses, this intriguing and majestic hue tells everyone that you understand the mystical side of life and, more importantly, you have identified it within the one who receives this most gracious gift.
Red Rose Meanings
No explanation is needed. Quite simply, nothing says "I love you so much" like the gift of red roses. Whether you send one single red rose or a full bouquet, you'll be understood. The red rose is one of the oldest and best known symbols to denote strong feelings of love, making them one of the most appreciated and admired of all flowers. No matter if sending them to a sweet heart, friend, or family member, your gift will be appreciated like no other.
Pink Rose Meanings
Pink symbolizes grace, poise, elegance, even gratitude. If you want to express your admiration or thanks, the perfect gift of pink roses will be remembered for years to come. Thinking of someone who has recently come to your rescue, seen you through a trying time, or just helped out with a tough job? You'll let them know just how grateful you are by sending them this gift of pink roses.
Orange Rose Meanings
Recalling the gentle glow of the sun just before twilight, is the orange rose. Orange, reflecting the color of fire can stir up feelings of passion and romance. Caught between the color of yellow (friendship) and red (passion), the beautiful fiery hue of the orange rose will communicate your feelings. Perfect for anytime of the year, the orange rose is quickly becoming a favorite for Valentine's Day, to warm up a cold February evening, making it particularly special.
Yellow Rose meanings
Friendship's meaning comes across within the yellow rose. For your BFF, sister, even your mother, this most gracious gift confirms that you value the friendship of the one who'll receive it. The bright color is reflective of the sun's warm glow, recalling the warmth of love, care, and above all, friendship. Don't think twice about sending this heartfelt gift to a close friend.
White Rose Meanings
The color of innocence is white. The gift of a white rose expresses hope, new beginnings, marriages, even birth announcements. To receive the gift of white roses, is to know that the sender is thinking about the relationship the two of you will hopefully have for a long time to come. White roses are often used to bless new arrangements while hoping for a successful union.
TIP: Being creative is great but if you're in the early stages of a hot and heavy new romance think twice before you drop off yellow roses. 🙂 Perhaps try Orange instead!
Nobody to give a rose to this year? Drop some yellow roses by your moms and take a look at some of the best dating sites and see what you've been missing. Check out our dating site deals page where each month we save hundreds of people a whole bunch of money on their car insurance dating life. 🙂
Asking when is valentines day 2014? It's friday February 14th!
Comments
comments