Sugardaddyforme is an online dating site to find and date a sugar daddy and sugar babe worldwide. Sugar Daddy For Me helps adults to date affluent and successful Sugar daddies & Sugar babies online. Is Sugardaddyforme legit? We covered all the answers on this updated review.
There is quite a handful of sugar dating sites available online to help older & rich men and women to find young sugar babies for some fun. Indeed, Sugardaddyforme.com has got the numbers when it comes to registered users.
In 2013, this sugar daddy online site had 4 million members registered on its website, and 2000+ sugar daddies and sugar mommies come online every day.
Now, if you check the numbers on their website, it remains the same. What happened all these years? Does Sugardaddyforme.com fail to attract any new members? It has all the reasons to suspect this sugar daddy dating site got collapsed a long time ago.
Check out the facts on our sugardaddyforme reviews right below.
Sugardaddyforme Analysis & Breakdown:

Sugardaddyforme.com site looks like an antique piece from the museum. It is dated and lacks attractiveness in all aspects. However, this sugar daddy for me platform still works.
Is sugardaddyforme free? Short answer, NO. This sugar daddy online dating site comes with a premium plan, and you can get a 3-day free trial pack.
So, what is the contribution of sugardaddyforme.com to current sugar daddies and sugar babes? Nothing fruitful.
Nevertheless, how does sugardaddyforme work? Check more as we unveil the facts in the features section below.
Sugar Daddy For Me Features:
Registration
Signing up at sugardaddyforme.com takes a few mins with the usual details such as profile information, headline, about me, and preferences of the person you are looking to date online. That said, you can skip adding your photo at the registration and carry on browsing through the site.
Like other dating sites, adding photos increases the chance to get more responses from the users. Sugardaddyforme login is a tad slow and takes time on different devices.
Nonetheless, the registered sugar babe profiles are available on the site for free. In simple terms, you can view and read information about the registered user without much hassle. Technically speaking, this approach to share user data for the guest user is a disaster these days.
Online Members
Choose the "who's online" section on the top menu to see the current members available at the moment. It shows the profiles of sugar babes with and without photos. Yet, there is no option to find the exact time of the online members.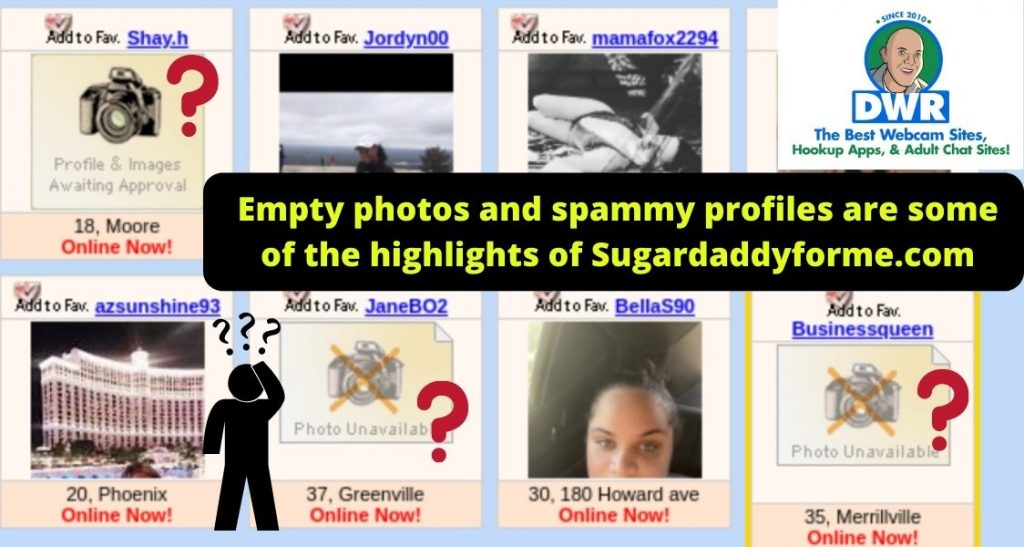 Profile Search
Once we set the gender and what we are looking at, then pick the age, country, profiles with photos, marital status, race, income, and body type. However, you can refine the search results with a premium account.
The footer section has popular American cities that have the most number of registered profiles. In short, we could see lots of fake & spammy profiles.
SugarDaddy User Quality:
Most sugar daddies are from wealthy countries like the USA, UK, Canada, & Australia. On the other hand, the female sugar babes are from different countries.

The average age of online sugar daddy on this site is 50 to 70. If you're looking for sugar daddies at the age of 40 plus, then you can hop into SugarDaddie (review at the link) site for that.
Sugar Daddy's Unique Functionality
After sugardaddyforme sign in, we can see options at profiles about setting up the calendar. In other words, you can schedule your arrival on the calendar if you're running busy, and other members can view that.
Moreover, we have the kisses button to send to interested profiles when you feel lazy texting.
Sugar daddy for me com has a tagline that says the world's largest sugar daddy dating site. We can't help but laugh at that by looking at the features, profiles, and outdated websites.
"Lots of fake profiles in the name of Sugar babes exist on Sugar daddy dating sites." – Jason Lee.
Cheesy taglines and number games aren't going to help you find genuine sugar daddies and sugar mommies here. We don't want to throw the users under the bus by mentioning this has a legit dating site. This sugar daddy dating site is the opposite of legitness. You can try this site instead.
Do you love to get spoiled with sugar babes? Then, feel free to glance at the webcam sites, which have thousands of genuine sugar gals online. Not to forget, they love stripping naked and play with their honey pots on live cams.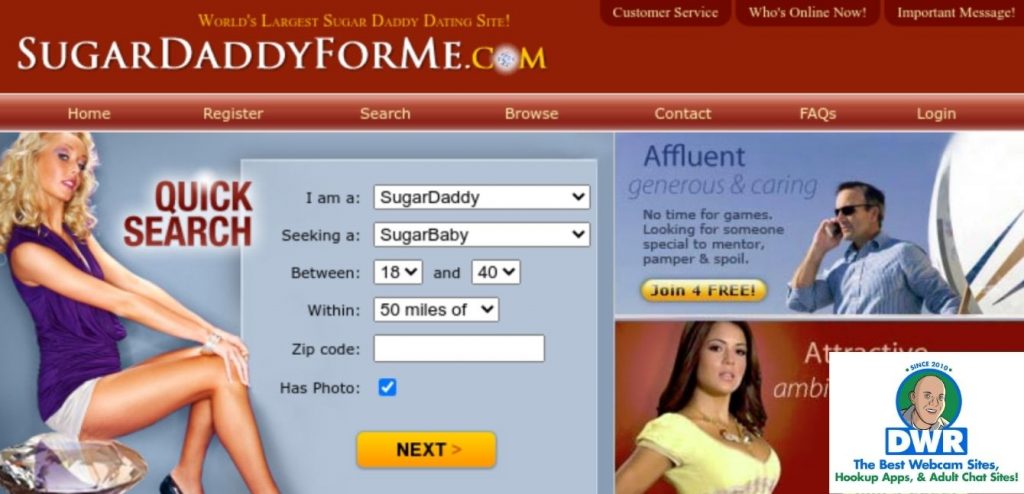 SugarDaddyForMe Membership Plans:
As we mentioned above, this sugar daddy dating is never a free site, and here are the pricing details for complete access to their site,
Silver Membership
$39.95 per month – 1 month
Silver Membership (With Total Access)
$54.90 per month – 1 month
Gold Membership
$44.95 per month – 1 month
Gold Membership (With Total Access)
$59.90 per month – 1 month
Sites Like SugarDaddyForMe.com:
If you want to try a sleeky designed sugardaddy dating site, check out SugarDaddyMeet (review at the link). This sugar daddy site has unique features that could wow you. Also, there is no sugardaddyforme app available for users. It's only the website on mobile view.
So, where do we find young chicks to bop the baloney? For instance, adult cam sites LiveJasmin & Chaturbate (review at the links) has lewd sex cams of beautiful models from different parts of the world.
SugarDaddyForMe.com Reviews Conclusion:
Overall, the experience using SugarDaddyForMe is not fruitful and does feel a pain in the ass. In short, this sugardaddy4me site lacks trust and is not my top priority finding sugar babes online.
We reviewed many users, and almost 90% of them gave the same feedback that sugar daddy for me site has a bucket load of scammers.

And, for those who want to jack off watching young and attractive girls, check our elite list of best adult cams. That would do wonders for your sexual urge.
To sum up, SugarDaddyForMe.com is a disaster for sugar babes and sugar daddies.
Comments
comments