Our Sugar Daddy travel dating site reviews are short and to the point. Sites like MissTravel.com brought to you by the creators of WhatsYourPrice.com and others that pitch women who do not have the money to travel to connect with men on the sole basis of traveling off looks for money we feel blurs the lines of acceptability. (Unless you meet someone before in real life!)

For that reason we do not qualify these sites as true dating sites. We feel that at best these are hookups sites which could fall under adult dating sites. Leading sites like AdultFriendFinder.com would be one of your best bets for an active and large community or mainstream sugar daddy dating sites where you can meet people locally before you travel with them. We have linked those complete reviews below as well and here is our AdultFriendFinder.com review.
However, for the fact that money exchanges hands we feel sites of this nature are overly dangerous and we do not suggest using them. Yes, sites like MissTravel.com do offer background checks. However, that merely gives you a false sense of security because someone with a background has to have a first victim. Read our tips on how to avoid sexual assault when using dating sites. Authoring those tips and then suggesting a dating site where women who do not have the money to return home if the guy they are traveling with is a creep, would be at the least wreckless; just as wreckless as we feel using these sites would be.
For example, MissTravel.com says…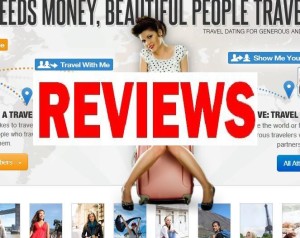 If you are a beautiful person who wants to travel for free, just signup as a "Attractive Traveler". Attractive Travelers are adventurous and open minded people who love to travel, but lacks the budget to do so. As such, you are looking to meet Generous members who are willing to pay for you to travel, or gift you frequent flyer miles which may be redeemed for free flights on all major airlines. Remember, as a Attractive Traveler, you get to use our website 100% Free.
We simply think than it has nothing to do with being either adventurous or open-minded and that not staying close to home until you physically meet someone and get to know them is utterly foolish.
Other similar travel dating site we would also recommend you steer clear from include:
1. SugarDaddy.travel which is the same site that MissTravel.com is but under a different URL. Update: Another one to avoid is ladytravels.com which is nearly identical in concept.
2. LoveTravelDating.com (Primarily a UK travel dating site) While it is not a Sugar Daddy travel dating site and your safety is not an issue we just don't think that travel is a dating niche. If travel dating sites really worked and enough people used them then we'd change our opinion….and yes it is just an opinion but we are pretty sure of it.
Here are a few others, which are also not sugar daddy based but rather based on this idea of travel dating which again we just don't think deserves its own niche when there are large sites that are much more active where you can just say you are traveling and meet local singles where you are traveling to.
3. Solotourist.com – Small database, not very active. The fact is at Match.com just saying you are a traveler will get you more dates….I'd bet good money on it! The same thing goes with TravelDateFinder.com – If you find yourself in foreign countries you are best off also checking out our list of international dating sites and then choosing a dating site that is popular in the country in which you are visiting. The romantic notion you will cross paths with a fellow traveler is great but an ounce of reality that your odds go way up on a large dating site for that country are more likely to make that happen!
Am I right? YUP, PRETTY SURE!
Besides that Match.com has 1000 times as many members for a lower cost. Pretty foolish than to join one of these silly sites that call themselves travel dating sites considering the realities of what you are looking for, right? If you want to go that route use a match.com promo code.

BOTTOM LINE: If you are looking for Sugar Daddy dating sites use caution and have fun but meet the men local first. Here are our Sugar daddy dating site reviews. Lastly, if it is adult dating sites your after the largest adult dating site is adultfriendfinder.com and we can recommend that site. You can check that site our here.
Comments
comments