MissTravel is an online travel dating site that helps women find sugar daddies who travel the world. Learn more about the overall features, members, costs, and other interesting things about this online dating travel site in our exclusive MissTravel Review.
The idea of traveling with strangers really creeps everyone out. Thus most people want to meet other singles with similar interests that wanna travel by your side. With the evolution of online dating sites, everything seems possible!
There are many travel sites that cater to singles who travel the world alone. Some of them work exclusively for sugar babies and sugar daddies. You can find sugar babies that come in all shapes, sizes, and over a broad scope of ages.
MissTravel is one such dating site where you can impend your travel fantasies with sugar babies across the world. It offers a platform for men to find good company on their luxury travels. Is this travel website legit? Find out in our detailed MissTravel review.
I wish you could say that you've got a good right hook at MissTravel, which is a wonder! – Jason
MissTravel Introduction and Overview
MissTravel.com brought to you by the creators of What's Your Price. It was founded by Brandon Wade in 2012. It is a site that is designed to others that pitch women who do not have the money to travel to connect with men on the sole basis of traveling off looks for money.
Despite being recognized as a sugar daddy dating website, we feel that Misstravel doesn't fall under the best hookup sites. The lack of unique features and genuine members make singles overlook this travel website.
The site boasts not greater than a million users. There are currently 600,000 active users on this Miss Travel site. The registered members on the site are categorized into two types: Generous members and Attractive members.
Generous members are basically the sugar daddies on the site who are successful men who wish to have a beautiful companion at their side when they go on luxury vacation trips. Attractive members are typically women who desire to travel the world for money being the travel buddy of rich men.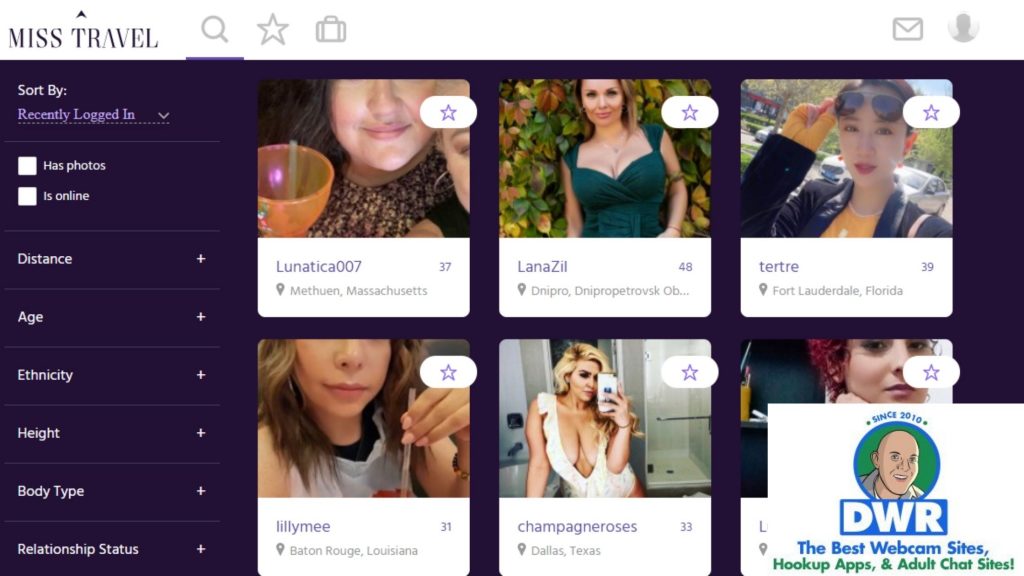 The biggest obstacle using the Misstravel dating site is getting people on your wavelength. Being a man, you must opt-in for a paid membership on the site to prove your serious intentions. Whereas, the ladies can make use of the site for free.
However, for the fact that money exchanges hands we feel sites of this nature are overly dangerous and we do not suggest using them. Yes, sites like MissTravel.com do offer background checks. However, that merely gives you a false sense of security because someone with a background has to have a first victim.
MissTravel.com Signup Process
The biggest trouble anyone ever had with online dating sites is signing up. Yeah, the signup process at MissTravel is also a bit tricky as it consumes more time for you to get started.
In the first step, you have to toss a unique username, a valid email address, and a password. Later, you are allowed to choose your gender, gender you're interested in traveling with, date of birth, and location.
In the next step, you are required to fill in additional details like ethnicity, body type, relationship, location, and a brief bio of yourself. You can skip the optional details like height, education, religion, children, smoking, and drinking habits.
You can choose a partner for a discreet affair on the site just like you do in NoStringsAttached (review at the link). Once, you submit the details, you are good to use this travel site. The email validation is not necessary to continue using Miss Travel.
Miss Travel Overall Features
Few minutes into the site, and you get this luxury feeling. The user interface is pretty simple and the design of this travel website is quite charming. It doesn't have any mobile application and thus you see fewer users signed up on the site.
Talking about the genuine users on the site, you don't find many real users on the site as it conducts no background checks while signing up. Thus it can get nerve-wracking to meet a girl in your neighborhood or city at Miss Travel.
The concept of using Misstravel.com is pretty straightforward. Join the platform and it will help you in getting connected with a travel companion. However, you should be the one to be cautious of catfishing on the site. The girls on the site have the privilege to use all the features for free.
Peek into the average features of the Miss Travel:
Search – The search filter will allow you to find people on the site. This feature can be accessed totally free. The search process at Misstravel.com is based on the trips, destinations, and people. The lack of advanced search filters will make it difficult for us to find singles.
Favorites – The only communication method on this travel dating site is adding favorites and messaging. Adding a favorite will mark your interest and notifies the person whom you have added as a favorite. It is a feature that allows you to keep a list of your most liked profiles.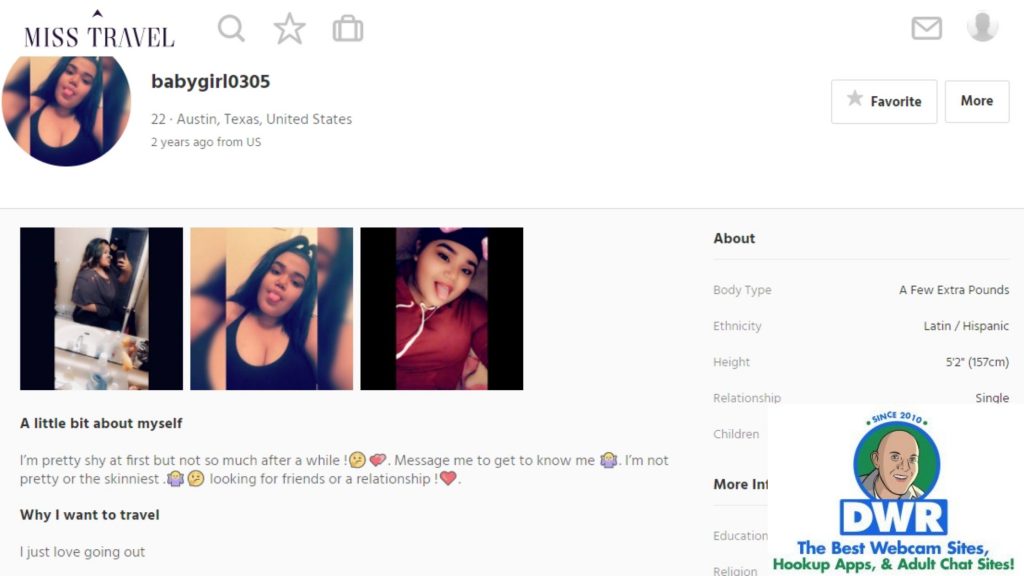 Create a Trip – You can create a trip for people to see at Miss Travel. This will let you post your future trip plans publicly. Add your destination, dates, and who's paying to create a trip. Once it is approved, people can see and ask you to join the trip.
Mail/Message – As said earlier, the only ways to communicate with profiles at this travel dating site are through messages or by adding favorites. However, men will have to upgrade their account to a paid membership to send messages on the site.
MissTravel Costs for Premium Membership
No wonder why MissTravel is criticized as a sugar daddy website instead of a travel dating site. It is a woman-favored dating site as it offers them completely free access. However, all the men on the site are required to take premium membership to enjoy unlimited communication methods.
Nevertheless, the costs for premium membership aren't cheap either. You must shell out loads of cash to enjoy the premium access. Here are the pricing plans for premium membership at MissTravel:
30 Days – $59.99
90 Days – $164.94 ($54.99/month)
180 Days – $299.94 ($49.99/month)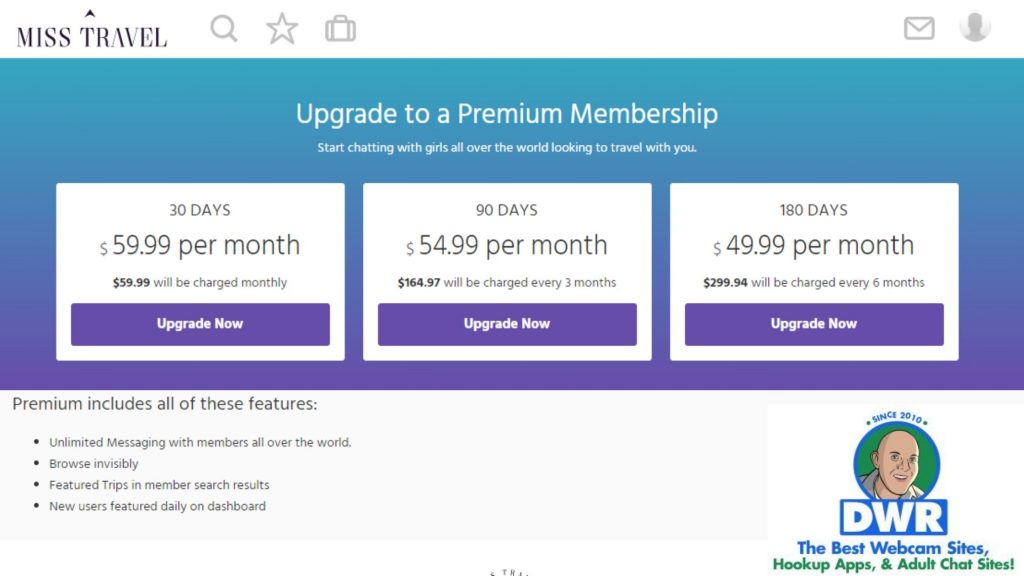 Spending loads of dollars for the sake of unlimited texts is utter foolishness. Instead, you can use half of it in webcam sites like Stripchat.com to have an erotic private cam to cam sex chat with a sizzling model.
Sites Like Miss Travel
Our MissTravel review is short and to the point. The site only works better for women and for that reason we do not qualify these sites as true hookup sites. We simply think that it has nothing to do with being either adventurous or open-minded but just about seeking sugar daddies.

We would like to recommend this site which is a similar travel dating site for you to steer clear from Miss Travel. It has 1000 times as many members for free of cost. Pretty foolish than to join one of these silly sites that call themselves travel dating sites considering the realities of what you are looking for, right?
Besides that, if you are looking for sugar daddy dating sites use caution and have fun checking our Sugar Daddy Dating Reviews. Make sure to leave your own MissTravel review.
Comments
comments