Streamen.com reviews
Is Streamen.com a scam or a site you can trust with your credit card?
Streamen.com is one of if not the most trusted gay live cams site online. So, no it's not a scam. Millions of men and yes women too use this site on a daily basis for their dose of adult webcam shows. Included in that I am sure are a fair amount of couples as well

Streamen.com Features
HD cams as long as the model uses a HD Webcam
You can save a favorite model and see who is online when you're in the mood to chat. Since there are thousands of gay cam models this means you'll rapidly collect a lot of favorites. These appear on the home screen each time you login
LOTS OF NEW GUYS ON CAMS. Since this is one of the largest gay cam sites you can be assured of nut just a wide selection but also lots of new guys joining.
Languages: There are over 22 and more being added all the time
Global membership. You will find men on cams from all over the world.
Gay Couples Cams: Yes, you will find actual gay sex on cam.
Payment forms accepted are VISA, Mastercard, Wires, Paypal, and more.
Navigation is simple and easy on this site. The site is very well-developed putting the emphasis on users. Screenshots below of the streamen home page.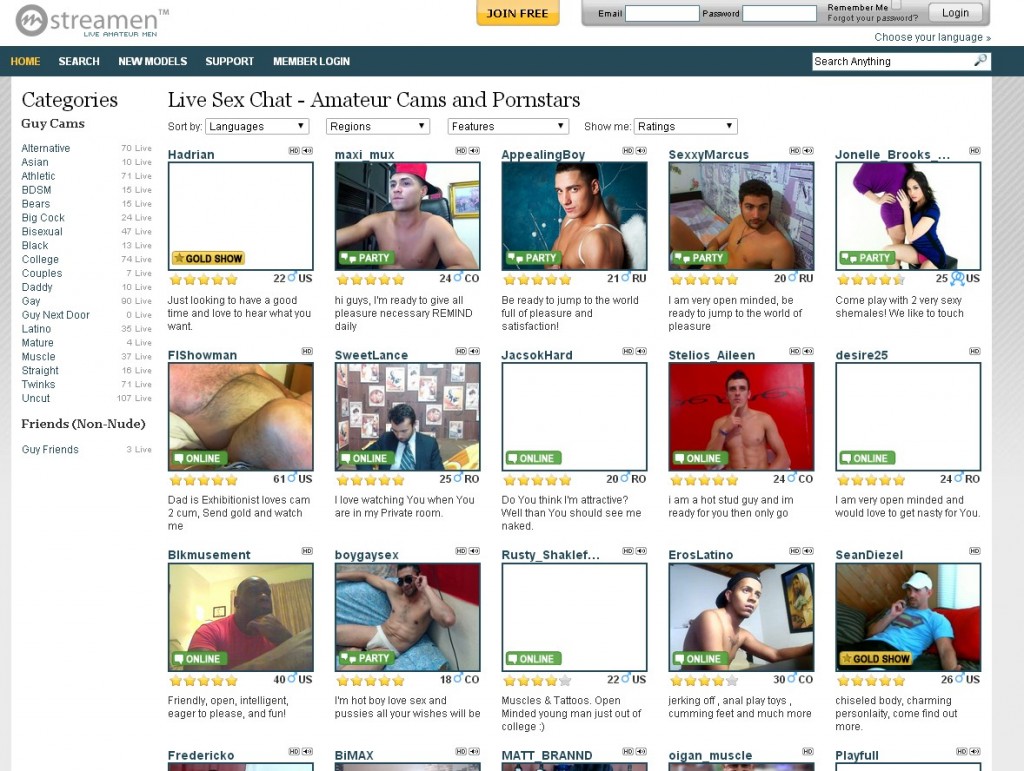 Streamen.com Costs
Why we like streamen over other gay cam sites is simple. They are very, very clear about what they charge. Signing up is free and merely requires age verification with credit card. They have literally millions of satisfied customers and the customer service is fast and very customer oriented. YES, it is a free site but of course they must make money somehow. Where they make money is from optional 1-on-1 shows. These are clearly marked which prevents any charges unless you seek them out. Even if you do opt for the premium shows they cost just $2.00 – $4.00 on average. Each gay cam model sets their own price so you simply select one that you want after chatting in the free area. From there it's very straightforward how the site works.
Sites Like Streamen.com
There are a number of sites like Streamen.com online but the only two I can recommend would be flirt4free.com or cams.com. However, neither gay cams site has near the selection as those two sites are focused on straight couples. They do still though have many men on live cams as well.
The bottom line is the gay cams segment is one where many sites are not very good at disclosing all the fees. There is nothing more annoying and frustrating that getting a surprise on your credit card statement. When you join streamen.com you can be assured you won't get screwed with unwanted fees.
Total Amount of Gay Cam Models
At last count the total number of men on live webcams at Streamen.com was 10,743 but on an average day over 2,300 login and broadcast of which about 68% use HD webcams.
You can register and try Streamen.com cams here.

Comments
comments