As it says SexyAsianCams is pretty much a live cam site that is dedicated to Asian cam girls. Find out whether these free Asian webcams are worth your time or not along with the features and costs in our SexyAsianCams review.
SexyAsianCams features live Asian cams, with most models hailing from the Philippines, so if you have a preference for hot Asians, it may pique your interest. Well, I have some bad news if this is the case.
SexyAsianCams is totally unusable. Once you enter the site, you'll be instantly met with a hellishly large grin emoji followed by the usual array of profile pictures as you scroll down. These pictures are large, which is a plus, but don't offer visitors any information about the hot Asian cams behind them.
As you browse, the only details you'll see about the models are their usernames. For the rest, you'll have to click on the feed.
SexyAsianCams Overview
There is hardly any diversity on SexyAsianCams, and I'm not just talking about the models. There aren't very many to begin with, but if you have any sexual preferences (I'm talking to you, kinksters!), finding a model to satisfy your particular needs is next to impossible.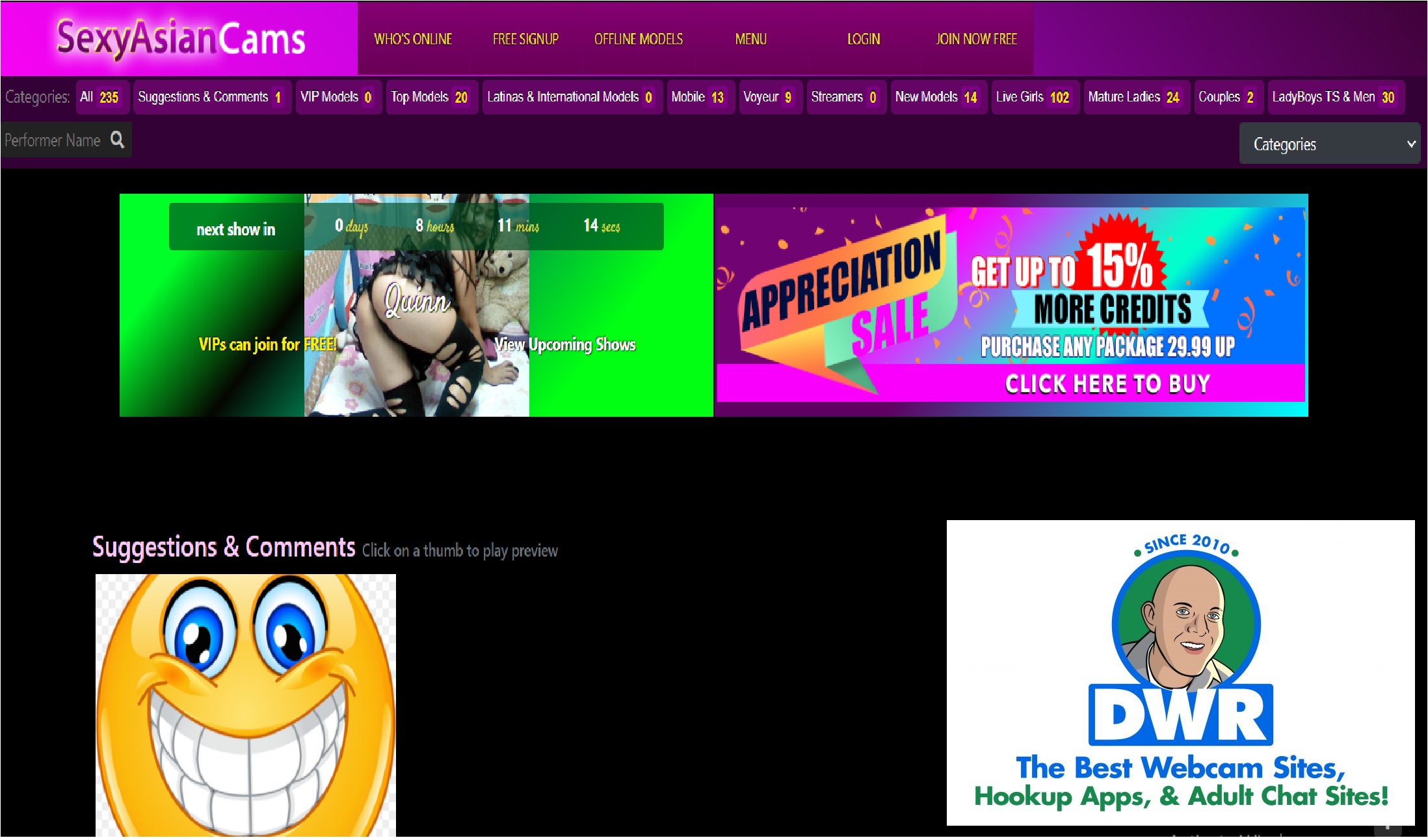 There are no search filters or other navigational tools to help users find the right performers for them. Model profiles are pretty much nonexistent, so you'll be going into every broadcast blind.
Text chatting is available, but there is no cam-to-cam on SexyAsianCams, even in private chat. Aside from private sessions, there isn't much to do on this site. There are no games, ways to tip in public chat, or any of the frills you might be accustomed to if you're used to larger cam sites.
Even worse, there is no mention of price to be found anywhere on the site. Private chat, like most webcam sites, is a pay-per-minute experience, but how much do you have to pay, exactly? We don't know!
Even when you try to purchase credits, it's unclear how many you're actually getting. The only upside is you get bonus credits with larger purchases, but really, what's the point? Just in case you're still interested in SexyAsianCams though, we'll list the prices for you.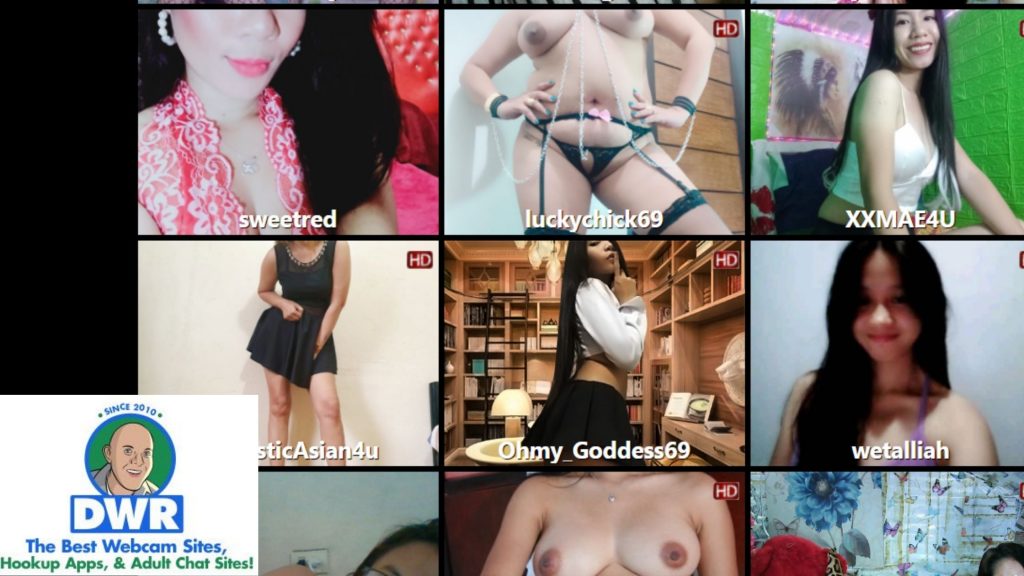 Sexy Asian Cams Prices For Credits
SexyAsianCams accepts Visa, Mastercard, Discover, and PayPal via Epoch and CCBill.
$ 9.99 USD
$19.99 USD
$29.99 USD + 3.00 Credits
$39.99 USD + 4.00 Credits
$59.99 USD + 6.00 Credits
$79.99 USD + 8.00 Credits
$99.99 USD + 15.00 Credits
As I mentioned before, there's no telling how many credits you are buying with these bundles, so who knows how short or long your session could be if you take the plunge to go private. If it isn't obvious by this point, I cannot recommend SexyAsianCams to anyone.
There aren't enough models or features to keep anyone entertained for long, and Credits are a total mystery. Needless to say, there are much better sites to spend your time and money on.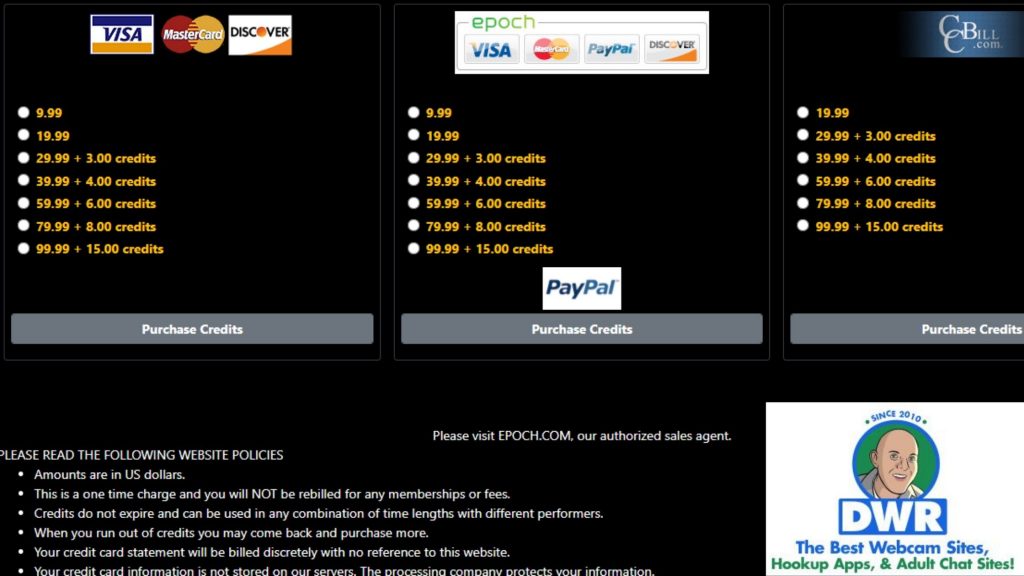 SexyAsianCams Alternatives: Try This Site Instead
It may be tempting to visit a site that's just for Asian cams when you have yellow fever to feed. But trust me, SexyAsianCams is just not the answer. Opt for a platform you can trust instead, like Stripchat.com, with hundreds of sexy Asians online. But unlike SexyAsianCams, Stripchat lets you narrow your search even more with advanced filters.
Stripchat is one of the top cam sites that has been around for a while. Almost all of the models stream in HD and have informative profiles. These profiles include basic biometrics, an introduction, and even a gallery of pictures.
SexyAsianCams might as well be a ghost town with how dead its chat rooms are. This isn't the case on Stripchat–chat rooms are always buzzing with activity. There are plenty of features to keep members entertained, including games, interactive toys, and more.
Pricing is way more transparent, and you can even filter models by how much they charge in Private chat. Private chat may be a pay-per-minute affair, but signing up on Stripchat and is totally free.
If you are solely looking to meet single Asians, then this site may help you in big time. Unlike this sexy Asian cams, it is 100% legitimate and free to use. You can find thousands of alluring girls across Asia looking for all sorts of relationships.

That said, if you just care to see some chubby Asian titties in action, then SexyAsianCams can be worth your time.
Comments
comments