PinkSofa is a dating site for lesbians sorta like pink cupid for those that are familiar. Read the lesbian dating review on the official pink sofa website here.
It's very rare to come across sites that are actually appealing to Lesbians and have a large number of lesbian single as swell.
However, PinkSofa was one of the lesbian dating sites that were considered to be successful at creating a fun and safe space for Lesbian dating. The site offers free registration and other features such as instant messaging, Lesbian chat rooms, and Lesbian forums for free.
Likewise, now is your chance to learn more about this lesbian singles site without having to register and try it yourself and in this case, I think you will be glad you did. I completely understand the hesitation to just join any lesbian dating site. So I hope my rundown and summary of what to expect here can save you some time and hassles.
"Look for the little details to know if you are on a legit Lesbian dating site". – Jason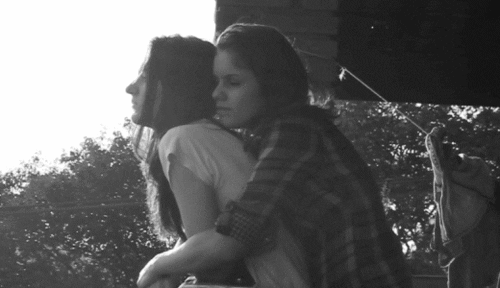 What is PinkSofa Dating  & What Can You Expect?
The reason I mentioned this as a site like pinkcupid is when I registered at the pinksofa and searched to get back to the home page I was taken to pink cupid login which is a less desirable alternative to pinksofa dating so be careful to remember the sites name or you may end up at a different site altogether.
That said, this lesbian personals website bills itself as a place to make quality Lesbian connections. And that of course is in the context of building sexual or intimate connections. It is specifically for single lesbians over 30 thus the aim is for more mature single Lesbian women.
It is a girls-only dating site after all and yes, lesbian dating very much has a hooking-up aspect to it so just be aware of this.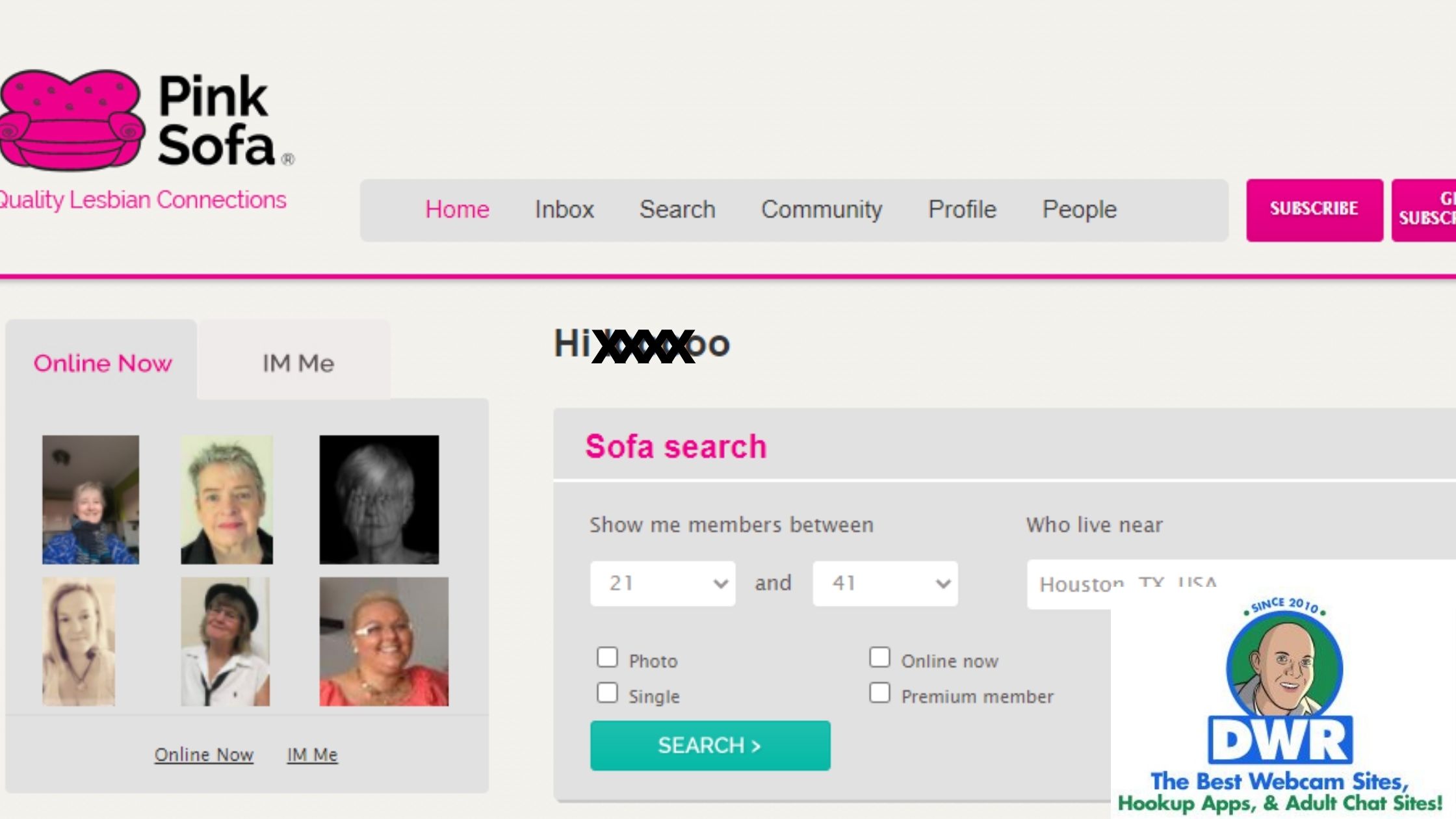 I might also mention that it's great to see dedicated lesbian dating websites but let's be honest, in the internet dating realm most adult dating sites have very active gay and lesbian dating communities. So don't overlook the more obvious hookup sites. In a nutshell, this is just a lesbian dating and chatroom site based around a single lesbian friend community.
A Very Small Sofa, Too Few Lesbian Singles
Sometimes you can tell how much traffic a dating website gets by using pro tools to see how many people are searching for a website and in the case of Pink Sofa we checked and were shocked to see how low the number of people who were typing the sites name into the search.
That was where my concerns went to once I registered myself under an alias.

Let's back up and start from the begging though. Here is the process from the start of registering to the pinksofa login.
How Does This Pink Sofa Works?
Trying out Pink Sofa isn't a hard nut. It is as simple as slicing butter with its basic user interface. Anyone can get a grasp on it with its easy navigable features. Let's begin with the registration process at the site.
The process will be initiated after clicking on the pinkish 'Join now' button on the homepage. The sign-up process will take place in three steps. Firstly, the user must submit all the basic details viz username, email address, and password.
The second step is more about personal information and preferences. This is one heck of a step and can get harder than you expect. Since the site caters to Lesbians, sexuality cannot be changed. The other details include bio, physical appearance, traits, and interests.
The third and final step is uploading your disguise picture. Well, this step can be skipped if you're not intended to add your personal picture. After successfully registering at the site, you will be directed to the homepage. This is where you think the actual fun begins, but not!
PinkSofa Features
Pink Sofa is more of a social forum where people can share their thoughts and share on the wall. Apart from this, you have to search yourself for fellow lesbians on the site to start conversations. If you're here for casual flings or something explicit, stay away from this lesbian chat forum.
On the left of your screen, the people who're online can be seen. Surprisingly I found a few male users on the site that is dedicated to Lesbians. Strange! The community tab will allow you to participate in social Chitchat. However, you will not find any recent conversations that keep you interesting.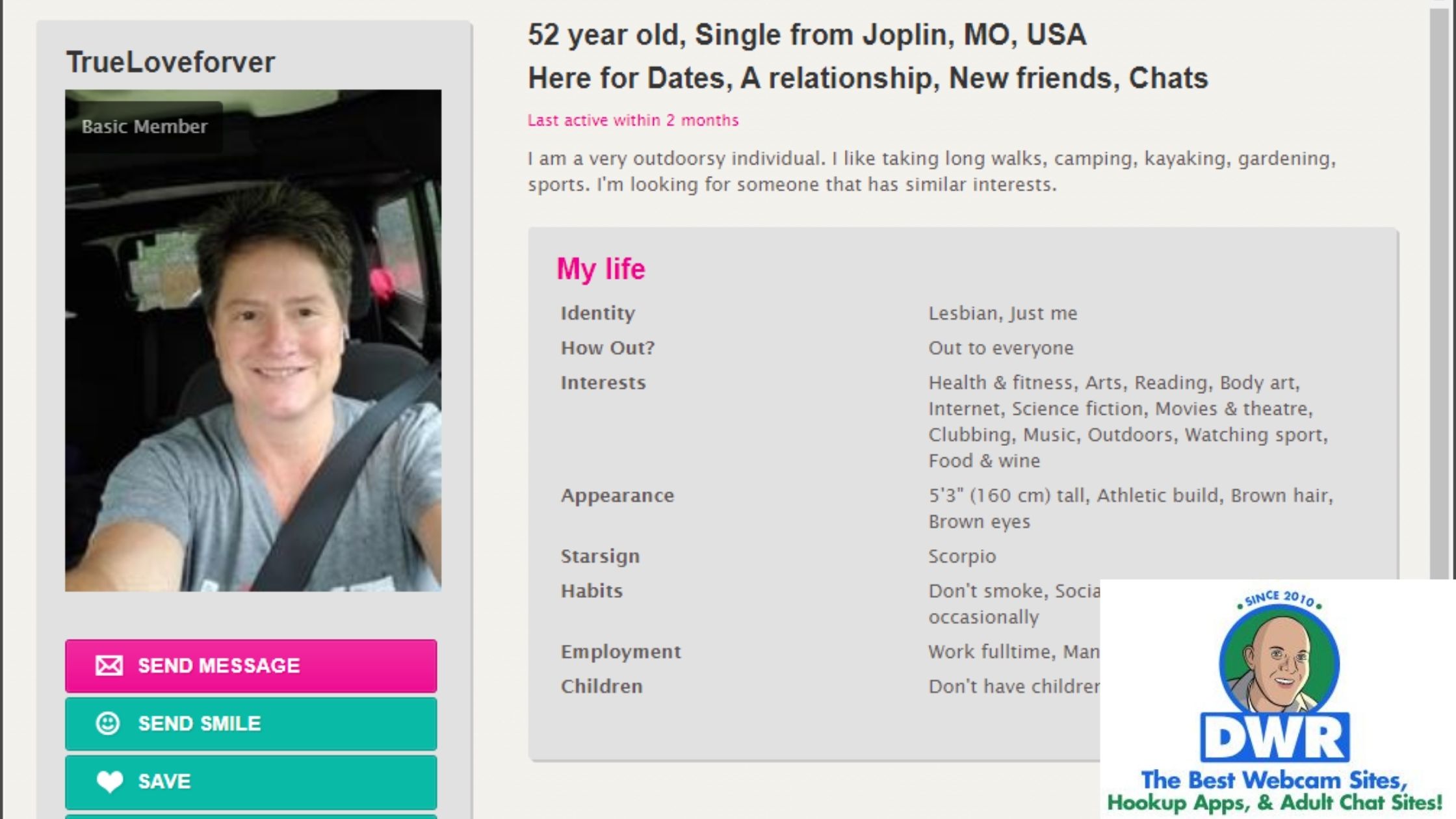 The users can be filtered by various search preferences given on the site. Once you choose your favorite user, you will be given 5 options to take action: Send Message, Send Smile, Save, Add Notes, and Block.
Remember, these features are limited to some extent with free membership. To avail overall benefits of the site, you must opt-in for a paid membership, which is too dear for the services it offers.
PinkSofa Gift Subscription Prices
Upgrading to paid Gift subscription is mandatory to avail of unlimited benefits at PinkSofa. The subscription price range starts from $10.42 per month and will extend up to $35.00 per month.
Damn! That's way too expensive considering the lackluster Lesbian dating services they offer!
The detailed price plans for a Gift subscription at Pink Sofa are shown below: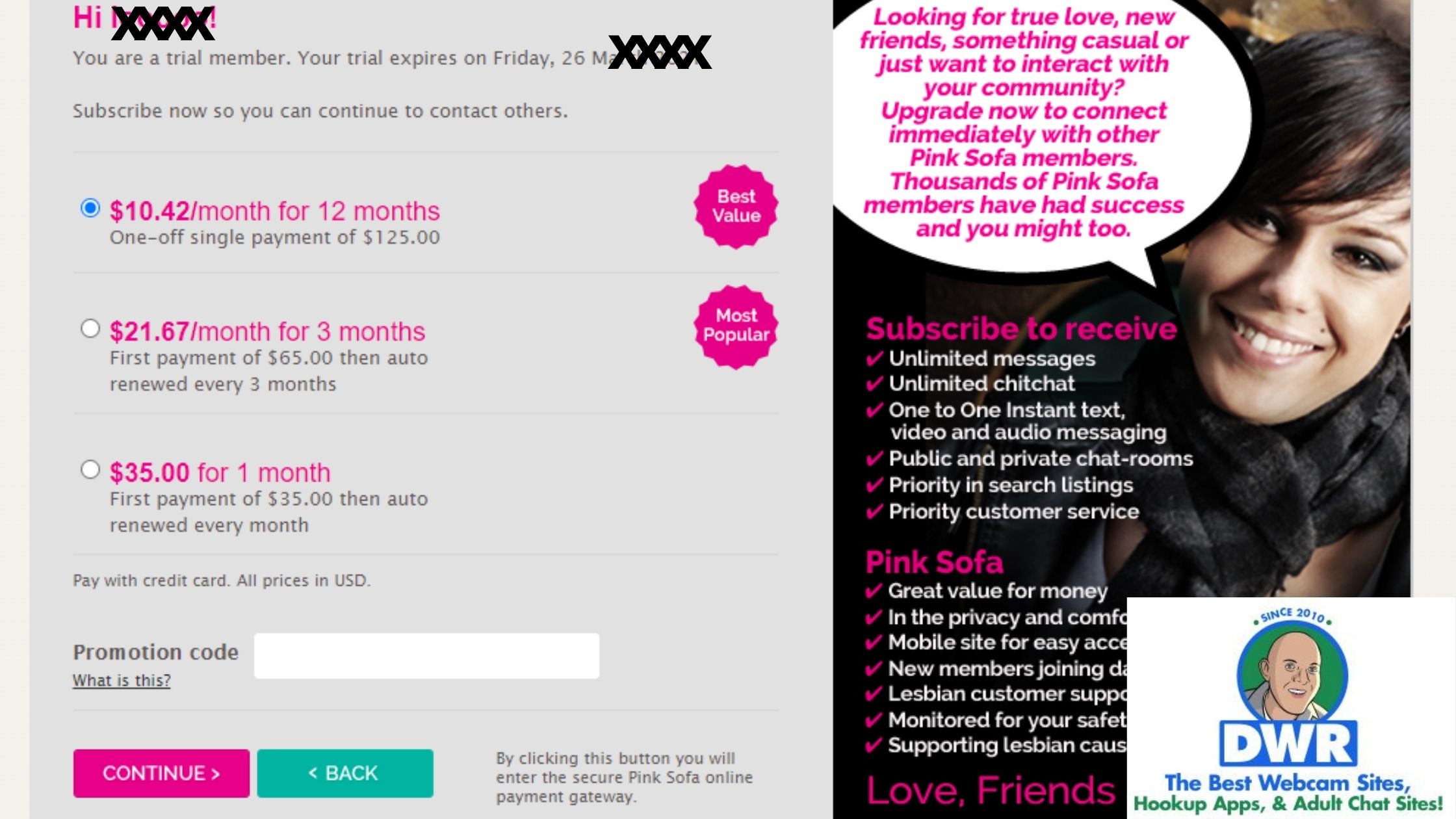 Here are a few benefits that come with this pricey gift subscription:
Unlimited Messages and Chitchat
One to one instant video, audio, and text messaging
Public and Private Chat Rooms
Priority in Search Listings
Priority Customer Service
Pink Sofa Reviews Summary: (Is it even worth it!?)
No, Pink sofa lesbian dating community is not in my opinion a good lesbian dating site. Because the volume of single lesbians coming and go from here is simply too small to give you much of a chance of meeting any local lesbian girls.
Lesbian dating is a really tough space as so many sites are just not offering a decent quality user experience and many that seem well-intentioned like this one lack a large Lesbian dating pool.
I hate to do it but I am going to instead suggest local Lesbian meeting places and if you want online Lesbian romance stick to some of the top cam sites. Popular Lesbian cam sites like StripChat.com are offering free sex cam services, unlike Pink Sofa where users have to pay for unlimited texts.
Bottom line is that Pinkssofa lesbian dating is more about sharing your thoughts with a very small lesbian community. Instead, use this one to meet local Lesbian singles for all sorts of fun! That said, you can meet people of all sexualities so it's not just Lesbian matchmaking there.

Lastly, please share your thoughts in the comments below if you have ever tried this stale lesbian dating website.
Comments
comments