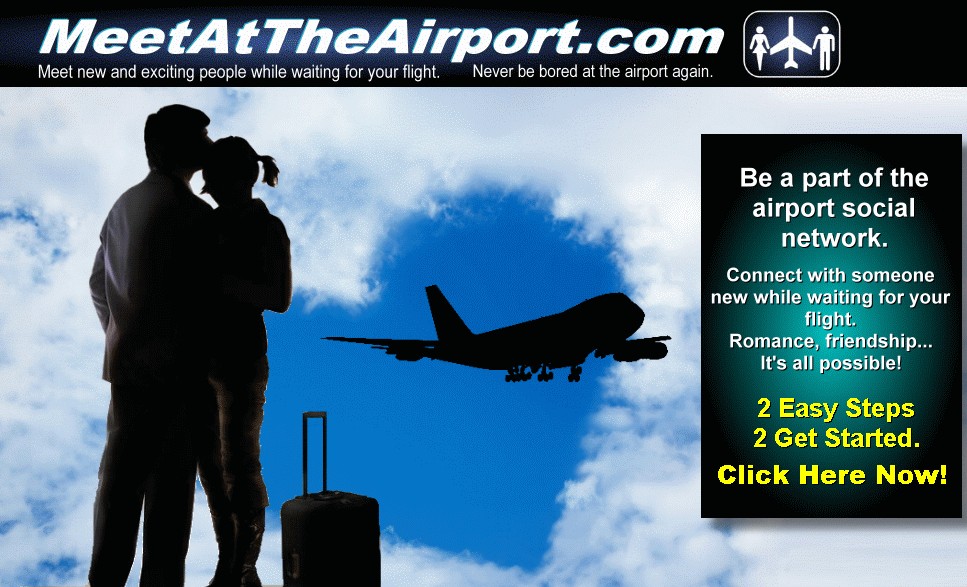 With it being common knowledge now that 1 in 3 marriages starts with an online date, it seems that there is no end in sight to the quirky and creative new online dating sites that continue to pop-up.
Take for example this wonderful little example that Jenny Doren at ABC7 wrote about yesterday in a story aptly called, Love at first flight: Online dating site pairs singles at airports. The site is simply called Meetattheairport.com. You guess it; we gave it a go.
Here is what we found when we tried Meet at the airport. The site had about 1300 poople logged in at that moment. Evidently the shock factor and some free media coverage have done quite well for the site. That same buzz will of course not last but more importantly, is the concept one that will actually catch on? That was the bigger question for us.
U.S.A. Today also wrote about this site not long ago, calling it a, 'layover dating site'. Hmm, perhaps a new dating site niche is born? As far as a MeetattheAirport.com review we won't be doing anything too detailed here below are some general observations of this new niche dating site.
1. The software: The site looks relatively novice, perhaps something operated from a simple Ska dating script of the like. It didn't look like Ska dating script templates but it did look very unpolished.
2. The user base: As with all new dating sites and especially those that serve a smaller number of people the site will have to do loads of advertising to justify the membership costs. I wouldn't pay to join but perhaps some others who just love the concept might. According to a recent press release the company is though seeing a strong interest with over 80,000 people signed up so far.
I do have to confess I also get REALLY bored at the airport.
However, I am not sure that I am at my best as far as dating goes when I am preparing to fly and for that reason I can think of much better times to meet someone. And for now at least I would have to say I'd prefer my Kindle and a nice cup of Seattle's Best as the best form of pre-flight entertainment.
However, there is another flight related dating site that we just may have to do a complete review on here soon if it continues to grow as quickly as it has been. That site is called Planely. Planely is also a hybrid dating site of sorts but what makes is different it the fact that with Planely you can find our who you are flying with. THAT'S PRETTY COOL!
Now don't tell me for one second you have not seen some hot guy or hot girl one seat up that you were just dying to get to know.
Here is a photo diagram of how Planely.com works.

While these two sites are distinctly different it's too early to tell if either will catch on. What we like about Planely.com is the fact that it's clear the programming and support behind the site have a pro behind the wheel. I may just have to give it a try the next time I am flying, after that is I read my Kindle and have my coffee.
Here is the video as well on the first of these two sites, courtesy of WJL.com
Full story here.
Also check out the latest Summer deals from Match.com. (Yes, Match.com is still the king of online dating where more people meet than anywhere else online!)
Summer Match.com Deals! 20% Off Discount
Comments
comments