Bored of being a stranded passenger at the airport? MeetattheAirport is an online dating site for people who are traveling. Here we are running down the exclusive MeetattheAirport review. Learn more about the members, overall features, prices, and more about this travel dating site.
I get it, we all get bored and tried many travel dating websites to combat boredom while flying alone. Thanks to the celestial internet as we often find something that helps in making us meet with new people.
To be bloody honest, airports can be a great place to hook up. According to a British Bank study in 2018, 1 in 50 have found their love in an airport. Thus, many dating sites have started to cash in the demand and evolved to offer dating services to single passengers.
MeetattheAirport is one such online airport dating app that is doing a fair bit of good deeds in making single passengers connect across the world. Find out whether it is reliable for finding airport hookups or not in our meetattheairport review here.
I do have to confess I also get REALLY bored at the airport, but never tried lame dating sites, LOL – Jason
MeetattheAirport Introduction and Overview
Meet at the Airport is one of the travel dating sites that cater to singles traveling alone. It was launched in May 2011 by Steve Pasternack. The idea of creating this dating site struck after he left stranded by a delayed flight in Miami.
Thus, it seems that there is no end in sight to the quirky and creative new online dating sites that continue to pop up. We gave it a go, to this airport dating site, and here's what we have found.
This would have been more exciting if it had a large user database. The site claims that there are around 20000 users signed up on the site which is an awful number for any reasonable dating site. This makes your life miserable on the site as you will end up getting bored without finding anyone from your airport.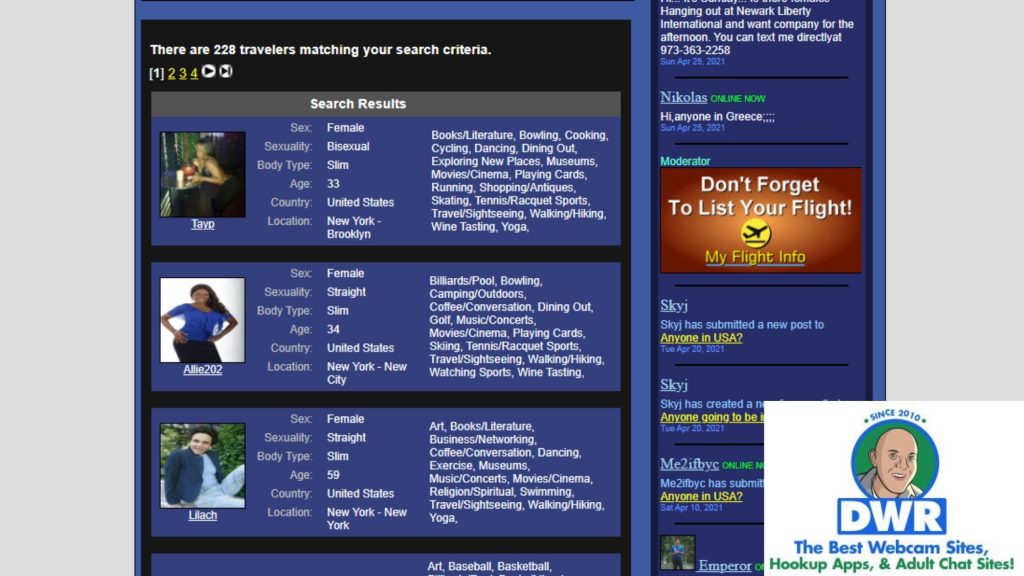 Unlike the other dating sites or hookup sites, you cannot browse singles and send your interests at your own pace. The results will be shown according to the flights and departure airports.
Talking about the design and layout, the site looks relatively novice, perhaps something operated from a simple Ska dating script of the like. It didn't look like Ska dating script templates but it did look very unpolished.
As with all new dating sites and especially those that serve a smaller number of people the site will have to do loads of advertising to justify the membership costs. I wouldn't pay to join but perhaps some others who just love the concept might.
Meet At The Airport Signup Process
The signup process determines the ease to use of the many online dating sites. When it comes to this meetattheairport.com, the signup process is a bit tiring as it includes as many as 24 steps.
The website asks new members to enter their personal information, interests, and aesthetic profile, before adding flight details and departure airport.
To get started with the registration, you must enter your username, email address, country, and password. In the following tab, you will be asked to enter additional details like relationship status, sexuality, race, physical appearance, location, airport, zip code, and must choose three interests from a huge list.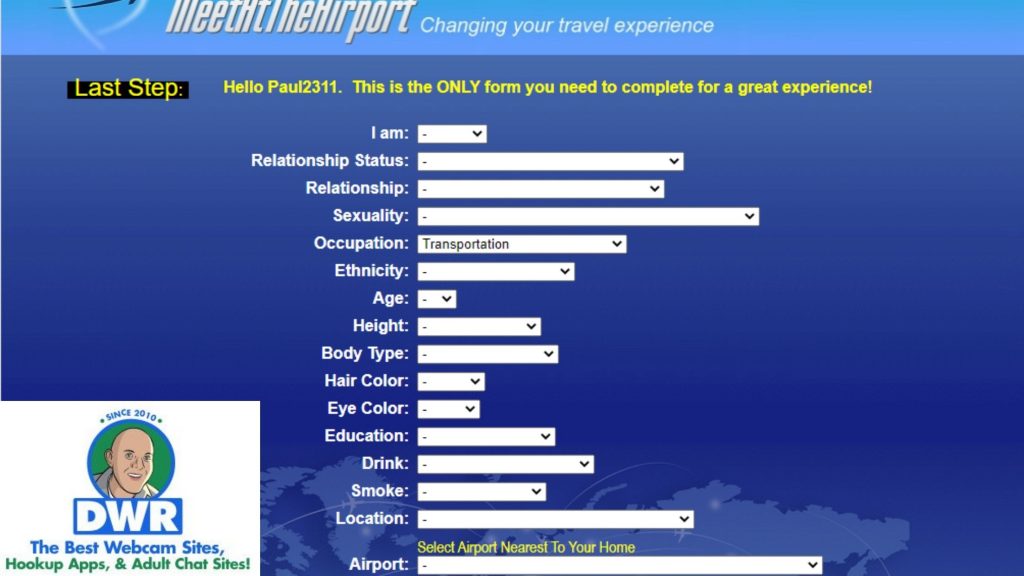 After successful submission of these details, you are required to verify your email address by clicking on the activation link received in your inbox.
Overall Site Features of MeetattheAirport Dating Site
Firstly, the site doesn't allow you to see any profiles unless you successfully logged into it. With this basic level of security, it is safe and secured to some extent. However, there's no additional feature to hide your profile or image, thus there's a chance of getting misused.
Unlike the traditional dating sites, this airport dating site has complex features that will make your life miserable in meeting potential matches. Here are some of the features offered on the site:
My Flight Info – Here, you can see the list of flights scheduled by you in the near future.
Airport Maps – List of airports in your country/location can be seen which serves no purpose in meeting new people.
Search – The search filter enables you to find people based on airport location or city/town. Lack of advanced search filters makes it ineffective in getting you connected with travelers.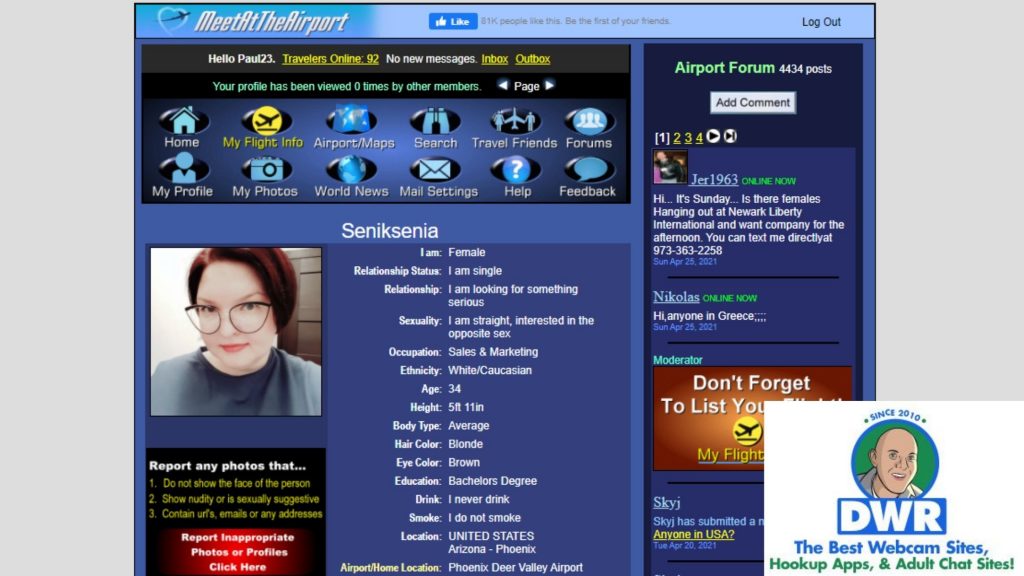 Travel Friends – The list of travel friends you make on the site can be accessed here.
Forums – Probably the most inactive feature on the site. You can create your own post or query here and see no responses coming.
Apart from these, you can find the number of people online from the top of the page under the tab 'Travelers Online'. However, the number doesn't cross 100 in any case. Also, the profiles will be shown irrespective of the sexuality given. Bizarre!
Meet At The Airport Costs and Premium Plans
The only takeaway from this entire airport hookup app is that it is entirely free to use. There are paid add-ons or hidden charges or premium plans at MeetattheAirport.com. This can only match flyers up with individuals that have similar interests, travel arrangements, and the same departure airport.
According to the founder, the majority of the people signed up on the site are from the United States, Mexico, and Germany. Thus, you can expect more profiles from the airports in those locations in particular.
Another setback is that it doesn't have any mobile application to use on the go. Oh man, you cannot expect everyone to be traveling with their laptops in hand. Albeit it is mobile supported, the mobile usability is very subpar.
Instead, I would have tried Stripchat.com, to get the job done rather than looking for mature people around on this travel dating site. At least you get free sex cams here that can easily combat your boredom.
Sites Like MeetAtTheAirport
However, I am not sure that I am at my best as far as dating goes when I am preparing to fly and for that reason, I can think of much better times to meet someone. Instead, I would like to give the best hookup sites a try as long as that keeps me entertained during my travel.
If I had to suggest you an alternative site for this airport dating, it is this site. Unlike in Meet at the Airport, you can find thousands of singles open to all sorts of relationships around the clock. Thus it makes it more effective than this sick airport hookup app.

Here, you can find people of many interests and kinks. That too for free of cost. Who would want to miss out on an opportunity to have an intimate conversation with sizzling girls? Nobody!
Please make sure to leave your own Meetattheairport review if you have been a member of the site.
Comments
comments