Alright so who likes ice cream?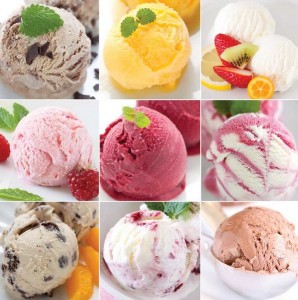 The answer should be everyone, right?
Just for fun we are assigning flavors to each of the top online dating site blogs. We are talking about the blogs for corporate dating sites mind you, not the independent online dating blogs.
The reason for this meaningless exercise is well pretty meaningless, but fun; and it sort of might actually mean something. Which corporate  dating sites actually write blogs verusus which dating site have blogs so that they are meeting the expectation of having a blog? Joe we need a blog! Okay boss, we now have a blog. What should I type on the blog? I don't care Joe, just post success stories. 🙂
The truth is that some of the major dating sites GET  IT, and some of them wonder why their cool factor, just isn't happening on their blogs .
The secret to blogging about online dating is tying in pop culture issues and stories and staying relevant and engaging. (Something I fail at miserably this as well) It's not easy. All blogs and bloggers all have our good days and bad days as well, there is no question about that. However, I've been reading all these blogs for a while now so I think these assessments are really pretty fair.
However, as an online dating industry watcher here is my hypothesis. I can really tell a lot about a company by what they share and write about on their blog. The truth is if I don't feel engaged by their blog I am also probably not apt to join there site. I think that is true with a many if not most people. Sure, the average Joe or Joliette may not be running around reading the blogs for the top dating sites, but some are and a whole slew of people are introduced to these sites via organic traffic to their blogs.
 My overriding point is simply this, I want to feel like I'd like to have a beer with the person who is writing the blog of a dating site.
If I feel compelled to share a brew with the author, the blog did a great job.
If I left feeling like I was interrupting a business meeting I probably am not coming back.
Basically the Fat Kid with the Chocolate Ice Cream always wins.
So let the flavor bonanza begin!
All about Zoosk – The Zoosk Dating Blog. By perusing Zoosk's dating site blog you can see that they takes the position that long mushy love stories based on customers  matches are the way to win us over. Sure, they might reinforce that the dating site is for serious matchmaking but what about blogging. I mean real blogging like you see on the other dating site blogs? We think their in the learning phase…still a bit timid to tell us what they really think or engage us in something besides the mushy stuff. 🙂  I can only handle so much, 'Kari and Kevin from Arizona!' Considering they are looking at an IPO soon maybe their trying to keep in all vanilla?
Ice Cream Flavor: Pink sherbert, with heart shaped blue candies, if that's okay with you honey?! – Want to learn more about eHarmony? Real the latest reviews here.
The eHarmony blog – Evidently not cool enough to have a hip name as of yet, their blog is simply called the eHarmy Blog. Over the past 12 or so months they seem to have gotten a little more brave and willing to actually say something. Along with tying in marketing cross promotions like the current one with The Secret Life of Walter Mitty, you'll find some engaging and honest as well as relate-able posts about life and dating.
Ice Cream Flavor: Rocky Road, but let's survey people first to make sure they all like it. – Want to learn more about eHarmony? Read the latest reviews here.
UPTODATE – The Official Blog of Match.com – This is of course the name of the Match.com blog. Truth be told, I am actually partially paying homage to their blog with my wonderful fat kid eating ice-cream gif above. Well sort of. You see, last summer they had an intern that totally rocked out some brilliant blog posts out for Match.com whom I greatly miss. Lately it's been lots of discussion on stir events. Please bring back that intern. We miss her excessive use of Gifs and total random entertainment. It's that artistry that we think makes a blog fun to read, and truly a blog!
Their dating site rocks, I just miss those engaging blog posts. All that really matters between 9 am & 5 pm is how many times you can laugh at things like this pissed off dump truck.
Ice Cream Flavor: Whichever flavor is the most popular one this week.  – Want to learn more about Match.com? Read the latest reviews here.
Ice Cream Flavor: Dark Chocolate but only if were naked in the ocean, at night, on our own private island.  – Want to learn more about HowAboutWe.com? Read the latest reviews here.
The Pof blog is also self-titled as the Pof Blog. Creating a new name just seems like so much work, right? And I am tired…. 🙂 Honestly I can't bash this blog too much though because it's actually got some good dating advice. It's not too deep but for surface level dating tips there are some great posts over the past year. I think we all agree if anyone needs dating tips it's people on free dating sites and especially POF. Eat your heart out, I'd rather pay for dating, thank you very much!
Ice Cream Flavor: Vanilla, but only if it's free or if we are going Dutch. A small please with a side of water.
This weeks featured online dating deal….3 Days 100% free offer for Match.com
Comments
comments